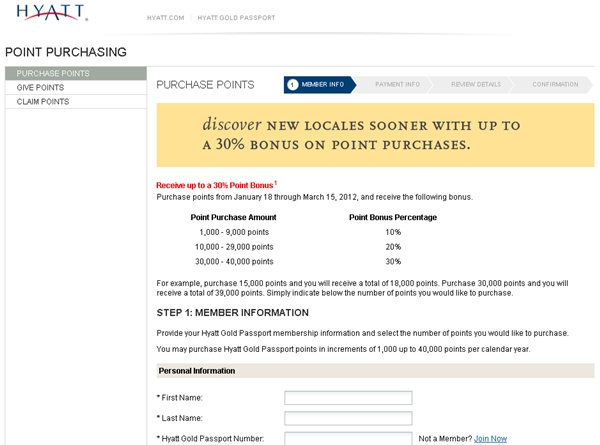 You can get up to 30% Hyatt bonus points through tomorrow, March 15, if you buy Gold Passport points, so I've been getting some questions on whether it's worth it or not.
The short answer is: no, unless you have a *very* specific use for them, namely, you want to stay at the Park Hyatt Paris Vendome, or other Hyatt that doesn't accept Hyatt Stay Certificates, and you don't have any free nights you can use there.
Let's first address the Hyatt bonus points offer, then evaluate the alternatives.
30% Hyatt Bonus Points When You Buy Hyatt Gold Passport Points
Buy 1000-9000 Hyatt points – 10% bonus points
Buy 10,000-29,000 Hyatt points – 20% bonus points
Buy 30,000-40,000 Hyatt points – 30% bonus points
Example 1: You buy 10,000 Hyatt points for $240 and receive a 2000 point bonus
Normally this would equate to 2.4 cents per point, which is very high. Even with the bonus, it's 2 cents per point, which is still pretty high. Not a good deal for most, unless you're topping up your account because you're just about to redeem for an award and don't have *any* points you can transfer to Hyatt.
Example 2: You buy 40,000 Hyatt points for $960 and receive a 12,000 point bonus
As with the first example, normally this would be 2.4 cents per point, but with the 30% bonus it goes to 1.85 cents per point. Not bad, although you'll need to be using your points for Hyatt's top properties, such as Park Hyatts, for this to make sense.
Ok, now time to look at alternatives, free and paid.
Free Hyatt award stays
1. Using existing Hyatt points for award stays
If you're even reading this you probably don't have a ton of Hyatt points, but if you do, then you'll probably want to use those instead of buying and stockpiling more Hyatt points, given the ever present risk of program devaluation. Only you know how much you spent to acquire those points–hopefully most were through stays paid for by work, but if you're mattress running at cheap Hyatt properties, you should be keeping track of what you've paid to get those points.
2. Transfer Ultimate Rewards points to Hyatt
You can sign up for the Chase Sapphire Preferred or Ink Bold with Ultimate Rewards which each offer a 50,000 point sign up bonus (that's 100,000 points if you get both!), then transfer the points 1:1 to Hyatt points. Points transfer almost instantly.
3. Getting the Chase Hyatt Visa for the 2 free night certificate
The Hyatt Visa comes with 2 free nights at any Hyatt in the world, including Category 6 hotels such as the Park Hyatt Paris Vendome, Park Hyatt Maldives, etc. Existing Hyatt Platinum members get the 2 free nights plus 2 confirmed upgrade certificates for paid stays, and existing Hyatt Diamond members get their 2 free nights in a suite.
Additional benefits include:
Platinum status (15% point bonus on stays, complimentary Internet access, best room available for the room category you booked)
1 Award night in a Category 1-4 hotel every year as a cardholder
No foreign transaction fees
3 Hyatt Gold Passport points for every $1 spent
There is a $75 annual fee, which is *not* waived the first year.
So, if you haven't already had the Chase Hyatt Visa (in which case you would be ineligible for the 2 free award nights) the Hyatt Visa could be a good way to get 2 nights in a Park Hyatt standard room (or suite, if you are already a Hyatt Diamond member). If both you and your spouse or partner get the card, that's 4 nights for a total of $150 for the two annual fees.
Paid Hyatt Stays Using Hyatt Stay Certificates
Let's say you've used your Hyatt visa award nights or are planning a longer stay somewhere and need additional Hyatt nights. Should you buy Hyatt points with the 30% bonus? Not necessarily. First, check out Hyatt Stay Certificates, which most Hyatt properties accept.
What are Hyatt Stay Certificates?
Hyatt Stay Certificates are purchased certificates good for a stay at any Hyatt hotel that accepts the given type of Hyatt Stay Certificate you bought. Certificates do not expire and they cover all taxes. You do *not* earn Hyatt points for purchasing Stay Certificates, and certificate stays do *not* count toward elite status. If you have Platinum or Diamond status, typically your status is honored for the stay, however.
Classic: $109.00 Code: HSCLN1
Choice: $152.22 Code: HSCHN1
Premier: $188.89 Code: HSPRN1
Elite: $260.00 Code: HSELN1
Inspire: $325.55 Code: HSINN1
Exclusive: $394.44 Code: HSXLN1
Ultimate: $461.11 Code: HSULN1
Which Hyatt Hotels Accept Hyatt Stay Certificates?
Go to
Participating Locations
to look up whether the Hyatt hotel or resort you're interested in accepts stay certificates, and which ones. Most do accept certificates of some kind, although most Park Hyatts only accept the highest level, Inspire. For example, you could use three 1-Night Inspire Hyatt Stay Certificates to stay 3 nights at the Park Hyatt Maldives, which could end up saving you over $600 per night compared to even the Advance Purchase Rate, or over $800 per night compared to the Best Available Rate, if you're traveling there during the peak winter holiday season. Not bad!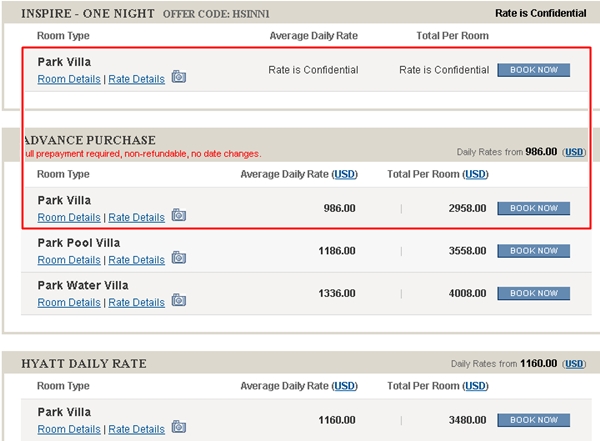 How do I Check Availability and Reserve?
You'll need to enter in the relevant code to be able to check availability online. Enter the code in the field marked "Special Offer Code"
Classic: HSCLN1
Choice: HSCHN1
Premier: HSPRN1
Elite: HSELN1
Inspire: HSINN1
Exclusive: HSXLN1
Ultimate: HSULN1
To reserve, just call Hyatt Worldwide Reservations at 800-555-0233. You'll need to present the certificates when staying at the hotel.
Back to our original question: so should you even consider buying Hyatt Gold Passport points with the 30% bonus points? My advice would be: only if you don't have Hyatt points or free award nights you can use, AND you plan to stay at the Park Hyatt Paris Vendome, Park Hyatt Milan, Park Hyatt Zurich, or any other Hyatt hotel that doesn't accept Hyatt Stay Certificates.
See screenshots below of the Park Hyatt Paris and Park Hyatt Milan, which do not accept Hyatt Stay Certificates:


Let's take the Park Hyatt Paris Vendome. If you bought points with the 30% bonus, at 1.85 cents per point, your effective rate at the Park Hyatt Paris (or any Category 6 hotel) is $406 per night. If you're going during the summer, you'd save over $400 per night, since rates for a standard Park Queen Room can run over $800. Be careful though: you'll need to make sure you can find availability for the standard room (Park Queen) in order to use your points for an award, as higher categories, including Park Deluxe Rooms, are *not* eligible.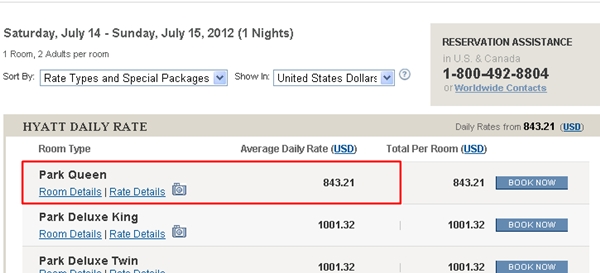 Related Posts
New Hyatt Stay Certificate Categories But 5 Park Hyatts Not Participating
Best Ways to Earn Hyatt Points Faster
Best Park Hyatt to Stay 2 Free Nights with the Hyatt Visa
30 Percent Hyatt Bonus Points-Buy Points or Use Hyatt Stay Certificates?
Daily Getaways: Buy Hyatt Points at Less Than 1 Cent Per Point Today Only
Need Award Booking Help? Our fee is as low as $75 per ticket if you book your hotel through us.
If you enjoyed this, join 150,000+ readers: please follow TravelSort on Twitter or like us on Facebook to be alerted to new posts.
Become a TravelSort Client and Book 5-Star Hotels with Virtuoso or Four Seasons Preferred Partner Amenities!