Get a 2500 American AAdvantage Miles Rebate for AAdvantage award travel between 9/4/13=11/20/13, booked online. Here's how:
1. Enter the American Airlines "Caught You Daydreaming" Sweepstakes
Go to this link to complete your details (make sure to include your AAdvantage number):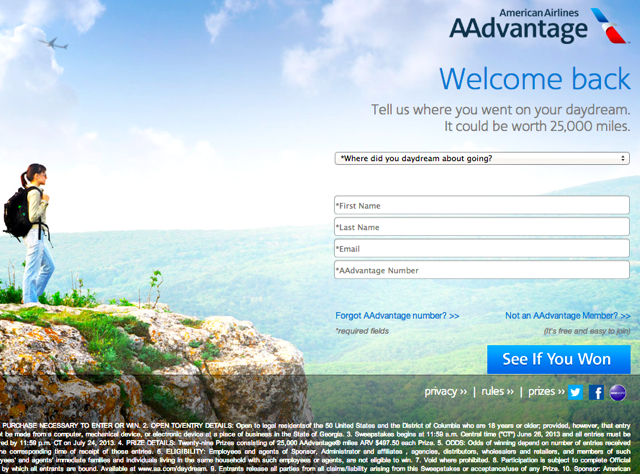 2. Consolation Prize = 2500 AAdvantage Miles Rebate Off an AAdvantage Award for 9/4/13-11/20/13
Assuming you're not one of the daily winners of 25,000 AAdvantage miles, you'll next see a screen confirming you'll receive a 2500 AA miles rebate off an AAdvantage award booked for award travel 9/4/13-11/20/13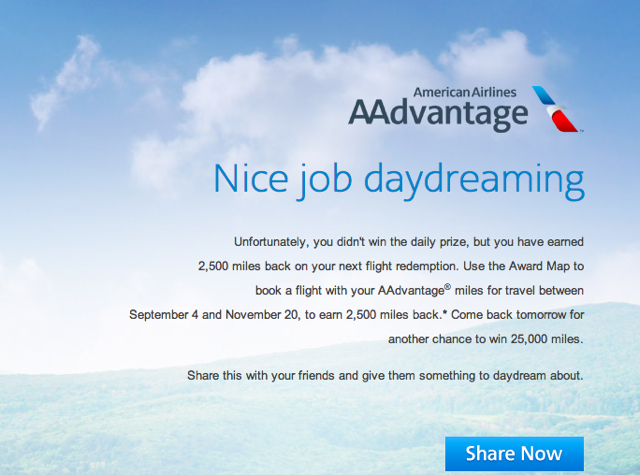 3. Keep in Mind the Rebate Terms and Conditions
Here are the details:
Must book online (so you can't use this for Cathay Pacific, Etihad, or any partners not bookable online)
Book your award flight between 6/26/13-7/24/13
Award travel must be between 9/4/13-11/20/13
Allow 6-8 weeks for the 2500 rebate to be credited to your AAdvantage Account
4. Leverage Your Citi AA Card To Receive a 10% Award Rebate
5. Use This to Get a One Way Domestic Coach Award for 8750, or One Way Coach Award to Hawaii for 13,250
The 2500 AA mile award rebate is handy for any AAdvantage award you planned to book anyway for the September 4 to November 20 travel dates, if it can be booked entirely online. A couple of cheap uses, if you already have a Citi AAdvantage credit card that gets you a 10% award rebate, are:
Domestic coach one way award for 8750 AA miles (12,500 – 2500 – 1250)
Mainland to Hawaii coach one way off peak award for 13,250 AA miles (17,500 – 2500 – 1750)
Are you able to take advantage of this 2500 AA miles rebate?