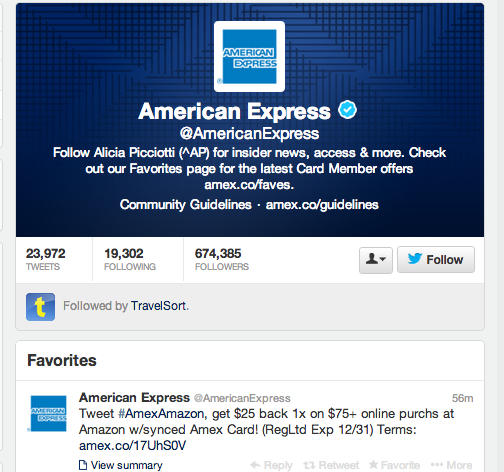 12/12 Updated #4: Statement Credit posted within 1 day for Amazon spend made 12/11: nice and fast!

12/3 Update #3: Update: Deal is Dead. Don't forget to follow @TravelSort on Twitter and like TravelSort on Facebook to be alerted to future deals and other great luxury travel tips.
12/3 Update #2: The $25 off $75 Amazon spend with AMEX online offer below is now closed to new enrollment, but you can still sync with Twitter–hurry and do this before the Twitter enrollment closes as well.
Update #1: You don't even have to sync your AMEX card with Twitter–you can simply register for $25 off $75 Amazon spend (including Amazon gift cards) at https://enroll.amexnetwork.com/US/en/Amazon/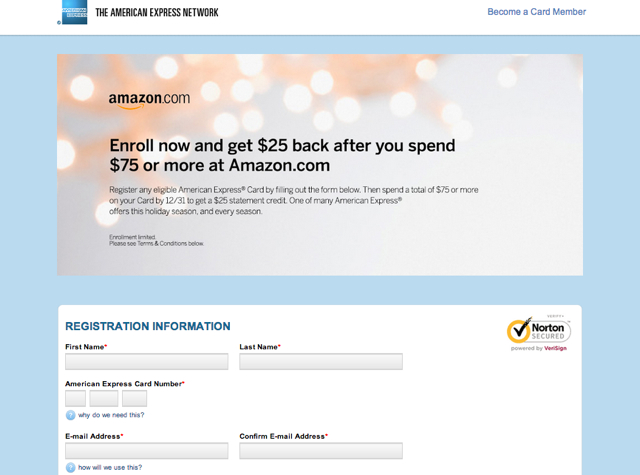 —-Original Post——
Receive $25 off $75 in Amazon spend after you sync your Amazon card with your Twitter account. I recommend syncing soon, since there's an enrollment limit and this is bound to be a very popular offer.
Details and Offer Terms
Must first sync your AMEX card to your Twitter account
Receive a one-time $25 statement credit after spending a total of $75 or more at Amazon.com by 12/31/13 using your synced AMEX card
Offer only valid for purchases on the U.S. Amazon.com site, not for any non-US or non-English versions of Amazon.com
Limit one statement credit per American Express card across all offer channels
1. Sync Your AMEX Card with Twitter
If you previously synced your AMEX card with Twitter but don't remember which one, just
unsync your card
then resync
2. Tweet including the #AmexAmazon Hashtag
If you don't feel like having all your followers see it, then just tweet it to AMEX, e.g. @AmexSync #AmexAmazon
3. Ensure You Receive Your Confirmation from @AmexSync Before Buying at Amazon
Go to your Connect tab to see the confirmation. Here's mine: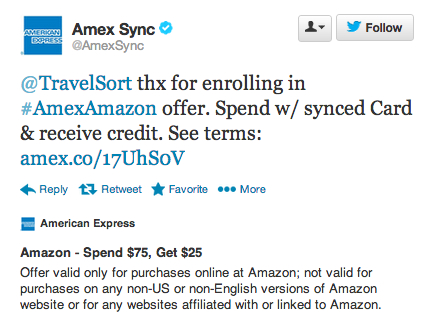 4. Buy at Least $75 at Amazon Before 12/31
You can buy $75 Amazon gift cards, which I recommend, since that allows you to spend on actual Amazon merchandise at a later date (or use them for holiday gifts). I recommend making sure you buy $75 at Amazon well before 12/31, since the terms say "
If you order an item during the offer period but it is not sent to you until after 12/31/13, it may not count towards determining whether your purchase qualifies for the offer."
Plan to take advantage of this $25 off $75 Amazon spend with your synced AMEX card for holiday shopping?
Related Posts