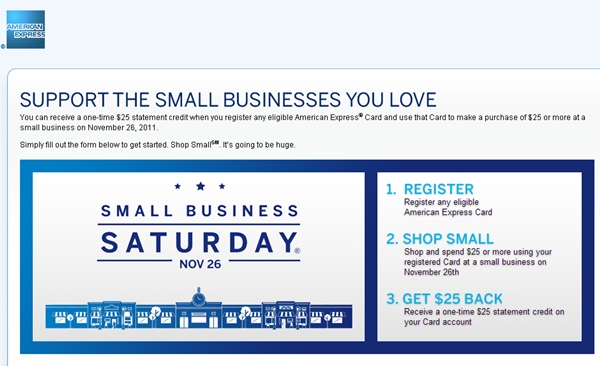 American Express is offering a $25 credit if you register your American Express credit card and then use it on Saturday, November 26, at a small business that accepts AMEX. Here are the details:
1. Register your American Express credit card (Corporate, Prepaid, and ExpressPay cards are *not* eligible)
2. Use your registered AMEX card at any small business that accepts AMEX on Saturday, November 26, 2011. Purchases at large or national chain stores, franchised business locations are not eligible.
3. You'll receive a $25 credit on your statement for that card.
I've already registered two of my AMEX cards and two of my husband's AMEX cards, so hopefully we'll manage to get $100 back in total; the offer doesn't say you can't register or get a credit for more than one AMEX card, although it does prohibit you from getting more than one $25 statement credit per card.
The main constraint is finding 4 small businesses we want to buy things at that take AMEX, due to the higher processing fee AMEX charges: 3% transaction fee, vs. 2% for Visa and Mastercard. For example our corner grocery (which would otherwise have been perfect to use my AMEX Premier Gold Rewards card at, since it gives 2x points on grocery spend) requires $10 minimum spend to use a Visa or Mastercard, and doesn't take AMEX at all, due to the higher transaction fee.
Luckily our favorite Sichuan place, which also happens to have awesome Peking Duck (even though not a Sichuan dish) does take AMEX, so we'll likely go there for dinner next Saturday and split the check so we can get $50 off our meal.
I was initially thinking of Eleven Madison Park, one of our favorite special occasion restaurants, but not only do they not have any reservations left at this point for November 26–it's also part of Danny Meyer's Union Square Hospitality Group (which includes Gramercy Tavern, Union Square Cafe, Shake Shack, etc.) so be careful if you opt for a restaurant to get your credit–make sure it's really not part of a larger group, even if the restaurant itself is not a chain or franchised.
Maybe I'll find a couple small independent toy stores and do some early Christmas shopping with our other 2 cards–$50 of free Christmas gifts for my son and his cousins sounds pretty good.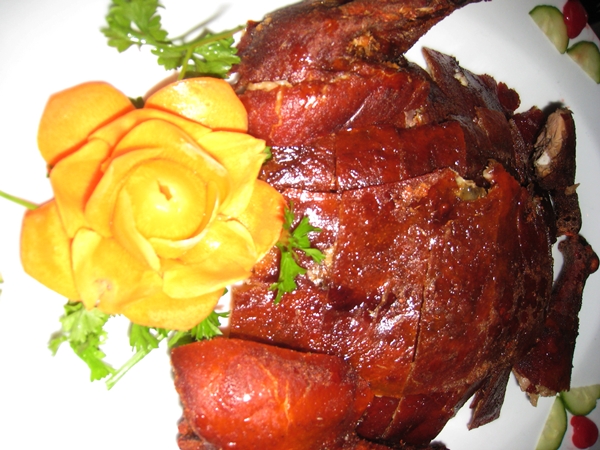 Key Terms and Conditions
To be eligible for the Small Business Saturday $25 statement credit, you must (1) register any valid U.S. American Express® Consumer Card or Business Card by clicking on the link at www.facebook.com/shopsmall and follow the directions provided, and (2) use that Card to make a purchase of $25 or more at a small business on November 26, 2011. Registration starts November 1, 2011 and is limited. Limit one statement credit per registered Card, regardless of the number of transactions you make using that Card. Additionally, if you received a $25 statement credit in connection with Small Business Saturday through American Express' offer on Facebook or Foursquare, you will not be eligible to receive the statement credit through this offer.
Eligible small business merchants are independently owned small businesses located in the United States that accept the American Express Card. Purchases made at large or national chain stores, at franchised business locations and at government agencies are not eligible. Prepaid, Corporate Cards and ExpressPay transactions are not eligible.
If your registered Card is replaced during the promotional period, please call the number on the back of your Card for assistance. Statement credits are generally issued within 5 business days after your qualifying purchase, but may take up to 2 billing cycles to post to your account. Additional terms apply; see Registration Terms & Conditions for details.
If you enjoyed this, please follow TravelSort on Twitter or like us on Facebook to be alerted to new posts.
Become a Member to find your perfect luxury or boutique hotel at up to 50% off: TravelSort Hotels