Earn 10,000 AMEX Membership Rewards Points by enrolling in Extended Payment "Pay Over Time" option, if you're targeted. This has been an ongoing AMEX targeted offer, which will appear in a green banner as below when you log into your AMEX account, if you're targeted. Here are the offer details:
Earn 10,000 Membership Rewards points by enrolling in the Extended Payment Option.
One offer per AMEX OPEN Business Card account is permitted
Maximum of 10,000 bonus points per account
Must have at least $100 in eligible charges to use the Extended Pay option
Bonus ID: A8UR
Offer valid through 12/2/17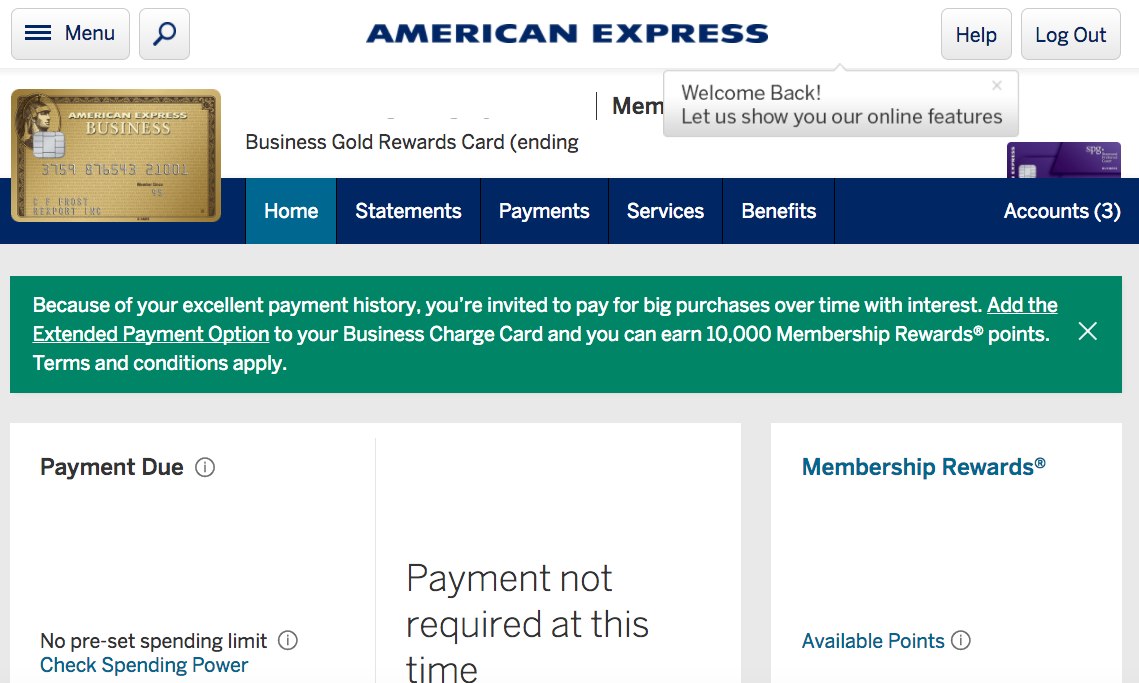 FAQ
Does It Cost Anything to Enroll in the Extended Payment Option?
No, there's no cost to enroll.
If I Enroll, Do I Have to Pay Over Time and Pay Interest Charges?
No, you should continue to pay off your card promptly in full, to avoid interest charges. Enrolling in the Extended Payment Option does not mean you have to pay over time, it merely gives you that option (which you should avoid using, since the interest rate is high–currently the standard Annual Percentage Rate (APR) for Pay Over Time balances is
18.74%
(Prime Rate +
14.99%
). The penalty APR for Pay Over Time balances is currently
29.74%
(Prime Rate +
25.99%
).
When Will the 10,000 Bonus Points Post to My Membership Rewards Account?
Per the AMEX terms, points will post within 6-8 weeks after enrollment is approved. That said, Flyertalker
fliesdelta
reported that the bonus posted 2 days after accepting the offer. Your mileage may vary.
What Are 10,000 AMEX Membership Rewards Worth?
Each person values their frequent flyer miles and points differently, but a good rule of thumb for transferable points, such as AMEX Membership Rewards points and Chase Ultimate Rewards points is ~2 cents per point. That would make 10K AMEX Membership Rewards points worth $200.
I Have the Option to Enroll in Extended Payment, But There's No Bonus Points Language–Will I Get the Bonus?
No–you need to be targeted with the bonus offer to receive the bonus points after enrolling. If there aren't bonus points specifically mentioned in your offer, you won't earn a bonus even if you enroll.
Were you targeted for 10K AMEX Bonus Points if you sign up for the Extended Payment Option?
Related Posts