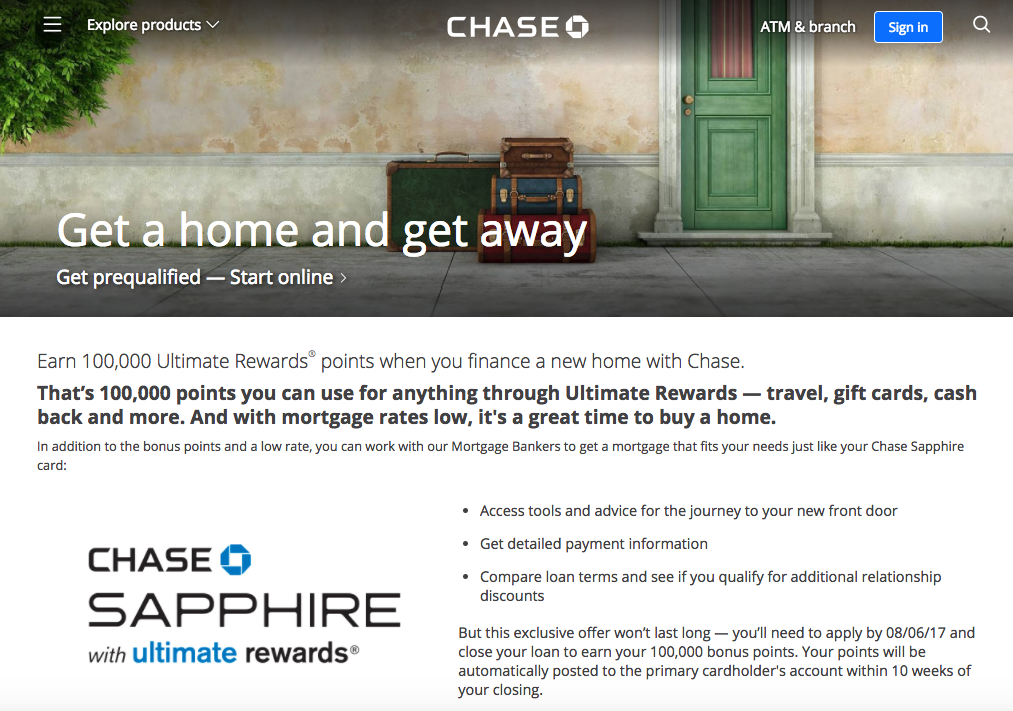 Earn 100K Ultimate Rewards points for a Chase Mortgage on a new home. 100,000 points is a good number, but keep in mind that you can earn 80K-100K Ultimate Rewards points if approved for an Ink Business Preferred card (some have been targeted for a 100K offer) and you can earn 55K points for a Chase Sapphire Preferred card (50K signup bonus + 5000 for adding an authorized user).
Here are the details for the 100K Chase Mortgage offer, followed by my advice on how to do better:
Only available to customers who already have a Chase Sapphire, Chase Sapphire Preferred or Chase Sapphire Reserve card prior to May 7, 2017
Chase mortgage loan must be funded and closed to be eligible to receive 100,000 Ultimate Rewards points
100K Ultimate Rewards points will automatically post to the primary cardholder's Ultimate Rewards accounts within 10 weeks of closing
How to Do Better Than 100K Points for a Chase Mortgage
Put the Value of 100K Points in Context
Each person's valuation of miles and points is different and depends on how s/he redeems points and values certain kinds of travel. At the low end, if valuing points at 1 cent per point, 100,000 points is worth just $1000, while a more typical valuation for those who redeem Ultimate Rewards points for first and business class award travel is at least 2 cents per point, or $2000. That's a good deal of value for a credit card bonus, but in the context of a home mortgage of a million or more, say in high cost areas such as NYC or California, it's not that much, and shouldn't be swaying you in terms of your prospective mortgage lender.
Get Your Credit Score as High as Possible Before Applying
What *can* make a significant difference in your rate and the amount you pay over the life of the mortgage is your credit score, so it's worth working on that for the year prior to applying for a mortgage. You'll want to first get a copy of your credit score. Fortunately, you're entitled to a copy of your credit report from each of the three major credit bureaus (Experian, Equifax and TransUnion) each year, from
AnnualCreditReport.com
. These do not, however, include your FICO. That said,
if you have select Citi cards, you can obtain your Equifax FICO
.
Once you have your credit reports, you can work to resolve any inaccuracies that may be hurting your score.  You should also avoid applying for new credit cards and loans in the 6 months to a year prior to your mortage application, since each hard credit pull does bring down your credit score by a few points.
Since credit utilization is also a significant factor, ensure that after making any large purchases, you pay off your credit card bill in full, even before your closing date. Also see
Understanding How Your Credit Score Works
.
Take All Fees and Closing Costs into Account When Shopping for Mortgage Rates
As important as the rate is, be sure to ask about all other closing costs and fees associated with a given mortgage offer, when shopping around. Take into account what each lender will charge you in terms of origination costs, processing, underwriting, and commitment fees, as well as estimated third party costs such as home appraisal, real estate attorney closing costs, land surveying, etc. Some brokers may seek to lure you in with low rates but make this up in the form of fees, so get all of these details in order to be able to do an apples to apples comparison of total cost over the term of your loan.
Leverage Existing Banking Relationships
If you already bank with a great credit union or bank, discuss what could help them give you an even better rate or offer. For example, we bank with First Republic, and got an excellent rate by agreeing to have direct deposit and keep a certain amount of money with them. Ironically, even though my husband previously worked at JPMorgan Chase, the Chase mortgage offering at the time we were looking wasn't at all competitive with First Republic and another lender offer we got. But that's just one data point, and it pays to shop around with a variety of lenders before committing.
Do you plan to consider a Chase Mortgage to potentially earn 100K Ultimate Rewards points?
Recommended Posts