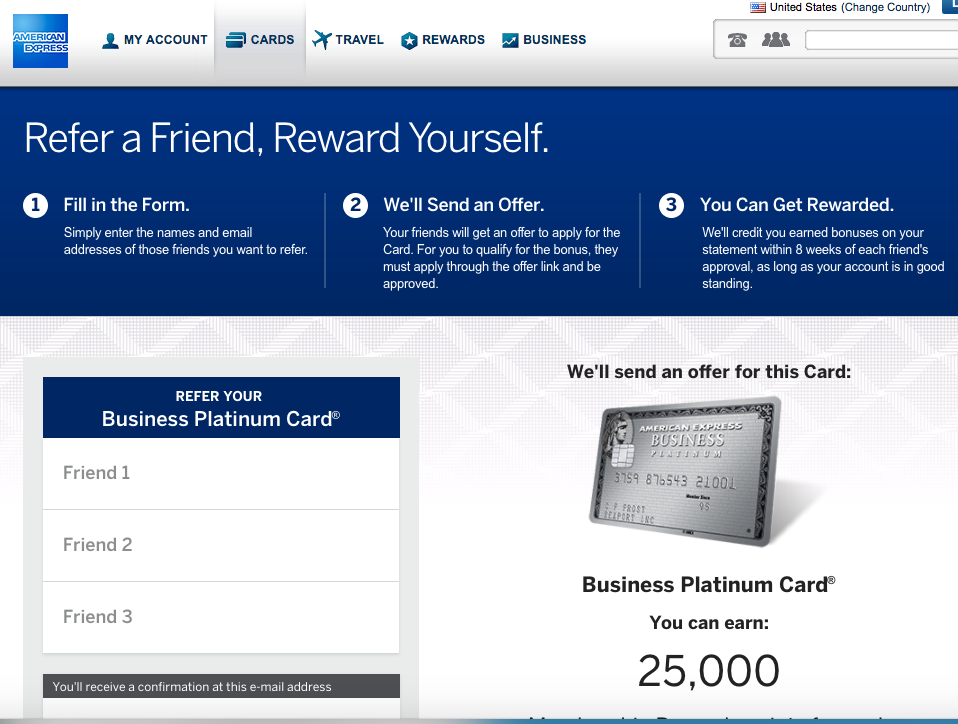 Refer friends to the 100K AMEX Business Platinum for up to 55,000 AMEX Membership Rewards points, 25K points per successful referral. Here are the details:
Refer colleagues or friends to the 100K AMEX Business Platinum to earn up to 55K points per calendar year
Each of the first two successful referrals will earn 25K per referral. A third successful referral will earn 5000 points.
Must refer and have your referrals successfully apply for the 100K AMEX Business Platinum by January 25, 2017.
FAQ
How Do I Refer Friends for 25K AMEX Points per Referral?
Go to the AMEX Refer a Friend site and log in with your AMEX user name and password. Once you do, you'll see the offer above, and you can complete the referrals. Personally, I recommend you send it to one of your email addresses (if you have one not already associated with your AMEX accounts) in order to get the referral link and ideally have your friend or relative apply with you there, so that you can take a screen shot of their application using your referral URL. This is because unfortunately there have been cases of AMEX not providing the referral bonus, so it's good to have a record of the application using your referral.
Even if the above isn't practical, you might still prefer to write your own email to your friend or business colleague rather than the AMEX email.
When Do I Receive the Referral Bonus for Successful Referrals?
Per the AMEX terms, allow 6-8 weeks for the bonus points to post to your account.
Can I Refer Colleagues to the 100K AMEX Business Platinum if I Have the Personal AMEX Platinum?
No, you can only provide referrals for AMEX cards you actually have.
What Are the New Benefits AMEX Added to the Business Platinum Card?
The AMEX Business Platinum card added a 50% bonus for single transactions of $5000 or more; so instead of 5000 points you'd earn 7500 points. You also get a 50% points rebate for points used to book flights with your chosen airline (the one you select for the $200 airline fee credits per calendar year) and for all airlines, when booking first class or business class. Also see AMEX Business Platinum 50 Percent Points Rebate on Airfare Worth It? and AMEX Business Platinum Spend Bonus Posted and New AMEX Platinum Benefits in 2017.
If you have the AMEX Business Platinum, do you plan to refer friends to the 100K Business Platinum offer?
Related Posts
Credit Cards: Apply For, Keep or Cancel
100K AMEX Business Platinum Targeted to Another Person-Can I Apply?
AMEX Business Platinum 50 Percent Points Rebate on Airfare Worth It?
How to Get Approved for the 100K Chase Sapphire Reserve If Over 5/24
Best Ways to Use 100K Ultimate Rewards Points?
Need Award Booking Help? Our fee is as low as $75 per ticket if you book your hotel through us.
If you enjoyed this, join 200,000+ readers: please follow TravelSort on Twitter or like us on Facebook to be alerted to new posts.
Become a TravelSort Client and Book 5-Star Hotels with Virtuoso or Four Seasons Preferred Partner Benefits!