Zoë is a modest newcomer to the NYC dining scene, opened last September by chef owner Zoë Feigenbaum, who graduated from the French Culinary Institute, worked at Per Se, and was Executive Chef of The National before striking out on her own.
I came across mentions of Zoë in my never-ending quest to find brunch places in NYC that serve the best pancakes, and also take reservations (preferably via Open Table, so I can get credits good for discounts off future meals).
Since today was July 1st, it was also the first day to start getting 5X points for all dining using my Chase Freedom card, so that was another motivator (See Chase Freedom Rewards: Activate 3rd Quarter 5X Bonus). For July 1-September 30, I'll be using the Chase Freedom for 5X on ALL dining spend, except for when we travel internationally, when I'll either use the Chase Sapphire for 2X and no foreign transaction fees, or my new AMEX Prepaid Card, which will get 4.6X with no foreign transaction fees once I purchase reloads (although unfortunately I'll need to go to a different store, since the Manhattan Office Depot no longer sells these reload cards).
But anyway, back to Zoë. It's on the Lower East Side, not far from another brunch place that we go to, Prune, which has a great oven baked pancake. Zoë is similarly small, with just 8-9 tables, plus some bar stool seating. You might almost think you're on the wrong street, since other places on Eldridge don't look terribly inviting–this stretch of the LES has yet to be yuppified, even though there is a Whole Foods Market less than a 10 minute walk away. Zoë itself, however, has a cheerful, bright and uncluttered look: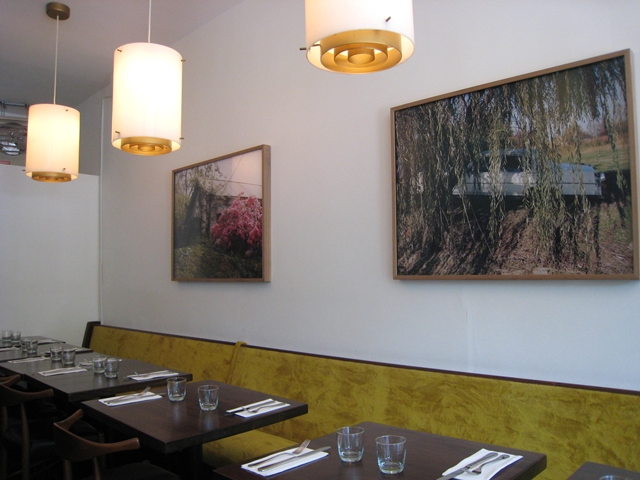 We were greeted by the hostess, and since the window table that I'd requested on Open Table was in the sun, I asked if it would be possible to sit in the corner booth table. The hostess said that she'd check, but shortly came back and noted that as a large party would be sitting there later, she couldn't seat us there, but there was another table in the middle of the restaurant, so we sat there. Seating, as you'd expect for such a small place, is close, but the high ceilings and light interior do go some way towards mitigating that "too cozy" feeling.
What it doesn't mitigate, however, is the heat. I don't think the restaurant has any working air conditioning, which, if you've been walking around the sauna that is NYC recently, is a major detractor. Good thing that our server straight away placed a large carafe of water on our table, as we drank through most of it during our meal.
The bar is a focal point, and there was an extensive brunch drinks menu, with everything from Mimosas and a variety of Bloody Mary drinks to Hibiscus Iced Tea and Ginger Limeade, although I didn't order anything on this visit:
As my husband had another commitment, it was just the munchkin and I perusing the brunch menu. It was a given that we'd be getting blueberry pancakes, but there were a number of interesting savory options as well, from Moroccan poached eggs with shakshuka, halumi cheese, eggplant and merguez sausage, to iron skillet with homemade corned beef, eggs, root vegetable hash and rye toast. Ultimately we decided on the fried chicken biscuit with orange rosemary marmalade as our savory dish: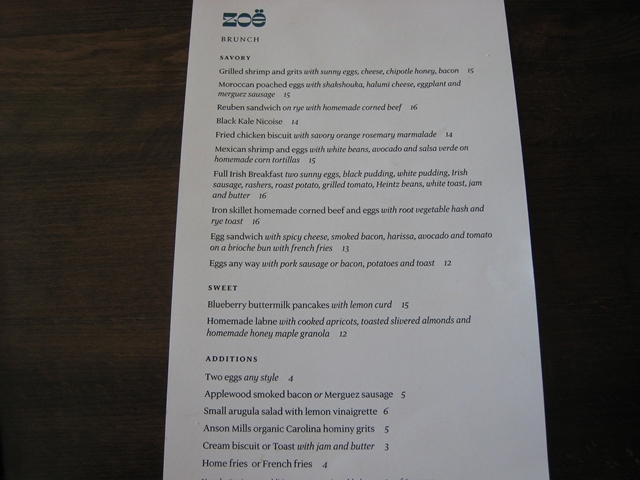 Our food was prepared so quickly, I'd barely managed to snap a photo of the restaurant and read the munchkin a story before both plates were being placed in front of us. The munchkin was super excited to see the two fresh, hot blueberry pancakes, although he immediately pronounced that he didn't want the "yellow stuff" (the lemon curd) which was fine by me, since it ensured I'd get to try at least some of the pancakes. I loved five things about these pancakes: crisp on the outside, yet tender inside; wild blueberries (which are more flavorful); two large pancakes (since so many places serve such small portions you feel cheated); the lemon curd (I even asked for a bit more, it was so good); and real maple syrup on request. Of the places in Manhattan that accept reservations, Zoe now tops my list for best pancakes in New York.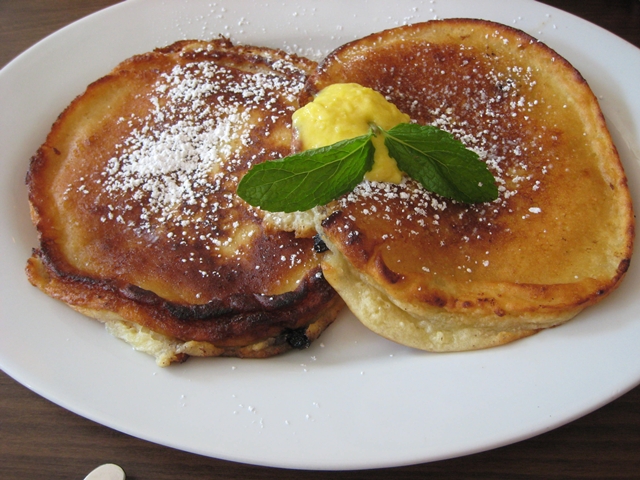 The fried chicken biscuit came with a healthy serving of arugula salad, and the marmalade on the side, just as I'd requested (since I doubted the munchkin would like that part of the dish). The chicken was perfectly fried: a light, crisp coating, and very moist inside. The cream biscuit it came with was tender and crumbly, and although I usually hate marmalade, this homemade version was a nice sweet-tart complement to the crunchy-tender chicken and rich biscuit.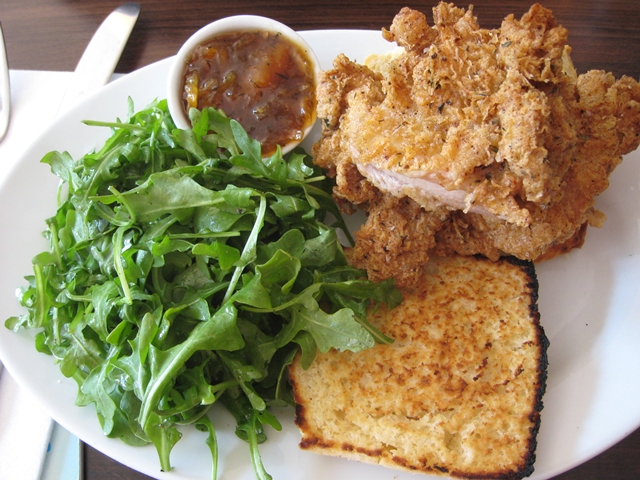 I ate about two-thirds of the fried chicken biscuit (saving one-third for my husband to try) and one third of one pancake, while the munchkin polished off 1 2/3 pancakes by himself. But for most diners with normal appetites, either of these dishes would have been ample, perhaps paired with some fresh squeezed orange juice, a cocktail, or Counter Culture coffee.
The verdict: We will be back…soon. Brunch for two came to $31 + tip = over 150 Ultimate Rewards points, and for the quality and quantity of food, this is a good deal for NYC, especially since you can make reservations and not waste time waiting in line. If I lived in the area, there's no question I'd find some excuse to go back later this week to get the exact same thing we had for brunch as a lunch dish, since I see "Fried chicken with blueberry buttermilk pancake" on their lunch menu, for only $12 (I'm assuming no biscuit, and one pancake rather than two). And several dishes on their dinner menu, notably uni bucatini with cracked black pepper, have me intrigued to try it for date night. Now if only they could get some air conditioning…
Related posts
Chase Freedom Rewards: Activate 3rd Quarter 5X Bonus and Where to Dine in NYC
Where to Go for the Best Brunches in New York
British Airways Visa Offers $100 Off 2 NYC Michelin Restaurants…Again!
Need Award Booking Help? Our fee is as low as $75 per ticket if you book your hotel through us.
If you enjoyed this, join 100,000+ readers: please follow TravelSort on Twitter or like us on Facebook to be alerted to new posts.
Become a TravelSort Client and Book 5-Star Hotels with Virtuoso or Four Seasons Preferred Partner Amenities!