Love spicy Thai food? The best Thai restaurant in Manhattan I've found so far is Zabb Elee. (Update: Somtum Der NYC is my new favorite for Isan food, especially when dining in, given its fantastic fried chicken and other dishes, and great vibe).
In general, the best Thai food in NYC is in Queens, but living in Manhattan we just don't get out to our favorite places there that often. But just recently we tried Zabb Elee, which started with its original restaurant in Queens but since 2011 has had an East Village restaurant in Manhattan, at 75 2nd Avenue: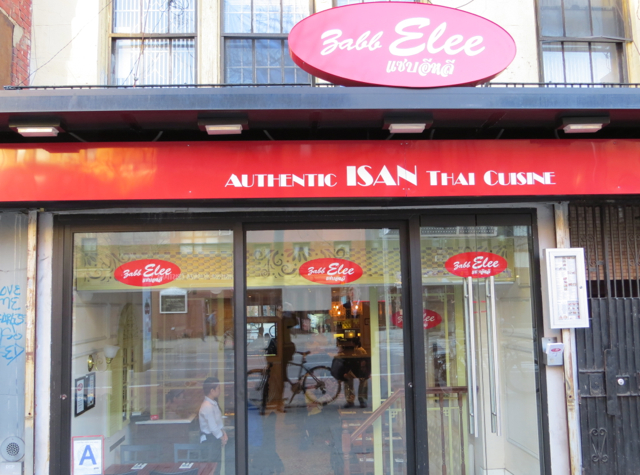 We got there a bit before 7pm on a Friday evening, and there was no wait. The interior is clean, including the bathroom, and nicer than your typical hole in the wall: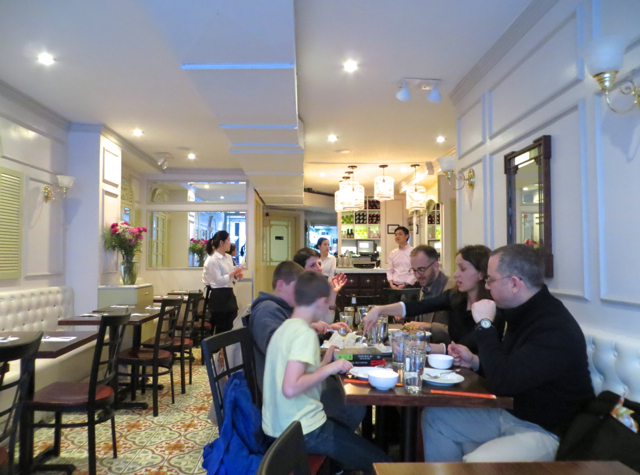 You know you're in an authentic Isan Thai restaurant when there isn't just one, but multiple options for Larb (a spicy salad of ground meat, fresh herbs, chilis and toasted rice powder) and Som Tum (green papaya salad):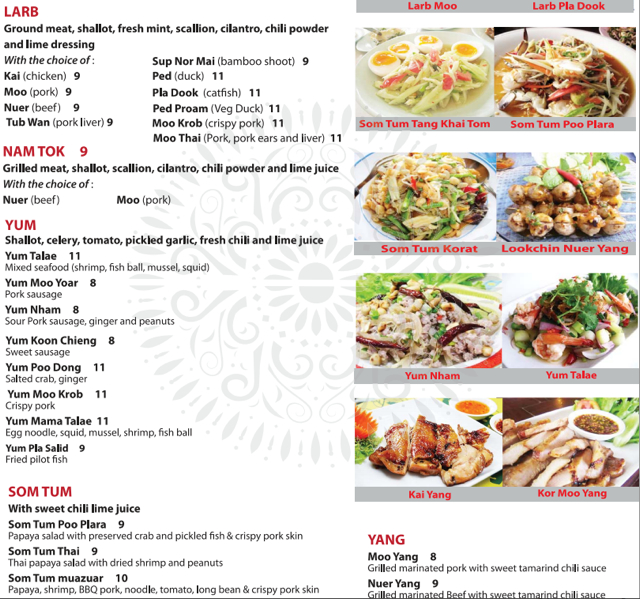 In fact, there were so many appetizing options on the menu, we purposely overordered to try different things, and decided to bring home the leftovers.
Our server asked if we wanted any drinks, and my husband opted for a Singha beer, a good choice to pair with truly spicy Thai food. There are also a variety of cocktails on offer, but I haven't heard great reviews for those, so I stuck with water.
After finally deciding, I caught our server's eye and we ordered. She wisely asked us what level of spiciness we'd like, and it's a good thing I'd read up how authentic Zabb Elee is when it comes to Thai levels of spice. I said that we both really enjoy spicy food, and she suggested level 3 (out of 5). I asked for 3.5.
Afterwards, my husband challenged me on it–"shouldn't you have asked for spicier?" I assured him that it would be spicy enough.
Sure enough, when the Som Tum Thai was brought and he'd had a few bites, he began gulping beer and turning a bit red in the face. "I think 3 instead of 3.5 would have been fine" he admitted, while gingerly picking out the whole red chilis. The Som Tum was as large a portion as I've ever seen, and could have been a satisfying meal in itself for one person, accompanied by some Khao Niao (sticky rice). Plenty of shredded green papaya, dried shrimp, and cherry tomatoes, all laced with spicy and pungent dressing.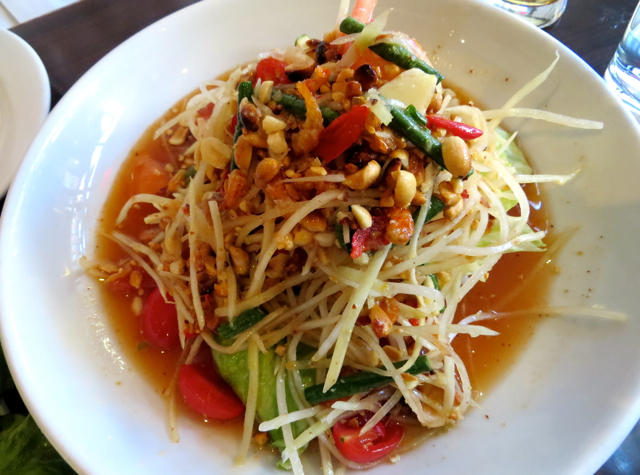 Along with the Som Tum came the Larb Ped (made with ground duck). While I've had better larb in Laos, only one other version in the U.S. has been better. It was also nicely spiced, and refreshing, with its fresh herbs. It could have used perhaps a bit more herbs and a tiny bit more fresh lime juice to further brighten it. The only service shortfall was not bringing the sticky rice along with it, since they traditionally are eaten together; I had to remind my server for it.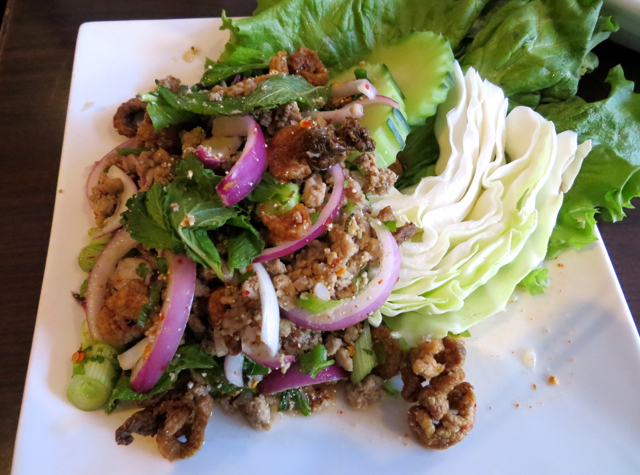 My husband normally orders Tom Kha Gai at regular Thai restaurants, but Isan food traditionally does not use coconut milk, and I reminded him that the Toam (spicy lemongrass soup) options would have a sour, spicy broth devoid of coconut milk. He still wanted to try the Toam Zaab Kai Baan (with chicken, straw mushrooms, basil, galangal and fresh chili) however. Overall this was my least favorite of our dishes, and also the one I found the spiciest, probably because because of how the chili so thoroughly permeated the broth.
It would be great if you had a sore throat and wanted to simply numb your throat for awhile, however 🙂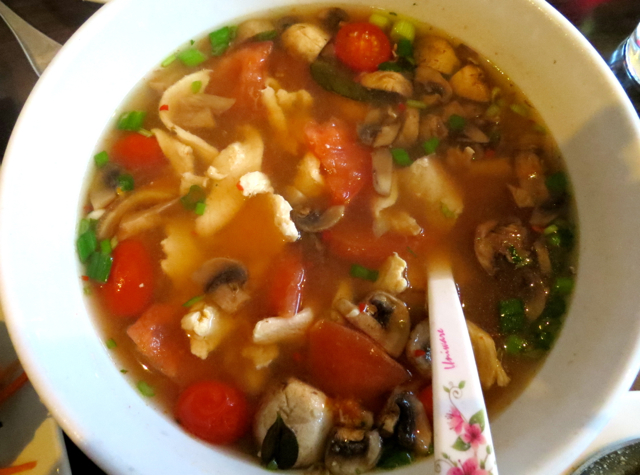 Having loved Amok, a curried fish or seafood dish steamed in banana leaves, when I was in Cambodia, I wanted to try the Thai version, Hor Mok. It proved a godsend, in terms of being the one more mild dish we ordered, providing a welcome relief between spicy bites. And it was delicious in its own right, a more subtly spiced steamed curry fish, its coconut cream a reminder that this is not an Isan dish, but delicious nonetheless.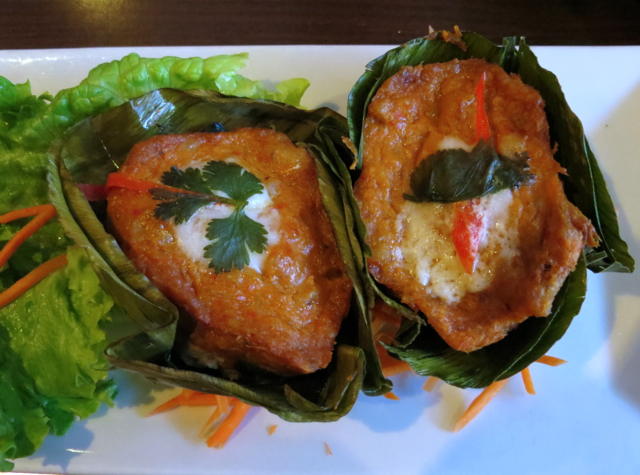 My husband's other pick, Pad Ped Moo Krob ($11), was excellent. Be warned that the pork in it is *very* crispy, and some may not care for it for that reason. But the spice paste makes it incredibly flavorful, and it was complemented well by the small green Thai eggplants and basil in the dish. Yum!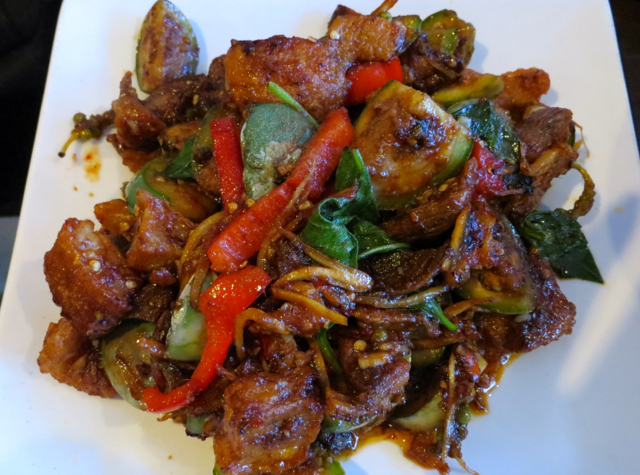 The Verdict: If you already enjoy Isan (northeastern) Thai food or Laotian food or are curious to sample it, Zabb Elee is a must-try in NYC. Don't look for central or southern Thai curries or Pad Thai here–the Som Tum, Larb, and other Isan specialties are your best bet. Don't forget to Activate the Chase Freedom 5X Bonus for Q2 2013 for Restaurants to earn 5X points when dining. Oh, and unless you're Thai, you probably don't want to request a spice level greater than 3.5 🙂
Related Posts
Somtum Der NYC Restaurant Review
Best NYC Midtown Lunch Restaurants
Oriental Garden Dim Sum, NYC Restaurant Review
Wa Jeal Sichuan in NYC and $100 AMEX Credit on Small Business Saturday
Need Award Booking Help? Our fee is as low as $75 per ticket if you book your hotel through us.
If you enjoyed this, join 200,000+ readers: please follow TravelSort on Twitter or like us on Facebook to be alerted to new posts.
Become a TravelSort Client and Book 5-Star Hotels with Virtuoso or Four Seasons Preferred VIP Amenities!