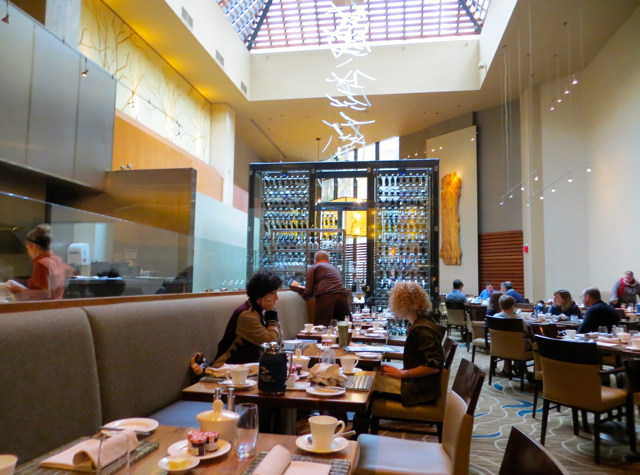 This YEW Restaurant Review is part of a Vancouver and Seattle trip report including Cathay Pacific First Class to Vancouver, plus reviews of luxury hotels, food, and family friendly things to do in Vancouver and Seattle. Prior posts include:
Cathay Pacific First Class NYC to Vancouver
Four Seasons Vancouver Hotel Review
Bishop's Vancouver Restaurant Review
Stanley Park Miniature Train: Vancouver with Kids
Four Seasons Seattle Hotel Review
Chihuly Garden and Glass: Must-See in Seattle
Toulouse Petit Seattle Restaurant Review
Theo Chocolate Factory Tour in Seattle, Washington
YEW Restaurant at the Four Seasons Vancouver is known for its seafood specialties and farm to table cuisine for lunch and dinner. Due to our short stay, we dined twice for breakfast, and based on that, certainly wish we had had more time to try the restaurant for dinner.
The entrance is just off the lobby, and is simply stunning, with its 40 feet ceilings and modern decor, made warmer and cosier by the use of native woods, not to mention the gas fireplace: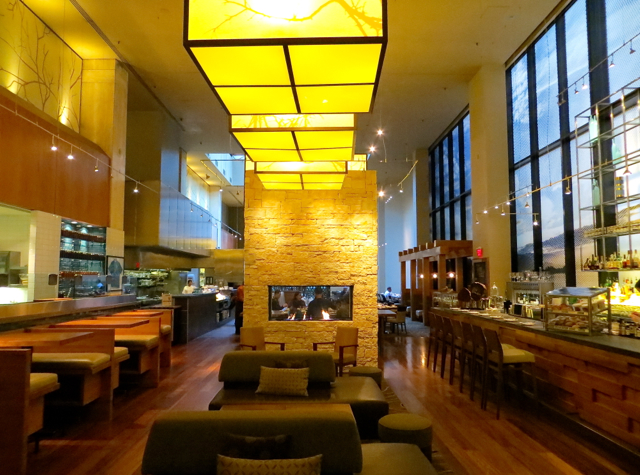 The hostess surprisingly somehow knew our name and provided the munchkin with a coloring mat, crayons and some wikki stix to mold into different shapes, which he enjoyed.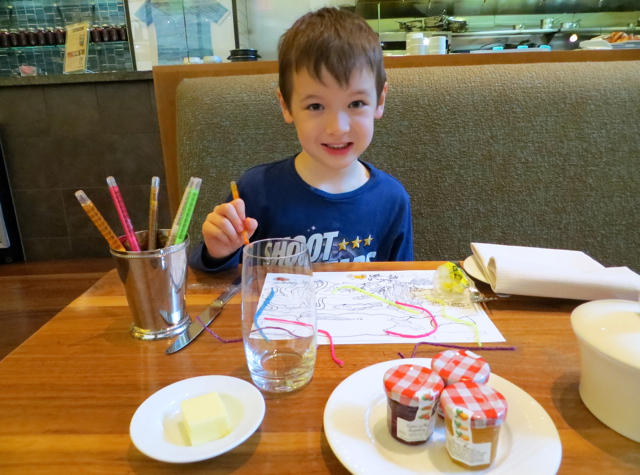 YEW Menu
We were initially given the brunch menu, but when I asked about breakfast items, our server apologized and quickly brought the breakfast menu. It offered plenty of choices, from several varieties of eggs benedict to pancakes, waffles, french toast, omelet, steak and eggs, oatmeal, and even a version of that Canadian classic, poutine. I can never resist trying a restaurant's ricotta pancakes, so that's what I ordered the first day.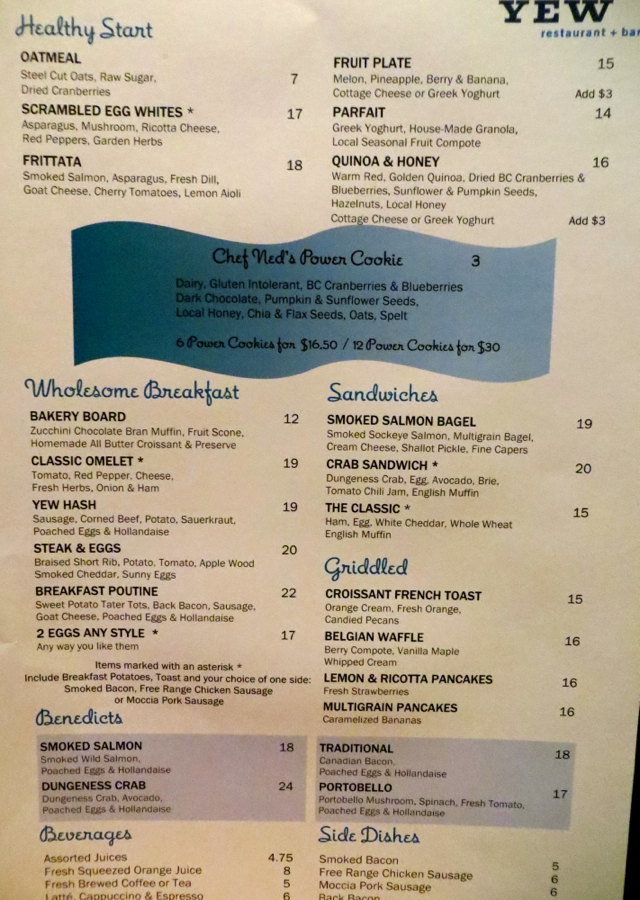 The kids' menu had several choices as well, and while we were given a free kid's breakfast as guests of the hotel, the prices were very reasonable at just $4 for each kid's breakfast entree and $2 for a smoothie, even if you're not staying at the Four Seasons Vancouver.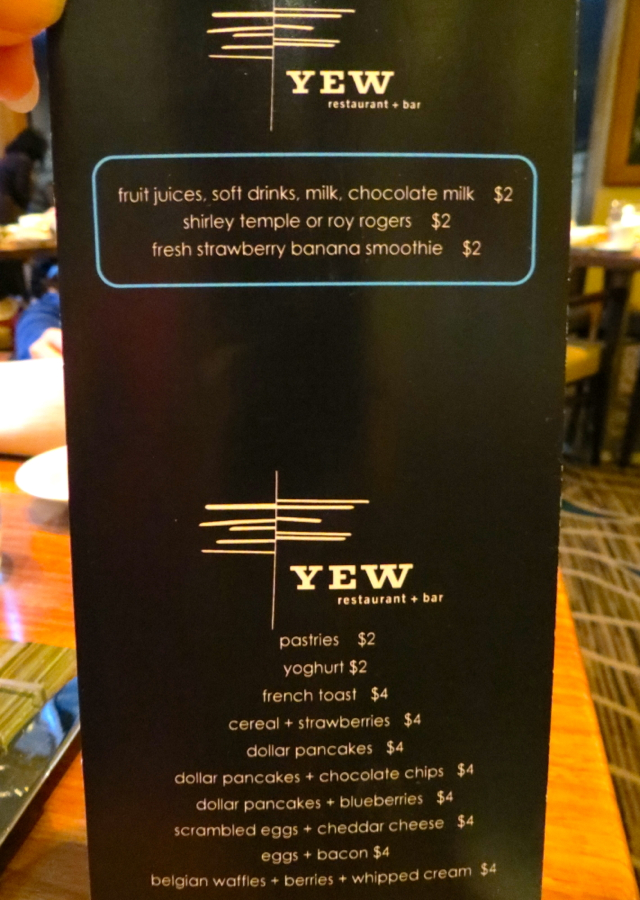 YEW Food
The munchkin was especially fond of the strawberry banana smoothie he chose. It was also a generous serving size, enough for me to sneak in a few sips.
The kids' scrambled eggs and bacon was the perfect portion for the munchkin, although if you have an especially hungry 10 or 11 year old you'll probably want to supplement with a bit more food. I liked that there were roasted sweet potatoes as well as regular potatoes on the plate, a nice addition both in terms of flavor and as a vegetable.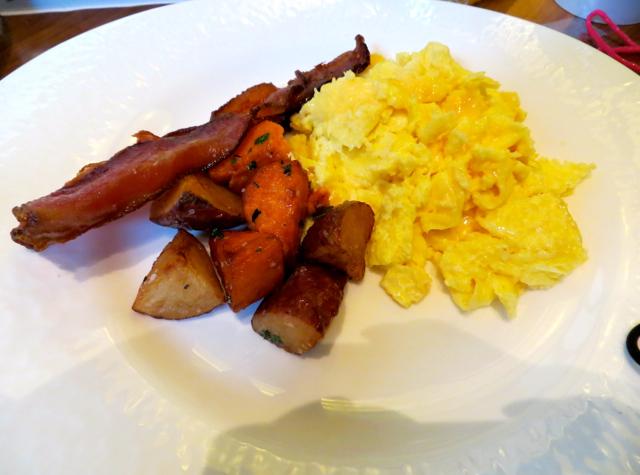 My lemon ricotta pancakes were light and fluffy and would please most pancake lovers. I have to admit though that I still prefer the ricotta pancakes from Maialino or even the ricotta pancakes recipe I make at home, as they have more ricotta flavor to them.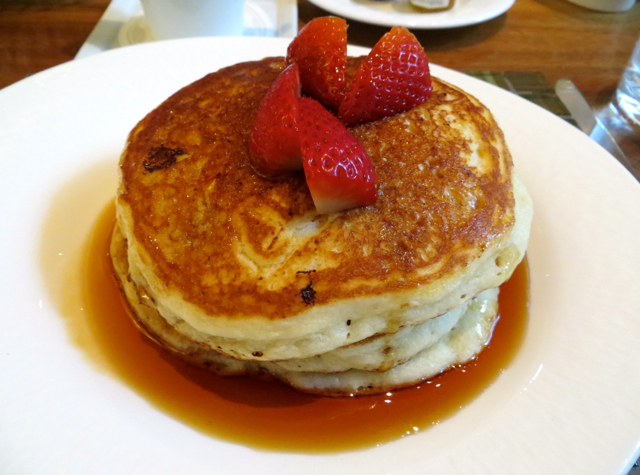 The next day, the munchkin chose waffles with berries and vanilla cream, which were fantastic: perfectly warm and crispy, with fresh berries and vanilla bean flecked cream alongside. I could scarcely believe this was a complimentary kid's breakfast, it was so good.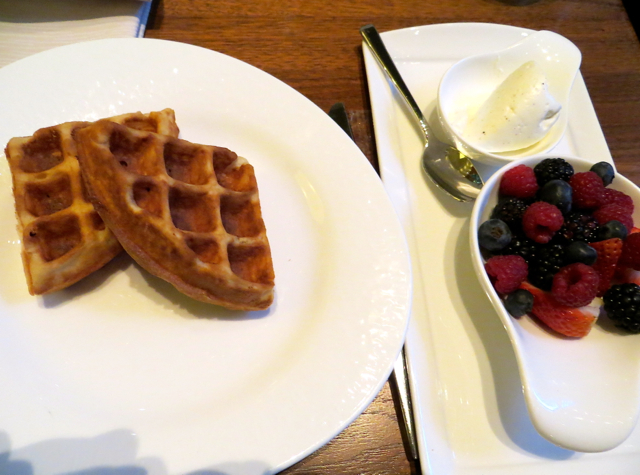 My smoked salmon eggs benedict was very satisfying as well. It didn't blow me away, but it was well prepared with fresh ingredients, including smoked wild salmon, and hit the spot since I wanted something savory.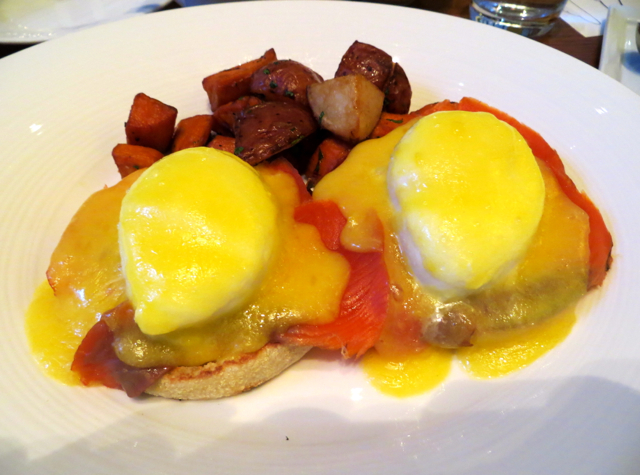 YEW Service
From the personalized greetings from the hostess and servers to kids' coloring amenities and friendly, attentive service both mornings, I wished that I had a restaurant such as this near us in NYC. Both days, even though we had different servers, the order for my son's smoothie was put in right away and came quickly, a godsend when you have a ravenous kid in the morning. And there was no chasing a server for the bill when we were ready to leave–our server was always prompt in refilling our water, so it was easy to ask for it.
YEW Prices
You expect to pay more in a hotel restaurant, and I'd say most breakfast entrees were about $4 more than you might pay at a stand alone restaurant in downtown Vancouver. As we were staying at the Four Seasons Vancouver, the munchkin got a free breakfast both times we dined. In our room, I found this brochure noting that all kids 12 and under staying with their parents at the hotel eat free from the kids' menu: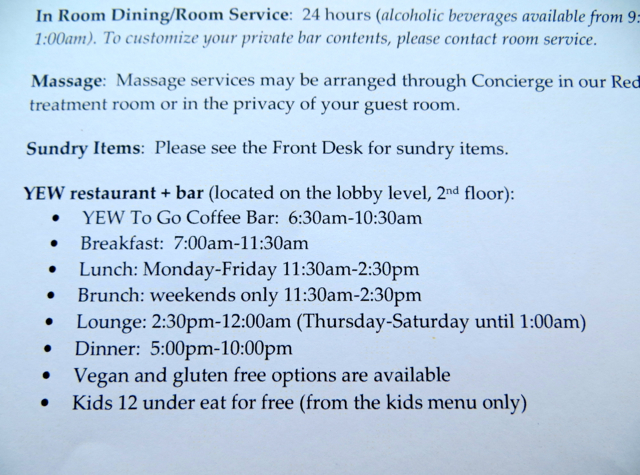 The Verdict: This is the best free kid's breakfast I've seen so far at a hotel–just as delicious as the adult entrees and beautifully plated and served. Even if you're staying elsewhere in downtown Vancouver, the kids' menu, at least for breakfast, is very reasonable and well portioned. The dining room is beautiful and service is perfect–attentive but genuinely friendly–you'll feel well taken care of. Highly recommended!
Disclosure: I paid for my own meals at YEW and for my stay at the Four Seasons Vancouver.
Related Posts