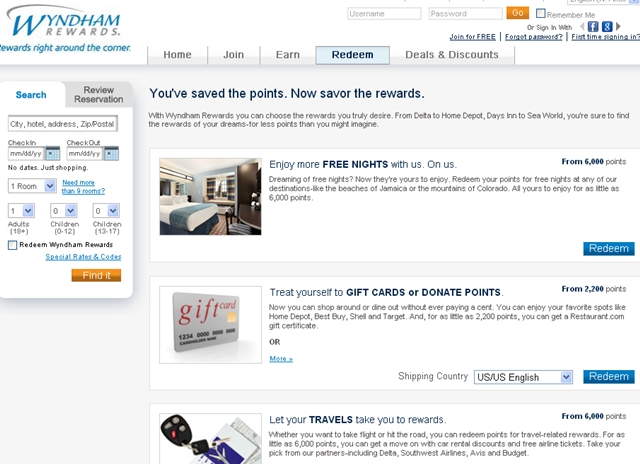 Here's what you need to do, per this from
FT
:
"To receive the goodwill points, please send your member number and a copy of the folio (receipt) after your stay to WRCustomerservice@wyndhamrewards.com so we can ensure that the points are posted to the appropriate account. For tracking purposes, please also reference your FlyerTalk Username/Handle within your email."
That said, there is really no reason to set up an account on FlyerTalk if you don't have one–just email your Wyndham member number and folio to the email address.
Even if you don't receive a folio within 3-4 days of your stay, don't fret–per the FT post below, you can just email a scan of your credit card statement showing the amount charged:
"I had those same exact questions and wrote back to confirm and got these answers:
16k points per stay.
Email receipt is fine. I asked if I'll even get one since it will be a no-show and they said that if I don't get one emailed to me, a copy of my credit card statement showing I was charged will also work."
Personally, since I still have some non-refundable stays, I plan to email Wyndham after the final stay is complete. I may be overly cautious, but I don't want the chance that one of these upcoming stays might be cancelled.
It does look as though you'll need to email to get the 16,000 points for each stay, it will NOT be automatic. If you registered for the other Wyndham promo to receive 5500 bonus points after your second stay, before November 26, that DOES seem to be automatically posting.
Best Redemption Values for Wyndham Rewards Points
If you're in fact a Wyndham fan, then you probably already have your favorite Wyndham hotels you want to use your points for. I frankly have no interest in staying in any Wyndham properties, given that I can get much better luxury and boutique hotel deals using
TravelSort Hotels
or my travel agent rate. Hence, I plan to transfer Wyndham points into airline miles.
Wyndham's airline and rail transfer partners are:
Aeromexico Club Premier
Air Canada Aeroplan
American Airlines AAdvantage Miles
Amtrak Guest Rewards
Delta Skymiles
Frontier EarlyReturns
Southwest Rapid Rewards
US Airways Dividend Miles
United MileagePlus Miles
Air Berlin Top Bonus Miles
Czech Airlines OK Plus Miles
Saudia Airlines Alfursan Miles
China Southern Sky Pearl Club
Air China PhoenixMiles
China Eastern Eastern Kilometers
Fortune Wings Club Kilometers
Most of these transfer at 2.5 Wyndham Rewards points to 1 mile, so for example whether you select American AAdvantage or United MileagePlus, these are the transfer values:
8000 Wyndham Rewards points = 3200 miles
17,500 Wyndham Rewards points = 7000 miles
30,000 Wyndham Rewards points = 12,000 miles
Originally I'd planned to transfer 80,000 Wyndham points (some from this promotion and some I had previously) to American AAdvantage to earn over 32,000 American miles, since it's become easier to earn Ultimate Rewards points = United miles with the various 5X bonuses from the
Ink Bold
/
Ink Plus
,
Freedom
, gift cards and (if you have access to Vanilla reloads)
AMEX Bluebird
.
That said, there's currently a
United promo
where you can earn an extra
5000 United bonus miles
if you transfer hotel points into at least
20,000 United miles
: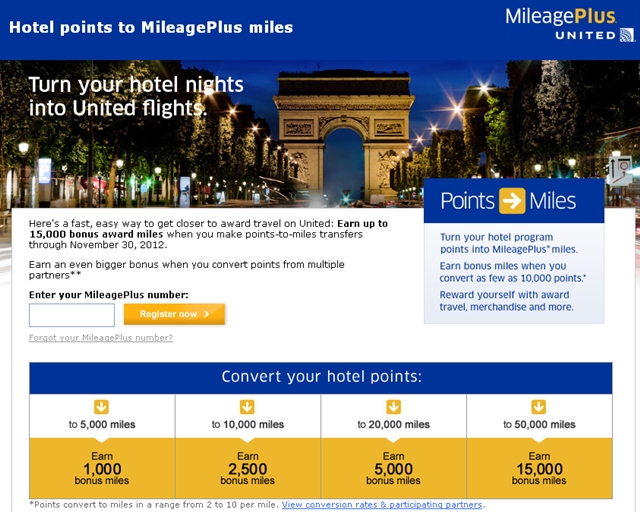 You could actually earn 15,000 bonus miles if you transferred hotel points into 50,000 United miles, but I don't have enough hotel points that I don't care about to transfer that many. It goes without saying that you don't want to transfer any valuable hotel points, such as SPG points or Hyatt points, due to the terrible transfer values. The United promo is nothing huge by itself, but given that I'm planning to transfer Wyndham points into miles anyway, a 5000 bonus is better than nothing.
You can transfer hotel points from different sources, but you must transfer hotel points through November 30, 2012 to be eligible for the bonus.
So, I plan to transfer 52,500 Wyndham points into 21,000 United miles plus the 5000 mile bonus for 26,000 United miles (since it's not possible given the transfer packages above to get to exactly 20,000 United miles) then transfer 25,500 Wyndham points into 10,200 American miles.
What do you plan to do with your Wyndham points, if you got in on this promo?