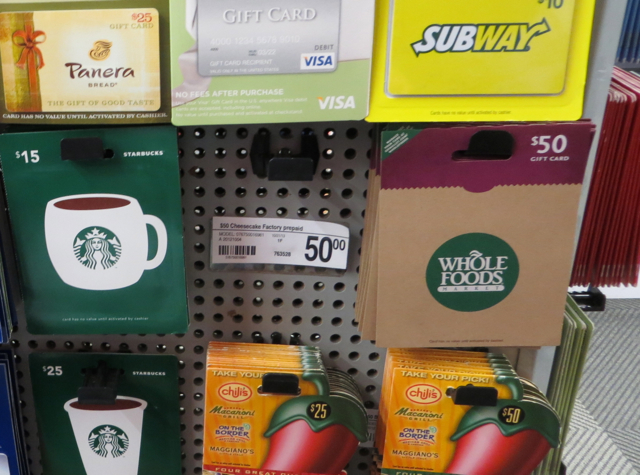 Per Scott, Chase may end the Ink cards' 5X for office supply store spend: this was apparently something explored during a recent focus group, so the 5X may or may not be eliminated.
Why the possible elimination of 5X for office supply store spend? While I'm not Chase, I suspect that many folks have been nearly exclusively putting 5X office supply store spend on their Ink Bold and/or Ink Plus business cards. That's not profitable or sustainable for Chase, since a 5X category is offered with the expectation that spend will also be put in the card that is not bonused that way, earning just 1X or 2X.
Currently, 5X Ultimate Rewards points for office supply store spend can be leveraged for a number of different merchant gift cards. My favorites include:
Starbucks gift cards: 5X on all Starbucks spend
Some folks also like to buy $200 Visa gift cards, even with the $6.95 fee, and cash them out either via Amazon Payments, via money order, or set a PIN and use them to load Bluebird at Walmart. That said, after the United Award Chart Devaluation and more minor Hyatt Award Chart Devaluation I don't find this use particularly compelling, given the $6.95 fee per $200.
I'd rather take advantage of the 100K Citi Executive AAdvantage card and focus my spend on that to earn another 100K AA miles.
If Chase does go ahead with the change and eliminate 5X for office supply store spend, I suspect that ALL Ink cardholders that currently have the 5X feature will be transitioned and will *not* be grandfathered. This would be similar to the forced transition that Chase made with Chase Exclusives. See Goodbye Old Chase Exclusives for Chase Freedom Card Even for Grandfathered Members. After all, the most likely reason that Chase is considering eliminating this bonus is that it's being abused by some cardholders for major manufactured spend purposes.
That said, Chase has grandfathered cards such as the old Ink Bold, which gives a set bonus for $100K annual spend, and the United MileagePlus Select Visa, which earns 3X on United tickets. Neither of those cards is open to new applicants, but old card holders were grandfathered. I don't see either of those cards as subject to the kind of manufactured spend abuse that is likely taking place with the Ink Bold and Ink Plus cards, however, thus prompting Chase to consider eliminating the 5X bonus for office supply store spend. It may also be why Chase eliminated the Ink Classic card, which was a no fee card that allowed you to earn the same bonuses, including 5X for office supply store spend, and also transfer to airline and hotel partners, as long as you also held the Sapphire Preferred card, Ink Bold or Ink Plus.
If Chase eliminated the 5X office supply store bonus would you keep or close your Ink Bold or Ink Plus?
Related Posts
5X Points for Whole Foods Groceries via Staples and Ink Cards
Bonus Offers to Keep the Sapphire Preferred, Ink Bold and United MileagePlus Explorer
United Award Chart Devaluation: Strategy Going Forward
Need Award Booking Help? Our fee is as low as $75 per ticket if you book your hotel or cruise through us.
If you enjoyed this, join 150,000+ readers: please follow TravelSort on Twitter or like us on Facebook to be alerted to new posts.
Become a TravelSort Client and Book Your Hotel with Virtuoso or Four Seasons Preferred VIP Amenities!