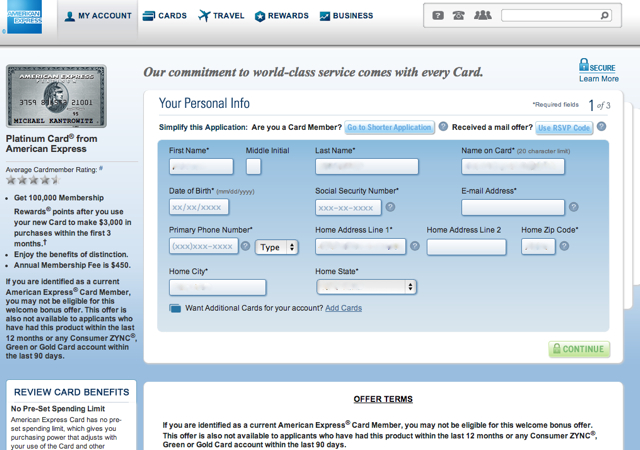 Will AMEX improve the AMEX Platinum card to compete with the Chase Sapphire Reserve card? The Chase Sapphire Reserve has become a must-have for anyone who travels. Demand has been even higher than Chase itself anticipated, with a number of new cardmembers receiving plastic cards instead of metal cards, due to temporary card stock shortages.
It's worth comparing some of the ways the Chase Sapphire Reserve is superior to the AMEX Platinum, to look at what improvements AMEX might make to persuade existing AMEX Platinum cardmembers to keep the card, instead of downgrading it when the annual fee hits.
Signup Bonus: 50K CSR Public Bonus vs. 40K AMEX Platinum
Currently the Chase Sapphire Reserve public signup bonus is 50,000 Ultimate Rewards points for everyone who successfully applies for it. The AMEX Platinum public signup bonus, in contrast, is just 40,000 Membership Rewards points. Some are lucky enough to receive a 100K targeted offer, but the public signup bonus is certainly nothing to write home about.
Travel Credit: $300 CSR Annual Travel Credit vs. $200 AMEX Platinum
Not only does the Chase Sapphire Reserve enjoy a higher $300 annual travel credit, it can be easily redeemed for air travel, hotels, taxis, even subways and Uber. That's in stark contrast to the $200 AMEX Platinum airline incidentals credit, which is far more restrictive, since you have to select a single airline for the credit (a selection that can only be changed once per year) and airline tickets are specifically excluded.
So while the Chase Sapphire Reserve travel credit is something virtually everyone will use during the course of the year and makes the effective annual fee just $150, the same can't be said for the AMEX Platinum, which is harder to redeem.
Category Bonuses: 3X on Travel and Dining with Chase Sapphire Reserve vs. 1X with AMEX Platinum
Another key differentiator is the ongoing value of the Chase Sapphire Reserve, as it earns 3X Ultimate Rewards points per dollar on all travel and dining, vs. 1 point per dollar for all spend on the AMEX Platinum. That makes the AMEX Platinum only a card to get if you receive a high targeted signup bonus, or possibly for its benefits, for example if you frequently visit cities with the AMEX Centurion Lounge, but not a card to use. The main possible exception are large electronics purchases, since AMEX is known for its generally better customer service when it comes to honoring extended warranty and loss protection policies.
AMEX's Unique Benefits: Centurion Lounges and 4pm Late Check-Out
Even AMEX's much vaunted customer service is not what it used to be, so what keeps cardholders with AMEX? A few possibilities:
The AMEX Centurion Lounges: keep in mind that anyone with an AMEX card can pay $50 per person for access, so the main benefit is complimentary access, which can pay off if you travel frequently through airports that offer a Centurion Lounge, such as San Francisco, Las Vegas, New York LaGuardia, Houston, Miami and Seattle.
4pm late check-out at all AMEX Fine Hotels & Resorts properties. Even though I can reserve AMEX Fine Hotels & Resorts properties for clients, 95% of the time I reserve with Four Seasons Preferred Partner, Peninsula PenClub, and other preferred partner programs or Virtuoso, because of the better chance of an upgrade or unique preferred partner benefits. The other 5% of the time that I do book clients with AMEX FHR benefits, it's because of the 4pm guaranteed late check-out. So while Virtuoso offers more properties than AMEX FHR and it's nearly always better to reserve with preferred partner benefits for the better chance of an upgrade, there are times when it's preferable to have 4pm late check-out guaranteed, and that is available with AMEX Fine Hotels & Resorts.
How Might AMEX Improve the AMEX Platinum?
Given the above, I think the key things AMEX will need to address if it hopes to prevent current AMEX Platinum cardholders from downgrading or canceling the card are:
1. Make the Airline Incidentals Credit a More Flexible Travel Credit
While AMEX may or may not increase the credit, it needs to at least make the credit easier to use for the typical AMEX Platinum member (which isn't necessarily a churner). The credit should be valid towards all travel, as with the Chase Sapphire Reserve, to be even somewhat competitive.
Because AMEX already offers Priority Pass Select, just as the Sapphire Reserve does, and also has its far superior Centurion lounges in several key U.S. airports, it can be competitive for many users with a $200 credit, at least for those who anticipate more than 2 visits per year to Centurion Lounges.
2. Add Category Bonuses
To really make members who also have the Chase Sapphire Reserve use the AMEX Platinum, AMEX needs to add a 3X travel category bonus. Otherwise it will see its card not used as highly as the Sapphire Reserve, and as with all issuers of premium credit cards, the goal is to be top of wallet, with the card used frequently and for major purchases.
What do you think AMEX should change with its AMEX Platinum to remain competitive?
Related Posts
AMEX Cruise Privileges Benefits or 3X Points with Chase Sapphire Reserve?
Chase Sapphire Reserve Priority Pass Select Lounge Access and FAQ
Chase Sapphire Reserve: Downgrade the Sapphire Preferred and Other Cards?
How to Get Approved for the 100K Chase Sapphire Reserve If Over 5/24
Best Ways to Use 100K Ultimate Rewards Points?
Need Award Booking Help? Our fee is as low as $75 per ticket if you book your hotel through us.
If you enjoyed this, join 200,000+ readers: please follow TravelSort on Twitter or like us on Facebook to be alerted to new posts.
Become a TravelSort Client and Book 5-Star Hotels with Virtuoso or Four Seasons Preferred Partner Benefits!