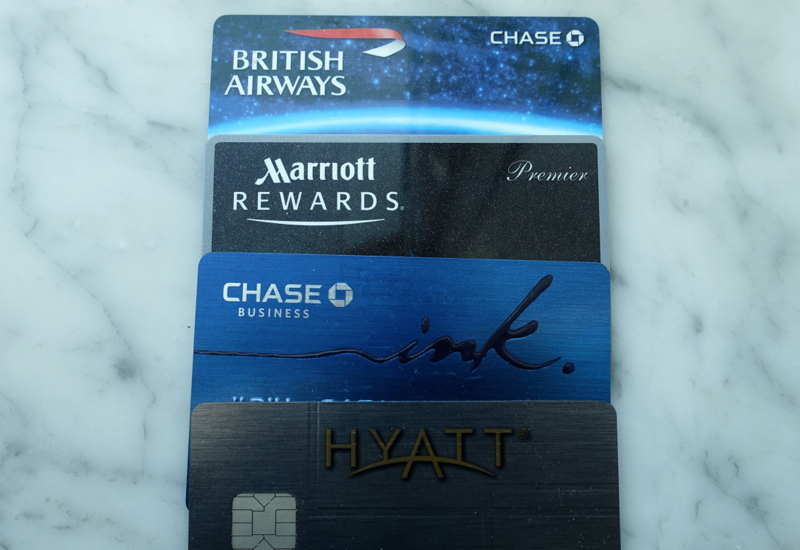 Which Chase credit cards to apply for before the 5/24 rule goes into effect? Reader Vincent writes "I read your post Chase 5/24 Rule and Why to Get the Ink Plus Now and am about to apply for the Ink Plus, but which other co-branded cards should I try to get before the 5/24 is potentially applied to them in April 2016? I have no airline or hotel status, so curious what you think the best cards to have are, especially as I may not to be able to get approved for other Chase cards for awhile."
This is a great question that I've been thinking about for my own household's cards, so I'll prioritize what I view as the best cards to get, although of course the calculus changes based on individual travel preferences.
1. 60K Ink Plus
The Ink Plus is a key card for us and one of the few cards I don't plan to close. The 5X points on Internet, Cell Phone and Office Supply Stores (which makes possible 5X on all Amazon spend and 5X on Whole Foods spend) is valuable and allows us to earn more on categories where we naturally have high spend.
2. Hyatt Visa: 2 Free Nights
Hyatt is a much smaller hotel chain than SPG, Marriott, Hilton, etc. but it does have a few nice Park Hyatt hotels that can make the 2 free night signup bonus worth ~$2000, depending on where you redeem them. While very few Park Hyatt hotels are the leader in their destination, there are a few, such as the Park Hyatt Sydney. We will most likely spend our free nights on a return visit to the Park Hyatt Maldives in conjunction with visiting another even better luxury resort in the Maldives.
On the other hand, since the two free nights expire 1 year from their issue date, you do need to be sure you'll be able to redeem them for a high end Hyatt to make applying for this card worth it. Don't forget to sign up on the Hyatt Web site when making a booking, so that you can also receive a $50 statement credit.
2 Free Nights at any Hyatt worldwide including Park Hyatts after spending $1000 in the first 3 months
New: annual fee waived the first year, then $75
If you make a Hyatt booking at Hyatt.com, you can apply for the Hyatt Visa with a $50 statement credit.
Receive 1 Free Night each year on your anniversary in any Category 1-4 Hyatt
No foreign transaction fees
3 Hyatt points per $1 spent at Hyatt hotels
2 Hyatt points per $1 spent at restaurants, on airline tickets purchased directly with the airline and at car rental agencies.
3. 50K-100K British Airways Visa
While we don't redeem British Airways Avios as often as other miles, they do come in handy for some short nonstop award redemptions that would otherwise be more expensive with AAdvantage miles or as paid flights. And while it was a ton of miles, we did use Avios to fly my husband in Qantas A380 First Class from Sydney to Los Angeles, a redemption that is virtually impossible to book using AAdvantage miles, particularly since we needed one specific date. In general, you should still be able to redeem Avios at 3-4 cents per point or more , which is more value than you'll get from most hotel point redemptions, and this is why I'd recommend this card above most Chase hotel cards apart from the Hyatt Visa, even if you have no intention of spending $20,000 on the card to earn the full 100K bonus.
50,000 bonus Avios after $2,000 spend within the first 3 months of account opening
Additional 25,000 bonus Avios after spending $10,000 on purchases or additional 50,000 bonus Avios after spending $20,000 on purchases within the first year (total of 100,000 Avios for $20,000 spend within the first year)
3 Avios for every $1 spent on British Airways purchases and 1 Avios for every $1 spent on all other purchases
No foreign transaction fees
Travel Together companion ticket valid for 2 years after $30,000 spend within a calendar year
$95 annual fee is NOT waived for this offer
4. 60K IHG Rewards Visa with Annual Free Night at Any InterContinental Hotel
We've never gotten the IHG Rewards Visa and I doubt we'll get it before 5/24 going into effect because of getting a new Hyatt Visa for each of us, but if you already have the Sapphire Preferred and Chase Freedom (which are already subject to 5/24) and also already have the Ink Plus and British Airways Visa and the Hyatt Visa (or aren't interested in the Hyatt card) this would be the next Chase card I'd look at.
The reason is less about the bonus, since 60K points will get you just 1 free night at the best hotels, such as the InterContinental Hong Kong, and I'd rank most InterContinental hotels below Park Hyatt hotels, which in turn are typically below most Four Seasons properties. Rather, it's that you get a free reward night each year, at any IHG property in the world, with no category or tier restriction. Other hotel cards such as the Hyatt Visa and Marriott Visa restrict you to their lower category properties, so the InterContinental free night is a more valuable continuing benefit and a great deal for the $49 annual fee. Who knows, maybe I'll have to try to make room for this card after all.
Earn 60,000 IHG Rewards points after $1000 spend within the first 3 months of card membership
Annual free night at any IHG property worldwide
5X per dollar spent at IHG hotels
2X per dollar spent at gas stations, grocery stores and restaurants
No foreign transaction fees
Annual fee waived the first year, thereafter $49 per year
5. Fairmont Visa: 2 Free Nights
Why don't I rank the Fairmont Visa 2 free night offer higher? Fairmont does have some nice properties, particularly if you like staying in historic hotels–see for example my review of the Fairmont Copley Plaza in Boston. But even some of Fairmont's nicer properties, such as the Fairmont Orchid on the Big Island and Fairmont Kea Lani in Maui are overshadowed by the neighborhing Four Seasons resorts, the Four Seasons Hualalai and Four Seasons Maui at Wailea, respectively. One property that could be interesting, if it's actually eligible for the free award nights, is the Royal Monceau Raffles Paris, which some clients have frankly enjoyed more than the Park Hyatt Paris, although I'd still pick Four Seasons George V or the Mandarin Oriental Paris over both of these. Beware if you're planning to redeem for The Savoy in London or The Plaza Hotel in New York, as both of these hotels impose capacity controls, making it challenging to redeem free nights.
No doubt the 80K Marriott Visa makes sense for anyone who stays often at Marriott or Ritz-Carlton hotels, but I can't remember the last time I stayed at a Marriott, and I rarely stay at Ritz-Carlton properties either. In fact, I still have points from a Marriott Visa I got years ago that I've yet to redeem.
On the one hand the points give you more flexibility than two free nights, since you don't have to redeem them within a year of receiving them. On the other hand, if you're a luxury traveler, there are very few Marriott and even Ritz-Carlton hotels that are leaders in their market. As a result, I look at this card as best for a Marriott or Ritz-Carlton loyalist or someone who has no travel plans that would allow them to maximize two free nights in the next year or so, for whom a points balance makes more sense. Although even then, I'd probably to with InterContinental, with the lower bonus but better free night anniversary offer, since Marriott restricts you to a Category 1-5 hotel.
Earn 80,000 Marriott points after $3000 spend within the first 3 months of card membership
7500 Marriott points after adding an authorized user and making a purchase within first 3 months of card membership
Annual free night at any Category 1-5 Marriott
5X per dollar spent at Marriott and Ritz-Carlton hotels
2X per dollar spent on airfare purchased directly with airlines, car rental agencies and restaurants
No foreign transaction fees
$85 annual fee is NOT waived the first year
Which Chase cards do you plan to apply for before teh 5/24 rule goes into effect in March for the Ink Plus and April for Chase co-branded cards?
Related Posts