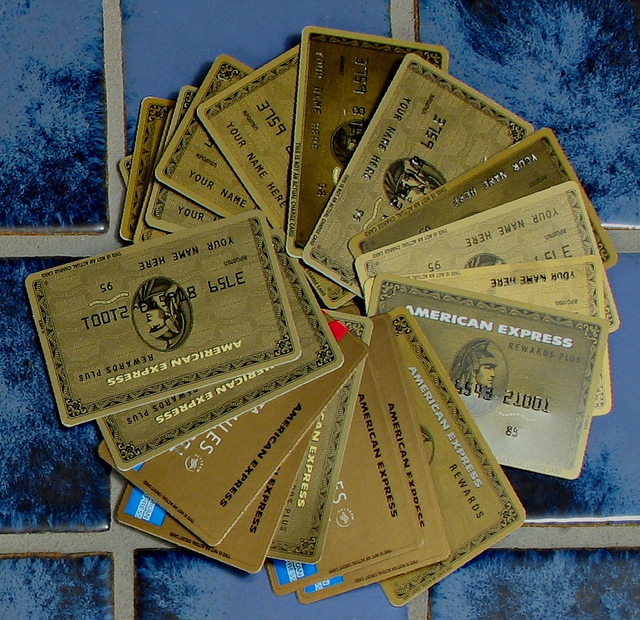 When do you cancel a credit card vs. pay the annual fee? TravelSort reader Abdel writes in the comments to my post 100K AA Miles "I noticed you must have a lot of credit cards. I came cross your article about to cancel your credit cards or not, but…do you carry a lot of credit cards with annual fees? And if so, what are the fees you're paying in total keeping all these cards?"
Even though I have around 15 credit cards at any given time, the ones that are in my wallet are:
New credit cards that I'm working on meeting minimum spend to receive the signup bonus
Credit ards I use regularly for certain bonus spend categories (also see Meet Minimum Spend: Top 20 Tips for my favorite category bonuses)
Credit cards for which I'm working on a temporary incentive spend bonus or retention spend bonus
Which Credit Cards Do I Pay the Annual Fee For?
I treat my credit cards similarly to the way Trader Joe's runs its grocery business. You see, Trader Joe's carries many fewer product SKUs compared to conventional grocery stores. Each product has to earn its shelf space–it it doesn't, then Trader Joe's will replace it with another product. Similarly, each credit card has to earn its place in my wallet, given its annual fee, on a yearly basis. If it doesn't, I'll replace it with a different credit card.
Of course, this doesn't apply to no annual fee cards, since by definition I don't have to pay for them, and in fact, keeping them helps my credit score by increasing my average age of accounts.
Here are the cards that currently earn their place in my wallet, and that I've paid an annual fee for:
Ink Bold: I rely on this card regularly to earn 5X points on Internet and phone bills, and for office supply stores, enabling me to earn 5X on All Amazon Spend, 5X on Starbucks, etc. I also received a retention bonus for this card.
AMEX Premier Rewards Gold: We don't spend much on paid airlined tickets, but those we buy that are processed in the U.S. go on this card, to earn 3X. We also put all grocery spend on this card for 2X points. Again, I received a retention bonus to keep this card.
United MileagePlus Explorer: I kept this card thanks to a retention bonus offer. The United Club lounge passes do occasionally come in handy on the rare occasion I fly United domestically, since I fly few paid flights and don't have elite status with any airline.
Thanks to the retention bonuses, I have more than compensated for the annual fees that I pay.
Which Credit Cards Offer a Retention Bonus?
See these posts:
If the Card Doesn't Pay Its Way or Offer a Retention Bonus, What Do You Do?
If the card doesn't offer enough value to me on an ongoing basis to justify its annual fee and there's no retention bonus at all, I either look at downgrading to a no annual fee card or I cancel the card.
Downgrade to a No Annual Fee Card If:
The no annual fee card doesn't offer a good sign up bonus (so that you're not giving up a potential sign up bonus)
You don't have any other cards with that issuer and want to keep a credit line open to help when opening a new card
You're concerned about your average age of accounts
Cancel the Credit Card If:
If you downgraded the card, the no annual fee card would be one that you later want to apply for to receive the signup bonus
You have such a large credit line with the issuer that you're unlikely to be extended more without transferring part of your credit line from an existing card. You may as well close the card so that you have a better chance of getting approved instantly for a future card from the issuer
Don't Cancel Your Credit Card Without Transferring the Credit Line to Another Credit Card from that Issuer
I can't stress this enough. Many folks that are new to miles and points don't realize how important utilization, or how much of their credit line they're using relative to their total credit line, is as part of their credit score. You can improve your utilization percentage by reducing the numerator (less spending relative to your total credit line) and by paying your charges off even before the statement is due. You can also reduce the amount spent by shifting more of your spend to small business cards, since they are not reported to the credit bureaus.
But you can also improve it by increasing the denominator: increasing your total credit line, so that for the same amount of spend, your utilization is lower.
One of the exceptions to this strategy, however, is Citi, because you generally cannot transfer your credit line to another card before closing a Citi card. That's why I recommend that you keep Citi cards with their credit lines to help you get approved for a new card, since the credit line can get moved to help with opening a new card.
How do you decide whether to cancel a credit card or pay its annual fee?
Related Posts
When to Cancel or Close a Credit Card
Convert Your AMEX, Chase or Citi Credit Card to a No Fee Card?
10 Tips: Retention Bonus Offers
Need Award Booking Help? Our fee is as low as $75 per ticket if you book your hotel through us.
If you enjoyed this, join 90,000+ readers: please follow TravelSort on Twitter or like us on Facebook to be alerted to new posts.
Become a TravelSort Client and Book Your Hotel with Virtuoso or Four Seasons Preferred VIP Amenities!