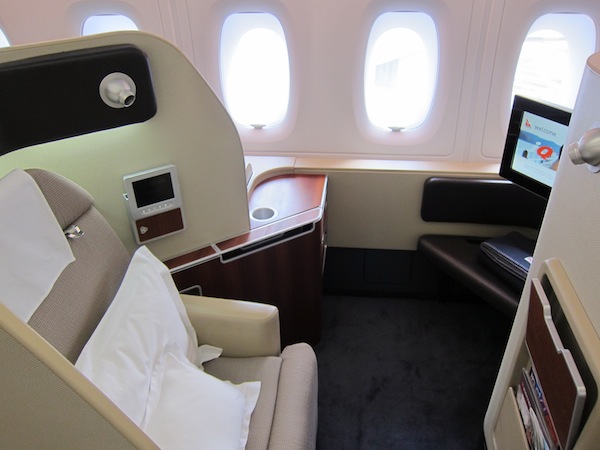 Is buying US Airways miles with a 100% bonus or buying AAdvantage miles with a 30% bonus worth it?
Conventional wisdom says no: the best US Airways promotion is the 100% bonus on shared miles, and for AAdvantage miles, it's hard to beat the current 100K Citi Executive AAdvantage bonus offer.
That said, several of my clients have benefited from buying miles, where otherwise they would have paid more to fly business class. I thought it would be helpful to see why buying miles made sense, what they would have paid, and how they could earn the miles more cheaply next time.
Example 1: Buying AAdvantage Miles to Save $10,000
The Flights
A couple of my clients needed to get to North Asia–a business trip for one of them, with the partner accompanying. There wasn't a lot of date flexibility, and Cathay Pacific business class was ~$7600 per person, for a total of over $15,000 for two.
Fortunately there was business class award availability for two close to their ideal dates, so we put that on hold for 5 days while we bought the miles.
Not Enough AA Miles
They each had an AAdvantage account, but with only 15,000 AA miles in one of them and 34,000 AA miles in the other. They didn't have a sizable SPG balance, and in any case, SPG points take longer than a few days to transfer to AAdvantage, which eliminated it as an option since we wanted to ticket during the 5 days the awards were on hold.
Buying AAdvantage Miles
The current AAdvantage promotion only gives a 30% bonus, but it's better than nothing. The client with 15,000 AA miles had to buy 77,000 AAdvantage miles with an 18,000 bonus, for $2311.31, and the client with 34,000 AAdvantage miles had to buy 60,000 AAdvantage miles with an 18,000 bonus for $1808.75 (since 60K is the threshold at which the 30% bonus kicks in).
The maximum number of AAdvantage miles you're allowed to buy (or gift) per account per calendar year is 80,000, so for these clients, it wouldn't have been possible to fly first class even if awards had been available (which they weren't, for their dates).
Over $10,000 Saved by Buying Miles
These clients would have paid the ~$15,000 for two since they needed these flights and would not have considered flying in economy for such a long trip. They spent $2897 buying AAdvantage miles, and they value their existing AA miles at about 2 cents per mile, so the spent $3877 + ~$150 in taxes and fees for their tickets, a savings of over $10,000.
Future Miles, Points and Award Strategy
These clients aren't keen on having too many credit cards or applying for new credit cards, but if they were to change their mind, my recommendation would be:
Earn more AAdvantage miles with the 100K Citi Executive AAdvantage Card, one for each of them
BankDirect could also yield a passive stream of AAdvantage miles, although after the BankDirect Devaluation, it's not really worth keeping more than $50,000 in the account.
Also earn US Airways miles, ideally through lower cost ways than the current promo, such as the US Airways Premier World MasterCard and the US Airways Share miles promotion, if it returns
Book awards as far ahead as possible, when trip dates are reasonably certain.
Example 2: Buying US Airways Miles to Fly British Airways First Class, Qantas First Class, Cathay Business Class and Japan Airlines First Class
The Flights
This client was fortunately traveling solo, since he wanted to fly several different first class products to and from North Asia via Europe and the Middle East on the outbound, and via Tokyo on the return, including Qantas First Class and Japan Airlines First Class. His original plan was to book an AAdvantage Explorer award for 180,000 miles, since he had several hundred thousand AAdvantage miles and (justifiably) is concerned about a coming devaluation.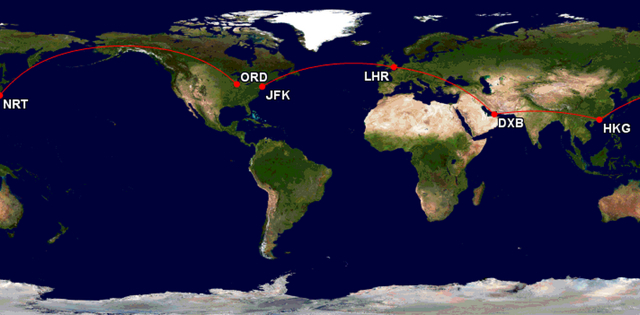 No AAdvantage Explorer Awards and Not Enough US Airways Miles
Unfortunately, before dates were finalized, American unilaterally eliminated its AAdvantage Oneworld Explorer Award Chart (see Bye Bye AAdvantage Free One Ways and Explorer Awards). Now the client was kicking himself for not having bought US Airways Dividend Miles during the most recent 100% Share Miles promotion, but neither of us had expected him to need them.
Buying US Airways Dividend Miles
He didn't want to throw in the towel, nor did he want an AAdvantage award within the confines of AAdvantage oneworld award rules (which would have meant he couldn't fly via to North Asia via Europe and the Middle East) so he opted to buy US Airways miles with the current 100% buy miles promotion. He already had 25,000 Dividend miles, so he had to buy 48,000 miles with a 48,000 miles bonus for $1806.
2 New Airline Products and a ~$23,000 Round the World Award Ticket
While he had previously flown British Airways New First Class and Cathay Pacific Business Class (since Cathay doesn't offer a first class cabin between Dubai and Hong Kong) he was excited to fly Qantas First Class and Japan Airlines First Class on this mini round the world trip, with time in Hong Kong, Siem Reap and Vietnam.
Taxes were ~$400, due to flying a segment in British Airways after US Airways started imposing fuel surcharges, but given that this itinerary would have cost about $23,000 as a paid ticket, he was still very happy with the outcome, even taking into account the US Airways Dividend miles he bought.
Have you bought miles, and if so, what was the context?
Related Posts