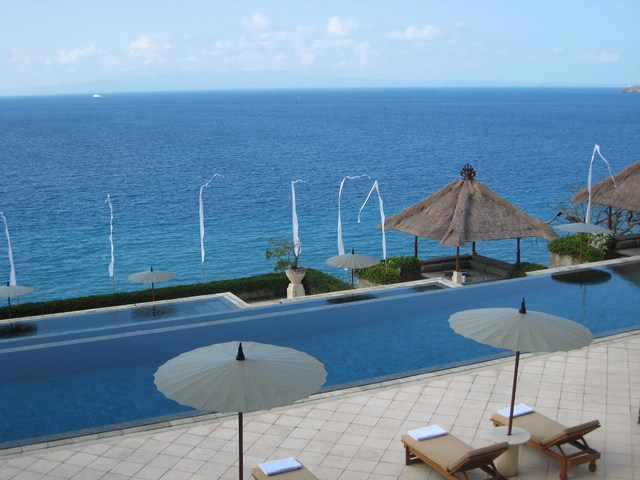 What makes a 5-star hotel? There's actually no international ratings body, so hotels can (and do) claim to be 5-star even when they are far from the standards of established 5-star luxury hotels. This is part of what leads to scathing reviews on TripAdvisor from reviewers that complain about standards at hotels that list themselves as 5-stars but are clearly not.
Here's what I look for when I do inspections and reviews of 5-star hotels:
1. Attentive, Discreet and Consistent Service
Quality and consistency of service is the number one differentiator between true 5-star luxury hotels and others. The hospitality industry is a tough one, often plagued by high employee turnover, so it's no small feat for a hotel to be able to deliver consistently at a high level and to recruit and retain the people that deliver on the hotel's brand promise. Any hotel can put in an elegant lobby or maintain lush landscaping–the human component is the more challenging piece. And by excellent service, I look for attentive, anticipatory and discreet, not fawning, insincere or merely reactive.
While no one wishes for a problem, one of the best tests of the service level is when something goes wrong. For example, let's say the room you were checked into wasn't cleaned properly, as happened to me a few years ago at the Ritz-Carlton Boston. I was promptly moved to a Club Level Room and welcomed there by the Club Level Concierge. Contrast that with the experience I had at the St. Regis Bangkok, where I was initially informed that I would have to depart by 12 noon and asked if I was a member of Starwood Preferred Guest (I'm an SPG Gold member, which provides guaranteed 4pm late checkout at all except a few resort properties).
2. Personalization
Ever noticed how the best hotels consistently greet you by name, even when it's your first time staying with them? It can seem almost like magic, when it's not at check-in and it's a staff member that you've never seen before, but it really can help bridge that gap between "just another hotel stay" and feeling taken care of, particularly if the staff are genuine. By the same token, if you've had numerous stays at a given property and are not welcomed back or greeted by name, it can have just the opposite effect–to that hotel and perhaps the hotel chain in general, you really are just another number, or a head in a bed.
It used to be said that the Ritz-Carlton records all guest preferences down to whether a guest prefers milk or dark chocolate, although I haven't experienced that level of personalization at a Ritz-Carlton recently. What I did appreciate at our recent stay at The Setai Fifth Avenue was the ability to select our own check-in and check-out time. That's apparently one of the new Starwood Elite benefits for SPG Platinum guests who stay at least 75 nights a year, but it's not common for most hotels and in my view is such a great differentiator.
3. Bedding
It's been several years since most of the major chains seriously revamped their bedding for the better, and now even use it as a key marketing point. It always surprised me that it took as long as it did (and that many independent "luxury" 5-star hotels don't have particularly good beds) since, surprise, surprise–ultimately you want to be able to sleep as well or better in your hotel room than at home.
To me, the ideal bed has plenty of support but is also pillowtop and ultra plush, ideally with some memory foam, then swathed in high thread count sheets, preferably Frette. Four Seasons, Ritz-Carlton and Sofitel beds are especially good. I'm not especially wowed with pillow menus, but I realize many people enjoy the choices. What is useful is being able to quickly and easily get extra pillows.
4. Complimentary House Car and VIP Transfer Services
I'm not talking here about the W Hotel's Acura Experience, as convenient as it sometimes is. The best 5-star hotels offer complimentary luxury house car services within a certain radius or area. For example, at our recent stay at The Setai Fifth Avenue, we enjoyed an over 50 block ride in the Maserati house car.
Even better is a complimentary transfer service that includes VIP service at the airport, as Aman Resorts offers for many of their resorts. We were picked up from our previous resort and taken to Amankila, and after our stay, transferred to Denpasar Airport where we received expedited VIP airport service from Aman's staff member at the airport. Very hard to beat that.
5. Kids' Amenities
The way to a parent's heart is through his or her child, and the top 5-star hotels and resorts understand that well. As I wrote in What Drives Customer Loyalty in the Travel Industry one of my best family hotel stays at a U.S. hotel was at the Four Seasons Philadelphia, which has a fairly nondescript footprint as far as 5-star city hotels go, but offered a wonderful welcome to my then 1-year old son as well as us. More recently, my son adored the rubber ducks and panda he was given at the Four Seasons Hong Kong, and feeding the koi and playing tennis at the Kids for All Seasons Club at the Four Seasons Bali at Jimbaran Bay.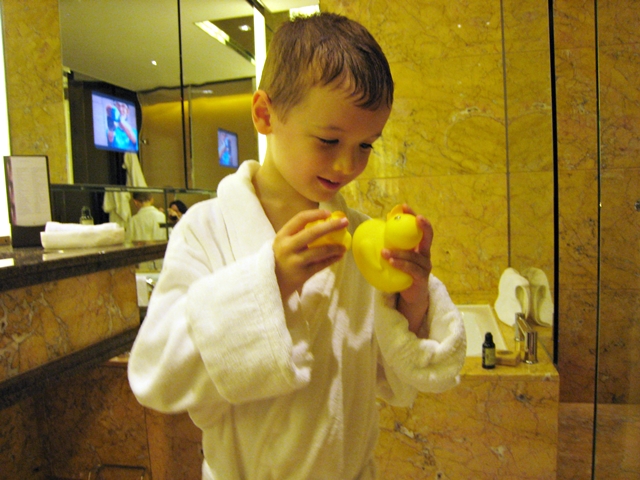 6. Food and Drink Quality
While I'm not as hung up on room service as some, because I like to explore local haunts off-property, I do highly value the quality of the food and drink that is available at the hotel. While an extensive breakfast buffet can be a big attraction for some, I look for quality over quantity. For breakfast, there should be fresh squeezed orange juice, and preferably some other fresh squeezed selections as well. Particularly for U.S. and European properties, there should be some organic choices, with many ingredients sourced from local producers. Pastries and bread should be excellent and preferably baked on-site.
7. In-Room Nespresso
Sorry, but Keurig doesn't cut it (looking at you, Sanctuary at Camelback). There ideally should be an in-room coffee maker, and it should be Nespresso. And please don't offer powdered creamer–stock some small half and half containers in the mini bar.
8. Bath Amenities
For a true 5-star hotel or resort, I want to see better brand name toiletries, such as L'Occitane, Bulgari, Hermes, Aesop, Le Labo–you get the picture. Sometimes 5-star boutique hotels, such as The Champs-Elysees Plaza in Paris, which offers Hermes bath products, offer more luxurious amenities than luxury chain hotels. I immediately think less of a hotel if it has its own brand UNLESS it truly is a stellar spa product. The Mandarin Oriental Singapore's lemongrass bath amenities come to mind. I can also understand placing the bath products in reusable containers, as is done at several resorts on Bali, but again, the products themselves need to be high quality regardless.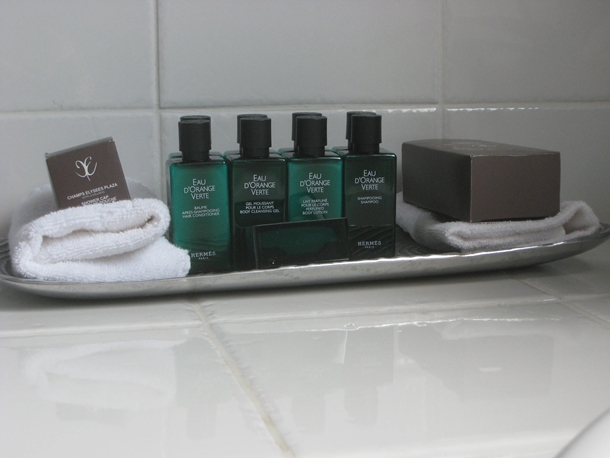 9. Pool Service
Pool service is lower down on my list simply because I don't usually spend much time lazing by the pool. But I have to say, I noticed a huge difference between the Mandarin Oriental Singapore and the Ritz-Carlton Singapore just based on the pool service. The pool service at the Mandarin Oriental couldn't have been more attentive–during the 2 hours or so I was there working I received a couple of cool towels, several refills of ice water and a refreshing smoothie shot–whereas at the Ritz-Carlton Singapore I didn't see anyone providing these things during the time I was there.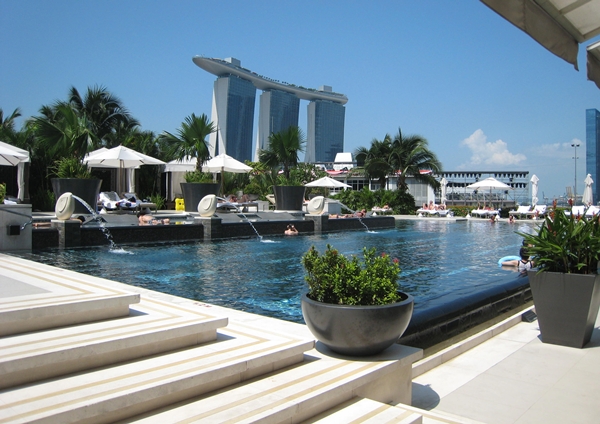 10. Concierge Service
Since I do so much planning myself I rarely need concierge service, but when I do, I want to be able to rely on it to get me a hard to score restaurant reservation or know where I can find the best local playground. For example, even though I was initially told that Les Menus par Pierre Gagnaire was full for dinner, the Lotte Moscow concierge was ultimately able to get me a table.
What makes a 5-star hotel for you?
Related Posts
The Setai Fifth Avenue, NYC Hotel Review
Four Seasons Bali at Jimbaran Bay Review
Mandarin Oriental Singapore Review
Need Award Booking Help? Our fee is as low as $75 per ticket if you book your hotel through us.
If you enjoyed this, please follow TravelSort on Twitter or like us on Facebook to be alerted to new posts.
Become a Member to find your perfect luxury or boutique hotel at wholesale prices: TravelSort Hotels