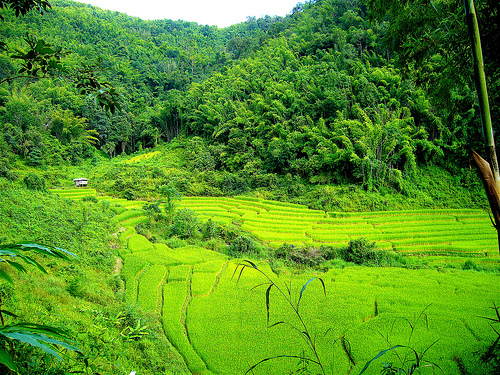 Why go
Most visitors to Thailand stay in Bangkok, or head to the many beach resorts in the south.  An interesting alternative for the adventurous traveler is Chiang Mai, a mid-sized and often overlooked city in the far north of the country.  Chiang Mai provides an excellent opportunity to explore the less-commercialized and touristy side of Thailand.  There is a thriving culinary scene, with small eateries serving up delectable northern Thai cuisine on almost every corner.  There's also something for every budget, with accommodations ranging from 5 Star international hotels, to $10 a night backpacker hostels.  The surrounding countryside, which ranges from verdant rice terraces to jungle and mountainous terrain, provides ample opportunity for outdoor recreation and cultural activities.  All in all, it's hard to be disappointed with a visit to this laid back and cultured northern city.
Insider Tips
If arriving by plane, you will probably be met by a representative of the tourist information center who will try and arrange a hotel booking for you.  These guys tend to work on commission and won't necessarily give the best deals.  Pass them by and head straight for the taxi rank.
As with most Asian cities it pays to do a bit of leg work.  A good tip if traveling with a partner is for one of you to wait at a café with the luggage, while the other explores on foot and looks for a hotel.  That way you can check out a few places and find the best option in your price range.
When shopping at the Night Market, never accept the first price quoted on any item.  The street vendors will expect you to try and bargain the price down.  Food prices in restaurants, however, are set and it would be considered an insult to try and pay less.
Don't miss the Sunday Market (Ratchadamnoen Road) in Chiang Mai, from 5-11pm, which is even more authentic and popular with locals than the Night Market. It's enormous, full of beautiful and unique handmade clothes, jewelry, artwork, and fantastic street food, from the ubiquitous pad thai to chocolate covered strawberries to local favorites such as fried water beetles, all for very affordable prices, especially if you bargain (try to learn some Thai first!) Try to get there early or late, as 6-9pm the market is at its most crowded. Busking musicians, dancers and fire eaters add to the festive atmosphere, and if your feet get sore, there are many places to get a rejuvenating foot massage for less than $4.
The highest point in Thailand is in Doi Inthananon National Park, which is also home to hill tribe villages, beautiful waterfalls, great hiking trails, twin Chedi (temples) dedicated to the King and Queen,   and excellent birdwatching. The Mae Ya waterfall is very photogenic and popular with locals for picnicking and swimming, so try to go on a weekday for a less crowded visit. The park's elevation makes it cooler than Chiang Mai, so be sure to bring a jacket with you. The Doi Inthanon Birding Center also houses a little restaurant with excellent Thai food, making it a good stop for lunch.
If, like us, you visit Chiang Mai in mid-April, prepare to get very wet.  No, this is not the rainy season.  It is the time when the traditional Thai New Year, Songkran, is celebrated.  For most Thais, this means soaking all passersby with buckets, hoses and water guns.  Don't think they'll let you off because you are a westerner.  The Thai people possibly even take more pleasure in soaking tourists.  Be sure to keep your money and passport in a safe, watertight place, and don't wear anything you don't want to get wet.  You have been warned!
Where to stay
Even if you're traveling on a tight budget (as we were), Le Meridien Chiang Mai is a great opportunity to treat yourself.  When we visited they were offering a promotional rate of $89 for a double room.  You would easily pay 3 times this amount for a hotel of this standard in major European or U.S. cities.  The rooms are spacious and stylishly decorated, with large LCD TVs, a huge spa tub and a comfortable king-size bed.  The buffet breakfast is unbelievable, with a wide range of standard western fare and more exotic Thai cuisine (pad thai for breakfast, anyone?)  There's also a gym, spa and rooftop pool with impressive panoramas of the city.  The only down side is you'll never want to leave the hotel to explore the city! Also see Best Chiang Mai Luxury Hotels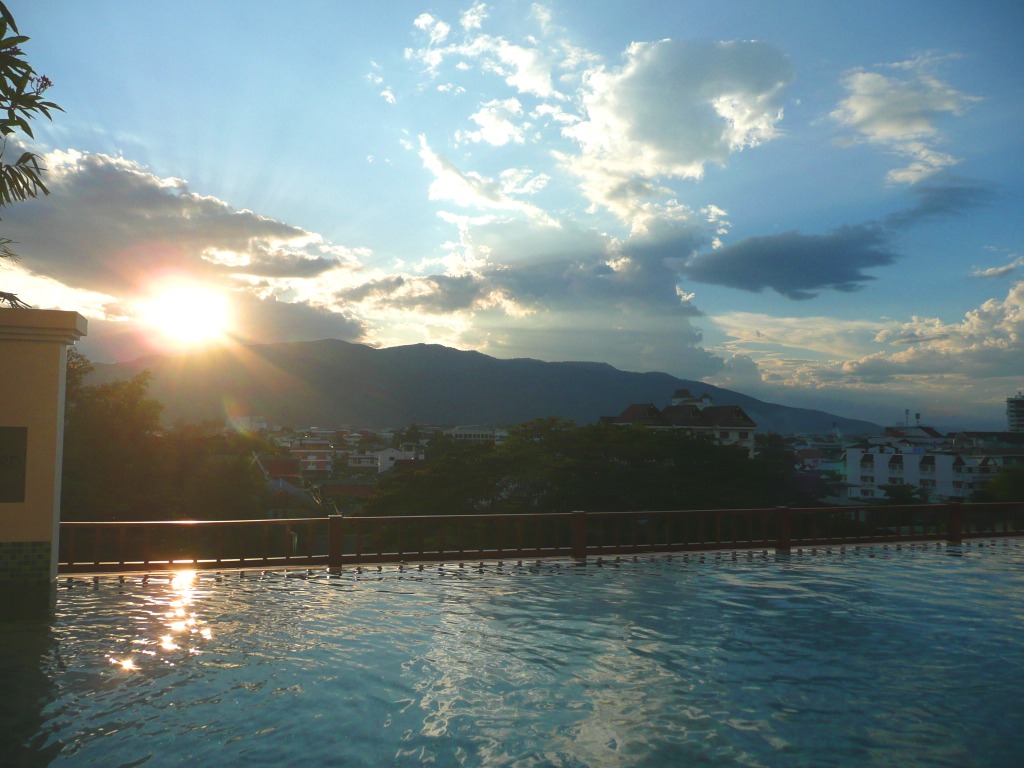 The Castle advertises itself as a "boutique hotel".  This is perhaps a bit misleading based on what this term would imply in other parts of the world.  However, The Castle does provide good value at around $25 for a double.  It's also in a convenient location close to the old town.  The staff are all very friendly and will go out of their way to make sure you enjoy your stay.  The rooms are basic but clean, and a/c is standard.  There's a very small pool and a simple breakfast is included in the room rate.  On the downside there were some very noisy barking dogs just outside our room.  They belonged to the neighbors so there's not much the hotel could do about them (other than provide us with ear plugs at check-in, which they did).  We also seemed to have a mosquito infestation in our room when we stayed.  Despite this, The Castle is a charming hotel and we enjoyed our stay there.  A complimentary airport shuttle is also provided for all guests.
Where to eat
Located amidst beautiful landscaped gardens, the Whole Earth Restaurant (88 Sridonchai Road) is an oasis of tranquility at the foot of the busy Night Bazaar.  It was very hot and humid when we visited so we chose a table in the air-conditioned dining room.  The atmosphere was a little more sterile inside, but still quite classy, and the service was prompt and attentive.  The menu offers a range of Thai, Indian and Vegetarian cuisine and is reasonably priced at around $4-7 per main course.  The pineapple, chicken and seafood entrée that I ordered actually came in a hollowed out pineapple and was very tasty.  There is also an extensive drink menu – the mai tai was most refreshing on a hot and sticky night.
During the remainder of our stay in Chiang Mai, we dined at local family establishments and street vendors.  Most of these do not even have names.  They are mainly concentrated around the Night Bazaar (Changklan Rd between Tapae Rd and Sridonchai Rd).  Finding the right place can be hit or miss, however, it's normally a good idea to pick the busier eateries – especially if there are a lot of locals eating there.  There is a wide variety of Thai curries on offer and a surprising amount of seafood, given the distance to the nearest ocean.  Northern Thai cuisine is a little less spicy than food found in the south.  Having said that, a Thai chef's definition of "hot" may differ from yours so, if in doubt, order it on the mild side.
All around Thailand, the local food combines the similar combination of the five tastes, each province or region generally has their own take on Thai traditional foods. Chiang Mai is situated in the north of the country, away from the seafood-rich waters of the Gulf of Thailand. The distances mean that food around the north has a slightly higher focus on meat, chicken and vegetable, as opposed to fish.  Chiang Mai also experiences significantly lower temperatures compared with the south, and the food encompasses a little more spice to create a feeling of warmth on a frosty morning.
Don't miss these foods unique to Chiang Mai:
1.     Khao Soi is a Burmese-inspired breakfast meal that is found around the northern stretches of Thailand, around Chiang Mai, and into Laos and Myanmar.  Khao Soi means "cutting rice" and is a dough that has been stretched over boiling water, and provides a nice, warm start to the day during the cool winter months.
2.    Sai Ua (Thai-style sausages) are actually very similar the ones used in a barbecue on a Sunday afternoon back at home. The biggest difference is that Sai Ua contains so many more spices and herbs than western sausages, and they are still produced with the assistance of a machine, as many in Thailand still use today.
3.    Som Tam Thai, otherwise known to the outside world as Thai Spicy Papaya Salad. Probably one of the healthiest foods on earth, Thai's love Som Tum, and they love it hotter than anyone could imagine. This spicy salad consists of green papaya, beans, cherry tomatoes, lemon juice, and for those who can handle it Phu Paraa, which is virtually crab that has rotted into a juice.  While the smell can take some time for westerners' to adjust to the taste, Som Tum is one of the most recognisable of all Thai cuisines.
To taste the local delights offered in the region, one of the first stops should be the city's night market. Situated towards the south-eastern corner of the city Anusarn Night Market is thriving with life, colour and noise. Situated on the busy Charn Khlan Road, just across from the night market is the Kalare Food Centre, with most meals ranging in price from 20-50 Baht.
Cooking and preparing northern Thai cuisine is not exclusive to budget dining spots. Some of Chiang Mai's finest restaurants offer local delicacies, cooked with the finest ingredients. Located at the end of Suthep Road is Galae Garden Restaurant. Galae Garden has an emphasis on the outdoors, with open-air dining. Especially delicious are the regional grilled pork dishes.
What to do
There are more than 300 temples scattered around Chiang Mai.  The majority of the larger temples (or "wats") are concentrated within the walls of the old town.  The most impressive of these are Wat Phra Singh, and Wat Chiang Man on Th Ratchaphakhinai.  The level of detail in the intricate wood carvings really is a sight to behold.  There is usually a statue of Buddha inside the wat with interesting offerings in front of it (we saw cups of coffee, shots of liquor and lit cigarettes, among other things!)  It's important to remember that these are sacred sites to the Buddhist population.  It is customary to remove shoes before entering the temple and photography is usually not permitted inside.  Dress should be conservative and women should keep their shoulders covered (it's a good idea to carry a scarf or shawl for this purpose).  Entrance to the temples is free, however, there will usually be a donation jar where you can drop a couple of dollars on your way out.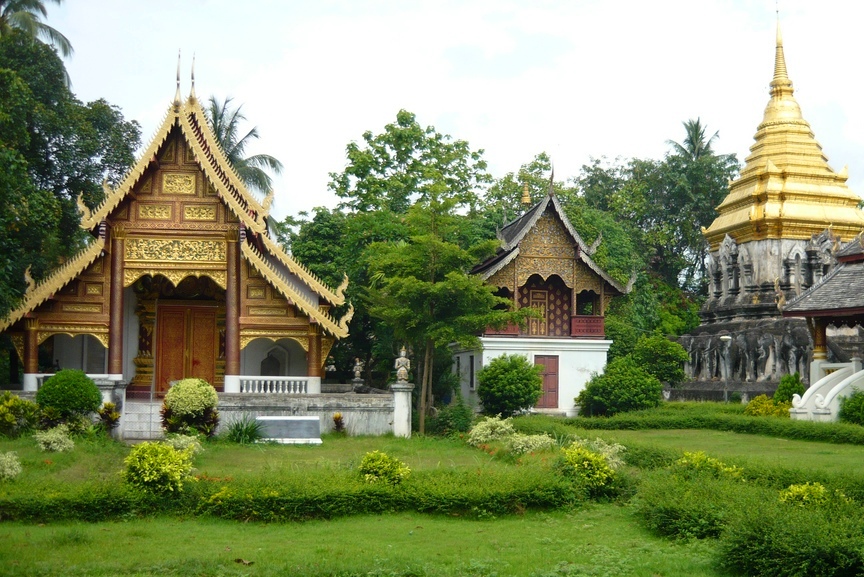 There are many cooking classes on offer in Chiang Mai.  These usually include a tour of the local market to buy produce, an introduction to Thai herbs and spices, cooking instructions and a recipe booklet.  We chose a one day class offered by The Chiang Mai Thai Farm Cooking School ($30 per person).  We were picked up at our hotel in the morning, driven to the local market and then the cooking school, which was located a little bit out of town.  Organic farming is practiced on site and we were given a tour of the farm upon arrival.  We were then shown to our individual cooking stations and were given a choice of dishes to cook – I chose spring rolls, basil chicken, green curry and mango sticky rice.  The ingredients were all fresh (either from the farm or purchased in the market during our morning stop) and delicious.  The instructors were friendly and all spoke good English.  Food preparation plays a central role in the daily life of most Thais, so this is a great way to gain a better understanding of the local culture.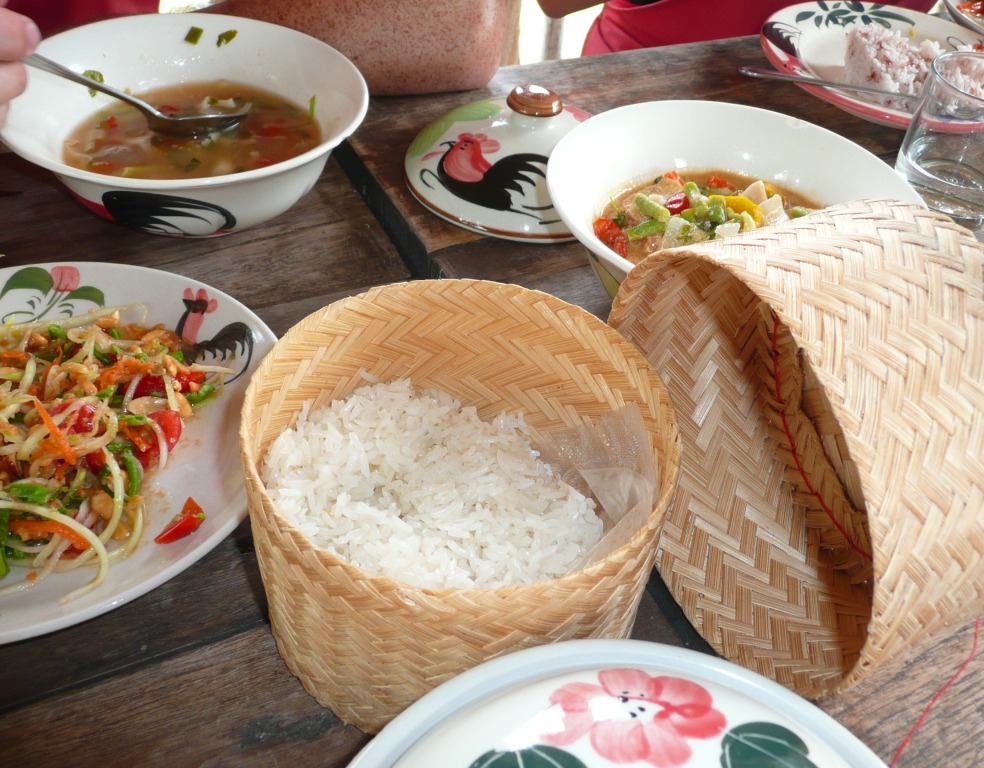 Trekking and cultural tours are also very popular activities in the mountainous countryside surrounding Chiang Mai.  We chose one of the standard full day packages with Panda Tours ($17 per person).  This included pick-up/drop-off at our hotel and a simple Thai lunch.  To start the day, we visited one of the many elephant sanctuaries in the area.  At one time, these elephants were used in the logging industry.  They are now basically just tourist attractions.  We didn't feel that the elephants were treated too well at the location we visited.  They seemed a little agitated and, to be honest, we were a little nervous riding tandem on the back of ours (at one point our elephant even began to charge at another one).  It's probably a good idea to do more research than we did and make sure you are visiting a sanctuary that treats their elephants well.  Based on stories from other travelers, these do exist.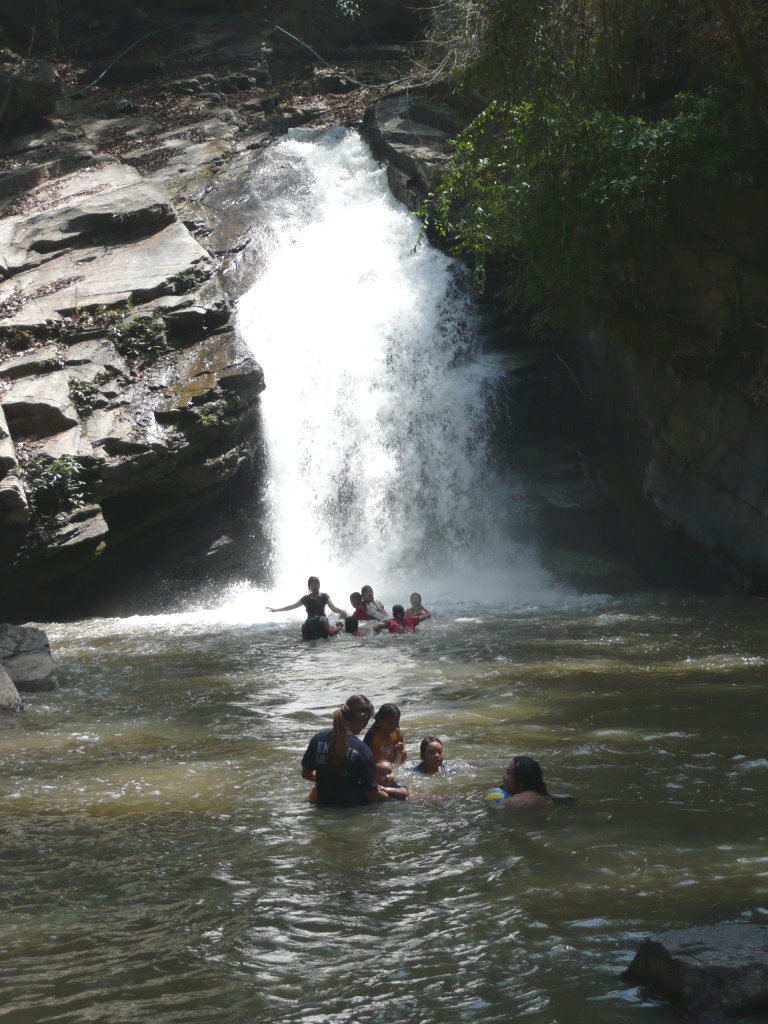 After the elephant ride, we traveled by bamboo raft down a section of the river, and again got soaked as part of the Songkran festivities.  We then visited Maewang waterfall for a refreshing dip.  Even though we visited during the dry season, the falls were fairly spectacular.  To finish the day, we hiked to a couple of local villages.  The tribes we visited were the Karen and the Hmong, although this may vary by trip.  All in all, it was an enjoyable day trip.  However, there are many competing trekking companies throughout Chiang Mai, and it would pay to do some research and read reviews before booking a trip.  Although we didn't try them, we also heard great things from other travelers about Crank Adventures 2-3 day mountain biking trips and ziplining with The Flight of the Gibbon.
No trip to Chiang Mai would be complete without a visit to the Night Market (Changklan Road between Tapae Road and Sridonchai Road). It, or the Sunday Market (see Inside Tips), are great places to pick up souvenirs of your vacation at a reasonable (and easily negotiable) price.  There are some interesting wood carvings and intricate weavings made by some of the local hill tribes that live near the city.  This is in addition to the T-Shirts, pirated DVDs and cheap plastic trinkets that are fixtures at most street markets in Asian cities.  There's also a plethora of unusual street food on offer.  Even if you're not sure what you're getting, sometimes it's best just to throw caution to the wind and pick something.  I wasn't disappointed with anything I tried.
Related Posts
Top 20 Luxury Honeymoon Destinations
Review: Four Seasons Koh Samui
Four Seasons Preferred Partner Benefits
Need Award Booking Help? Our fee is as low as $75 per ticket if you book your hotel through us.
If you enjoyed this, join 100,000+ readers: please follow TravelSort on Twitter or  like us on Facebook to be alerted to new posts. 
Become a TravelSort Client and Book 5-Star Hotels with Virtuoso or Four Seasons Preferred Partner Amenities!