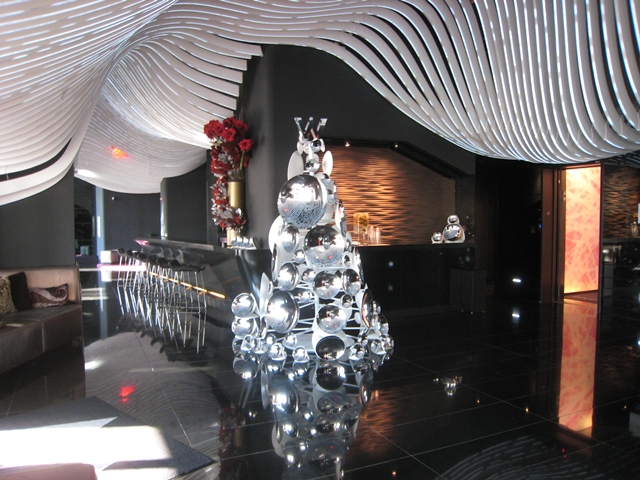 The W New York Downtown doesn't get much love when it comes to New York hotels, even though it's the newest of the 4 W hotels in New York. Partly it's due to the downtown location, which only a few people want (if they have business there or are planning excursions to the Statue of Liberty, etc.) and the fact that the hotel is right next to Ground Zero, which can be off-putting for those with memories of that day they'd rather forget.
It can be a comparative good deal, however, when NYC hotels are otherwise expensive, since a Cash & Points rate is 8000 SPG points + $150, and the $150 includes taxes. We recently had a weekend stay here, so here's my review of the W New York Downtown.
Getting to the hotel was easier than I expected, since we simply hopped on the subway's 4 Express Train and took it to Wall Street, then walked about 5 minutes to the hotel's entrance at Washington and Albany. I was relieved it wasn't a long walk, as it was blustery and cold. You don't enter the lobby directly, but rather take the elevator up to the reception and lobby on the 5th floor. There was just one associate manning reception, and the concierge desk to the right. The associate who checked us in was friendly and noted I'd been upgraded from the Wonderful Room I'd booked to a Cool Corner Room. I'd mentioned an occasion we were celebrating, so that was helpful, but in general, as I've noted in What's Right with Starwood Preferred Guest, I've been pretty fortunate with upgrades, even just with mid-level elite status, as an SPG Gold.
The Associate also noted I had a guaranteed 4pm late checkout, again thanks to SPG Gold. As I mentioned in Is Mid-Tier Hotel Elite Status Worth It, the guaranteed 4pm late checkout is a benefit I really value, and one of the main reasons I aim to always maintain SPG Gold.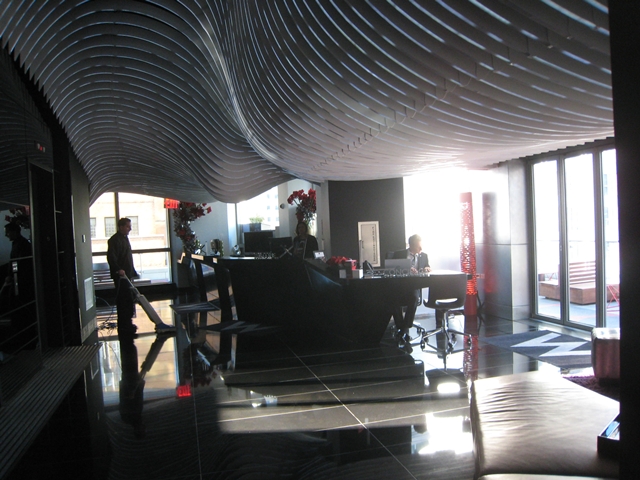 During the day, there's complimentary flavored water in the lobby–when we were there, the fruit included cranberries, oranges and mint, a refreshing touch: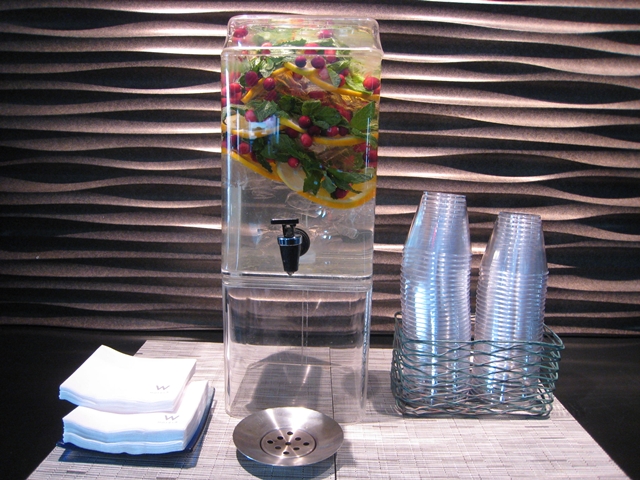 Our room was on the 20th floor, and not facing Ground Zero, as I'd specifically requested a quiet room. Now, it was the weekend, so I doubted work would be done, but I still didn't really want to face that direction. Others, of course, will feel differently and will specifically request that view. So our view as expected was nothing special, although we did catch the tail end of a sunset, barely visible in the photo.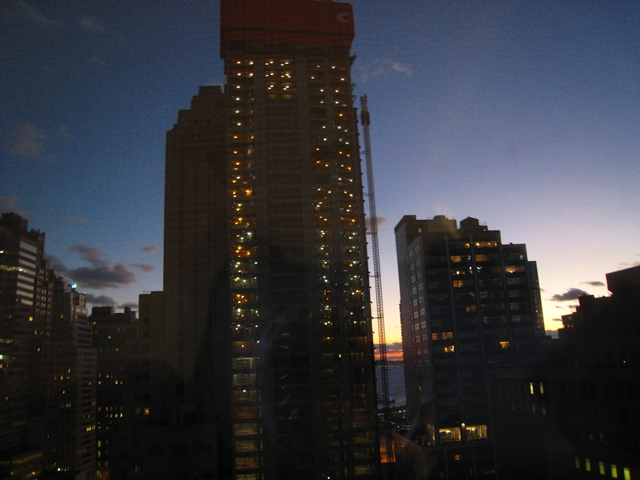 There was a window seat with cushions, which came in handy not just as a window seat, but also as part of the bed we put together for the munchkin, who was with us. The rooms are too small to accommodate rollaway beds, but this with two extra duvets worked out very nicely for his bed.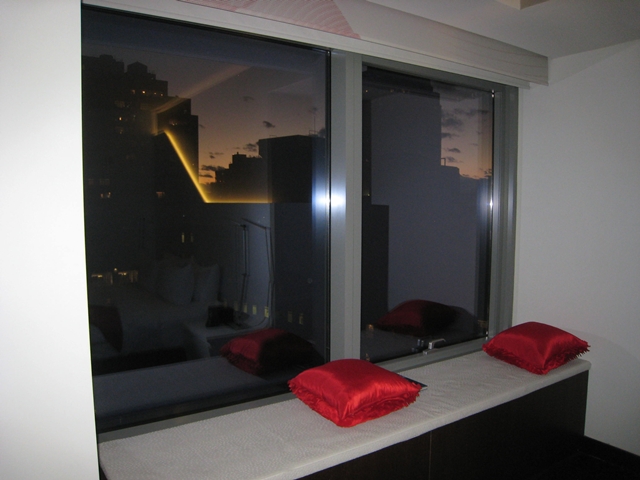 The rooms at the W New York Downtown are small, no getting around it. The bed took up most of the room, and was the signature W Bed, which most find very comfortable. My husband and I actually found it too firm for our taste, given our top of the line Spring Air mattress with memory foam at home, and for some reason I didn't find it quite as comfortable as the W Bed at the W St. Petersburg, although that could just be my instantly falling asleep there due to how tired I was.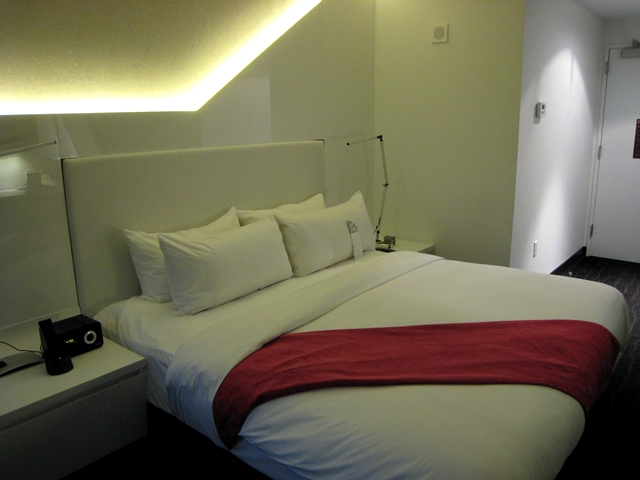 Facing the bed was the desk and flat screen TV: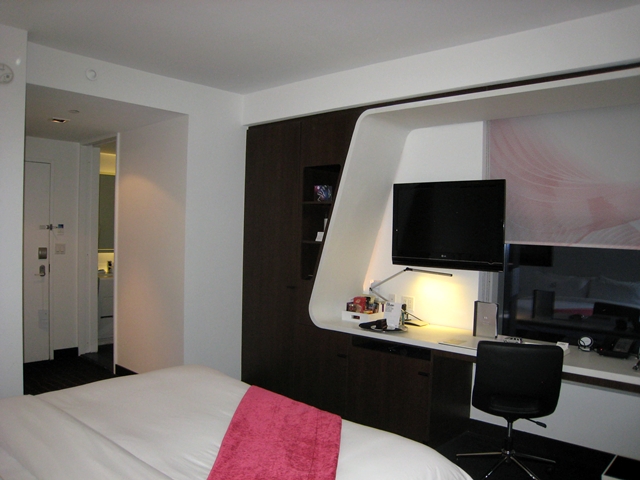 We were left a very nice welcome note by the W Insider, together with Fiji bottled water and a decadent piece of chocolate cake: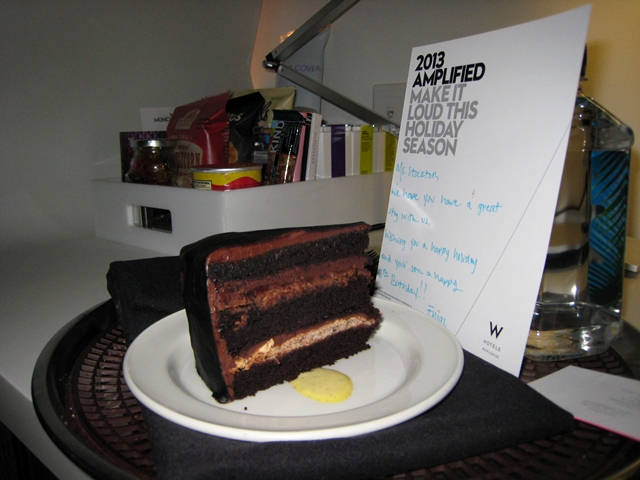 The bathroom was small but functional, with sink, toilet, and shower. It was only a one-night stay, so no big deal that there wasn't a bathtub, but for longer stays, families with young kids will want another hotel if their kids want baths.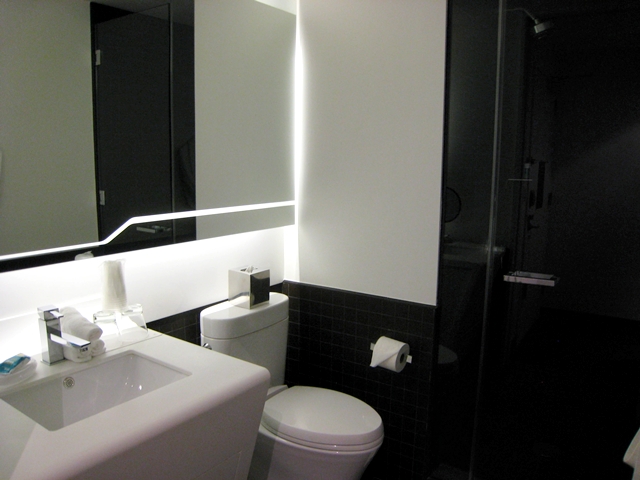 The Bliss Spa bath products were lemon sage, the exact same ones as provided at the W Boston and the W St. Petersburg: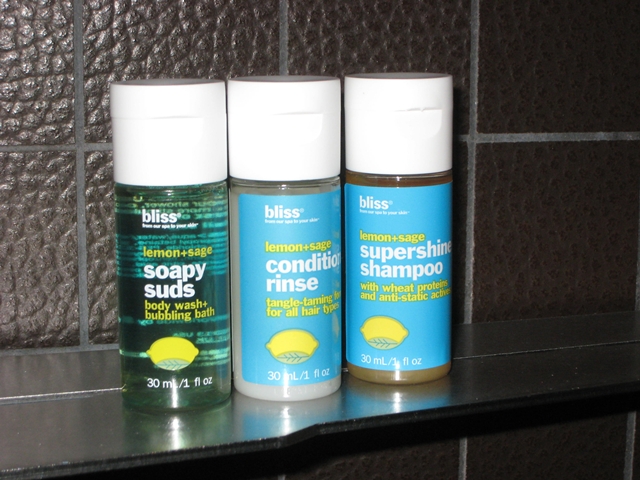 There was 1 bathrobe hanging in the bathroom, and the second was in the closet, along with a W bag to use during your stay.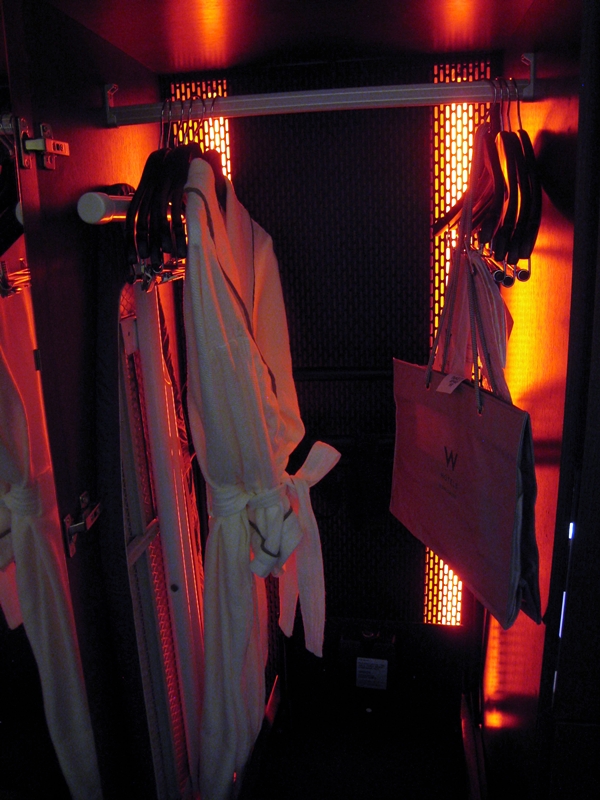 We went out for dinner, and when we returned, the shades were drawn and there were two chocolates and some bottled water provided as our turndown amenity: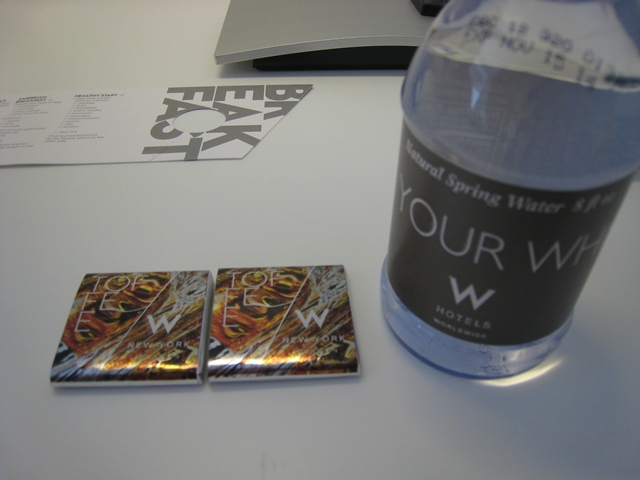 We also found the extra duvets, sheets and pillows that we'd requested for our son's makeshift bed, but that hadn't arrived by the time we went to dinner. They were stacked neatly on the windowsill, and we quickly turned the nook by the window into a bed for him: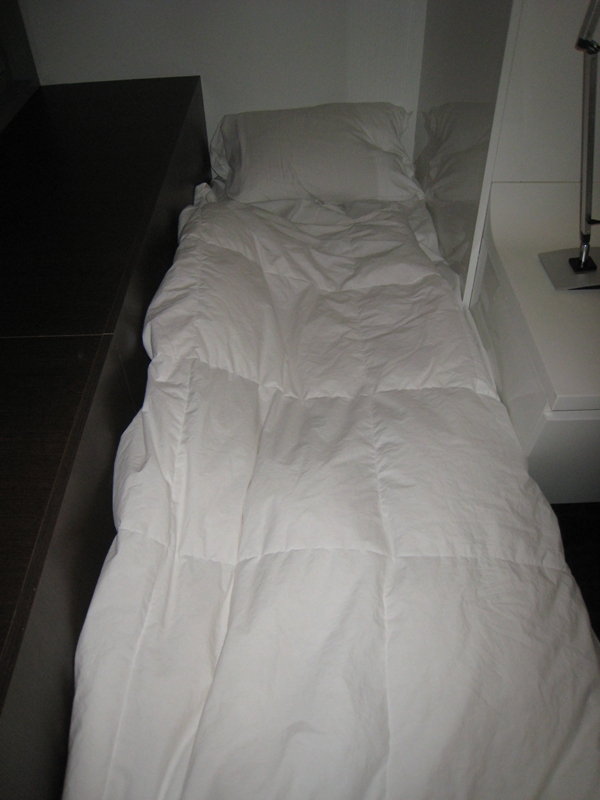 In the morning, we were able to get another view from the main window: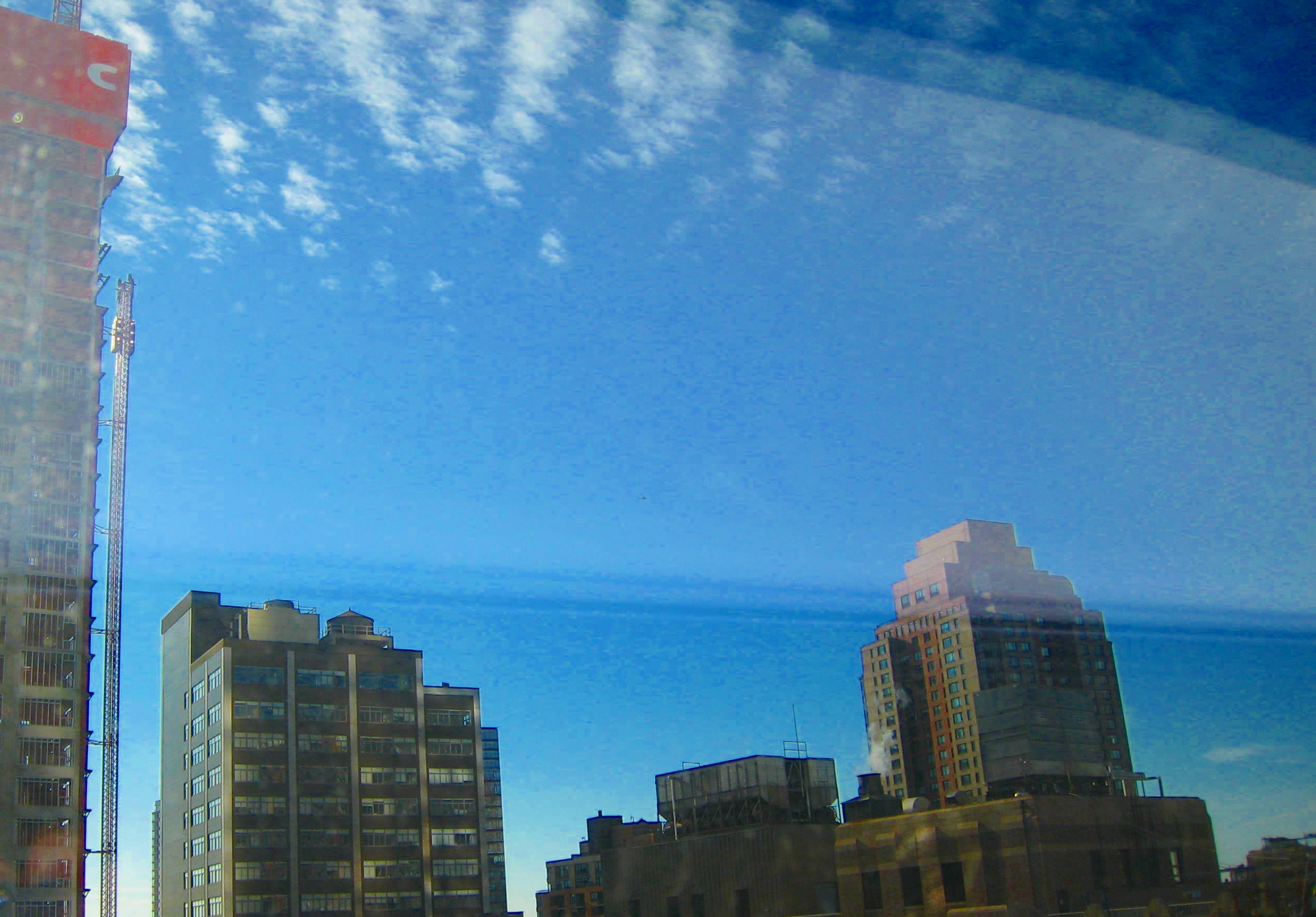 The munchkin and I went down to the fitness center to workout for a bit, while Dad slept in. The fitness center is quite compact, but has several treadmills, ellipticals, weight machines, free weights and exercise balls.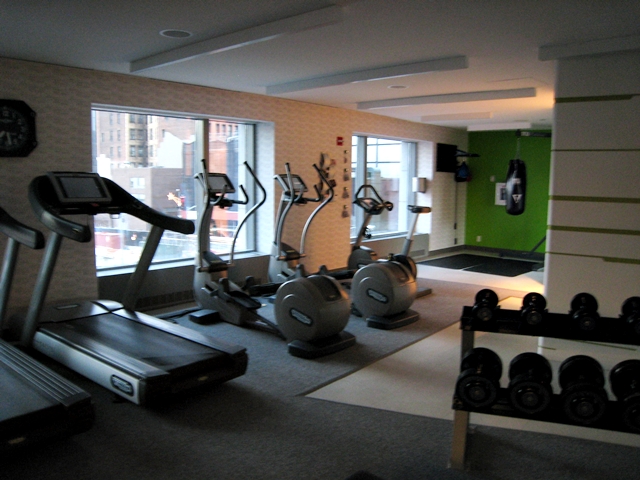 Here, there was no escaping the view of Ground Zero. I was just glad that the munchkin didn't ask about it, so I didn't have to explain the site to him.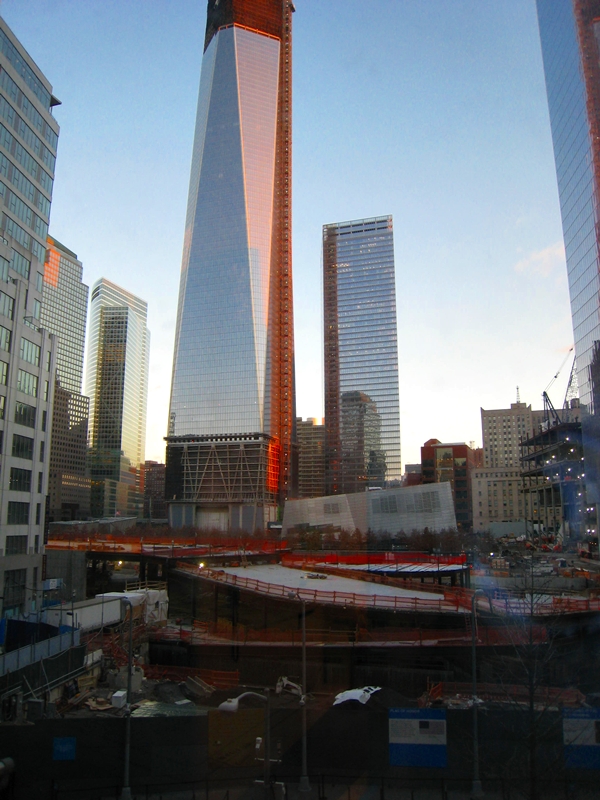 We took one of the complimentary apples, and went up to the lobby, where there was complimentary coffee and tea. It wasn't exactly as described in the hotel directory, where it said "Tea Forte," which I'd been looking forward to, having enjoyed it at the Montelucia Spa in Phoenix–instead, it turned out to be Taylors of Harrogate. The lobby seating was stylish and quite deserted, since we were there pretty early–7:45am on a Sunday (the upside of having kids who get you up early–plenty of tea and coffee!)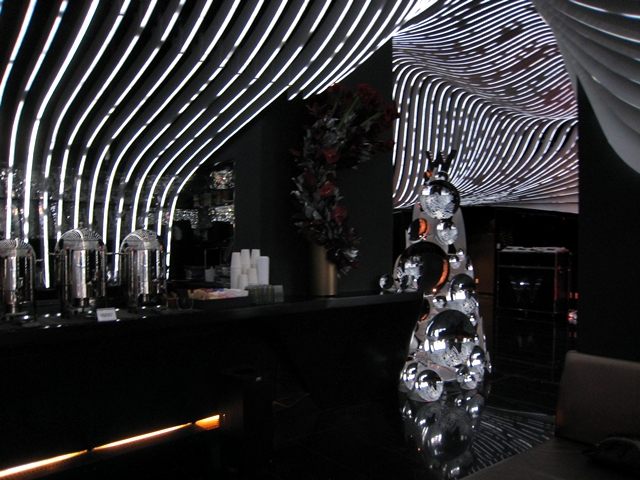 We took advantage of the complimentary Acura car service for a ride to brunch at Wall & Water at the Andaz Wall Street. Some complain about the "selling" and the iPad survey, but I was happy to be able to avail ourselves of a complimentary ride, given how cold it was. Do note that you'll want to reserve this as soon as you arrive at the hotel, given that it's first come first served, and the time slots do book out.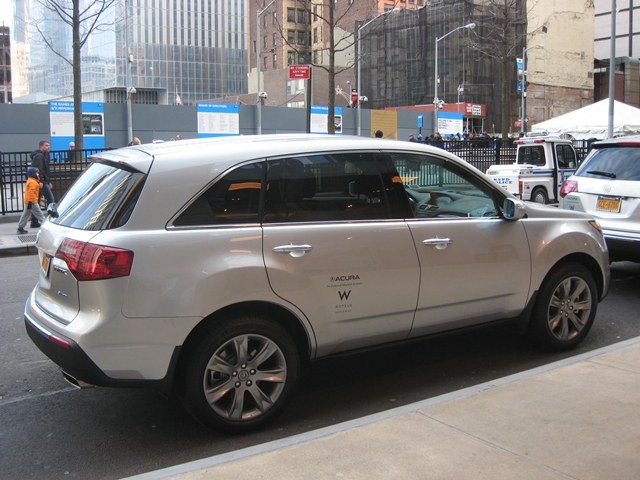 Paying: We took advantage of our Chase Freedom to earn 5X points (see Deals Expiring Soon) but other good choices are a gift card or the AMEX Prepaid funded using the Ink Bold or Ink Plus to receive 5X points, the Sapphire Preferred for 2.14X, or Ink Bold or Ink Plus for 2X. Note that on Cash & Points awards you unfortunately do NOT receive Starpoints for the cash component, even though your stay does count towards elite status. So be aware of this if you opt to use your SPG AMEX. See Do SPG Cash and Points Award Stays Earn Elite Status.
The Verdict: The W New York Downtown is far from NYC's best hotel, but it can be a decent value for the price, especially using Cash & Points, when other NYC hotel rates are very high. Prepare for small rooms, and request a room on a high floor, either on the back of the hotel if you value quiet, or on the front with a view of Ground Zero if you can tolerate some noise and actually want that view. Staff were friendly and apologetic when service wasn't prompt (as occurred with the extra sheets and pillows we requested). And although downtown, midtown and uptown on the east side are fairly convenient to get to using the 4 or 5 train, since Wall Street is an Express stop: 4 stops and you're at Grand Central.
If you've stayed at the W New York Downtown, what was your experience?
Related Posts
Wall & Water at Andaz Wall Street
Best Kid-Friendly Hotels in New York City