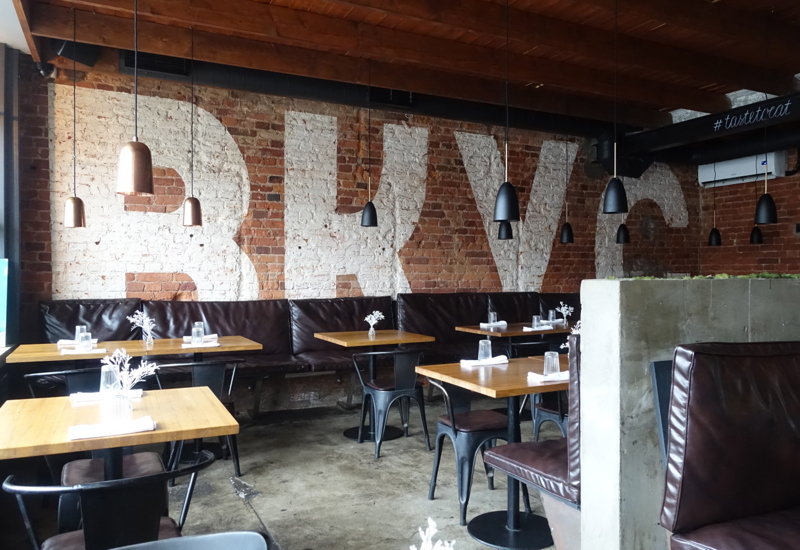 Update: See our Vkus Est (Taste to Eat) 2017 Review and Video
This Review of ВКУС ЕСТЬ (Taste to Eat) in St. Petersburg, Russia is one of our many Russia travel posts. Sometimes clients planning visits to Russia think that the best they can hope for when dining in Russia is caviar and vodka, with perhaps some good borscht, stuffed cabbage, and bread from more ordinary restaurants. Or they'll have heard about the sanctions and assume that there won't be any French cheese, international wines, or other imported products.
In point of fact, there's excellent dining in St. Petersburg and Moscow, including restaurants that I wish were in my neighborhood, as they're a good deal better than the level of cooking my NYC 'nabe. And whatever one's views on the sanctions, there might as well not be any, because all the key products go through Belarus anyway. There is no shortage of imported wine, cheese, foie gras, etc. in Russia to complement the growing number of quality artisanal producers, and one would never know they were in existence when dining in restaurants or even walking through the grocery stores.
Visiting St. Petersburg, Russia? See our 10 Travel Tips for St Petersburg, Russia and our posts tagged St. Petersburg.
Prior posts include:
Review: Hotel Astoria St. Petersburg, Russia
Review: Astoria Cafe, St. Petersburg, Russia
Vkus Est, St. Petersburg Location and Hours
Vkus Est is located at Nab. Reki Fontanki, an easy 15 minute walk from Nevsky Prospect or from Metro station Dostoevskaya / Vladimirskaya. Vkus Est translates literally as "Taste to Eat" and is open daily for lunch and dinner from 1pm-11pm weekdays, and from 1pm-midnight on Fridays and Saturdays.
The Scene
Since I always went at lunch, the restaurant was never too crowded, although I suspect that it's far more busy for dinner, especially on weekends. There were primarily local Russians dining–sometimes a couple or small group of friends, and once I overheard an interior designer discussing home renovation plans over lunch with her clients. Once I did see some tourists at lunch, and the staff spoke fluent English to them, even though all my conversations with them were in Russian.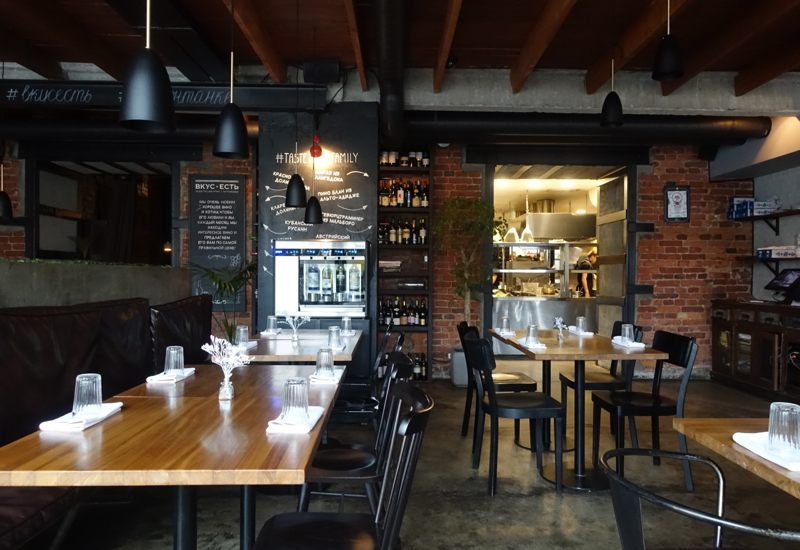 Vkus Est Menu and Food
The menu is in both Russian and in English, and the nice thing about coming for lunch is that there's a 20% discount between 1-4pm Monday-Friday off the already reasonable prices.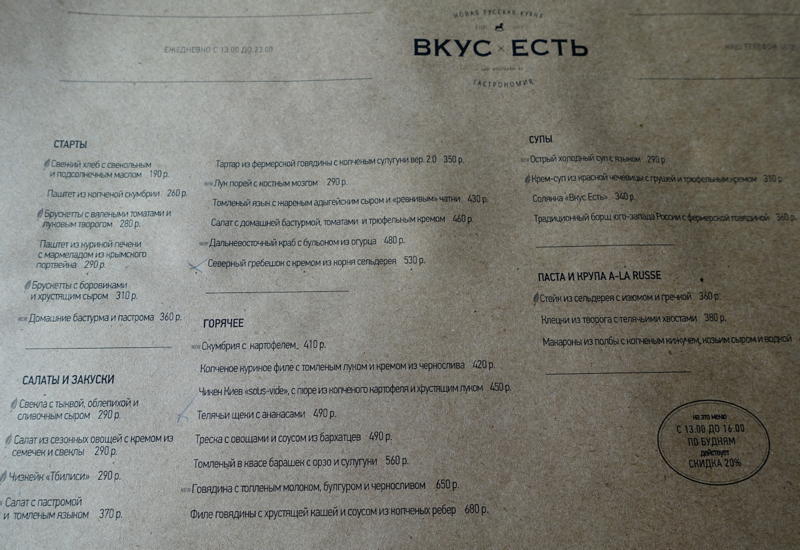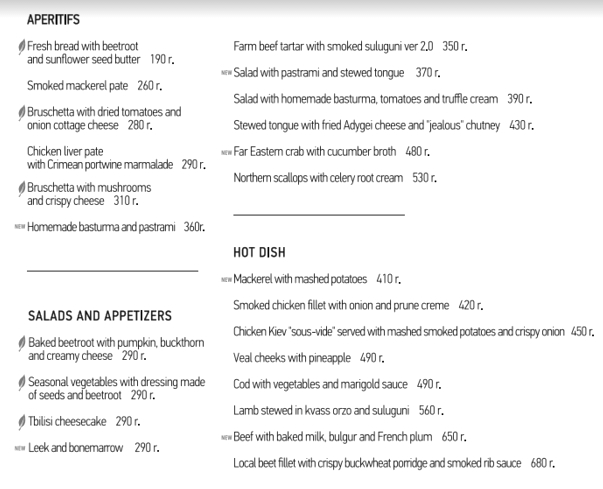 My first visit was on an unseasonably chilly and rainy day, so I opted to try two kinds of soup. I first tried the Borscht, which was excellent, with a beet broth that was flavorful but not oily (some borscht broths are too greasy for my taste). As if to make up for that, it came with bread that has been slathered with salo (pig fat) which I gingerly scraped off. And of course there was sour cream to add to taste, a must for borscht.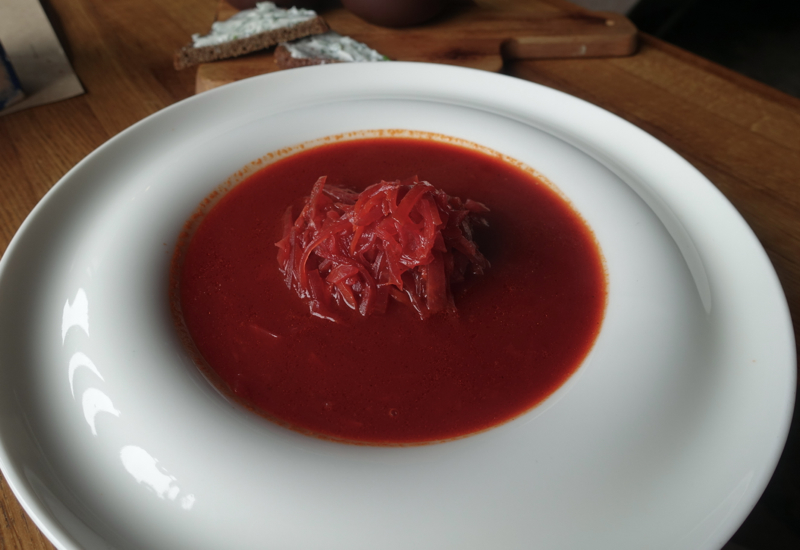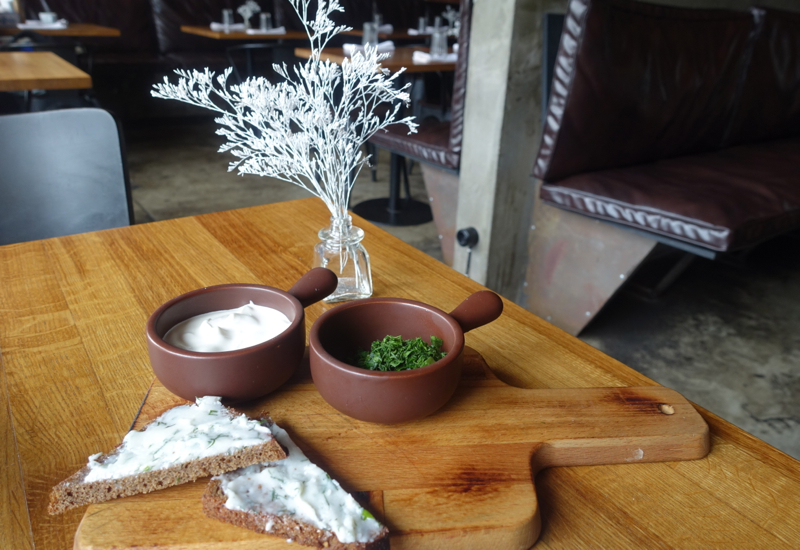 The solyanka was similarly elegant, but I didn't care for it as much; I think I was spoiled by the Georgian version of Solyanka I used to have when I worked in Moscow, which was heartier, spicier, and didn't have the pickles, and I still prefer that version. But it was worth a try, and is undoubtedly closer to the authentic Russian solyanka.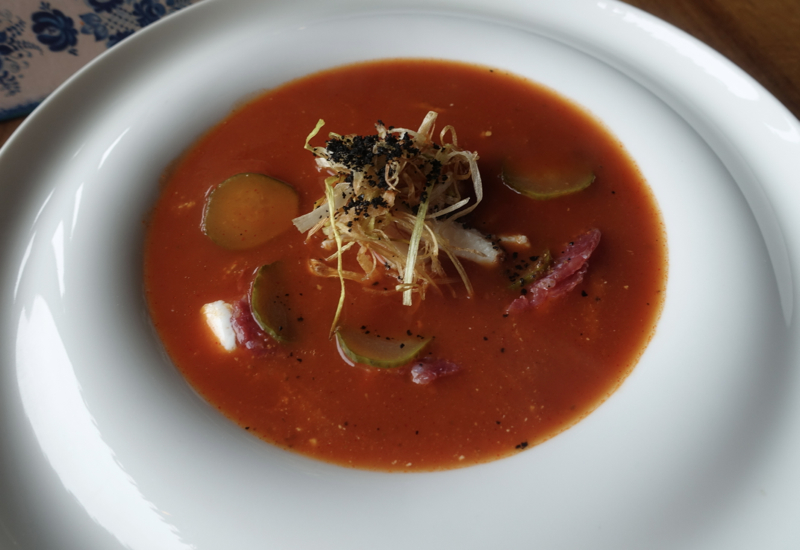 On another visit I tried the Tbilisi Cheesecake, a savory cheesecake with an addictive onion confit topping. I loved the contrast of the creamy, slightly tangy and salty cheese with the sweet caramelized onions, and highly recommend getting this. It's a rich appetizer, so I highly recommend sharing it if dining with a partner.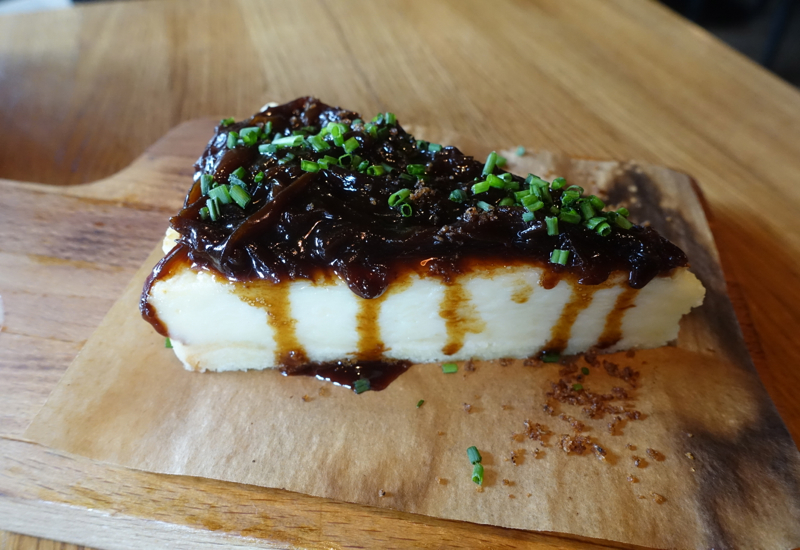 Another excellent appetizer to try, especially if you like seafood, is the Northern Scallops with Celery Root Cream. If you want this dish, be sure to call ahead since the scallops are generally shipped in once or twice a week, so the dish isn't always available. A bit of cranberry puree added an unexpected but welcome brightness to the dish.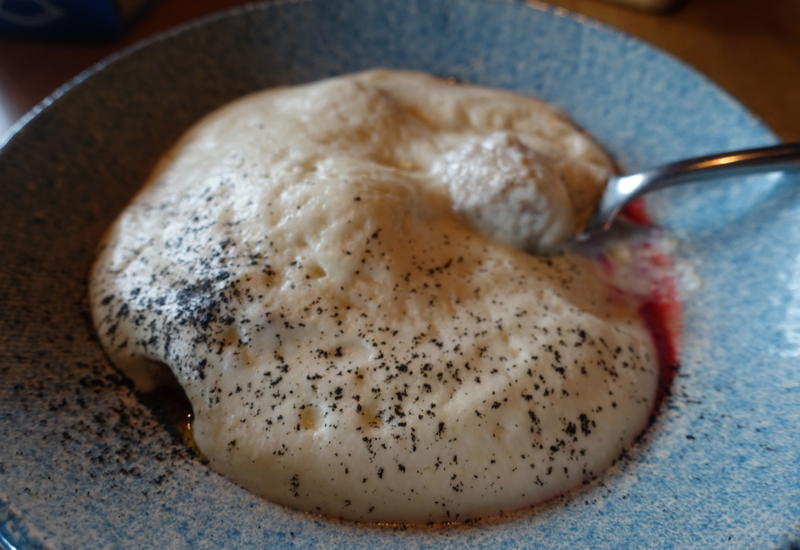 Another must order is the Chicken Kiev Sous Vide, which is my absolute favorite version of this dish that I've ever tried. The meat is perfectly cooked and juicy from the sous vide cooking process, enveloping herbed butter, and crowned by thin crispy skin. The smoked mashed potaoes and basil oil are the crowning touches. Again, this is a rich dish, so if you're hoping to try more than one thing, you might want to share this dish, the Tbilisi Cheesecake and a salad of some sort with a companion.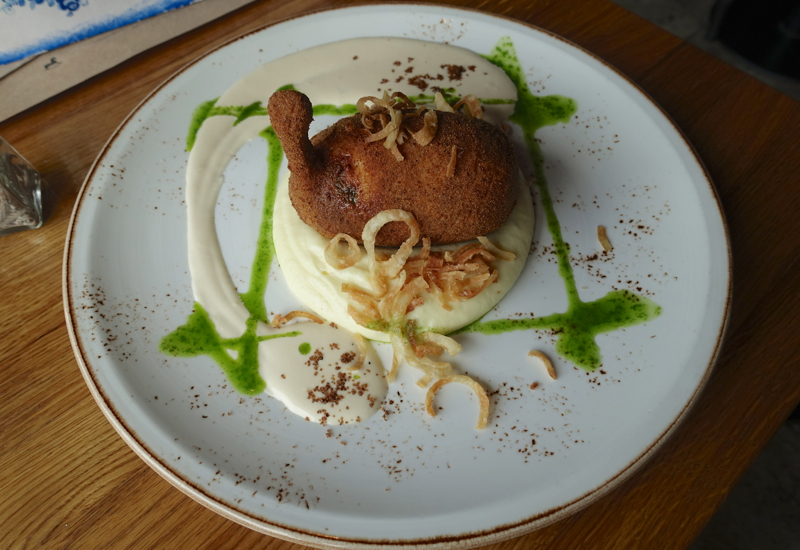 Less visually stunning but also incredibly delicious was this Lamb with Orzo and Sulguni Cheese. It was adorned with an aged balsamic glaze of some kind, and the tender meat with the creamy orzo and depth from the balsamic glaze was a stellar combination.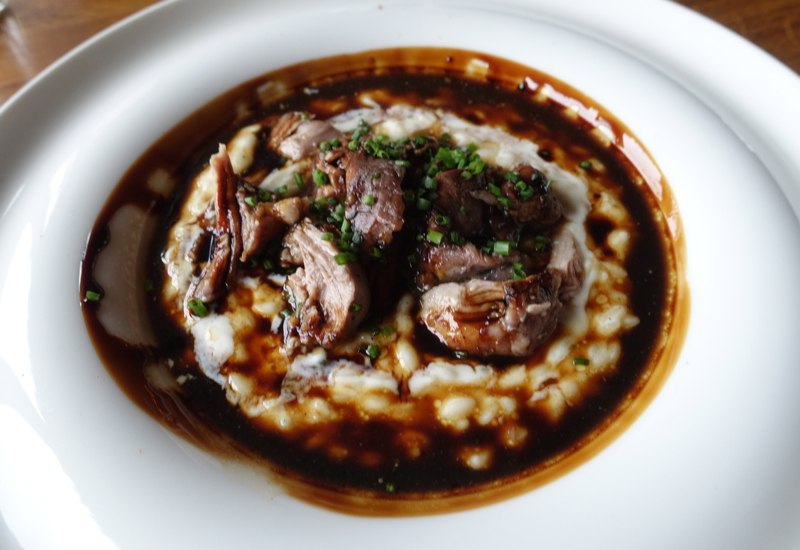 I primarily tried the savory items at Vkus Est, but one day I did have a very nice Cherry Cobbler; the one thing I would have liked is a bit of thickener for the cherry juice, but the flavor was excellent. Any fans of molecular gastronomy or tableside preparations should also check out the homemade pineforest meringues that are cooked tableside in liquid nitrogen.
The Verdict
Vkus Est quickly became my favorite lunch place in St. Petersburg, with its new takes on traditional Russian cuisine, high quality ingredients, and friendly servers. I also liked that it was off the beaten path, so the crowd at least at lunch is primarily locals, with a few visitors. That also speaks to the reasonable prices given the quality of the cooking.
If you've dined at Vkus Est / Taste to Eat, what were your favorite dishes?
Related Posts
Review: Four Seasons St Petersburg, Russia
Review: L'Europe Restaurant and Dining at Grand Hotel Europe, St. Petersburg, Russia
Review of Cat Cafe: Great Georgian Food in St Petersburg, Russia
Volkonsky Bakery Cafe (Пекарня «Волконский») St Petersburg, Russia Menu and Review
Review: Four Seasons St. Petersburg Breakfast and Dining
Need Award Booking Help? Our fee is as low as $75 per ticket if you book your hotel or cruise with us.
If you enjoyed this, join 200,000+ readers: please follow TravelSort on Twitter or like us on Facebook to be alerted to new posts.
Become a TravelSort Client and Book 5-star hotels with Virtuoso Perks and Four Seasons Preferred Partner Benefits