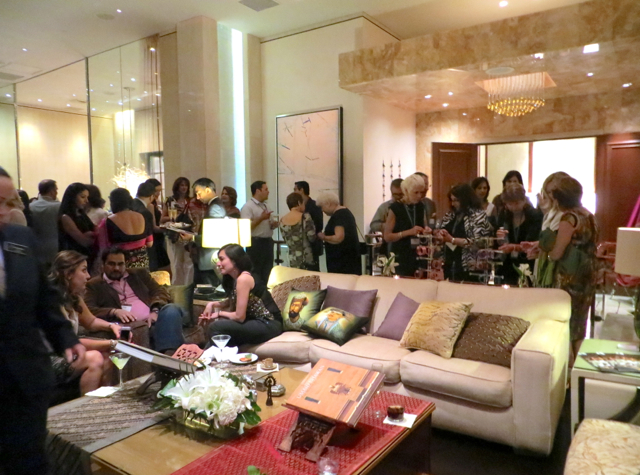 This Virtuoso Travel Week post is part of a Las Vegas trip report for Virtuoso Travel Week. For the prior posts please see:
Bellagio Las Vegas Hotel Review: Virtuoso Benefits and Hyatt Points
The Buffet at the Bellagio Review: Breakfast and Brunch Buffet
It's the end of the first day of Virtuoso Travel Week 2013, and I've just wrapped up over 80 4 minute appointments with luxury hotels, cruises and specialty tour operators from all over the world. I've also participated in professional workshops and connected with hotel GMs, Sales Directors and other luxury travel advisors at organized and informal cocktail hours and lunches. While I unfortunately will miss the next 3 intensive days of meetings due to needing to fly back to NYC, it's been an exhilarating and exhausting weekend and Monday.
So you might ask: What exactly is Virtuoso Travel Week? And what is the point of a luxury travel advisor?
Here's a quick Virtuoso Travel Week Video that helps sum it up:
In a nutshell, Virtuoso Travel Week brings together the top luxury travel advisors with the best hotels, cruises and specialty tour companies in the world in both structured 4 minute appointments and many opportunities for informal networking and connecting.
Here's how you benefit, as a TravelSort client, since we provide Virtuoso perks via our affiliation with Cadence, a Virtuoso Member:
1. Help Inspire Your Future Travel
Wondering where in the world to go next for incredible scuba diving and snorkeling? I have some new ideas. How about an Arctic expedition? Ideas for that too. Perhaps some private islands for a luxe family reunion? Covered. What about golfing with Tiger Woods or another golf pro? I know who can help. Private jet or helicopter transfer? Sure, no problem. Perhaps black truffle hunting and Italian cooking classes? Happy to organize that. And even if you don't know where in the world you want to go but have a sense for what you'd like to experience there, I have plenty of travel inspiration to offer.
2. Better Advise You with the Latest Developments at Specific Virtuoso Properties
Which properties have been recently renovated or refreshed? Has a hotel's restaurant recently received a Michelin star? What are new Virtuoso amenities in 2014? Which London hotel offers an Aman Spa? Hotels and resorts are constantly updating and upgrading their product and services, and Virtuoso Travel Week helps keep Virtuoso advisors, including yours truly, up to date so we can best advise you of what to expect.
3. Match You, the Guest, with the Ideal Travel Experience
A key reason luxury travel advisors are still thriving even as online travel bookings have seen a slight decline is that it's very challenging to get a sufficient feel for a place or travel experience just from your own online research. Part of the value of building a relationship with a luxury travel advisor is that over time, that advisor really gets to know what you crave for a given trip, and matches that with the hotels, personal guides, and travel experiences that you seek. And a good advisor will pull in help from local experts where needed to make sure the customized trip is a really good fit.
4. The Personal Connection That Helps You Be Even Better Taken Care of When Booking With Us
Personal connections with the Hotel General Managers, Front of House Managers, Sales Directors, Concierges? Priceless. By investing in these relationships and proactively reaching out prior to their clients' arrival, Virtuoso advisors help ensure their clients will be extremely well taken care of, and that's on top of already being well looked after given the rigors a property or supplier undergoes to requalify for Virtuoso every year.
In contrast, here's what one Sales Manager from a luxury hotel in Bali told me about her recent meeting with outsourced agents for AMEX's Fine Hotels and Resorts program: She asked whether any of the AMEX FHR agents had been to Bali. No hands went up. She then asked if any had been to Asia. No hands. Then one guy mentioned he'd never been on a plane. Now, who would you prefer to be advising you on hotels and taking care of your hotel bookings–the guy that's never been to the region you're going to (and perhaps never on a plane) or someone who's either been there or knows someone who has, and is absolutely committed to ensuring you have an incredible experience?
Related Posts
Virtuoso Hotels: Bookings with Upgrades, Complimentary Breakfast and VIP Perks
Virtuoso Confirmed Upgrade When Booking: Top 10 Hotels
Need Award Booking Help? Our fee is as low as $75 per ticket if you book your hotel through us.
If you enjoyed this, join 90,000+ readers: please follow TravelSort on Twitter or like us on Facebook to be alerted to new posts.
Become a TravelSort Client and Book The Bellagio with Virtuoso Amenities!