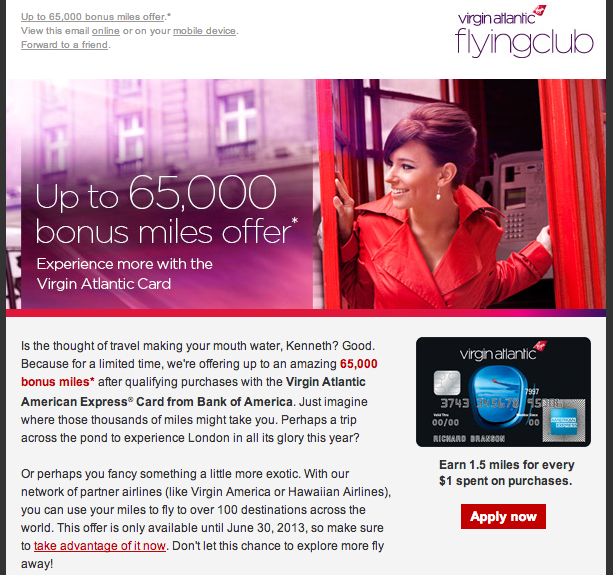 Update: The Virgin Atlantic 65,000 bonus miles offer link has expired, so I've removed the link.
TravelSort reader Kenny writes "I received this Virgin Atlantic 65,000 bonus miles credit card offer today. Does this look like a good deal to you?"
While at first blush the 65K bonus points sounds compelling, unfortunately Virgin Atlantic Flying Club points and this card offer have some serious drawbacks. But first, a quick summary of the offer:
20,000 Flying Club bonus miles after first purchase
25,000 additional Flying Club bonus miles after spending $2500 in the first 90 days
5000 bonus miles after adding two additional authorized users
7500 anniversary Flying Club miles after spending at least $15,000 in Net Purchases within the anniversary year
An additional 7500 anniversary Flying Club miles after spending $25,000 in Net Purchases within the anniversary year
$90 annual fee is *not* waived
Here are 4 reasons I won't be getting the Virgin Atlantic Bank of America card, along with a few reasons it may make sense for some to get it. After all, everyone's travel preferences are different, and it may well be worth it for you.
4 Reasons Not to Get the Virgin Atlantic 65K Bonus Miles Offer
1. Really a 50K Offer, Not 65K Offer, for Most
Since you'd have to spend $25,000 in order to earn the final 15,000 Virgin Atlantic Flying Club miles, I view this as actually a 50K offer, not a 65K offer (and note that 5000 of that 50K is from adding 2 authorized users; if you don't, it's actually a 45K offer). Even if you have high spend, you'd be better off using that
high spend
to meet more credit card bonuses and even some of the retention bonuses, rather than earning the final 15,000 miles for the Virgin Atlantic bonus offer.
2. High Fuel Surcharges on Upper Class and Premium Economy Virgin Atlantic Awards
An Upper Class award from NYC to London will cost you 80K miles + $1100 roundtrip, similar to British Airways–but the British Airways Visa has had an annual offer for a 100k bonus, which is more generous. And British Airways Avios have more uses, including for short-haul travel that doesn't come with high fuel surcharges. And don't forget that if you really want to fly Virgin Atlantic Upper Class, you'd be better off redeeming ANA miles for it anyway–see
Best Secret Out of Alliance Award Redemptions
. Do note though that you'll still be stuck with those fuel surcharges, whether using ANA or Virgin Atlantic miles.
If you redeem for Virgin Atlantic Premium Economy between NYC and London roundtrip, that costs 55K miles and ~$770 roundtrip. Again, in my view, not really worth it since I'd ideally like to be getting at least $700 in value from a rewards card sign-up bonus, particularly when the first year annual fee isn't waived. And while I might pay $1500 for a roundtrip flat bed business class ticket between the U.S. and Europe, I don't value Premium Economy at that amount.
3. Hilton HHonors Devaluation Makes the 1:2 Transfer to Hilton Less Valuable
The
massive Hilton HHonors devaluation
that went down on March 28 means that HHonors points are worth a lot less. The top-tier Conrads are now 95,000 points per night for most of the year, so even transferring 50,000 Flying Club points into 100,000 HHonors points will only get you 1 night at these properties. Contrast that with the Hyatt Visa, which gets you 2 nights at any Hyatt in the world, including top Park Hyatts such as the
Park Hyatt Maldives
.
4. $90 Annual Fee is Not Waived
Don't forget that the $90 annual fee is not waived with this card, so even if directing your spend in order to earn the signup bonus isn't an issue thanks to
Amazon Payments to meet minimum spend
, there is a real dollar cost associated with the card, even in the first year.
Reasons to Get the Virgin Atlantic 65K Bonus Miles Offer
1. Upgrade to Virgin Atlantic Upper Class from Qualifying Paid Economy Fares
Perhaps the best value use of Virgin Atlantic Flying Club miles is using them to upgrade from Economy to Upper Class, for 20,000 each way to or from London from many cities within the U.S. (for a few cities, it's 25,000 miles each way). Keep in mind though that lowest fares aren't eligible, and you will need to book by phone.
2. Fly Virgin Atlantic Coach to Europe with Low Fuel Surcharges
Since Virgin Atlantic recently reduced taxes on Economy awards, you could actually fly NYC to London for just 13,000 miles + $98. This isn't for my family, since on anything 5 hours or more we want to be in at least premium economy if not business class or first class, but it could be great for lots of folks. Just be aware that the return from London will be more due to high airport departure taxes from the UK. If you can depart from another European airport that could lower the taxes on the return.
3. Fly Virgin America Domestically
If you fly coast to coast, another decent deal could be to use 25,000 Virgin Atlantic Flying Club miles for a coach roundtrip on Virgin America.
Virgin America First Class
roundtrip is pricey, however, at 75,000 Virgin Atlantic miles (although still a better deal than the 100,000 Virgin America Elevate miles required for that award). But Virgin America is still no match for a transcon on
Cathay Pacific First Class
, which also happens to be a much better deal, especially through today, June 7, with the
35% AMEX transfer bonus to British Airways Avios
that brings it to only 55,556 AMEX Membership Rewards points roundtrip.
4. One Night in a Top-Tier Hilton is Worth It as the Sign Up Bonus
While it's low compared to the signup bonuses for the Hyatt Visa, Fairmont Visa and Citi HHonors Reserve Card, it may be worth it to you to earn 1 night at a top tier Hilton by transferring the 50,000 bonus to 100,000 Hilton HHonors points. Only you can decide if that's worth it to you, taking into account the $90 annual fee.
Do you think the Virgin Atlantic 65K bonus offer is worth it?
Related Posts