Back in October Virgin America started its reservation system change to Sabre. I say "started" because apparently there are *still* problems with the Web site, over 3 months later, where customers are often unable to change their flight online, have issues using Elevate points for bookings, and get errors when trying to complete an online booking (or get a confirmation email but there's no record of the flight when logged into the Web site).
So in light of all the core functionality that still malfunctions, it may seem minor to complain that the online upgrade process doesn't work either, at least for my flight later today. It's still disappointing though, since I was looking forward to trying Virgin America First Class after writing previously How to Upgrade to Virgin America First Class.
I set my alarm absurdly early (4:25am) so as to be able to log in right at the 6 hour window, and entered my last name and confirmation code.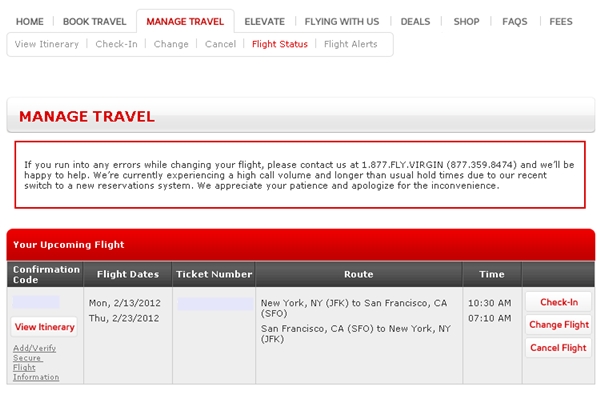 No upgrade button! I quickly went into the seat map to see if all the First Class seats had already been sold, but no, there were still three available. However, when I tried clicking on any of the three grey First Class seats that were still available, a message was shown saying that I should change the flight and pay the difference in fare–the same message that is shown prior to the 6 hour window. Since I wasn't looking to pay $1500 more per seat, this wasn't too helpful.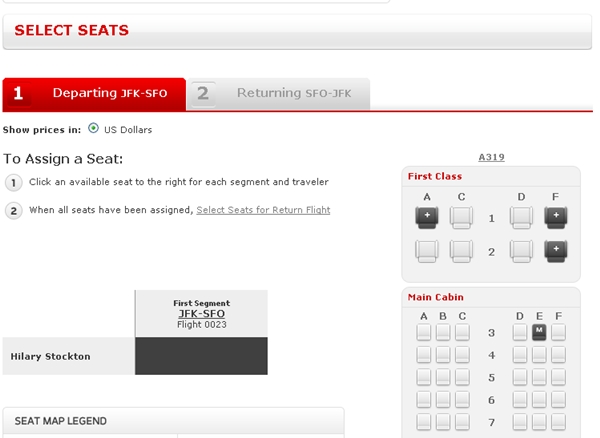 Then I figured my computer and phone clocks might be running a bit ahead, so I waited and tried again, but still, no luck. I tried calling the customer service call center, but of course it was "after hours" so there were no agents. I tried again a few more times, but still saw no way to upgrade to one of the available First Class seats, even though it was well within the 6 hour window when they were supposed to be available.
So, I resigned myself to waiting until the call center opened, at 3:30am PST, wondering if I'd get through given long hold times in the past.
Incredibly, after one failed attempt at 3:32am PST (went through the prompts and was supposed to be transferred, when it reverted to the "after hours" messages and hung up on me) I was able to get through to not only a human, but a very nice agent who helped me to upgrade both seats for my son and me. After we had finished, I asked her if she knew why I wasn't able to do this online, and she checked with a supervisor, who confirmed that you are supposed to be able to see an upgrade button after clicking "Check in" (rather than the "you can change your seat for the difference in fare" message I saw) but that they will look into it. The agent indicated that they have been doing frequent new patches to the system.
In any case, after figuring I wouldn't have the chance to upgrade due to the online snafu, I was thrilled to both get through and be able to do the upgrade over the phone. And when I went to check in online, I noticed that the one remaining First Class seat had been nabbed, and First Class was now sold out.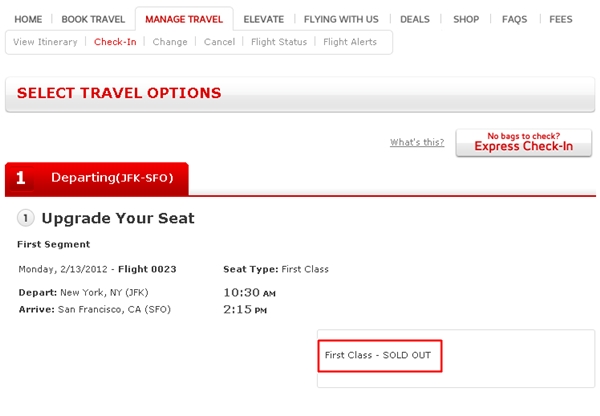 So my advice is to try calling right at the 6 hour window while simultaneously attempting to check in online, to maximize your chance of getting the upgrade in case, similar to my experience, you're not given the upgrade option online even though seats are available. I'll review Virgin America First Class later this week–anyone else have experience, positive or negative, with Virgin America? Personally, after getting up this early, I'm really looking forward to the seat massage function, although I somehow don't think I'll be actually sleeping given I have a 4 year old to entertain!
Related Posts
Virgin America First Class Review
Virgin America Main Cabin Select Review
Cheap Hawaii Interisland Flights: Miles and Points or Paid Ticket?
Virgin Atlantic 65K Credit Card Bonus Offer Worth It?
Need Award Booking Help? Our fee is as low as $75 per ticket if you book your hotel through us.
If you enjoyed this, join 90,000+ readers: please follow TravelSort on Twitter or  like us on Facebook to be alerted to new posts. 
Become a TravelSort Client and Book Your Hotel with Virtuoso or Four Seasons Preferred VIP Amenities!