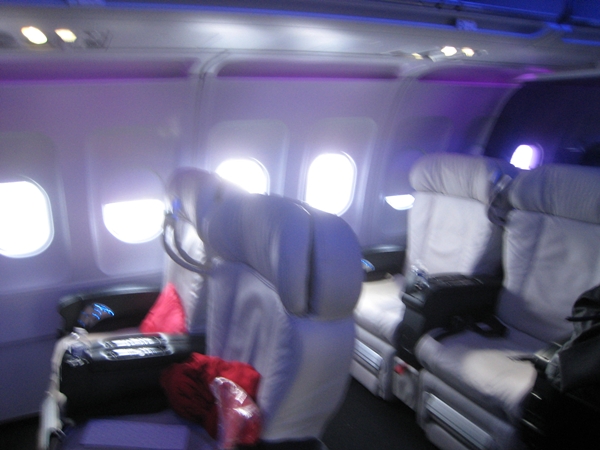 I recently flew Virgin America for the first time, and was lucky enough to snag a first class upgrade, although unable to upgrade to Virgin America First Class online. While I wasn't able to upgrade my Virgin America flight online due to ongoing problems with the reservation system, I was able to call and get seats for my son and I upgraded from Main Cabin Select, which we had purchased through an earlier Gilt deal. Here are my first impressions of Virgin America First Class.
We arrived at JFK Airport's Terminal 4 without incident, and proceeded to our gate, A2. Security was friendly, much better than I've experienced at other U.S. airports, although obviously this has nothing to do with Virgin. I'd been expecting some hassle with the organic milk I'd packed in a cooler for my son, and while they did test it, they didn't ask me to drink any of it as some parents have had to do.
The gate was right after security, and pretty full of people. It's too bad Virgin First Class passengers don't have a lounge to go to here—the only lounges were for Emirates and Air India, which also depart from here.
We boarded right on time; I must have missed the call for First Class, since there were already three passengers seated. I asked the Purser if it would be possible to switch seats, since my son and I had seats 1A and 1F, the two window seats. I could tell by his response "Yes, there should be some seats open" that he assumed that I was asking about seats in the Main Cabin, since I knew from checking in that First Class was completely full. I clarified that I was sitting here in First Class, and I could tell he was surprised—he even admitted that he thought we were sitting "in back" although he took it in stride. I'm not surprised there aren't many families or kids flying Virgin America First Class. In any case, there was a guy already sitting in my seat, 1F, so I decided to just put my son in his seat, 1A, and sit down next to him until whoever was in 1B arrived. As it turned out, no one asked me to change seats, so whoever it was probably just took another seat.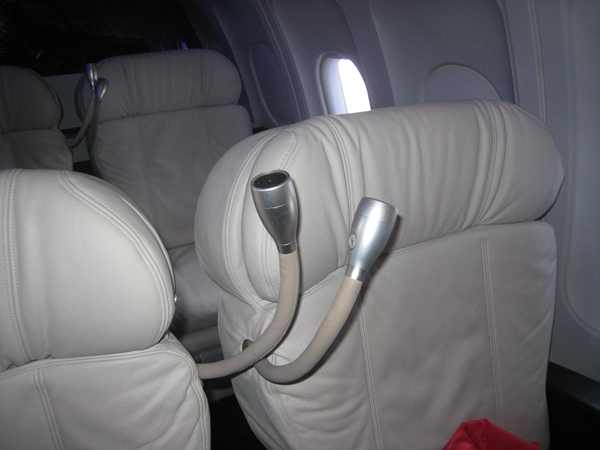 The purser asked me if we wanted anything prior to takeoff, and I asked for water, which he brought as 2 small individual bottles. We finished stowing our carry-ons and there were the usual safety demonstrations, a recorded one for the Main Cabin and live one for First Class. My 4-year old was easily the most attentive First Class passenger, although I'll admit it wasn't the content, but rather him ogling the beautiful flight attendant. It's good thing he's only 4—he won't get away as easily with that in a few years!
As part of the annoucements, the purser noted that the lavatories for the Main Cabin and Main Cabin Select were located in the back of the aircraft, and that the lavatory in the front was "exclusively for the use of First Class passengers." I appreciated this, traveling with a 4-year old who sometimes urgently needs the bathroom, since it meant less likelihood of having to wait. That said, I did notice a young woman sneak up to the First Class toilet without being stopped by the purser or any flight attendant, while when a woman with a baby sought to do the same, she was promptly told to go to the rear lavatories. Not saying there was necessarily discrimination, as it could be that in the first case all the flight attendants were too busy or absorbed in what they were doing to notice, but I do think they should figure out what the policy is and apply it consistently.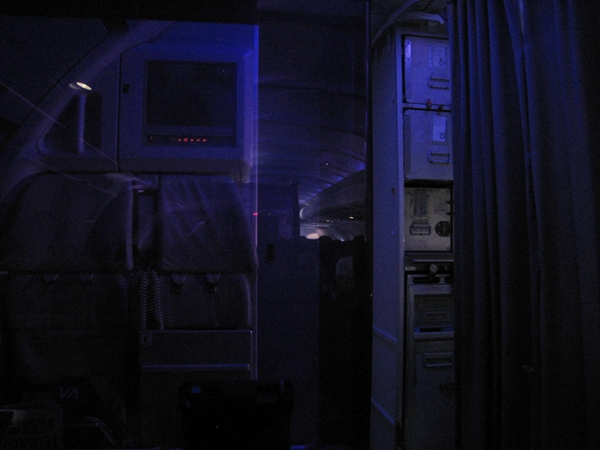 Anyway, we were soon making our way toward the runway. And of course, even though he'd eaten a good breakfast of yogurt and cereal just 3 hours before, my son was already clamoring for food as we were taking off. So as soon as I could after we were airborne, I asked a female flight attendant who had come up to the galley (which is right in front of First Class) for a small spoon, so I could give my son the food I'd brought with us. She checked with the purser, and said he'd give it to us. Not a problem, as he provided it quite soon thereafter.
The purser also came around with lunch menus, on which there were two options: sorghum brined chicken breast with smoked gouda mac-n-cheese, and cheese cannelloni with sweet red pepper sauce. I did think it somewhat odd that the purser said to me, but no one else "Be flexible with your choice, as I'll be starting in back." And sure enough, I was the last person he asked for their lunch choice. Now, as it turned out, we were able to get our choices (I ordered the chicken for me, and the cheese cannelloni for my son) but I was a bit peeved. I mean, we weren't the only ones to have purchased a last minute upgrade-there was at least one other person who did so. I was the only woman and my son was the only child in First Class, but that's hardly a legitimate reason for putting us last. In any case, it didn't matter this time, but I probably would have said something if one of the choices had run out, given that we were seemingly put last with no justifiable reason.
Lunch service commenced with an appetizer of marinated portabella mushrooms and avocados, prettily arranged in slices with some miniature sprouts and ginger on the side. And thanks to my son not wanting it, I got to eat two portions.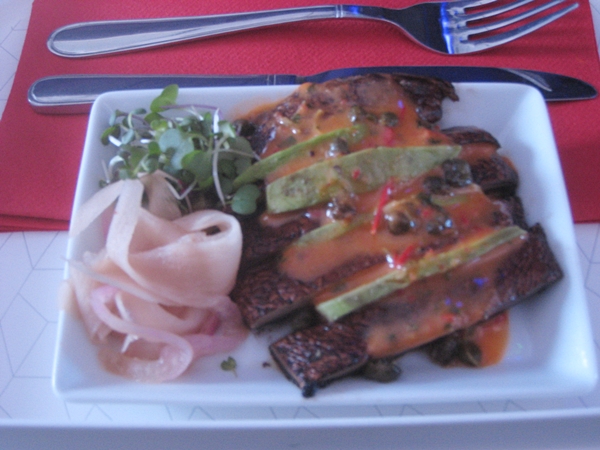 For the lunch entrees, the chicken was the better choice—it was moist and succulent, and the supreme sauce, smoked gouda mac-n-cheese and corn with green beans were all delicious. The broccolini was overcooked, but that was minor.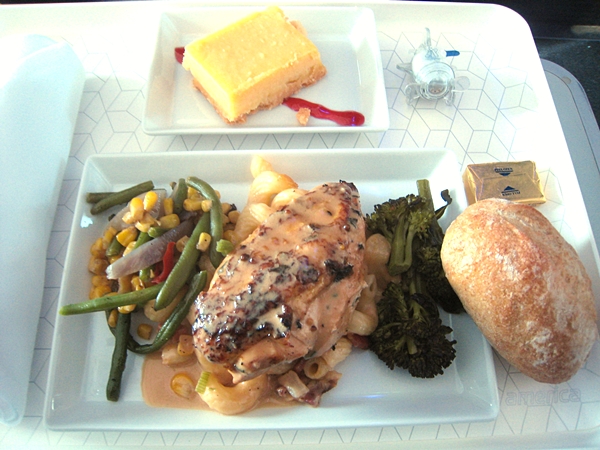 The cannelloni wasn't bad, but parts of it were too dried out, often a liability with in-flight food. The zesty red pepper sauce was great though, as was the chutney served alongside. The roll was warm, and my son quickly polished off his, and would happily have eaten all of mine as well, if I'd let him. Just as big a hit was the cute plane-shaped salt and pepper shaker, which he quickly claimed as his own.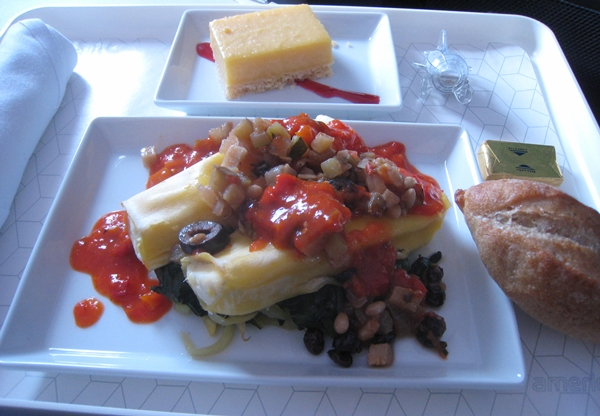 The lemon curd bar was very good, but not revelatory. Although to be fair, it's as good a version of this dessert as I've tasted–lemon curd bars are more comfort food desserts than "wow" desserts.
As I had a glass of Malbec, I can only speak to that, of the various wine selections–it was about as good as any $15-$20 bottle Malbec I've tried.
I was excited to try out the chair's recline and massage functions, but unfortunately this is where my experience was less than stellar. I was able to recline my son's chair without any issues to its full 165 degrees of recline (which of course he loved, and promptly used to grin at the passenger in back, who fortunately was asleep for almost the entire flight). I wasn't able to recline my seat quite as far back—maybe 150 degrees of recline. Worse, I wasn't able to get it back up—it somehow got stuck in that position, and only at the end of the flight did I finally enlist the purser's help in getting it upright.
I was also rather disappointed with the so-called "massage"functions. As I couldn't feel anything when I tried the various buttons, I checked with the purser, and he assured me that I was using the correct buttons, but that the massage was "very light." I'll say—either that, or this function was also broken on my seat. Is it really so hard to have seats with the massage function that any halfway decent NYC pedicure place has in every single pedicure chair?
At least the power outlets worked fine–a godsend, since I'd forgotten to fully charge my son't portable DVD player, and also wanted to plug in my laptop to do a bit of work. Although I didn't logon to Gogo WiFi, others did. I personally have found Gogo aggravatingly slow on the two occasions I tried it (not on Virgin flights).
In terms of inflight entertainment, I didn't watch anything myself, but my son tried watching the sole kid-oriented movie, "The Muppets" for a little while. It worked fine, but before long he decided he'd rather watch a few episodes of Thomas the Train on the portable DVD player I'd brought and reading a slew of books I'd brought with me. So if you're traveling with kids, make sure you've packed enough of their favorite books, activities and DVDs, as there are limited options for young kids.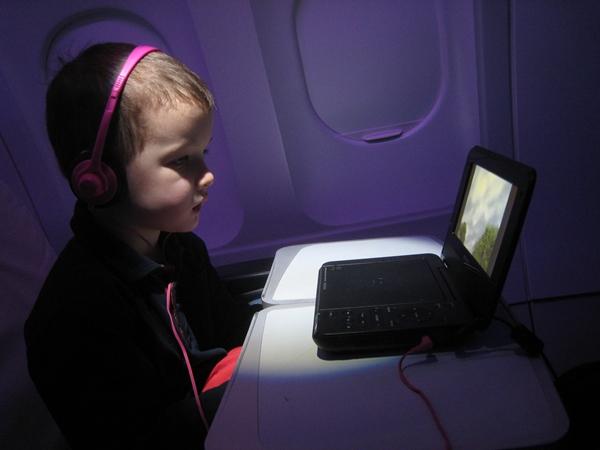 Bottom line: I loved the huge amount of space, the recline (although would have been nice if it had worked correctly for my seat), the fact that there was usually no waiting for the bathroom (since it's shared by only 8 First Class passengers and crew) and the food in Virgin America First Class. The service was friendly, although irked that I was the very last person asked for their meal preference, since I wasn't the only purchased upgrade. I was disappointed with the lack of true massage function and seat maintenance. Would I pay for a Virgin America First Class upgrade again? Yes. Would I ever pay full price or close to full price for Virgin America First Class? No.
Related Posts
How to Upgrade to Virgin America First Class
Virgin America New Flights to Hawaii
Virgin America Main Cabin Select Review
Need Award Booking Help? Our fee is as low as $75 per ticket if you book your hotel through us.
If you enjoyed this, join 150,000+ readers: please follow TravelSort on Twitter or like us on Facebook to be alerted to new posts.
Become a TravelSort Client and Book Your Hotel with Virtuoso or Four Seasons Preferred VIP Amenities!