As we recently wrote about in Frequent Flyer Miles and Points Dining Programs and Bonuses, there are ongoing new signup bonus offers for the various airline and hotel dining programs. Since I hadn't previously joined any, and dining is a nice quick hit for the US Airways Grand Slam, I signed up for US Airways Dividend Miles Dining and decided on a place to have a $25+ lunch to qualify for the 1000 Dividend Miles bonus and the Grand Slam hit.
It took a lot more time than I anticipated to find a place I actually wanted to eat at and review, that wasn't too far from where I live. I considered making a lunch of Ciao Bella gelato, but better judgment prevailed and I settled on Uskudar Turkish Restaurant.
I don't claim to be an expert in Turkish food, nor is it my favorite cuisine, but I do enjoy it–many dishes are similar to Greek and Middle Eastern classics, such as hummus, salads with feta cheese, borek (similar to Greek spanakopita), musakka (like Greeek moussaka), and of course baklava and other sweet endings.
With no reservations, I arrived at Uskudar to find two couples finishing up their lunch, and was ushered to a place. The restaurant, while small, was nicer than I anticipated from the hole in the wall reviews I'd read. Unfortunately, the 3-course $16.95 lunch special that I'd planned to order turned out to be cash only–so that wasn't going to work for getting my bonus (not to mention getting 2x points by paying with my Chase Sapphire Preferred card).
Instead, I chose a couple things off the regular menu that were not offered on the lunch special menu: Mucver (Zucchini Pancakes served with garlic yogurt sauce) as an appetizer and Hunkar Begendi (lamb stewed with herbs and tomatoes, served on pureed eggplant) as an entree.
Soon after taking my order, the server returned with toasted Turkish bread and oil cured black olives. This was a great beginning, not least because the bread was very fresh and still warm. I wish all restaurants would serve bread warm; it makes such a difference.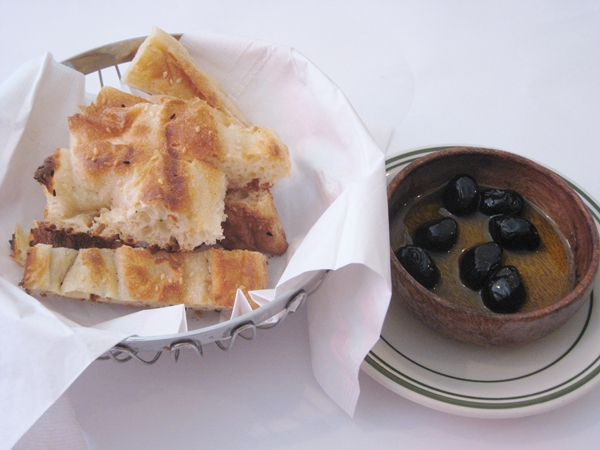 It would have been easy to fill up on the delicious bread and olives, but I held off and presently was brought the Mucver, which consisted of 3 pancakes and a deliciously creamy (homemade?) yogurt sauce. For the price ($8.95) I would have expected another 1-2 pancakes, but as it was just me, it was the right portion. I'd ordered this because of the rave reviews–I'd never have chosen it on my own, as I've never liked zucchini–and it was good. Not earthshattering, but probably one of the few ways I'd willingly eat zucchini.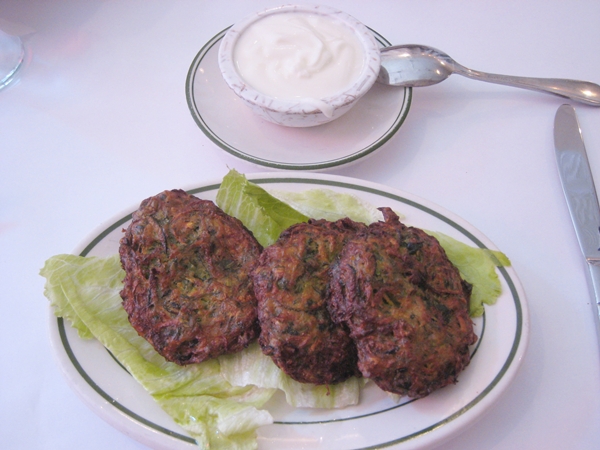 By the time my main course of Hunkar Begendi arrived, I was almost full. The most intriguing part of this dish was the eggplant puree–creamy and smoky, so I'm guessing the eggplant was well charred first, before being peeled and pureed. The lamb was very tender and the sauce was well reduced. It was served alongside a rice timbale and some carrots and broccoli–the broccoli seemed somewhat out of place (I don't remember ever seeing or being served broccoli when I was in Istanbul) but I probably needed the vegetables with all the rich sauces. I ended up taking most of this dish home.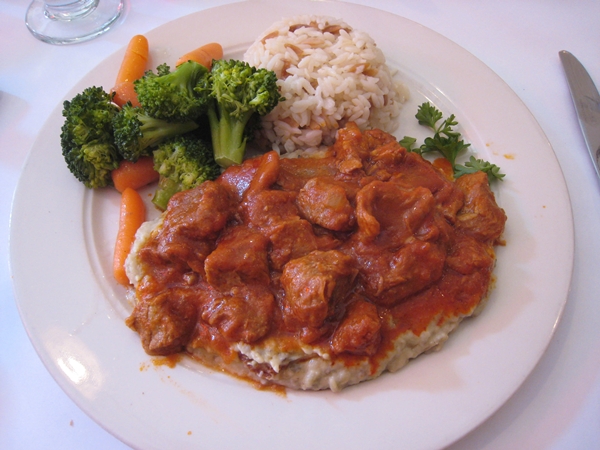 Needless to say I was too full for dessert, and it seemed overpriced anyway at $6.95 for a piece of baklava.
The verdict? While I wouldn't have had occasion to come here apart from the Dividend Miles Dining Bonus and Grand Slam hit, everything was solidly executed, and it would make a nice change of pace. I do think it's a bit pricey for what you get, however. The restaurant has actually just left iDine, so it isn't part of the various dining programs any longer (last day was 10/31/11) but in any case the best deal is the cash-only $16.95 3-course dining special which is offered daily. So it looks like I'll be eating gelato for lunch to get my next new member dining program bonus 🙂
If you enjoyed this, please follow TravelSort on Twitter, like us on Facebook or become a Member to be alerted to new posts.