Great question Jeff. Earlier in that same post we mention how you can tack on a free one way to Hawaii after an international award on American Airlines if you're returning to an American Airlines hub such as Chicago, since Hawaii is included together with the continental U.S. on American's award chart and American allows stopovers at their domestic (but not international) hubs. (Update: Unfortunately as of 4/8/14 there are no more AA free one ways as American AAdvantage, with no notice, has eliminated free North American hub stopovers on award tickets. See
No More Free AA One Ways
)
With United, it's a bit different. Here are the relevant rules:
Two open jaws are allowed per roundtrip award
One stopover is allowed per roundtrip award
No stopovers or open jaws are allowed on a one way award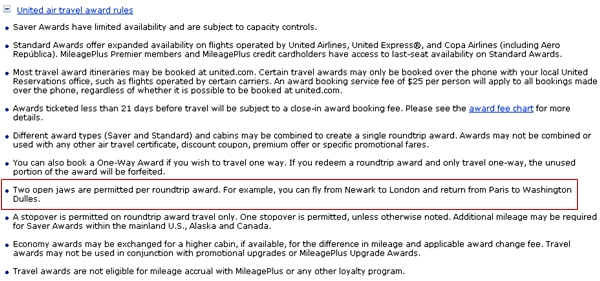 So what does this mean? In the United award rules above, the example of two open jaws is:
Depart City A (NYC Newark)
Arrive City B (London)
Depart City C (Paris = Open Jaw 1)
Arrive City D (Washington Dulles = Open Jaw 2)
But that example doesn't make use of a stopover. Instead of the above, you could:
Depart City A (e.g. NYC Newark)
Arrive City B (e.g. Munich)
Depart City C (e.g. Frankfurt = Open Jaw 1)
Arrive City A (e.g. NYC Newark)
[Stopover]
Depart City A (e.g. NYC Newark)
Arrive City D (e.g. San Francisco = Open Jaw 2)
As you you can see, instead of just going from the U.S. to Europe and back, in this use of 1 stopover and 2 open jaws, we also get a trip at a later date from NYC to San Francisco, in the same class as whatever we booked the original trip in (assuming award availability exists).
Here are screenshots of the above. As you can see, I couldn't find first class availability from Frankfurt back to EWR, so I chose business class. The EWR-SFO segment is in BusinessFirst, and is included at no extra cost, for a total of 117,500 United miles = 67,500 for outbound first class + 50,000 return in business class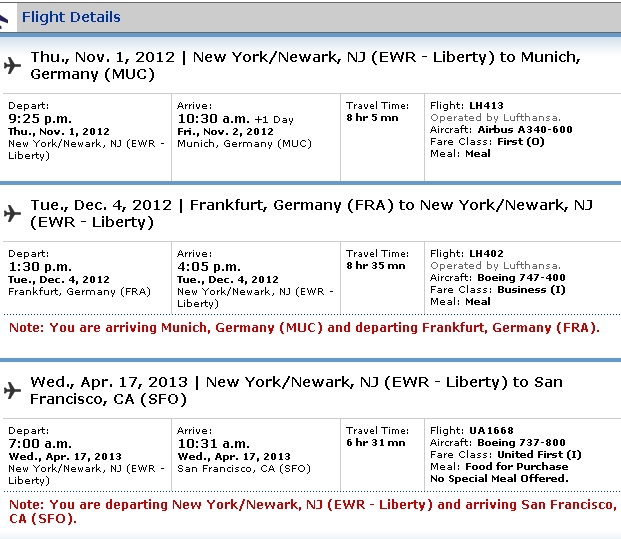 But, you may be asking, what about Hawaii? Well, as noted above, United's award chart separates Hawaii from the Continental U.S., so it won't be a completely free one way. Also keep in mind that United has some three class flights to Honolulu from San Francisco and Houston, so on those three class flights, if you choose first class to Honolulu but had a business class award on the international return, that bumps the return flight up to the first class award price.
That's what happened here, with the same example as above, except Honolulu instead of San Francisco, which causes it to be priced as 135,000 United miles (67,500 x2):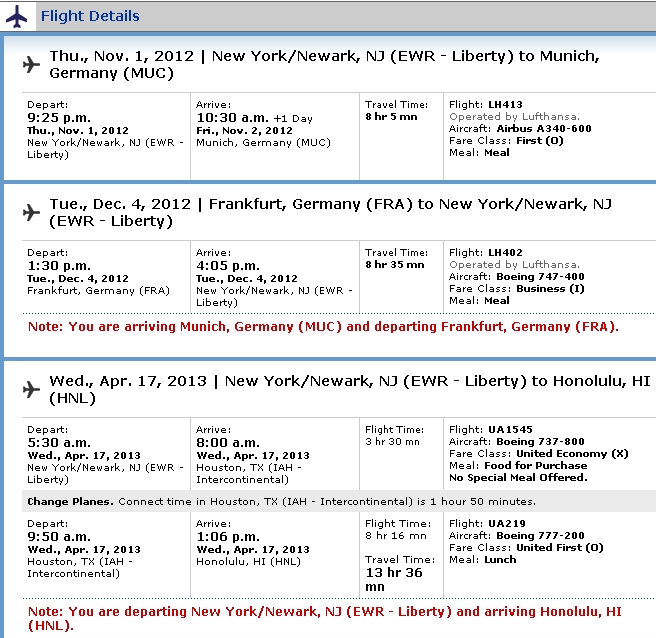 If instead of IAH-HNL in first class we chose business class, the itinerary prices at 125,000 United miles. That's 7500 more for the entire EWR-HNL flight vs. the EWR-SFO flight, which is still quite good considering you're adding on the equivalent of a transcontinental flight when you go to Hawaii instead of the West Coasthnn.
FAQ
Can I Get a Free One Way with a One Way United Award?
No; as per the award rules mentioned above, United only allows the two open jaws and one stopover on a roundtrip award.
Can I Get a Free One Way When Booking a Roundtrip to Hawaii?
Yes; keep in mind that if you're in United BusinessFirst in one direction and United Economy on the other, you want to add the free one way to the direction you're traveling in United BusinessFirst, so that your free one way can also be in United BusinessFirst.
Can the United Free One Way be International?
Sure, although you can't exceed the maximum permitted mileage (MPM) by more than 15%. You could, in the above example, go to Cancun, Mexico instead of SFO for example, or a number of other cities while staying within the MPM + 15% threshold.
I have an Existing United One Way Award; Can I Change it into a Roundtrip Award in Order to Get a Free One Way?
Since you'd be changing your origin and destination, you'd have to pay the applicable fee, unless you're a Global Services, Premier 1K or Premier Platinum member. See
United Award Fees
. Also, if you're booking your award by phone, refrain from referring to a "free one way." Just provide the flights to the agent and verify it prices the way you expect it to. Do your research ahead of time to make sure there is saver availability on each leg, and make sure you're not looking at phantom Lufthansa award availability. You can check true Lufthansa availability by
using ANA to search for Star Alliance Award Space
.
I want to book United roundtrip awards now to take advantage of this. What's the fastest way to earn more United miles?
Even if you don't do any flying on United, you can still earn United miles.
1. See if you're targeted for the 65,000 offer for the United MileagePlus Explorer, if you don't already have it
2. Apply for the Sapphire Preferred (40,000 points transfer 1:1 to United)
3. Apply for the Ink Plus (50,000 points transfer 1:1 to United)
4. Leverage category bonuses: 2X on all travel and dining for the Sapphire Preferred, 5X for office supply store,
cellular phone, landline, internet, and cable TV services spend for the Ink Bold and Ink Plus
Have you taken advantage of free United one way flights on roundtrip awards, or have any questions?
Related Posts