Amazon Payments is another thing I like about Amazon.com, which I already love because I can consistently get 5X on Amazon spend thanks to my Ink Bold or Ink Plus. An Amazon Payments personal account lets you pay anyone up to $1000 per calendar month (total, for everyone you pay) using your credit card. This is a lot better than PayPal, which charges you for using your credit card. So handy if there are people I need to pay small amounts to, since I can use credit card rather than cash or check, and in the process help meet minimum spend for several new credit cards. 5/13 Update: Google Wallet is rolling out a send money capability and is temporarily waiving the regular 2.9% credit card fee. See Google Wallet Send Money: New Way to Help Meet Minimum Spend?
Are you also using Amazon Payments to help you meet minimum spend after you've applied for several new credit cards?
If not, here's how:
1. Go to Amazon Payments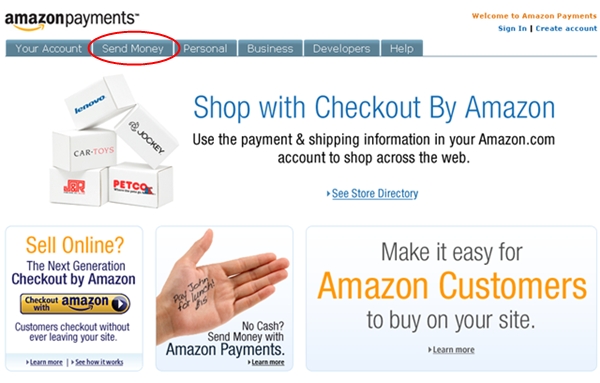 2. Login to Your Amazon Account

3. Sign Up for Amazon Payments or Verify Information
I noticed that as an existing and very active user of Amazon.com I was only prompted to enter my date of birth to start using Amazon Payments. My husband, who has an Amazon account but doesn't use it, however, was prompted to enter his full information, including address, birth date and social security number. I'm sure this is not at Amazon's initiative but simply to be in compliance with regulations that require financial institutions to know their customers to prevent money laundering.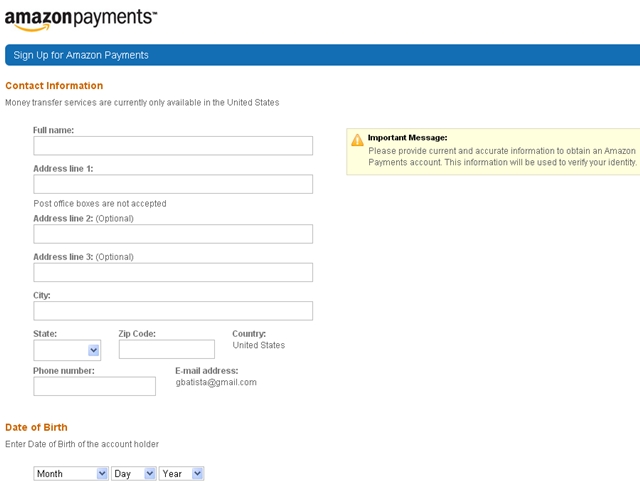 4. Go to "Send Money" and Fill In Payee Information
Type in the email address of the person you're paying and the amount.
Important: Make sure you select "Goods/Services" and NOT "Cash Advance" since selecting "Cash Advance" will trigger high cash advance fees on your credit card (and hopefully you're paying for goods/services anyway).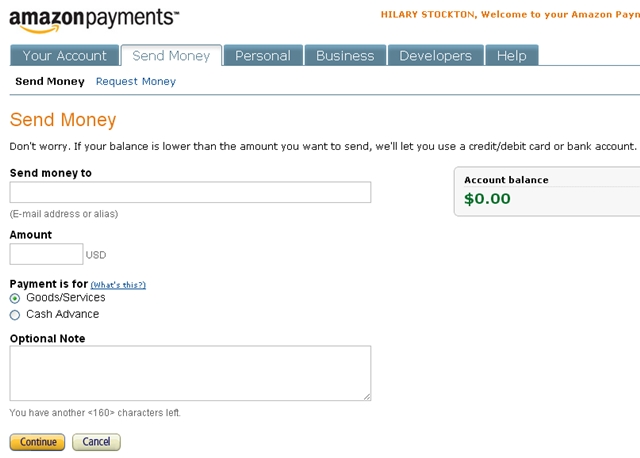 5. Select a Credit Card or Add New Credit Card
Either select an existing credit card from the dropdown, or add a new credit card: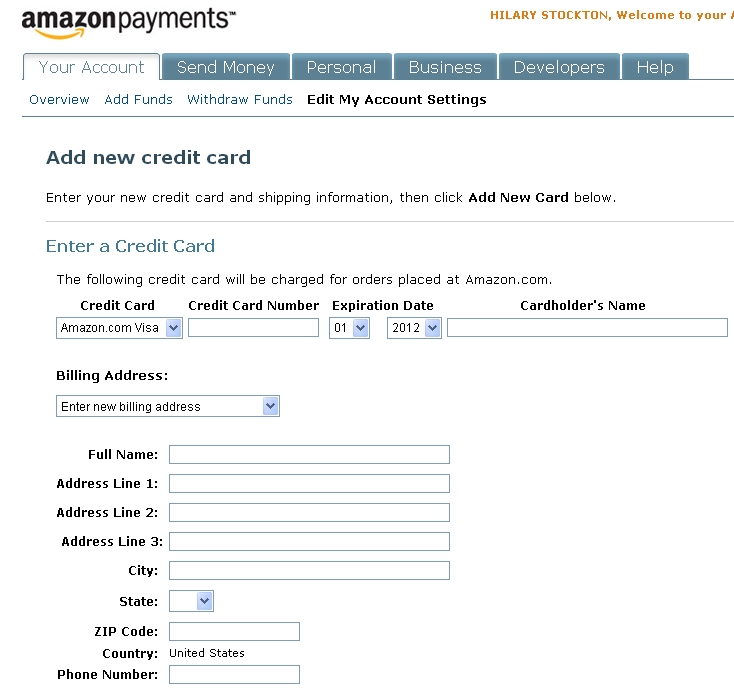 6. Your Payee Logs Into Amazon Payments, Accepts Payment, and Withdraws to Their Bank Account
The person you're paying will receive an email and will either login if they already have an Amazon Payments account to initiate a withdrawal to their bank account, or will be prompted to sign up for Amazon Payments if they don't already have an account, and add their bank account: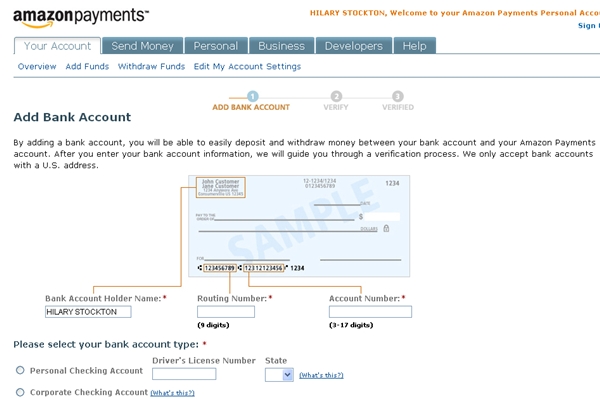 FAQ
What's the Maximum I Can Pay Others?
$1000 per calendar month. That means that you could pay $1000 to someone on the April 30th, and pay another $1000 on May 1st.
Is There a Fee?
Currently no, but make sure to check the Amazon Payments terms and conditions before you send money in case anything changes, and also try a small amount at first.
Can I Pay Myself?
No. Amazon Payments is for legitimate payments to other people. Your account will most likely get shut down if you try to pay yourself, and could also get shut down if your spouse and you pay each other $1000 every month. Some folks set up elaborate payment circles, but personally I only plan to use it for actual payments I need to make, which come to about $1000 a month anyway.
Can I Pay My Kids or Others Under 18?
No–you must be 18 or older to use Amazon Payments.
Can I Use Amazon Gift Cards Instead of a Credit Card to Send Money with Amazon Payments?
Unfortunately, no. That would be a nice way to get 5X points, but you can't do it.
Can I Use Visa Gift Cards?
Generally yes–this could be a way of getting a 5X bonus in Q1 2013 if you have a Freedom card and a drugstore near you where you can buy Visa gift cards with a credit card, since drugstores are one of the 5X categories. See Activate Chase Freedom 5X Q1 2013 Bonuses for Drugstores, Gas Stations and Starbucks.
Can I Use My AMEX Cards with Amazon Payments?
Not recommended, as AMEX has been known to initiate financial reviews of those using their AMEX cards with Amazon Payments. Consider using other non AMEX cards with Amazon Payments and meeting AMEX minimum spend with your more regular spend or where you receive category bonuses. For example, use your AMEX Premier Rewards Gold to buy gift cards at grocery stores for 2X points.
So Which Credit Cards Do You Recommend Using Amazon Payments With?
Most any non-AMEX cards that you are looking to meet minimum spend with, for example:
Ink Bold ($5000 spend in 3 months)
Ink Plus ($5000 spend in 3 months)
Sapphire Preferred ($3000 spend in 3 months)
Ink Classic ($3000 spend in 3 months)
Citi AAdvantage Cards
Citi Hilton Cards
How Long Does it Take to Withdraw Amazon Payments Money to My Bank Account?
Per Amazon, it takes about 5-7 business days, excluding weekends and holidays, but depends on your bank. After you initiate the withdrawal it will appear as a pending transaction, and when complete, either "Success" or "Failure" will appear in your Amazon Payments account. Note the minimum amount for initiating a withdrawal to a bank account is $10.
What's your experience with Amazon Payments? Have any tips to share?
Related Posts
Google Wallet Send Money: New Way to Help Meet Minimum Spend?
Top Tips for Meeting Minimum Spend
Chase Ink Bold Minimum Spend Tips
Which Credit Cards to Keep, Churn, Trade and Apply For
Earn 1 Million Miles and Points a Year Without Flying
Need Award Booking Help? Our fee is as low as $75 per ticket if you book your hotel through us.
If you enjoyed this, join 90,000+ readers: please follow TravelSort on Twitter or like us on Facebook to be alerted to new posts.
Become a TravelSort Client and Book 5-Star Hotels with Virtuoso or Four Seasons Preferred Partner Amenities!