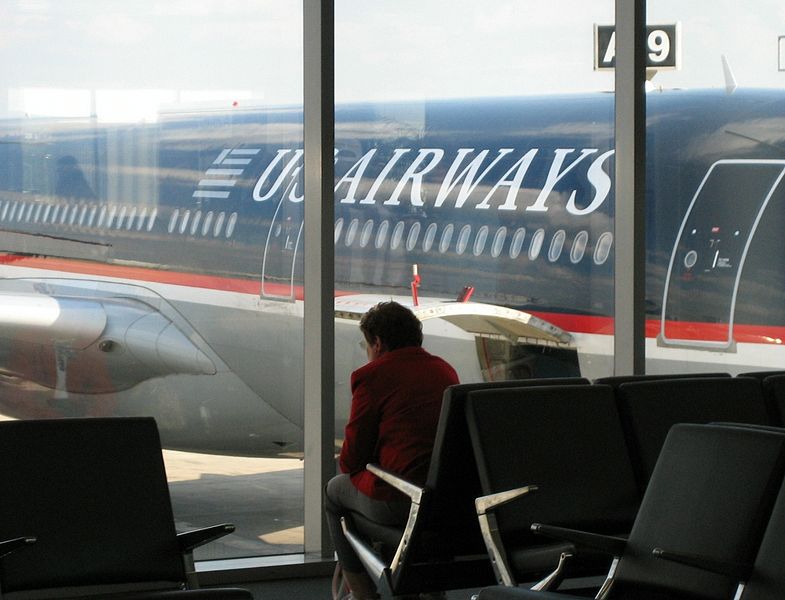 The US Airways U.S. Call Center is a disaster right now, as anyone who's tried to call 800-428-4322 or even the U.S. Airways Gold line or Platinum Preferred lines knows all too well. Now, of course there have been a slew of weather related cancellations this week, with US Airways' Charlotte hub a real mess.
But the problems with the US Airways U.S. Call Center are exacerbated by issues such as:
The U.S. Call Center doesn't place users on hold when the system is over capacity: you simply receive a message to call back later
There is no call-back option for U.S. Airways, unline for American (where you can enter your number to keep your place in queue–I used this option yesterday and waited less than half an hour for a call back) and United (see Get United to Call You Back and Save Time)
Not everyone whose flight was cancelled was able to rebook online–many folks were directed to call the call center number, further overloading the system
It's impossible to book Dividend Miles partner awards online. While American Airlines also requires you to call to book partners such as Cathay Pacific, Etihad, etc., at least some of American's partners, such as British Airways, Air Berlin, Qantas and Royal Jordanian are available for online booking. United enables most partners (except Singapore Airlines) to be booked online.
Here are just a few of the tweets I've seen over the past few days reflecting the frustration of long US Airways Call Center hold times:


Of course, there were many other tweets frustrated not just by long US Airways call center hold times but by poor customer service, intransigence and general incompetence: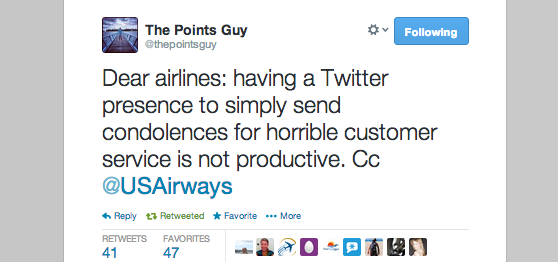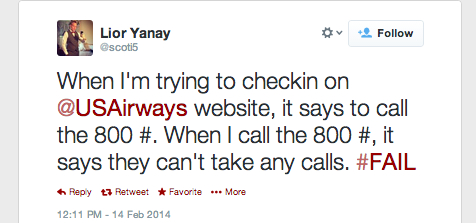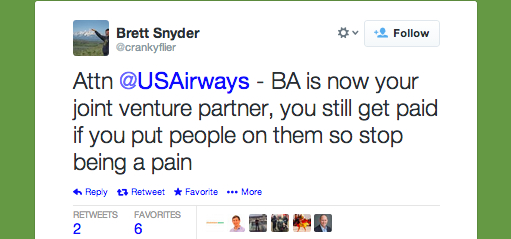 The solution, if you're trying to reach US Airways by phone? Call a foreign call center. Here is a list of US Airways Call Center numbers around the world. If you have Skype or other cheap calling plan, it will be an inexpensive call, and avoid the frustration of being hung up on or waiting on hold for hours. Just note that these are not 24 hour call centers, so you may need to call a different region if the call center you call is currently closed.
| Country | Phone number |
| --- | --- |
| Austria | 0810 001172 |
| Belgium | 0781 50026 |
| Brazil | 0800 7611114 |
| Canada | 888-240-4770 |
| Denmark | 80-60-48-55 |
| France | 0810 632222 |
| Germany | 0800-7236-421 |
| Greece | 0080044143810 |
| Ireland | 1890 925065 |
| Israel | 972 3 7548 400 |
| Italy | 8488 13177 |
| Netherlands | 020 2013550 |
| Norway | 800-188-63 |
| Portugal | 808 200958 |
| Spain | 901 117073 |
| Sweden | 0850 163427 |
| Switzerland | 0844 805213 |
| United Kingdom | 0845 6003300 |
What's your experience with US Airways call centers and customer service over the past few days?
Related Posts
DOJ Settles: US Airways American Airlines Merger Moving Forward and What It Means for You
Buying US Airways Miles with a 100% Bonus: 7 Reasons Why It's Not a Good Deal
US Airways Award Chart Confirms: No Lufthansa First Class Awards
Need Award Booking Help? Our fee is as low as $75 per ticket if you book your hotel through us.
If you enjoyed this, join 150,000+ readers: please follow TravelSort on Twitter or like us on Facebook to be alerted to new posts.
Become a TravelSort Client and Book Your Hotel with Virtuoso or Four Seasons Preferred VIP Amenities!