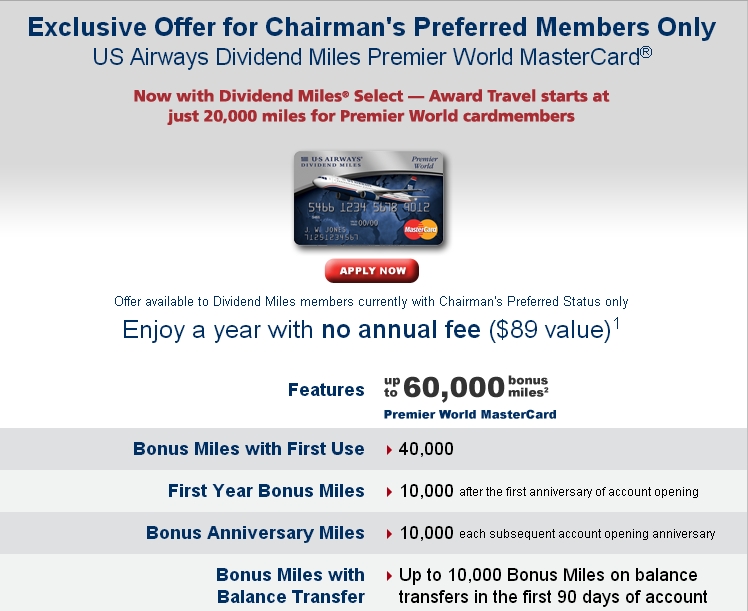 The US Airways MasterCard 40,000 offer arrives as part of my junk mail on a regular basis, and it always goes straight into the paper recycling bin unopened. I've already covered why for me, US Airways miles are not a good deal, even when they run a 100% bonus on buying miles. Sure, I picked up some miles in a past Grand Slam promotion, but I haven't used them or valued them that highly.
But this may be changing, with the expected American and US Airways Merger News. For the first time I'm thinking of applying for the US Airways MasterCard (see link on Best Travel Credit Cards), since it is after all 40,000 miles after first use (I'd ignore the 60,000 claim, since that requires you to renew the card for another 10,000 points, and do a balance transfer for the final 10,000 miles)b, and that could, assuming the merger goes through, become American AAdvantage miles to be use on our next Cathay Pacific First Class award.
In fact, you may even be able to squeeze two US Airways MasterCard applications in, which would get you ultimately 80,000 AAdvantage miles, or 160,000 AAdvantage miles if both you and your spouse or travel partner are able to get approved for two cards. While more people seem to have reported success when applying 6 months apart for the two cards (see Can You Churn Bank of America, Barclay's and US Bank Credit Cards?), there are some that have gotten them in a shorter time, especially if they don't have a lot of other recent inquiries.
Another thing to mention is that typically, a few months after receiving the US Airways MasterCard, you get an offer for 15,000 extra US Airways miles if you spend $1250 per month for three months, total of $3750 in spend. On its own, this isn't a very good return, since for that spend you could get:
50,000 Membership Rewards points after $1000 spend as the signup bonus for the Mercedes-Benz AMEX Platinum card
40,000 AAdvantage miles after $1000 spend as the signup bonus for one of the Citi Platinum Select AAdvantage World MasterCard offers
50,000 British Airways Avios after $1000 spend as the signup bonus for the British Airways Visa
40,000 Hilton HHonors points after $750 spend for the no fee Hilton HHonors AMEX (see Hilton HHonors: Use Citi and AMEX Credit Cards to Maximize Hilton HHonors Points)
Total: 180,000 miles and points for $3750 spend
So, those are a lot of miles and points to give up for 15,000 bonus US Airways Dividend Miles, but if you've already got all these cards, aren't working toward any other credit card minimum spend, or simply have
High Credit Card Spend
, earning the bonus 15,000 US Airways miles could make sense for you, giving you a total of 55,000 US Airways miles per card, assuming you get this email offer for the 15,000 bonus points. If you got two cards, giving you 80,000 miles, and also got two 15,000 bonuses (or used 30,000 AAdvantage miles from one of your Citi AAdvantage card bonuses or from BankDirect) that's 110,000 AAdvantage miles, enough for
Cathay Pacific Business Class
roundtrip to Hong Kong or even to
Bali
via Hong Kong (but with no stopover).
While there are no guarantees you'll be able to get two US Airways MasterCards at 91 days apart (the minimum amount of time I'd recommend between churns) it doesn't hurt to try if you otherwise have strong credit, pay everything off in full, and aren't applying for a mortgage, refinancing or other major loan within the next year. I'd recommend applying for several other cards at the same time, so that all your inquiries occur at about the same time and other bank issuers don't see a lot of recent inquiries.
What should you say in order to get a second US Airways MasterCard? A good reason would be if you want to separate certain kinds of expenses. Unlike the Hilton HHonors cards, I would NOT say that it's for business expenses, because there is already a US Airways Business MasterCard with a lower bonus of only 25,000 miles after your first purchase, and you want to make a case for a second personal card with 40,000 miles after first purchase.
Personally, I'll have to wait a bit since I just applied for a bunch of cards in December, but absent that I'd do a churn that includes the US Airways MasterCard as soon as the merger is announced, as early as this coming Tuesday. Of course, there's still the chance that the merger isn't approved, but I'd take that chance.
How about you, do you plan to apply for the US Airways MasterCard with a view to turning Dividend Miles into American AAdvantage miles?
Related Posts
American and US Airways Merger News and Predictions
US Airways Award Chart Confirms: No Lufthansa First Class Awards
Bye Bye Citi AAdvantage Two Browser Trick?
American Airlines Award Fees and How to Avoid Them
Use Qantas.com to Find Oneworld Award Space
Need Award Booking Help? Our fee is as low as $75 per ticket if you book your hotel through us.
If you enjoyed this, join 150,000+ readers: please follow TravelSort on Twitter or like us on Facebook to be alerted to new posts.
Become a TravelSort Client and Book Your Hotel with Virtuoso or Four Seasons Preferred VIP Amenities!