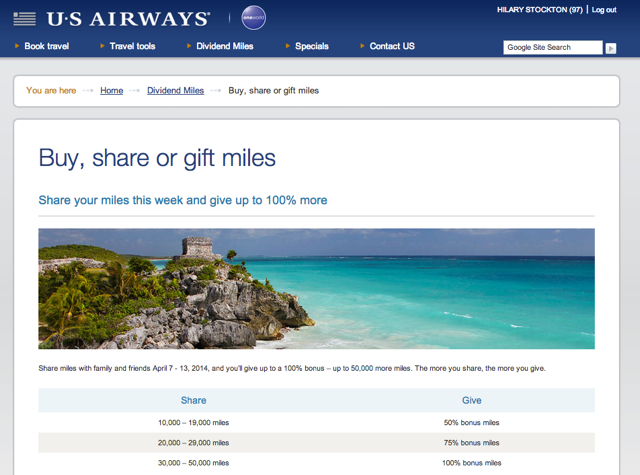 US Airways has a 100% bonus on shared miles April 7 – 13, 2014, up to 50,000 miles per recipient account, with 100% bonus, of 100,000 Dividend Miles. Is it worth it?
First, the details:
When you share miles with a friend or family member, the recipient receives a 100% bonus
Maximum number of miles that may be shared is 50,000 miles, for a total of 100,000 miles including the 100% bonu
The bonus is tiered, so you do need to share at least 30,000 miles in order to receive the 100% bonus. If you transfer 10K-19K miles, the recipient only receives a 50% bonus, and if you transfer 20K-29K miles, the recipient receives a 75% bonus.
Cost: $ 0.01 per mile + processing fee of $30 and a tax recovery charge of 7.5% (so, if you share 50K miles, for a total of 100K miles in the recipient's account, that costs $567.50. GST/HST charged to Canadian residents.
Transaction is processed by points.com (so no benefit to using a credit card that earns bonus points for airline miles, since you will not earn those bonus miles on the transaction)
So, is this a good deal? It depends on your travel preferences and what you intend to do with the miles (or what your family member or friend that you share miles with plans to do). I've been pretty critical of the US Airways Dividend Miles program in the past, and will repeat some of the reasons below for why you may not want to take advantage of the bonus.
But that said, there can be some good reasons to take advantage of it as well. I'll start with the pros:
3 Reasons To Take Advantage of the US Airways 100% Share Miles Bonus
1. Buy US Airways Dividend Miles at 1.1 Cents Per Mile
Taking into account the $0.01 per mile cost to share, the $30 processing fee and the 7.5% tax, when you share 50,000 miles and get 50,000 miles due to the 100% bonus, you're effectively buying Dividend Miles at 1.1 cents per mile. That's as good as it gets in terms of buying miles. The only way to get them cheaper is via credit card bonuses, naturally high spend, or manufactured spend.
2. Good Value Awards, Especially Cathay Pacific to North Asia
EVA must be booked by May 14, 2014
Avianca must be booked by May 31, 2014
Air New Zealand must be booked by June 29, 2014
Some other good value award redemptions include:
140K miles roundtrip to Australia in First Class via Asia: You can't connect in Asia using AA miles, so this opens up the possibility of flying Cathay Pacific as well as Qantas
110K miles roundtrip to Australia in Business Class via Asia: in addition to enabling you to fly Cathay via Asia, this award would be 125K AA miles, so that's a 15K miles savings
110K miles roundtrip U.S. to Africa via Doha on Qatar Business Class
3. Off Peak Awards to the Caribbean and South America (and in Coach to Europe)
There's no longer a discount for Envoy awards to Europe in the dead of winter, but there are still discounted coach awards to Europe, as well as discounted awards in both Envoy and Coach from the U.S. to the Caribbean and South America. The time frames are very limited, but if you can get it to work for you, these can be good deals.
6 Reasons Not to Bother with the US Airways 100% Share Miles Bonus
1. Have to Call to Book All Partner Award Travel
While there are several frustrations in dealing with US Airways awards, this one currently tops my list. Yes, I know that if you have plenty of time to call again and again you may be able to get a more creative award routing with US Airways, since the awards are priced manually and some of the agents are, shall we say, geographically challenged. But unlike
United's great call back feature
or even American, which will hold your place in queue and call you back, you have to call US Air and wait on hold, often for much longer than you hoped for.
2. No One Way Awards for 50% the Cost of Roundtrip
Unlike United, American and most other frequent flyer award programs, it's not possible to book a one way award using US Airways Dividend miles for half the price of a roundtrip–you'd pay the same amount as the roundtrip. At least for me, this is a real showstopper, particularly on longer trips when I want to be able to grab award seats when the calendar first opens. It means you're at a real disadvantage and you may have to swallow the $150 award change fee in order to secure your preferred outbound dates, changing the return once the award calendar opens for them.
3. No Changes to the Award After Travel Has Begun
4. No More Off Peak Envoy Awards to Europe
While I never took advantage of this, some folks loved being able to book US Airways Envoy seats between the U.S. (including Hawaii) and Europe for 60,000 miles roundtrip January 15-February 28, instead of the usual 100,000 miles. Well, RIP–there's no more off-peak discount for Envoy to Europe, although there still is the discount (to 35,000 miles instead of 60,000 miles) for coach awards during that time.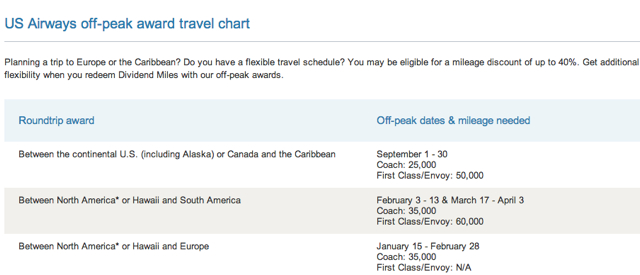 5. Officially, No Free One Ways Are Possible
With United and American awards it's possible to construct a free one way. See
Use United Free One Ways to Maximize Your Award
. This works because you're allowed both an open jaw and a stopover. With US Airways, however, you have to choose between a stopover and an open jaw. Now, given that awards aren't automated at US Airways the way they are at American, it may be possible to ticket an itinerary that gives you a free one way (since much stranger routings have been ticketed) but it's not a given and would violate US Airways award rules.
6. Expect Award Chart to Devalue with Little or No Notice
Given that there was no notice for the elimination of the off peak Envoy award between the U.S. and Europe, don't expect there to be much if any notice for other program "enhancements," er, award chart devaluations.
Ultimately, I probably will take advantage of the 100% share miles bonus, mainly because US Airways is now part of Oneworld and we will likely use them for Cathay Pacific First Class to North Asia, and also because it will be helpful in
meeting minimum spend for credit cards
.
Do you plan to share US Airways Dividend Miles with the 100% bonus?
Related Posts