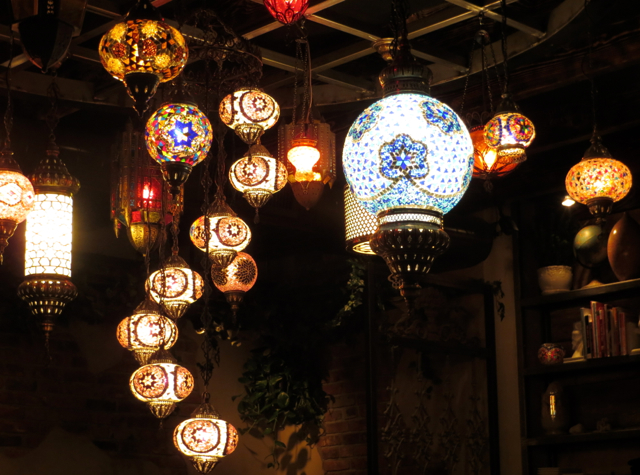 This Up Thai NYC Restaurant Review is one of our many NYC Restaurant Reviews. Visiting New York? See all of our posts tagged NYC.
I found Up Thai when browsing Groupon, including Groupon Reserve (which is how Groupon has integrated Savored, which it acquired back in 2012). Most Groupon deals aren't at all appealing–"deals" are often for mediocre restaurants and businesses that are struggling to get customers in the door, and for good reason.
But Up Thai is new, and so far has gotten some quite good reviews on Yelp, so my family decided to check it out, especially given the Groupon 40% off deal ($30 for a $50 voucher, valid for dinner only, expires May 7, 2014).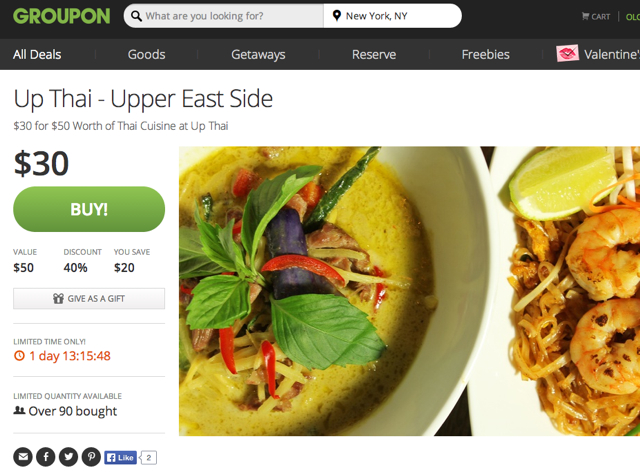 Up Thai is also part of Groupon Reserve, so it's possible to receive 20% off your bill for many reservation times by reserving through Groupon Reserve.
Getting to Up Thai
Up Thai is located at 1411 2nd Avenue, between 73rd and 74th Streets in Yorktown on the Upper East Side. This makes the closest subway stop 77th Street, where you can take a local 6 train. Or, hop on the M15 bus, which goes downtown on 2nd Avenue or uptown on 1st Avenue.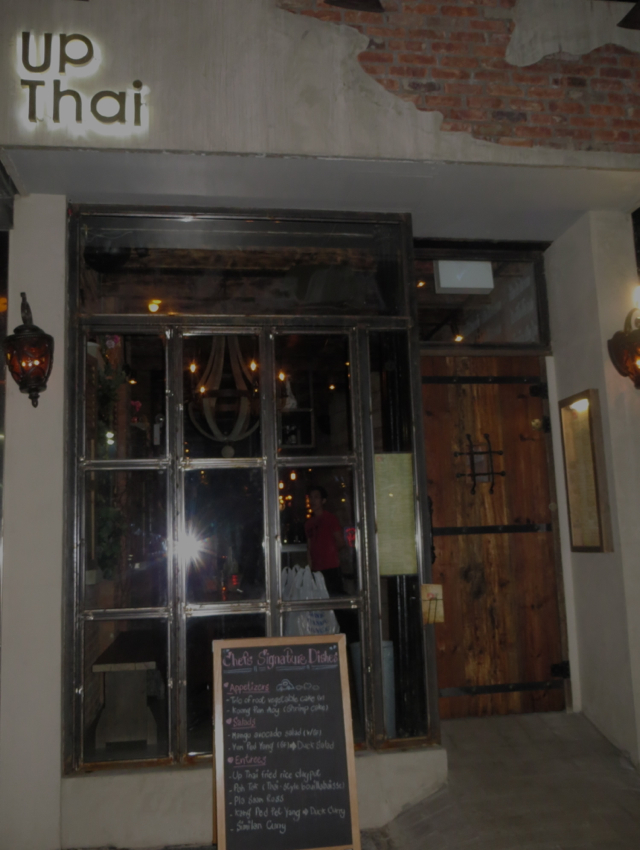 The Scene
Up Thai bills itself as "upscale Thai" and we were indeed pleasantly surprised after opening the wooden door to find ourselves in a more romantic than usual setting, for a Thai restaurant in the U.S. There was enough reclaimed wood to make a Brooklyn hipster restaurant proud, and after we were seated in the main dining room we admired the beautiful lanterns that formed a focal point of the space.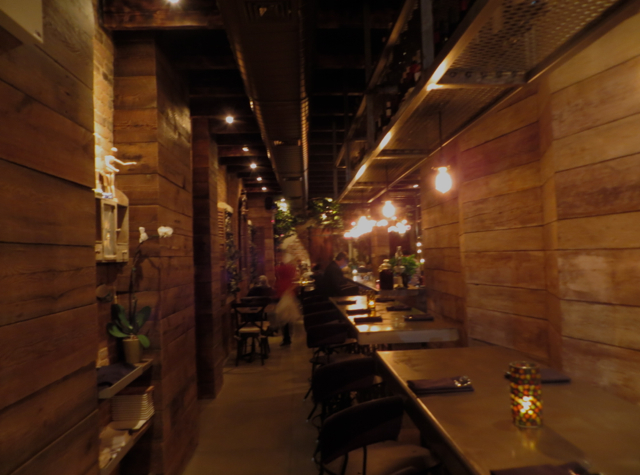 Since we had the munchkin with us, we had an early 6pm reservation and there were only a couple of other tables seated. As our meal progressed, however, other couples were seated, as well as a family with quite young children. So, while I do think Up Thai has a lovely romantic ambience, don't expect there to be no kids there. For more upscale and more assurance of no kids, I recommend Khe-Yo in TriBeCa for Laotian food.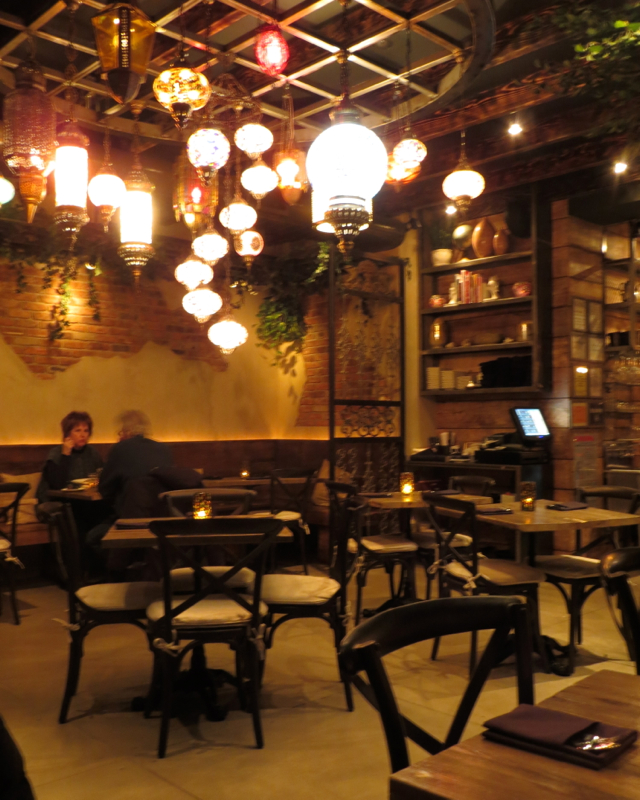 Up Thai Menu and Food
Up Thai's menu has all the Thai classics you'd expect to see, from Tom Kha Gai to Green Curry and Green Papaya Salad.
Here's Up Thai's Menu of Appetizers and Soups: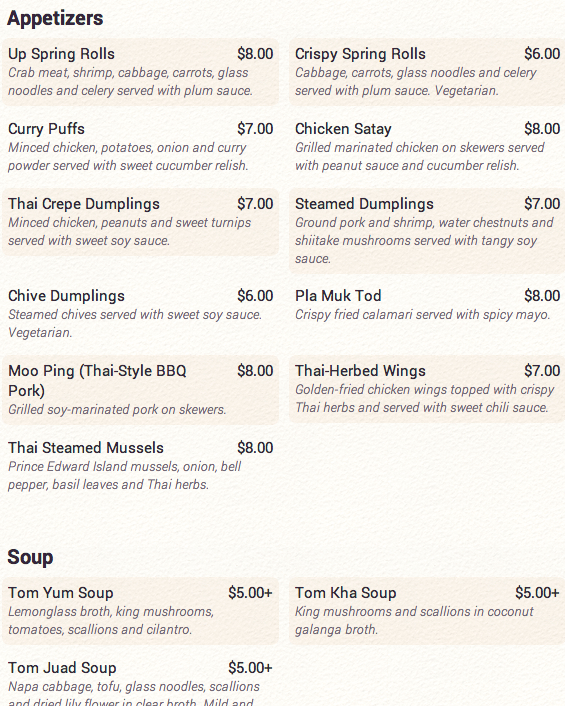 Up Thai's Menu of Entrees and Curries: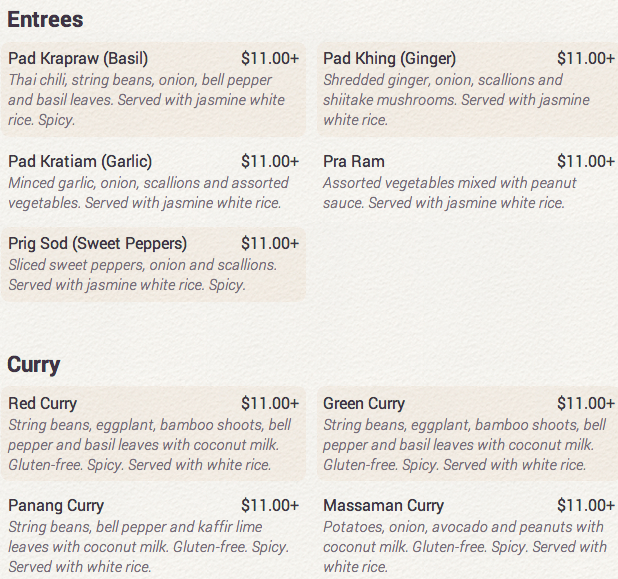 Up Thai Menu of Chef's Signature Dishes: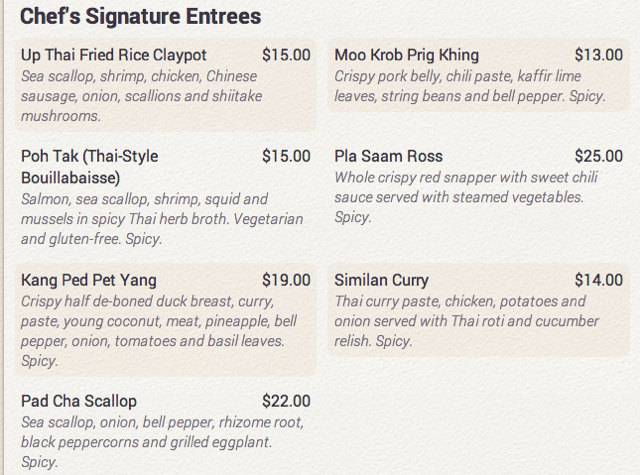 We started off with a cup of Tom Kha Gai, coconut galangal soup with chicken. It was fine and very freshly made, but I've definitely had better renditions of this elsewhere, so I would try other dishes before ordering this again.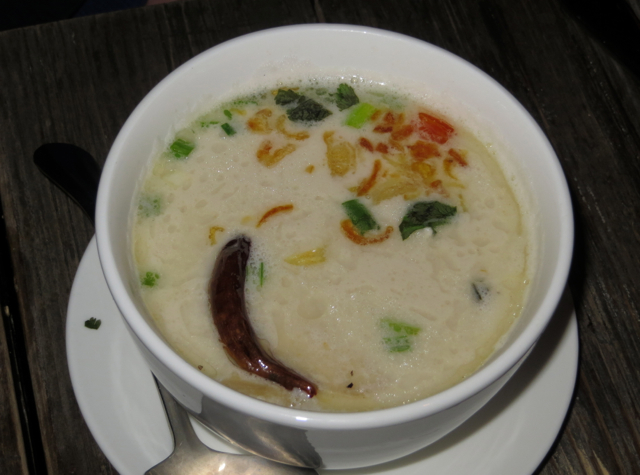 My husband ordered his standby, Green curry with chicken. And again, while flavors were very fresh, we were both shocked by how non-spicy it was. The version I make at home is far, far spicier than this was.
The Larb Gai was likewise not very spicy, but it was very flavorful and the freshest I've had, since the Larb Isan I enjoyed at Pestle Rock in Ballard, near Seattle.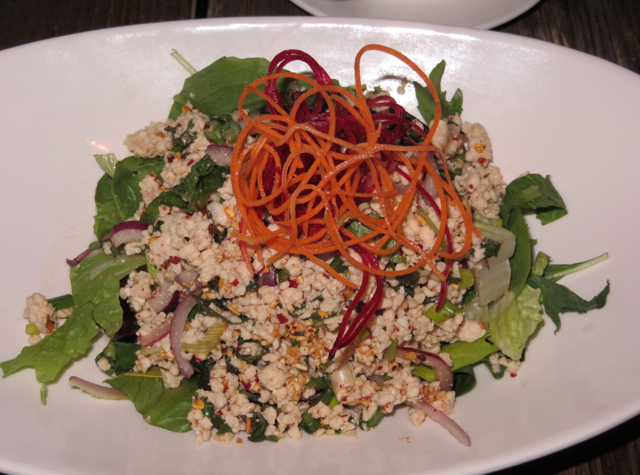 The Som Tum, which is reliably super spicy unless requested otherwise at Zabb Elee, was laughably mild here. It called for a good dousing with the chili sauce that accompanied the Gai Yang.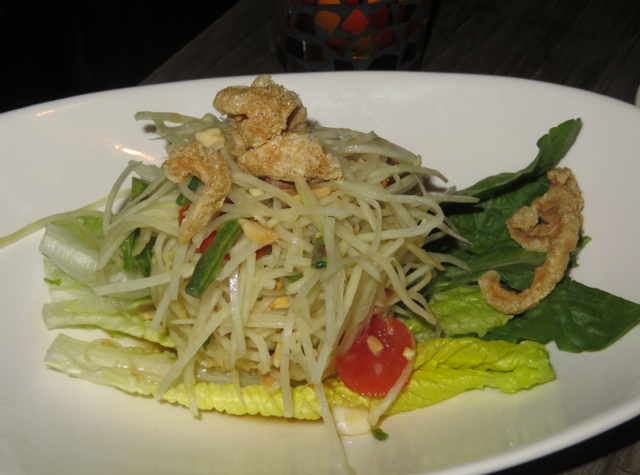 We ordered Gai Yang (grilled marinated chicken with coconut sticky rice) for the munchkin–it's become his favorite Thai food, given that he's not yet up to eating spicy foods. I must say that this was one of the best renditions of Gai Yang I've been served anywhere, extremely fresh, perfectly cooked and moist, and (while the munchkin of course didn't touch it) served authentically with a spicy chili lime Northern Thai / Issan sauce, as well as the more conventional sweet chili sauce.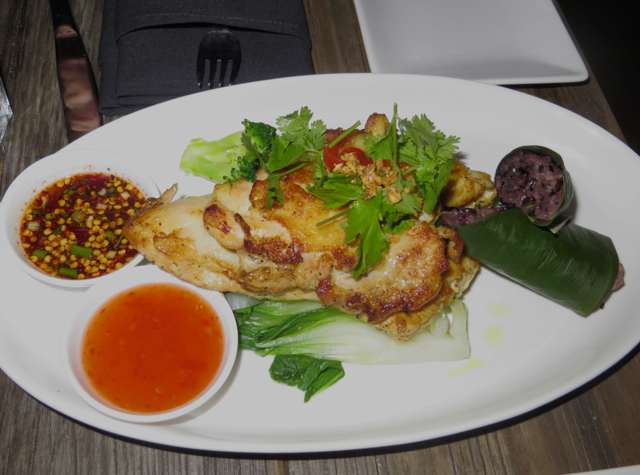 I was intrigued by one of the Chef's Signature Entrees, Moo Krob Prig Khing (Crispy Pork Belly, Chili Paste, Kaffir Lime Leaves, String Beans and Bell Pepper). It was labeled as spicy, so I was more hopefully here. The sauce was fantastic, although honestly, not that spicy. The pork belly had a great crispy skin, but I would have loved to see it cooked even a bit more, since it was still very fatty (which I realize pork belly is, but longer cooking renders more of the fat).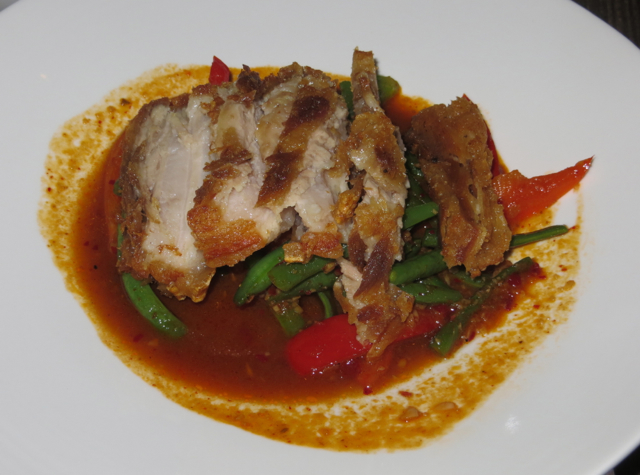 Although the munchkin's Gai Yang already came with its own coconut sticky rice, we also ordered a bit more as a side dish. It wasn't the usual all white sticky rice, but rather seemed to include some black forbidden rice, making it purplish in color. While the munchkin was happier with the plain white rice that came with the curry, I liked the sweet coconut flavor and nuttiness imparted by the black rice. It reminded me of Bubur injin, the black rice pudding made with coconut milk that is traditional as a Balinese dessert and breakfast.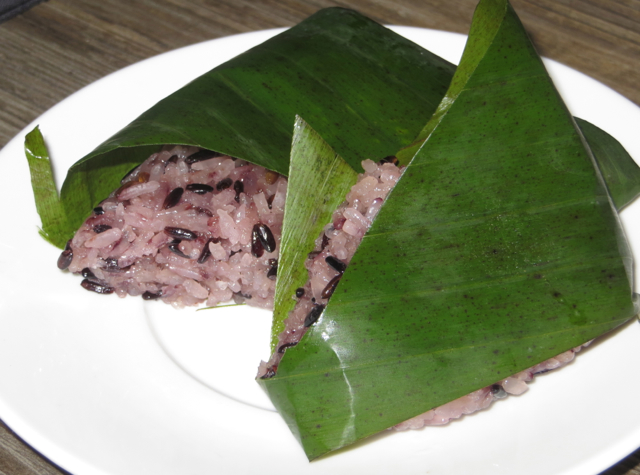 The Service
Service was friendly and attentive throughout. When our server heard we were a bit disappointed that the dishes weren't more authentically spicy, she was happy to bring us a variety of chilis and spicy sauces to add as we wished, and volunteered that we could specify that we wanted it much spicier next time.
Our water glasses were also always kept refreshed, and my husband was asked upon finishing his Singha beer if he cared for another.
The only minor snafu was that, when the chilis were brought, our sticky rice was taken away before we'd had a chance to finish it. No problem; when I mentioned it, they were happy to bring another.
The Verdict
Up Thai has great "bones" in that the preparations are some of the freshest and highest quality I've had, in a similar vein to Pestle Rock, in Ballard. What was missing for us was the authentic spice level we're used to, and which you get (without asking) at, for example, Zabb Elee. This is good news for those who are more sensitive to hot, spicy foods. But if you're seeking authentic Thai levels of spice, it will be disappointing unless you really stress to the kitchen that you want your dishes to be prepared far spicier, as the current levels are so timid.
That said, the freshness and the enjoyable ambience prompted me to buy 3 more Groupons, since I know we'll go 3 more times before the vouchers expire in May.
Have you been to Up Thai Restaurant in NYC?
Related Posts
Zabb Elee NYC Restaurant Review (East Village Location)
Somtum Der NYC Review and Menu
Shake Shack NYC Restaurant Review
7 Thai Foods to Eat in Bangkok, Thailand
Need Award Booking Help? Our fee is as low as $75 per ticket if you book your hotel through us.
If you enjoyed this, join 200,000+ readers: please follow TravelSort on Twitter or like us on Facebook to be alerted to new posts.
Become a TravelSort Client and Book Your Hotel with Virtuoso or Four Seasons Preferred VIP Amenities!