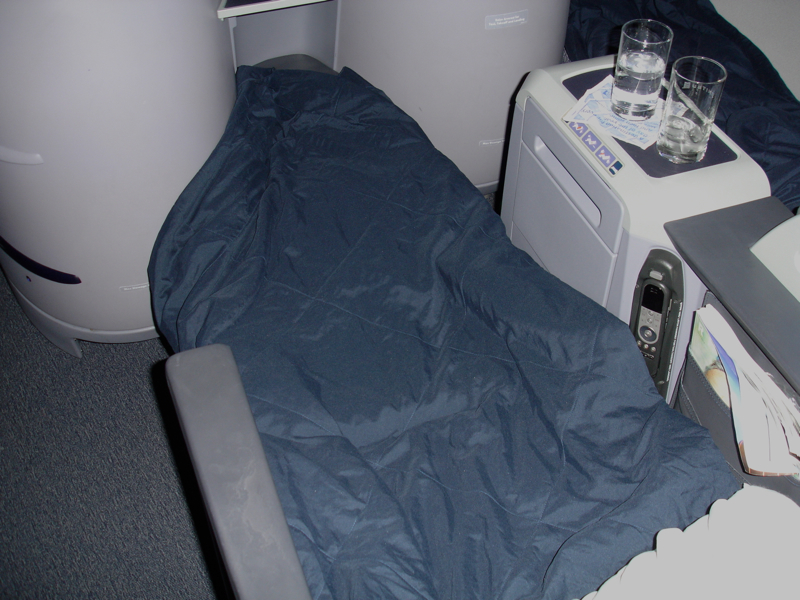 How do you upgrade or waitlist a United award for Business Class? TravelSort reader Calvin writes: "I booked an Economy Saver from CDG – SFO on a United Partner connecting flight. 1. Can I waitlist for Business Saver on the United Partner flight? 2. Can I waitlist Economy Saver on a United flight? 3. Can I waitlist a Business Saver United flight at the same time? 4. Should I book Economy Standard and waitlist for the Business Saver United flight? 5. Will the redeemed excess miles for Economy Standard be returned to my account if the Business Saver clears?"
Let's take these questions in turn.
Can I Waitlist for Business Saver on a Star Alliance Partner Using United MileagePlus Miles?
No–if you booked a Star Alliance award with United miles, you can't waitlist for a partner airline, such as Lufthansa, SWISS, Austrian, Asiana, or any other Star Alliance partner airline.
Can I Waitlist for a United Economy Saver Award If Booked with a Standard Award?
No–if you've booked a United MileagePlus Standard award, you can't waitlist for a Saver award on that flight.
Can I Waitlist a United Business Saver Award?
Yes, you can waitlist a United Business Saver Award if you are booked with a United Economy Saver Award for that flight. This has been nicknamed "Plan B" and both Flyertalk and Dan have written on this, which I'll recap here.
1. Login with Your United MileagePlus Account
It helps to have the United MileagePlus Explorer or United MileagePlus Explorer Business credit card, since you'll see more saver award availability.
2. Ensure There is Saver Award Availability for the Flight
You can only waitlist for an award of the same type, so if you're hoping for a Business Saver award, you'll need to find Economy Saver space; it won't work if you only see Economy Standard award space available, which also answers Calvin's 4th and 5th questions.
The reason that you want to have United call you back is not only to save time, but also improve your chances of getting an ex-Continental agent. That's because this particular type of "Plan B" waitlisting is something that was possible for the old Continental Airlines, prior to the United merger, so ex-Continental agents are more likely to know what you're talking about and either know how to set this up, or have heard about the procedure and be willing to read up on the documentation to help you or get someone who can.
Specifically, what you want is to have the agent deduct the number of United MileagePlus miles needed for a Business Saver award, but since Business Saver space isn't available, seat you in Economy while waitlisting you for the premium cabin. If done correctly, you will see that you have been charged the full amount for the Business Saver award (I or IN requested) but your current fare class will be X or XN. X is saver economy award space, and XN is expanded saver economy award space if you have the United MileagePlus Explorer personal or business credit card.
If the agent that answers isn't helpful, then I suggest HUCA (Hang Up, Call Again) until you get an agent that either does know how to waitlist you properly. If the agent is at least interested in helping you and trying to look up how to waitlist you correctly, you could mention that in the past, agents who have helped with this have mentioned there are more details about the policy by referencing GG ONESTANDBY, lines 85-89. GG stands for "go get" and is how a United agent can look up United policies.
You can also refer the agent to the United MileagePlus Award page which notes:
"You may redeem miles for travel in United Global First, United First, United Business or United BusinessFirst, even if the space is not available. In these cases, United Economy in the same award type must be confirmed, and the front cabin will be waitlisted.
If the courtesy waitlist does not clear, it will expire 24 hours before itinerary departure, and you will automatically be added to the airport upgrade standby list upon check-in. In these cases, you will be confirmed on a space-available basis by a United airport representative at the gate once the flight has closed for check-in. For United BusinessFirst and United Business travel awards, the difference in miles will be refunded when the United BusinessFirst or United Business class segment of the trip could not be confirmed. Waitlist requests may only be made over the phone with your local United Customer Contact Center."
Will I Automatically Clear the Waitlist?
While you're supposed to automatically clear, this doesn't always happen, so I do recommend periodically checking to see if business saver space opens up; if it does, then call United right away (or rather, have United call you, for faster service).
If you *don't* clear the waitlist 24 hours prior to the flight, then aim to get to the airport as early as possible the day of the flight because many times airport agents are not familiar with this waitlist policy and it can take time to find an agent able and willing to help you.
You'll need to explain to the airport agent that you have already paid (with miles) for a business class seat but are seated in coach, so you are a displaced business class passenger and should be accorded top priority, PR-1 status on the upgrade standby list. If the agent you're working with isn't able or willing to do this, you may need to request a Supervisor. If needed, as noted above, politely mention that they can see more about United's policy be referencing GG ONESTANDBY, lines 85-89. It also won't hurt to have a paper copy of your award showing the amount of miles debited, in case the agent doesn't believe you that you have already paid the business saver amount for the award.
If you don't clear the waitlist and actually do fly in economy, you can get a refund of the difference in miles between the business saver award that you paid for and the economy award you actually flew.
Have you successfully upgraded to United Business Class thanks to a "Plan B" waitlisted award?
70K United MileagePlus Explorer Business Offer (Targeted)
55K United MileagePlus Explorer Signup Bonus Offer with $50 Statement Credit
New United Site: Sleeker But Less Functional for Award Search
United First Class Review Hawaii to NYC
United Compensation for Flight Delays and Delayed Baggage
Need Award Booking Help? Our fee is as low as $75 per ticket if you book your hotel through us.
If you enjoyed this, join 200,000+ readers: please follow TravelSort on Twitter or like us on Facebook to be alerted to new posts.
Become a TravelSort Client and Book Your Hotel with Virtuoso or Four Seasons Preferred VIP Amenities!