The United MileagePlus Explorer 65,000 bonus miles offer is still available to some, but it may be targeted. There's been some angst on Flyertalk with several folks in the last few days unable to see the 65,000 bonus miles offer, and only seeing the 30,000 bonus miles offer, which is the best public offer at this point. So I decided to see if I could get the 65,000 offer to appear. The problem is that my husband and I each already have the card, so of course when I logged in as either of us, there either was no offer, or if using one of the other links, only the public 30,000 offer appeared.
Enter the munchkin's MileagePlus account. I figured it still wouldn't work (who's going to show a credit card offer to a 4 year old?) but lo and behold, the 65,000 offer appeared: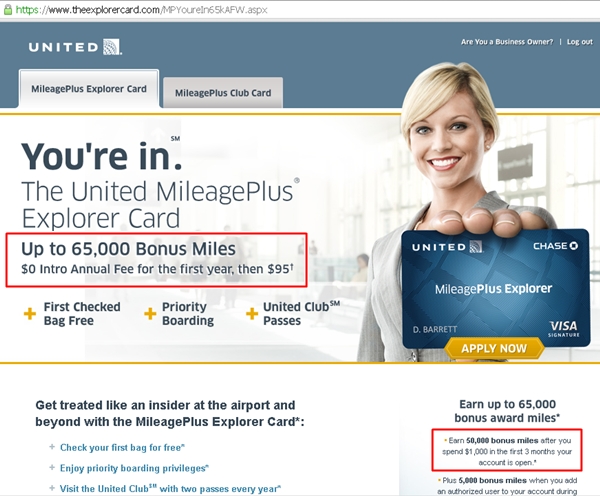 4/30/13 Update: Updated the link. Please note that you need to be logged in and have clicked on the 30K offer you see in your account, before clicking the link in the post. You will no longer see the above landing page with the signup bonus mentioned; you'll be redirected to an application page, which will have your name, address and MileagePlus number hard coded into the application.

Many on FlyerTalk have successfully applied and received the 55,000 offer, which is 50,000 miles after $1000 spend + 5000 miles after adding an authorized user (if you exclude the 10,000 for additional $25K spend). If for some reason you aren't able to confirm the bonus with the rep when you activate the card, you can try a secure message and asked to be matched to the higher offer.
_________________________________________________________________________________________________
As I noted before, in United MileagePlus Explorer: 65,000 Bonus Miles, for most people this is really a 55,000 bonus miles offer. There is now a $1000 minimum spend requirement to receive 50,000 miles, and as before, you can add an authorized user for an additional 5000 bonus miles. To earn the final 10,000 bonus miles, you'd need to spend $25,000 on the card in a calendar year. I've updated Best Travel Credit Cards with these details.
Other benefits include:
2X United miles on United purchases
Check your first bag free
Priority boarding
Two complimentary passes to the United Club per year
If you don't already have the card, here's what to do to see if you're targeted for the 65,000 miles offer:
1. Clear all cookies from your browser
2. Make sure you have some United miles in your MileagePlus account
3. Log into your United MileagePlus account
4. Visit this link which will redirect you to the application page (no bonus offer is mentioned, but many on FlyerTalk have successfully received the higher bonus this way)
5. Click on Apply Now to proceed to the application. Don't forget that Chase will often also approve you for a business card that you apply for at the same time as a personal card. I'd recommend applying for the Ink Bold Charge Card with 50,000 bonus points (which transfer 1:1 to United miles) if you don't already have it, or if you do have it, the Ink Plus, which also offers 50,000 bonus points but is a credit card instead of a charge card. Regardless, make sure you're either able to meet the minimum spend of $10,000 to earn the entire bonus, or be willing to settle for 25,000 bonus points after first spend. If you spend $5000 of the minimum spend on 5X categories (=25,000 points) and $5000 without any category bonus, by signing up for the United MileagePlus + Ink Bold (or Ink Plus) you'd have 135,000 United miles–that's enough for a roundtrip flight in Lufthansa First Class from the U.S. to Europe and back, or 6 nights in any Park Hyatt in the world, such as the Park Hyatt Maldives, where the standard villa can be close to $1000 per night.
Some people are able to get two personal cards from Chase approved simultaneously, so you could instead pair the United MileagePlus application with the Hyatt Card to earn 2 free nights at any Hyatt in the world, or the Sapphire Preferred, to earn 40,000 points = 40,000 United miles.
Note that the United MileagePlus member name is hard coded into the application, so you won't be able to apply for someone else.
What if you aren't targeted for the 65K offer online?
Go through your mail, as some have received a targeted offer in the mail
Apply for the United MileagePlus Explorer Card and then secure message to ask for a match to the 55,000 miles offer with $50 statement credit
Drop by a Chase branch, as some have reported being able to apply for a 50,000 offer through their local branch
Related Links
United MileagePlus Explorer: 65,000 Bonus Miles
Best United Miles Bonus Offers Available Now
How to Find Star Alliance Award Space
Maximize Miles with Online Mileage Mall Shopping Portals
Need Award Booking Help? Our fee is as low as $75 per ticket if you book your hotel through us.
If you enjoyed this, join 100,000+ readers: please follow TravelSort on Twitter or like us on Facebook to be alerted to new posts.
Become a TravelSort Client and Book Your Hotel with Virtuoso or Four Seasons Preferred VIP Amenities!