United has increased its award ticket change and cancellation fees for non-elites, effective today, June 19, 2013.
For non elites (United MileagePlus General Members):
Changes 21 or more days before the date of travel to cabin, award type, carrier, date or time (no change to origin or destination) go from no fee to $75
Changing the origin or destination at any time, or any change fewer than 21 days prior to the date of travel increases from $75 to $100
Canceling your trip and redepositing your miles increases from $150 to $200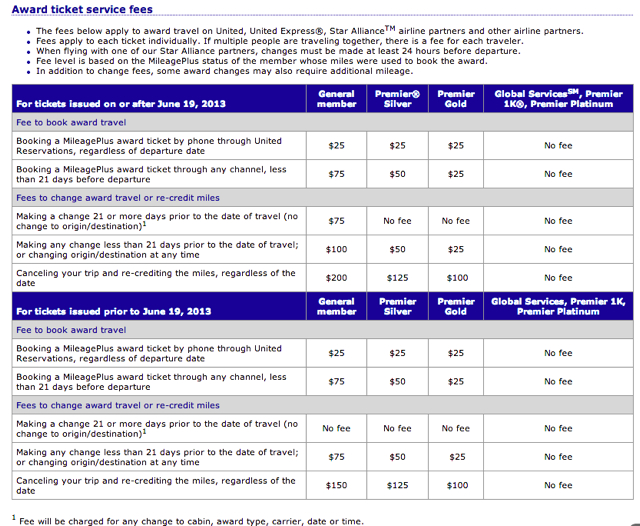 FAQ
Do These United Award Ticket Change Fees Apply to Tickets Purchased Before June 19?
No: per United, only tickets issued on or after June 19, 2013 are subject to the new higher ticket change fees. The old change fees apply to United award tickets issued prior o June 19, 2013.
Are United MileagePlus Elites Affected By These Award Ticket Fee Increases?
No, United elites (Premier Siler, Premier Gold, 1K, Global Services) are not affected–their award change fees or waived change fees remain the same.
How Do I Avoid Paying the Inreased United Change Fees?
Your best options are:
Be a United Elite for Reduced or Waived Award Ticket Change Fees: Although note that United just added a revenue requirement for elite status for U.S. MileagePlus members, so it's getting harder.
Use Another Frequent Flyer Program for Award Bookings: American AAdvantage so far doesn't charge for date changes (keeping origin and destination cities the same) that are more than 21 days in advance. And if you upgrade your class of service, you'll only be charged the difference in miles/taxes, no change fee (although you are charged a change fee if you downgrade your class of service. Don't forget that British Airways Avios doesn't have any close-in fees, for ticketing an award less than 21 days prior to departure, and Avios, Singapore KrisFlyer, and some other frequent flyer programs have much more reasonable change and redeposit fees than United and other U.S. legacy carriers.
Flight Delay, Cancellation or Travel Waiver: If your flight is delayed or cancelled, or if there's a travel waiver issued due to terrible weather or other catastrophe (currently the Boston Marathon bombings), you should be able to change your award flight for free.
Schedule Change: If you've booked your award flight months in advance there may well be a schedule changes (or several) prior to your date of departure. This is your "get of out jail free" card, since it could legitimately cause you to miss a connection or a meeting. Make sure you have contact info listed or otherwise monitor these changes, so you can avoid the award ticket change fee.
Related Posts