March 3, 2012, marked the system integration of United and Continental Airlines. Many feared it would be a near meltdown given the massive scale of merging two airlines that ran on completely different systems. For the most part the transition went without a hitch, at least as much as it can with a task of this scale.
I figured I'd share some observations and information now that the integration is complete. This is in part a follow up to my post in October of last year "What the Continental United Merger Means for You" about what the merger means for us consumers, including frequent flyers.
The Airline is Only "United" in Name
I think we can now safely say that this merger was more a takeover than anything else, at least when we look at the finished product. Other than the name "United," just about everything with the new airline is Continental, from the management team to the reservations system they use to the policies they have to the way upgrades are prioritized.
The implications of that are that the new United cares a lot more about the value you bring to the company with one transaction as opposed to your lifetime value. This is especially evident based on how they're prioritizing upgrade lists (full fare Silver members come before 1K members on a discounted ticket) and selling upgrades day of departure (for pennies on the dollar while elite members are still on the upgrade list).
SHARES Reservations System
Part of the system integration consisted of the new United adopting SHARES as their reservations system, which is the one Continental used to have. As such, most of the Continental policies remain in place when it comes to ticketing reservations. For example, the new United will only let you hold an award ticket for 72 hours if you don't have enough miles in your Mileage Plus account, while United used to let you hold an award ticket for 72 hours only if you have enough miles in your account.
United's New Web Site
The best thing to come from Continental in this merger is the Continental Website, which the new United will be using. It's much easier to use than the former United website, both for searching availability for revenue tickets as well as award tickets. While United's former Website only displayed award availability for travel on United and a couple of other partners, Continental had one of the most comprehensive award search tools.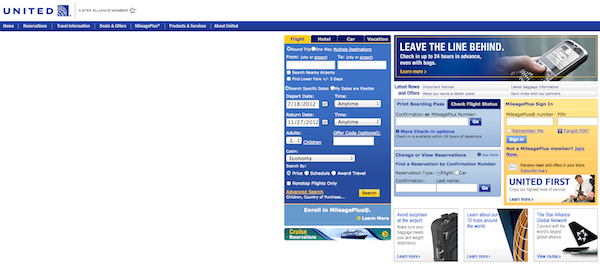 Your Mileage Plus Number
Instead of the traditional 11 digit numbers that United used to have, the new United is adopting Continental's OnePass numbers, with their format of two to three letters followed by five to six numbers. Along the same lines, Continental accounts have four digit PINs which are used for verification when making a transaction, as opposed to United's system whereby they verified addresses and phone numbers.
By now your accounts should have been merged and you should have that information, so it's time to remember your eight-digit Mileage Plus number and four-digit PIN code! If you only have a United Mileage Plus number and didn't previously have a Continental OnePass number, you'll have a new Mileage Plus number in Continental's OnePass format.
Shrinking Distances
As much as United would like to advertise that they're making the world a smaller place thanks to their extensive route network, they seem to literally be making the world a smaller place. The mileage of most of United's routes seems to have shrunk by 2-5 miles. This is rather strange and at first I couldn't imagine it was intentional, though I'm starting to think it is. Take a few miles away from tens of millions of passengers per year, and you're looking at quite the savings.
For example, Seattle to Chicago went from 1,720 miles to 1,714 miles.
Before:

After:

Award Tickets
3/12/12 Update: the mixed cabin disclaimer is reportedly back.
As I mentioned above, the new United is using the former Continental website, which is great news, especially for award tickets. It's worth noting, however, that there's a glitch with the website which wasn't there before. When an award ticket included multiple cabins (for example, one segment was in first class and one segment in coach), the option would have a disclaimer saying "Mixed Cabins," and then you could click on it to see which segments were booked in which cabin.
For whatever reason that mixed cabin disclaimer is gone, so don't get your hopes up too quickly when searching award space and finding good options. For example, when searching space from London to Singapore, it may show an option available through Frankfurt in business class. However, it could very well be that only the London to Frankfurt flight is in business class, while the Frankfurt to Singapore flight is in coach.

Million Miler Companions
One of the positives about the merger was the update to the million miler program, whereby companions of million milers received the same status as the member has. In other words, if you're a 1K million miler your companion would receive 1K status as well. Apparently this million miler companion update is being delayed by a couple of weeks, though the status should be updated by mid-March.
Employee Integration
While the systems have now been integrated, it will be a long time before the employees of the two airlines are actually operating the same flights, as they don't have a joint contract yet for most of their work groups. Therefore you can expect employees to continue to be vocal about frustrations relating to the merger, since they're still only working among their "native" groups.
Various Other Minor Glitches
Not surprisingly in an integration of this scale, there are tons of other minor glitches. For example, while electronic certificates work fine for the most part, those with United electronic certificates are experiencing issues whereby they can only be applied to roundtrip itineraries, even though they're eligible for one-way itineraries. Furthermore, 20% off electronic certificates don't appear to be working right now.
Some have also reported duplicate deductions of upgrade instruments, miles not posting correctly, and itineraries not appearing correctly, though they appear to be minor IT issues which should fix themselves.
So on the whole I'd say the integration is going fairly smoothly. That being said, the new airline is definitely 90% Continental, and I don't expect we'll see that change anytime soon.
Check out and apply for the Best Travel Credit Cards.
If you enjoyed this, please follow TravelSort on Twitter or like us on Facebook to be alerted to new posts.
Become a Member to find your perfect luxury or boutique hotel at up to 50% off: TravelSort Hotels