I rarely fly United BusinessFirst, or for that matter U.S. domestic flights, but I'd be quite happy if all future domestic flights were as good as my recent United BusinessFirst Flight 41 from EWR to LAX. I never booked this flight. I'd actually booked CO1169 before the United Continental merger, and when CO1169 disappeared, I (and I assume other CO1169 passengers were shifted to United 41 which left about half an hour later.
Although I usually cut it pretty close in terms of getting to the airport and flight on time, for once I was a bit early, so I visited the United Club Lounge. More on that when I do a lounge comparison, but suffice to say it was far from relaxing—incredibly crowded and barely anywhere to sit, let alone find a power outlet.
Finally it was time to board, which went quite efficiently. I was in 1B, so didn't have far to walk. Although I'd assumed BusinessFirst on this flight would be recliner style, I was pleasantly surprised to see what looked like flat bed seats.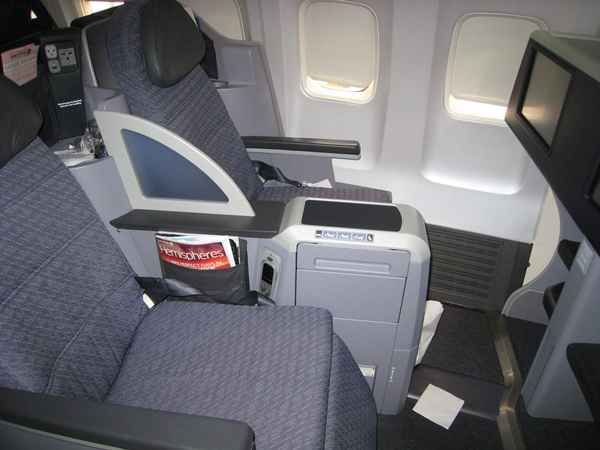 Looking at the seat control confirmed it (see the far left button)—yes, score!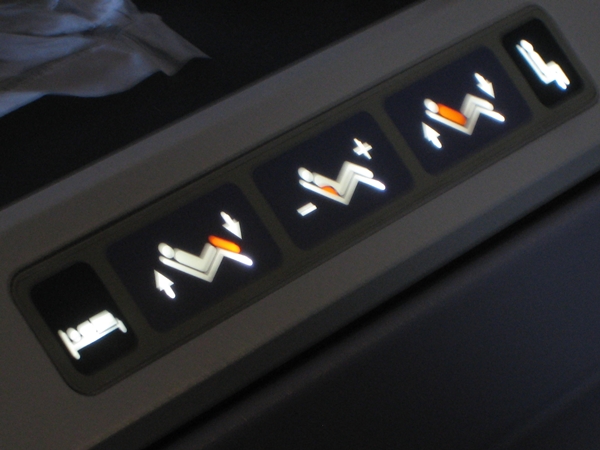 Although I didn't watch anything, the in-flight entertainment screens were wall mounted for the bulkhead, which I find nicer than the small personal screens you pull up from your seat.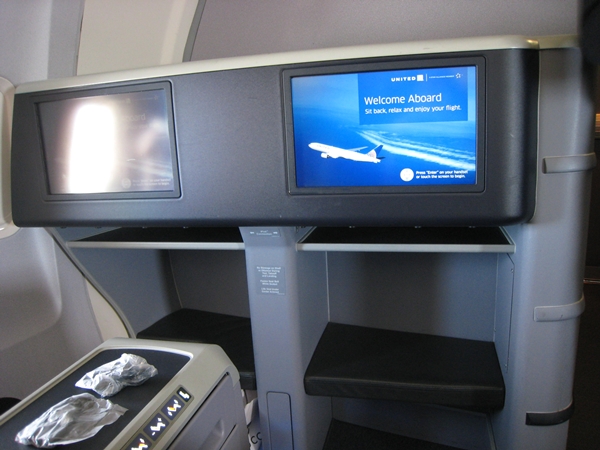 Warm nuts and a glass of reserve Cabernet were a good start to the meal. There were a couple other wine choices, one white and one other red, and for food, there was a chicken and a pasta choice in addition to the pork chop that I ordered.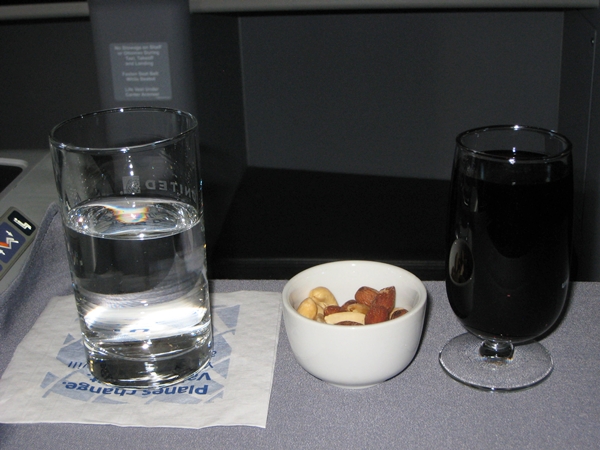 There was no choice for the appetizer, which was a salad, cured meat, olive, fresh mozzarella and roasted tomato. As usual, the salad was pretty tasteless, so I only picked at it. I also wish they'd offer a simple olive oil/balsamic dressing instead of the cheap preservative-laced packaged stuff–it remained unopened. The cured meat, olive, mozzarella and tomato made up for it though–full flavored and good enough that I'd happily have eaten another plate of it: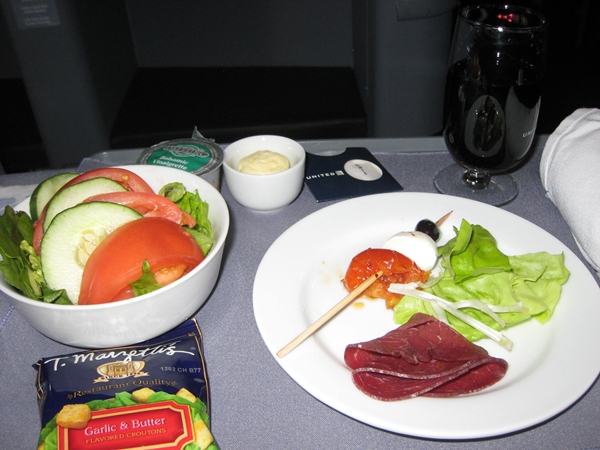 The pork chop with green peppercorn sauce and the shiitake mushroom bread pudding were delicious, and very generously portioned. The pork was a tad dry and overcooked, but not surprising given mass preparation and reheating, not to mention the last thing any airline needs is to be responsible for food poisoning due to insufficiently cooked pork. Sadly the vegetables (broccolini and white asparagus) were really overcooked and mushy, though I ate them anyway for whatever vitamins remained.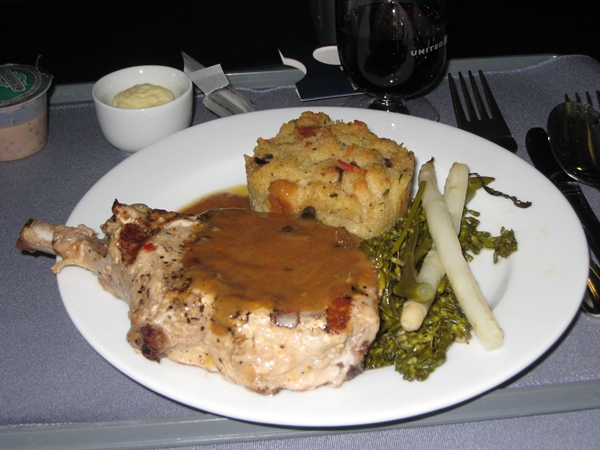 The usual BusinessFirst dessert of an ice cream sundae was offered, but I declined since the grilled pork and bread pudding were so filling, plus I don't find the sundae that special–we eat better quality ice cream and chocolate sauce at home.
Then it was time for a nap–I reclined the seat top the full lie flat position. It was great to have the full recline (and I would sorely miss it on my two subsequent flights) even though I can't say it was perfectly comfortable, since there wasn't a duvet or pillow, not that any were expected as this was BusinessFirst and a daytime flight at that.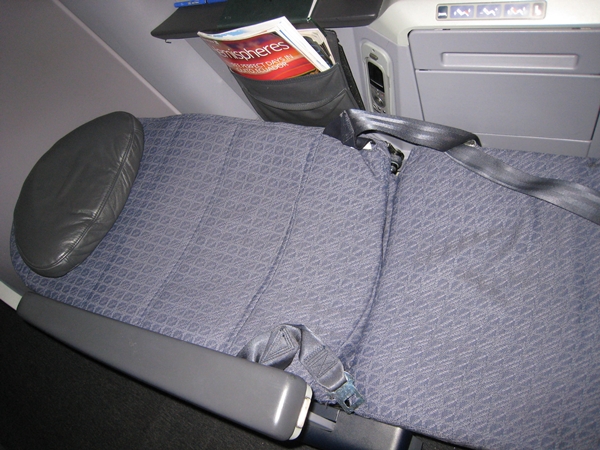 BusinessFirst service was friendly, if not that attentive (no water refills unless asked, attendants mostly chatting amongst themselves in the galley). That was fine, since I didn't need much anyway after meal service.
United BusinessFirst in this type of 757-200 with fully flat seats (I believe inherited from Continental) would definitely be my preferred way to get cross-country, for the seat and decent, if not great, meal. It would be my preferred way to get to Hawaii as well, on the nonstop from Newark to Honolulu, but I'm not holding my breath, since it's such a high demand route with practically no business traffic that would ever pay full price for the seats.
Once at LAX, I needed to get access to Internet right away for work, so I used one of the two United Club passes that came with the United MileagePlus Explorer card. The United Club was large, with plenty of seating and standard snacks, although I was still very full from the in-flight meal and just had tea.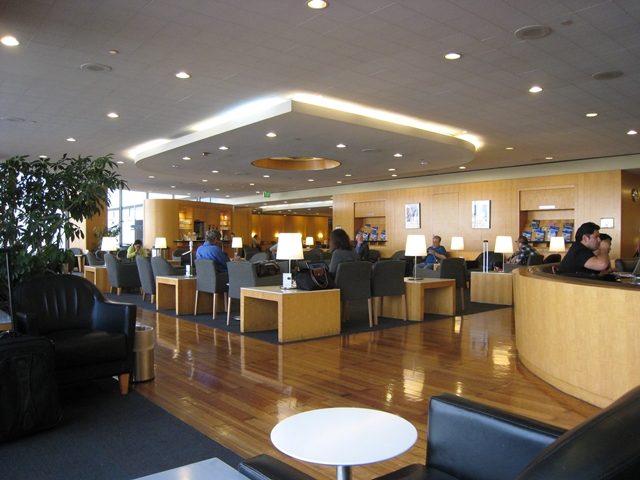 Have you flown United's 757-200 with fully flat seats in BusinessFirst? Tell us your experience in the comments.
Don't forget that you book a United BusinessFirst roundtrip for just 35,000 Lufthansa Miles & More miles, which you can get as a signup bonus with the 50,000 Miles Lufthansa Premier Miles & More Credit Card. 35K is 15K fewer miles than the 50K United miles required for a BusinessFirst saver level award.
Related Posts
United Upgrade Award and Waitlist Tips
50,000 Miles Lufthansa Miles & More Card Review
Best United Miles Bonus Offers Available Now
Best International Business Class Seats for Sleeping
How to Upgrade to Virgin America First Class
Virgin America First Class Review
Need Award Booking Help? Our fee is as low as $75 per ticket if you book your hotel or cruise with us.
If you enjoyed this, join 200,000+ readers: please follow TravelSort on Twitter or like us on Facebook to be alerted to new posts.
Become a TravelSort Client and Book 5-star hotels with Virtuoso Perks and Four Seasons Preferred Partner Benefits