United Airlines has quietly raised its ticket change fee by $50 to $200-$300 on paid tickets, from the previous change fee of $150-$250. United doesn't make the ticket change fee easy to see for paid tickets, but you can easily view it with a search on ITA, clicking on the "Rules" link and scrolling down to the Penalties section. Here's an example from a domestic U.S. roundtrip ticket:

Not surprisingly, United isn't exactly publicizing the change, although at least one competitor, American Airlines, has taken notice and emailed some of its elites the following, touting its Choice Essential fare that bundles in free ticket changes:
"Dear [AAdvantage Elite member name]
Do your travel plans sometimes change? With our new travel options, such as Choice Essential, you have the freedom to change your flight without a change fee.
Additionally, with Choice Essential, you'll receive one checked bag and early boarding, all designed to make your travel experience more enjoyable.
Since you are an AAdvantage elite status member, a third checked bag is included.
Learn more about the flexibility of Choice Essential and our other customized travel options."
While it's still possible to buy a bare bones nonrefundable ticket on American, the Choice Essential and Choice Plus fares, introduced in December 2012, allow you to include ticket fee changes (Choice Essential) for an additional $68, or ticket fee changes, same day standby and same day flight change fees (Choice Plus) for an additional $88, for domestic tickets. Here's a chart courtesy of FlyerTalk poster SFO777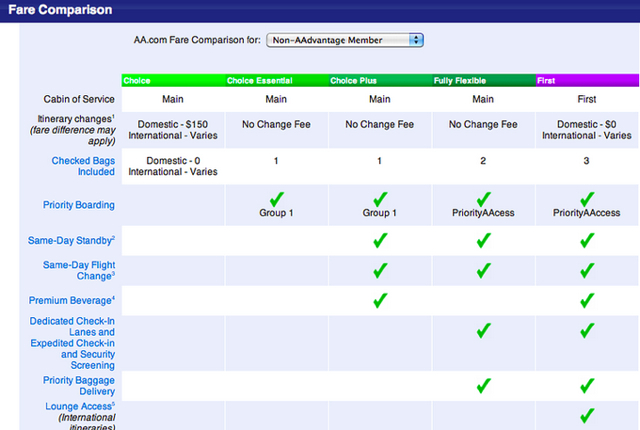 So far United, Delta and US Airways don't have anything similar to American's Choice fares. If you buy a paid ticket, you either buy a cheap nonrefundable ticket and will pay change fees, or buy an expensive full fare refundable ticket, which isn't worth it for most travellers. Here's a summary of the current airline ticket fee changes, and also award ticket cancellation/redeposit fees for non-elites:
Airline Ticket Change Fee and Award Ticket Cancellation Fee Comparison
Airline

Paid Ticket Change Fee

Domestic/International

Paid Ticket Same Day Change Fee

Award Ticket Cancel/Redosit Fee

(Non-Elites)

United

$200/$300

$75 (waived for Premier Gold, Platinum, IK, GS)

$150

American

$150/$150-$300

Choice Essential: +$68 includes no change fee

Choice Plus: +$88 also includes free same day flight change

$75 Domestic

$150

Delta

$150/$250

(Platinum and Diamond Elites may have fee waived)

$50 (waived for elites if new flight within 3 hours of original departure)

$150

US Airways

$150/$150 or $250

$75

$150
FAQ
Why is United Increasing Its Ticket Change Fee?
Officially, here's what the UA Insider on FlyerTalk writes, bolding mine:
"Hi everyone,
Apologies for not being able to respond sooner. As is typically the case with this realm of the business, I can't provide any insight into the new change fee levels other than to say they are an adjustment to better compensate for the costs incurred when a traveler elects not to fly in a reserved seat. However, what I can tell you is that the new change fee rates are only applicable for tickets issued on or after April 18. No impact to what you may have already had on the books.
Aaron Goldberg
Sr. Manager – Customer Experience Planning
United Airlines"
Obviously the "costs incurred when a traveler elects not to fly in a reserved seat" doesn't hold up to analysis very well, since the change fee is always *in addition to any fare increase.* Taking an extreme example, if you booked your ticket 6 months out and then have to change or cancel it 2 days after booking it, and change it yourself online, does the airline actually incur any cost of substance? Highly unlikely–the airline simply sells your seat to a new customer, and quite possibly at a higher price.
Does United's $200 Ticket Change Fee Apply to Tickets Purchased Before April 18?
No: per United, only tickets issued on or after April 18, 2013 are subject to the new higher ticket change fees.
How Do I Avoid Paying Airline Ticket Change Fees?
Unlike same day change fees and award ticket cancellation and redeposit fees, typically everyone, even elite frequent flyer members, are subject to paid airline ticket change fees.
These are your options:
Cancel Within 24 Hours of Purchase: You can cancel without a fee within 24 hours of purchase and rebook your flight
Prepay for Changes: You could buy an expensive refundable ticket, but for most it's not worth the much higher fare. If flying American Airlines, opt for the Choice Essential or Choice Plus fare for an additional $68-$88, which includes free ticket changes. Of course you'll still be responsible for any difference in fare of the new ticket.
Flight Delay, Cancellation or Travel Waiver: If your flight is delayed or cancelled, or if there's a travel waiver issued due to terrible weather or other catastrophe (currently the Boston Marathon bombings), you should be able to change your flight for free.
Schedule Change: If you've booked your flight months in advance there may well be a schedule changes (or several) prior to your date of departure. This is your "get of out jail free" card, since it could legitimately cause you to miss a connection or a meeting. Make sure you have contact info listed or otherwise monitor these changes, so you can avoid the ticket change fee.
Be Elite on Delta: Apparently some Delta Platinum and Diamond elites have had luck with getting a full refund of their fare simply by requesting one. Don't hold your breath, however, if you're not a higher level Delta elite.
Unforseen Emergency: If there's been a death in the family or you're deathly ill you may be able to avoid paying a ticket change fee.
Should I Just Use an Award Ticket?
Top-Tier elites with lots of miles will do better booking award tickets, since award ticket cancellations/redeposits are free. Even mid-tier elites on United pay less: $100 for Premier Gold members and $125 for Premier Silver members to cancel and redeposit miles.
Even non-elites will now do better on United with an award ticket, since changing the departure date to a date at least 21 days away continues to be free, and the cancellation fee of $150 is now lower for an award ticket than the ticket change fee of $200 for domestic flights and $300 for international flights.
Finally, don't forget that some international carriers, especially Asian ones such as Singapore Airlines, charge much less for changes and cancellations. But make sure to look closely at the fees for your ticket. Many European carriers often have onerous ticket change and cancellation fees for paid tickets.
What do you think about United's increase of paid ticket change fees?
Related Posts