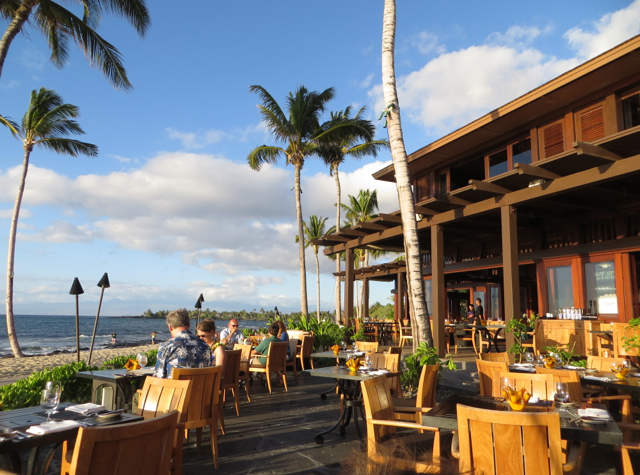 This 'ULU Ocean Grill at the Four Seasons Hualalai restaurant review is from a recent trip to the Big Island of Hawaii and Maui, including stays at Andaz Maui at Wailea and Four Seasons Maui at Wailea.
For prior posts in this trip report, please see:
Alaska Airlines First Class Review
Alaska Airlines Board Room Seattle Lounge Review
Alaska Airlines First Class to Hawaii
Hyatt Place Waikiki Beach Review
Andaz Maui at Wailea Suite Review
Ka'ana Kitchen Review and Andaz Maui at Wailea Dining
Mama's Fish House Review in Paia, Maui
Four Seasons Resort Maui at Wailea Review
Breakfast at DUO at Four Seasons Maui at Wailea
Hawaii Volcano Treehouse Review
Hawaii Volcanoes National Park Review
Kilauea Lodge Restaurant Review
Punalu'u Black Sand Beach Photo Tour
'ULU Ocean Grill at the Four Seasons Resort Hualalai
'ULU Ocean Grill is the Four Seasons Resort Hualalai's signature restaurant, offering both breakfast and dinner. In the evening, 'ULU serves as the resort's fine dining experience for dinner, yet is modern and friendly, not at all stuffy. As I advise my TravelSort Clients that I book here with Four Seasons Preferred Partner benefits, I highly, highly recommend that you make dinner reservations well in advance of your stay, because often the most popular dining times (6:30pm-8pm) book out.
Breakfast at 'ULU at the Four Seasons Resort Hualalai
We really enjoyed the breakfast buffet at 'ULU each morning, with its wide array of fruits, pastries, cereals, cooked to order omelets, and Asian specialties. It's a fantastic benefit to be able to enjoy such a great breakfast complimentary as a Four Seasons Preferred Partner amenity. If you don't feel like the buffet, there are also many a la carte options, and I did order pancakes one day a la carte.
Here were our favorite breakfast items:
1. Coconut Haupia Pancakes
I'm not usually a fan of haupia, which is often served as overly gelatinous cubes, so I wasn't sure I'd like the coconut pancakes that our server recommended. But I'm glad she encourage me to try them, because they were fantastic: lots of great coconut flavor in the pancakes, plus creamy coconut haupia and toasted coconut topping, which really made these pancakes. These pancakes are an a la carte option, and not part of the breakfast buffet.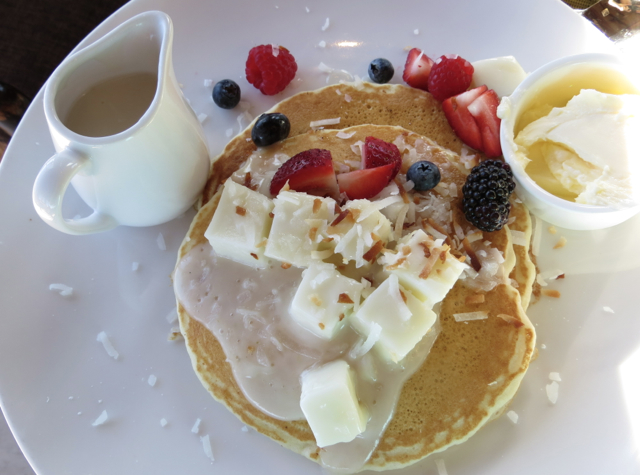 2. Passionfruit Yogurt and Housemade Granola
Fresh passionfruit is actually very tart, but typically when you get passionfruit juice there's way too much sugar added, not to mention usually passionfruit juice is canned and not very good. I don't know how the Four Seasons Hualalai makes their passionfruit yogurt, but they've captured the fresh flavor and tartness of the fruit. It was way too tart for the munchkin, but I enjoyed it so much that I put in a special request to have it as my lunch one day by the pool, which was happily accommodated. The perfect complements to this yogurt are fresh berries and the Four Seasons' housemade granola.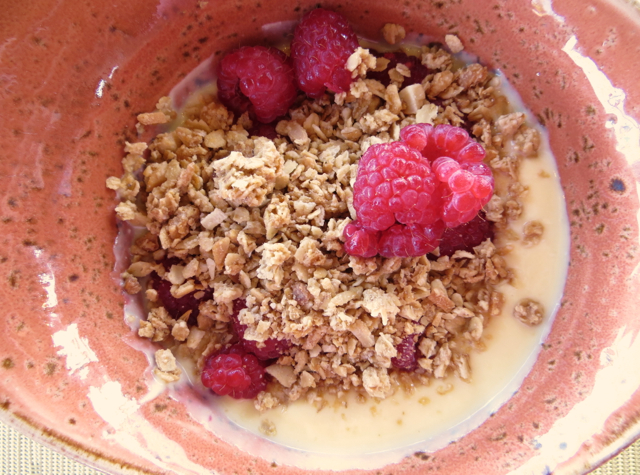 3. Blintzes with Fresh Berries
Blintzes may not be very Hawaiian, but they were a treat as part of the breakfast buffet, stuffed with cream cheese filling and adorned with fresh berries.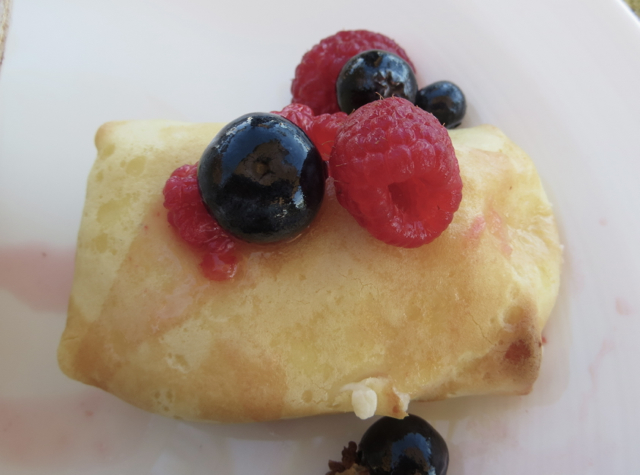 4. Malasadas
The malasadas at Four Seasons Hualalai were even better than the ones at the Andaz Wailea, although I did miss the passionfruit butter that the Andaz offers.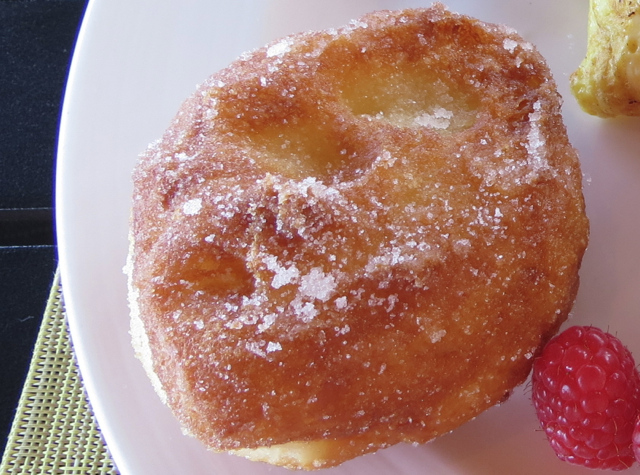 5. Meyer Lemon Ricotta Pancakes
If you're not a coconut fan, the Meyer lemon ricotta pancakes are also very good if you're craving pancakes. As with the Coconut Haupia Pancakes, these are an a la carte option, and not part of the buffet.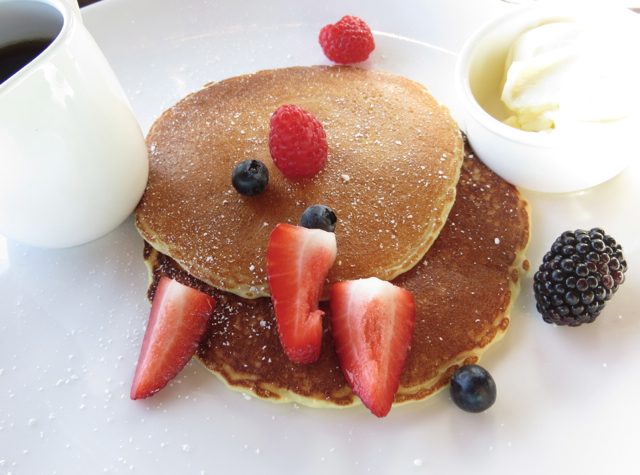 6. Cooked to Order Omelet
A cooked to order omelet with cheese and all your favorite veggies is a great way to start the day, and was prepared very well.
Dinner at 'ULU at the Four Seasons Resort Hualalai
Whether you're staying at the Four Seasons Hualalai or not, I highly recommend at least one sunset dinner at 'ULU Ocean Grill. Request a table near the ocean so that you can take in glorious views of the sunset:
Another nightly ritual is torch lighting and conch blowing. The munchkin was wide eyed and fascinated by the sound of the conch shell.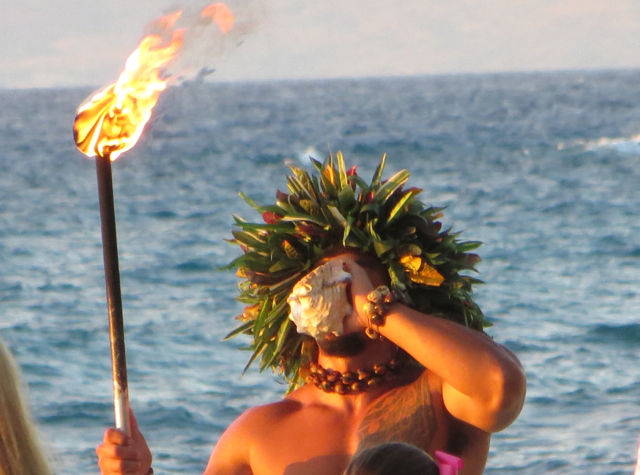 We were fortunate to have the same friendly server both times we dined at 'ULU, who was happy to offer recommendations and more detail about the dishes. The dinner menu includes a number of tempting choices, ranging from sushi and sashimi to oven roasted or flame grilled fresh seafood and meats.
After ordering, we were brought a basket of house baked breads and lavosh. I especially enjoyed the purple hued taro roll, while the munchkn loved the light and crispy lavosh.
My favorite of all the main dishes we tried over a couple nights was the Charred Hawaiian Hapu, or seabass. Delicious, perfectly charred fish accented with Hilo sweet corn and a nice kick added by the kimchee romesco citrus butter.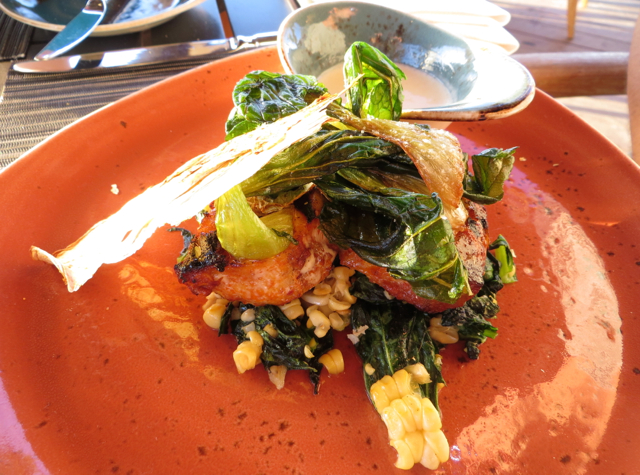 My second favorite dish was my husband's Big Island Wild Boar. It actually was very mild and not gamey at all, so think of it more like Berkshire pork in terms of flavor. It came with a fantastic poha berry chutney–poha berries are sweet-tart, and also go by the name of cape gooseberry, so it was the perfect foil for the pork.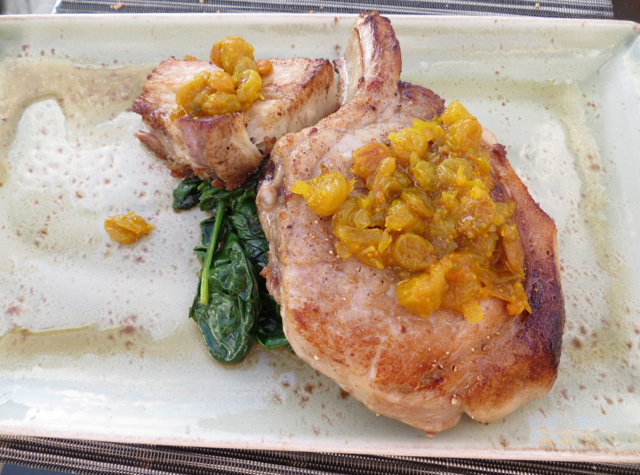 Another hit was the Lemongrass Chicken, which was very fragrant thanks to the red curry and fresh Thai basil. I kept stealing bites from my husband.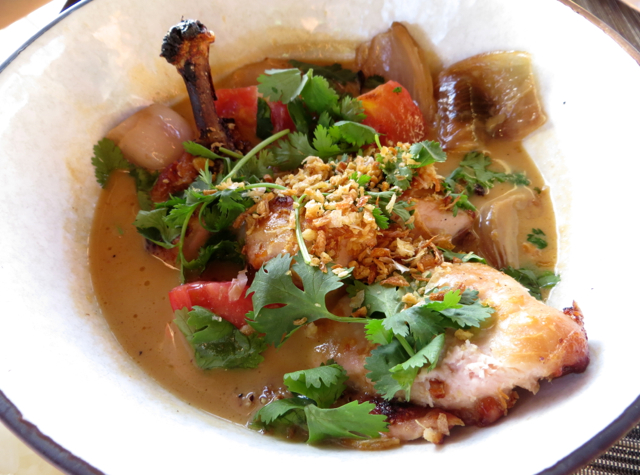 The Spicy Hualalai sushi roll was superb, and featured some of my favorite flavors rolled together: fresh crab, shrimp tempura, unagi and avocado. Presentation was beautiful as well. It's pricey, at $29 for a single roll, but it made for a wonderful appetizer to share.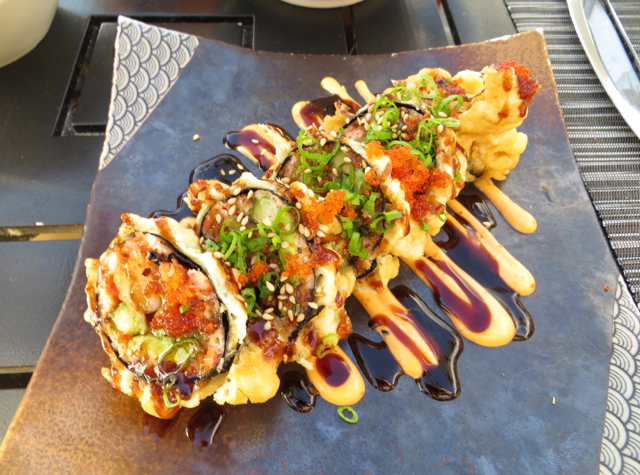 I liked but didn't love the Kalbi Jim Braised Beef Short Ribs. The meat was tender and flavorful, but I found the taste rather one dimensional, and not as interesting as the other options we enjoyed.
The munchkin clearly loved his mac and cheese, since he ordered it for both dinners and finished all of it by himself 🙂
For dessert, I couldn't resist trying the chocolate souffle. As we were warned, it did take awhile to prepare, so I'd recommend ordering this when your main courses arrive, to avoid waiting so long for it. The souffle would probably be good for someone who prefers milk chocolate. Personally, I prefer dark chocolate, so my chocolate cravings weren't satisfied at all by this chocolate souffle.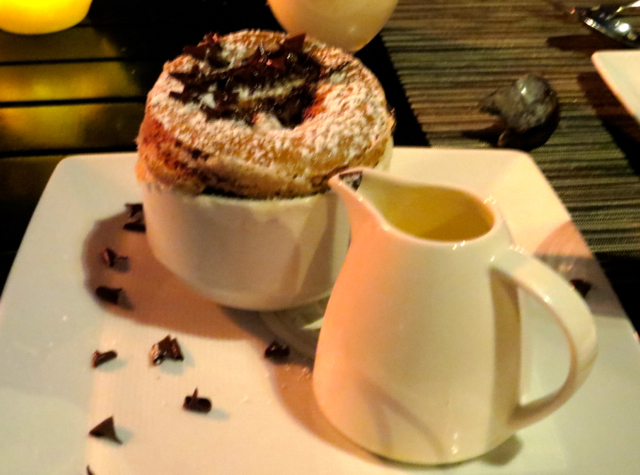 Our server also suggested the tempura coco crunch cheesecake, served with strawberry ginger jam and toasted coconut ice cream. I liked this dessert much better, although would have loved more of it, given the $15 price.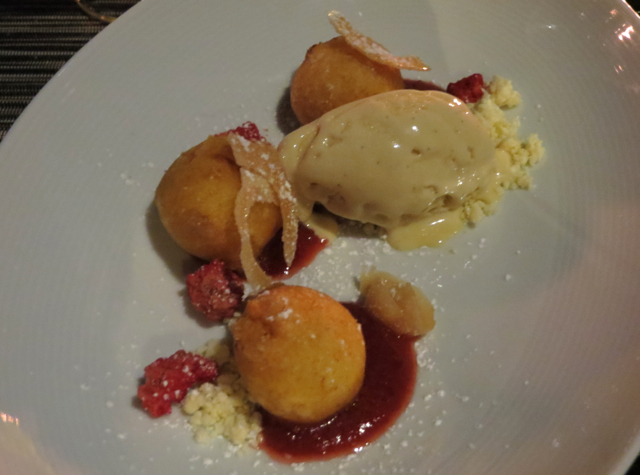 Verdict: 'ULU was our favorite restaurant by far of this trip, and one I certainly wish we had in our neighborhood in NYC (not to mention the ocean view!) Highlights included unique breakfast offerings such as the coconut haupia pancakes and passionfruit yogurt, and stellar dinner entrees such as the Flame Grilled Hapu, Big Island Wild Boar and Lemongrass Chicken. Service was exemplary for each of our several meals at 'ULU. The only things I would change would be to include fresh squeezed juice as part of the breakfast buffet, rather than as an enhancement, and to improve the dessert offerings, in particular the chocolate souffle.
If you've dined at 'ULU Ocean Grill, what was your experience?
Related Posts
Hyatt Award Chart Devaluation: New Category 7 for 30K Points, Pricier Awards
Hyatt Place Waikiki Beach Review
Best Frequent Flyer Miles for Hawaii Award Tickets
Disclosure: My family and I were guests and enjoyed a complimentary stay, breakfasts, and dinner at 'ULU at the Four Seasons Hualalai, however the views expressed in this post are my own.
Need Award Booking Help? Our fee is as low as $75 per ticket if you book your hotel through us.
If you enjoyed this, join 150,000+ readers: please follow TravelSort on Twitter or like us on Facebook to be alerted to new posts.
Become a TravelSort Client and Book 5-Star Hotels with Virtuoso or Four Seasons Preferred Partner Amenities!