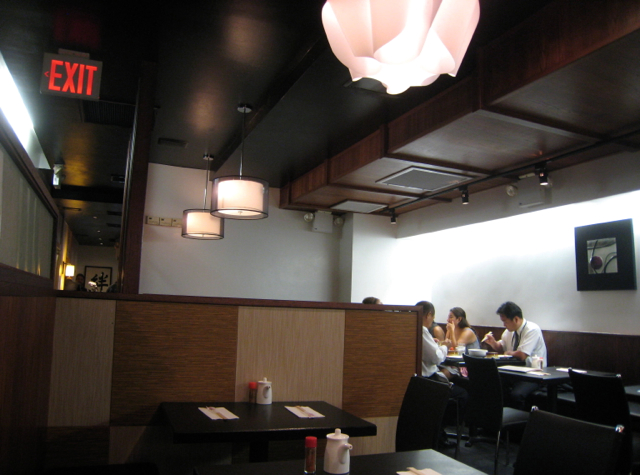 This Tsushima Sushi NYC Review is one of our many NYC Restaurant Reviews. Visiting New York? See all of our posts tagged NYC.
"What's the best sushi restaurant in NYC?" is something a fair number of clients ask when booking their NYC hotel with me. And there are certainly plenty of contenders, depending on whether you prefer very traditional sushi or more avant garde or tapas style offerings. But another question, especially after reviewing the hefty price tags of the best sushi bars, is "where do YOU go for sushi for a low key lunch or dinner?" The answer is Tsushima, a simple but good Japanese restaurant right in midtown.
Getting to Tsushima
Tsushima recently moved to its current location at 210 East 44th Street, between 2nd and 3rd Avenue, from its former location on 47th Street. It's on the south side of the street, and is easy to miss if you're not specifically looking for it. As with the old location, there's really not any waiting area to speak of, so I recommend coming early (before 12 noon) or late (after 1:30pm) on weekdays, to avoid the lunch rush.
The Scene
Lunch is busy, as noted above, but, especially if you come on the earlier side, you're likely to see a fair number of Japanese business folk, which is a good sign and not always the case even if some of the more acclaimed sushi bars in Manhattan.
Dinners tend to be quieter, with a mixture of couples and families (if dining on the earlier side) and there are tatami alcoves if you're inclined to a more traditional Japanese seating arrangement.
The new location is a bit more modern looking, with more space, although tables are still spaced quite tightly and it can get quite noisy during peak lunch hour. Try to get a corner table if you can.
Tsushima Menu and Food
Tsushima offers a number of lunch choices, not just sushi, but I've only focused on sushi on my many visits to Tsushima and can't vouch for their other offerings. There's a daily special that I've never tried, but it can be a good deal if you go during their "lunch happy hour" 11:30-12 noon, when it's a few dollars cheaper. The Tuesday Chirashi special looks especially good.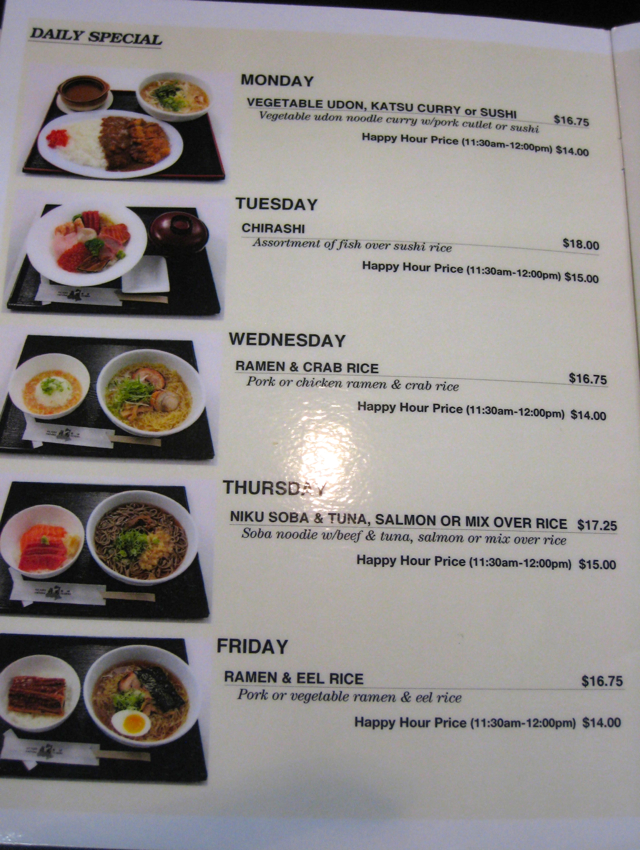 Other examples from their lunch menu are their Maki Combo and their 2 Roll Combo specials: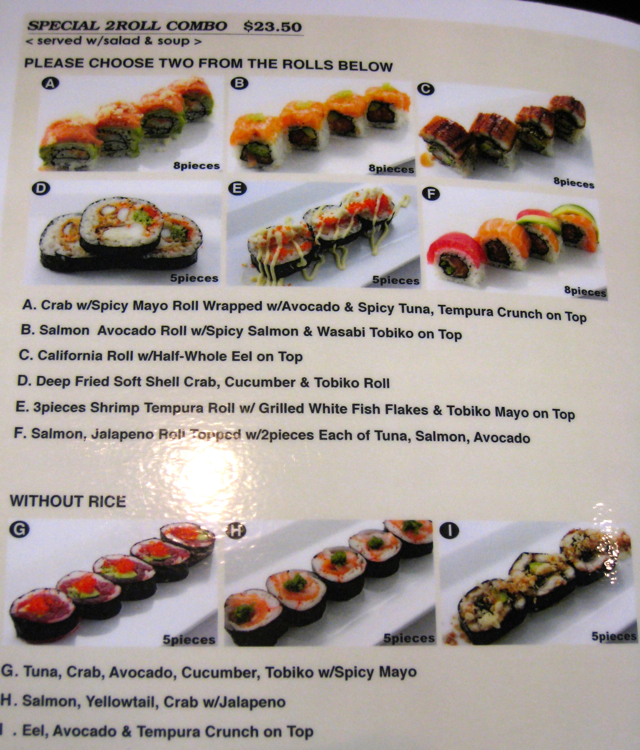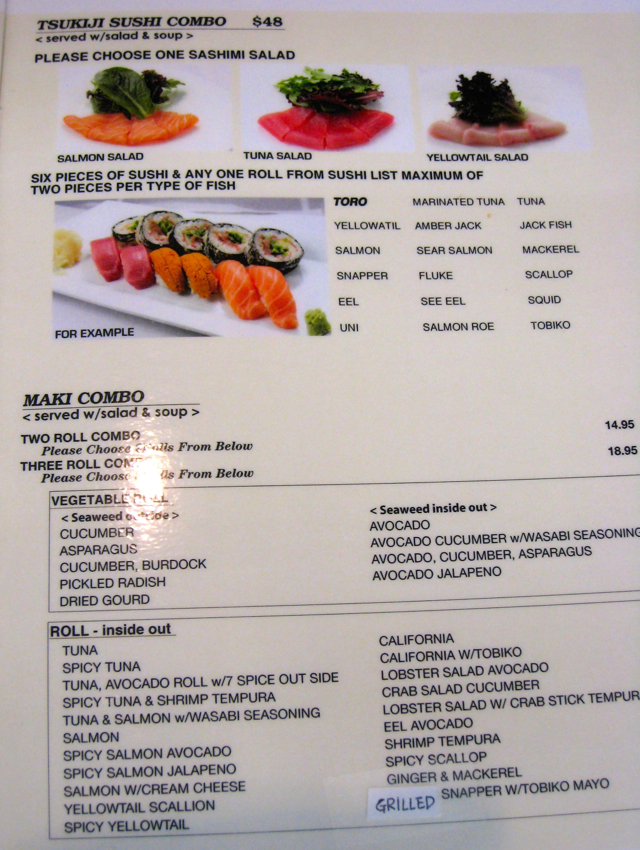 Lunch begins with a green salad with miso salad dressing, and miso soup. Both are good, solid starters, even if nothing special. Green tea is also available, complimentary, and is very good–it reminds me of the green tea I enjoyed when living in Japan.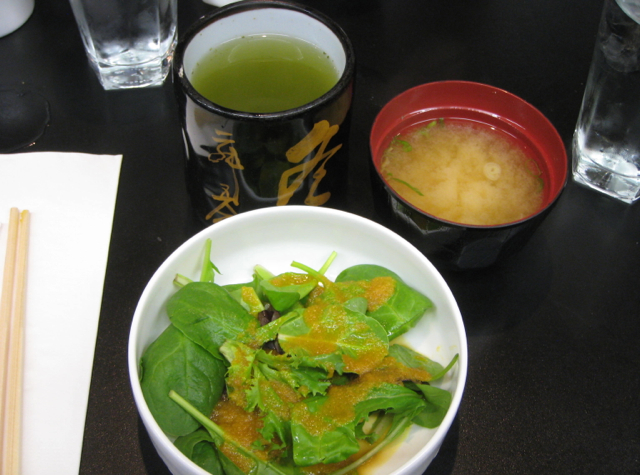 My favorite economical choice is a couple of rolls from the Maki Combo menu–usually I select the spicy tuna shrimp tempura roll and the unagi avocado roll: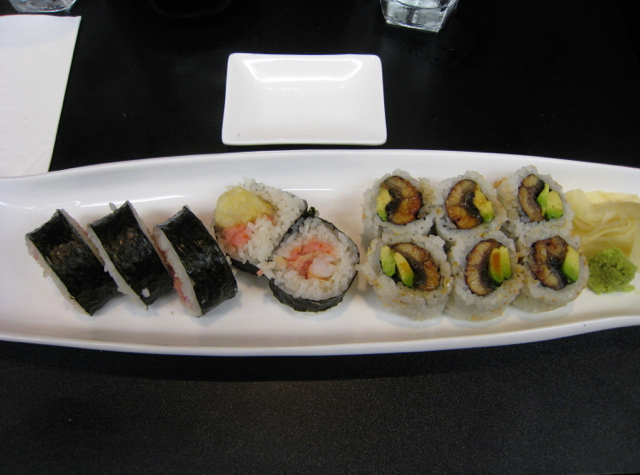 My husband's favorite is the 2 Roll Combo, with the Deep Fried Soft Shell Crab and Tobiko roll, and the Salmon Jalapeno roll topped with 2 pieces each of tuna, salmon and avocado. Highly recommended, even if more fusion than traditional.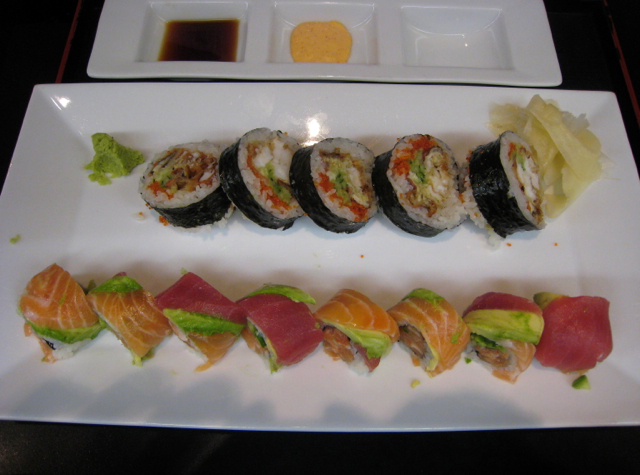 We've also visited Tsushima for dinner, with the munchkin, and while there's no kids' menu, we had no problem finding things for him to eat. The dinner menu is particularly extensive, including nigiri sushi, sushi rolls, Selection Dinner combo, and a host of hot and cold appetizers and appetizer specials. There are even a fair number of vegetarian sushi rolls offered, if your or someone in your party is vegetarian. And you know a place is authentically Japanese when they serve natto rolls (don't know what natto is? You probably shouldn't order it…)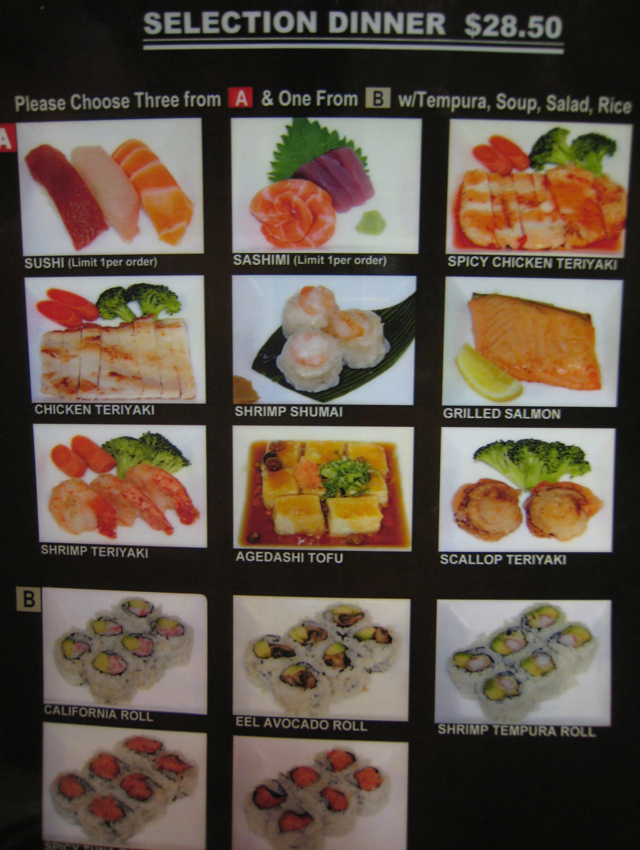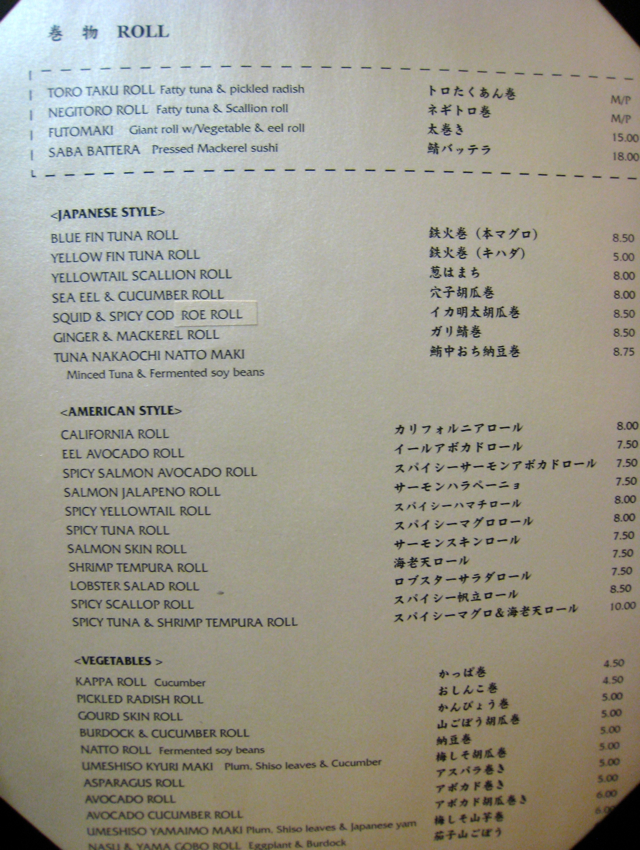 The munchkin eats regular adult sized meals now, so we ordered him his own Selection Dinner, with grilled salmon, teriyaki scallops, sushi, and shrimp tempura. He liked pretty much everything except, strangely enough, the tempura, so my husband and I ate that.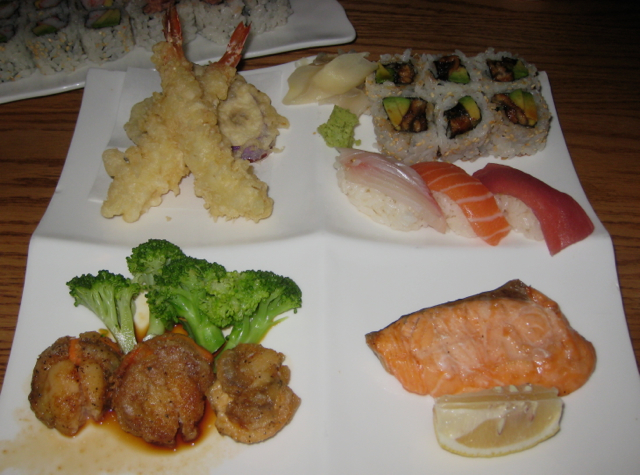 We also ordered a side of pumpkin tempura, made with delicious sweet fleshed Japanese kabocha pumpkin, which I thought was perfectly done–light and crispy outside, tender inside–even though I'd say Tsushima is primarily a sushi specialist.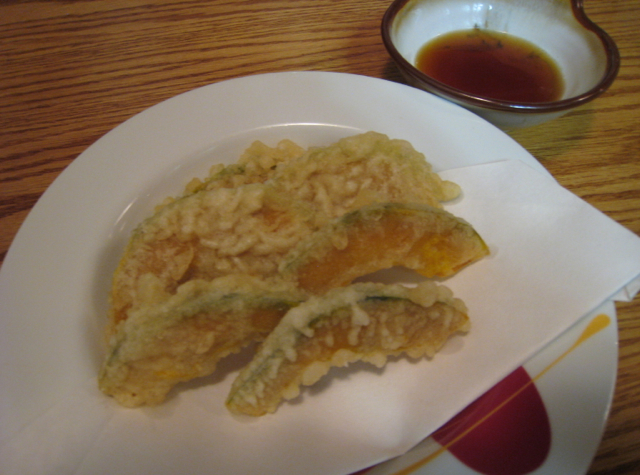 As always, we ordered Hamachikama, which is my favorite Japanese hot appetizer. It's not a huge portion, but is done very well here, and always super fresh. It's only available at dinner, not at lunch.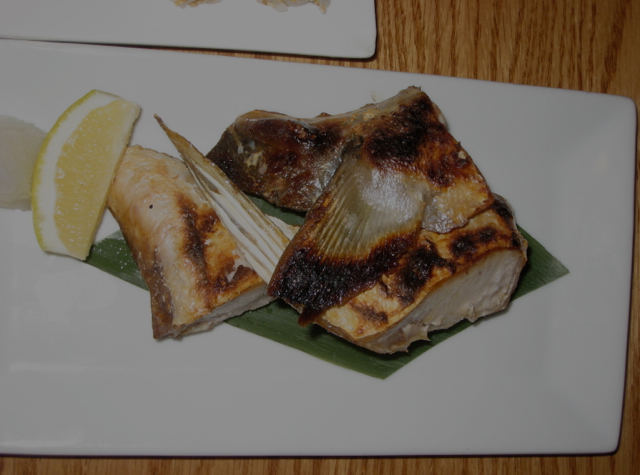 Continuing the hamachi theme, we ordered a yellowtail scallion roll, also one of my favorites at sushi. Look for it under the Japanese rolls section.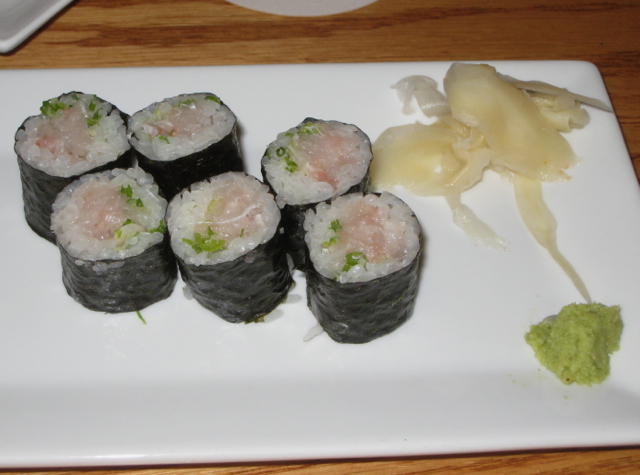 The Verdict
Tsushima is like a great neighborhood sushi restaurant, but it's right in midtown Manhattan, making it convenient for both business lunches and for meals for visitors to NYC who are staying in a midtown NYC hotel. Is it the best sushi bar with the best omakase in the city? Of course not. But for the price, the quality is high and service is usually very good. It's by far the Japanese restaurant we frequent most often when we're here at home in NYC.
If you've eaten at Tsushima Sushi at their new location, what was your experience?
Related Posts
Best NYC Midtown Lunch Restaurants
Sushi Azabu NYC Restaurant Review
Where to Go for the Best Brunches in New York
Review: Park Hyatt New York Breakfast at the Back Room at One57
Need Award Booking Help? Our fee is as low as $75 per ticket if you book your hotel through us.
If you enjoyed this, join 150,000+ readers: please follow TravelSort on Twitter or like us on Facebook to be alerted to new posts.
Become a TravelSort Client and Book Your Hotel with Virtuoso or Four Seasons Preferred VIP Amenities!