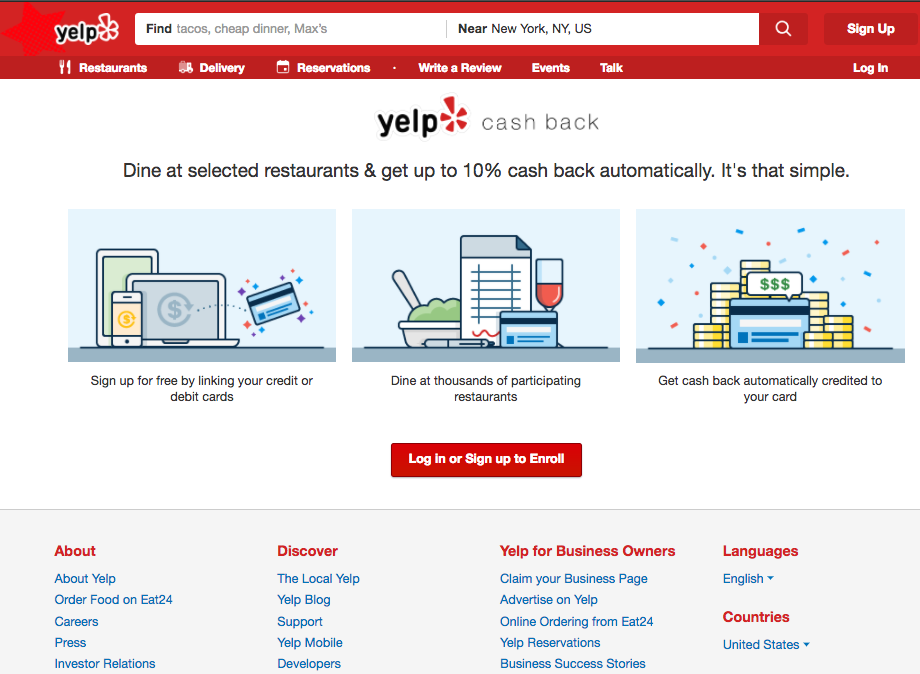 You can triple dip at some restaurants depending on their participation in Yelp Rewards and Restaurant.com. Generally, the restaurants I want to go to aren't part of the frequent flyer dining programs, which I tend to ignore. Mostly, I'm just thrilled to be earning 10X AMEX Membership Rewards points thanks to the signup offer for my AMEX Blue for Business card, for the first 6 months.
That said, I recently discovered one of our favorite Georgian restaurants in NYC, Red Compass, participates in both Yelp Rewards and has a Restaurant.com certificate offer, so I thought I'd walk through how what I did and how we intend to maximize this, as guidance for anyone not already maximizing these programs.
1. Search on evreward.com for Restaurant.com Payouts
Restaurant.com is a site that sells discounted restaurant gift certificates, and it participates in the Chase Ultimate Rewards shopping portal as well as other loyalty programs, such as AAdvantage, United MileagePlus, Alaska, etc. In this case I checked to see the rewards rates, and since Ultimate Rewards is at 12 points per dollar, decided that's the portal I'd go through, as I find points posting there to be reliable.
2. Log Into Portal and Click Through to Restaurant.com
I then logged into Chase Ultimate Rewards, went to the "Earn Points" drop down and selected "Shop Through Chase," searched for Restaurant.com and clicked through.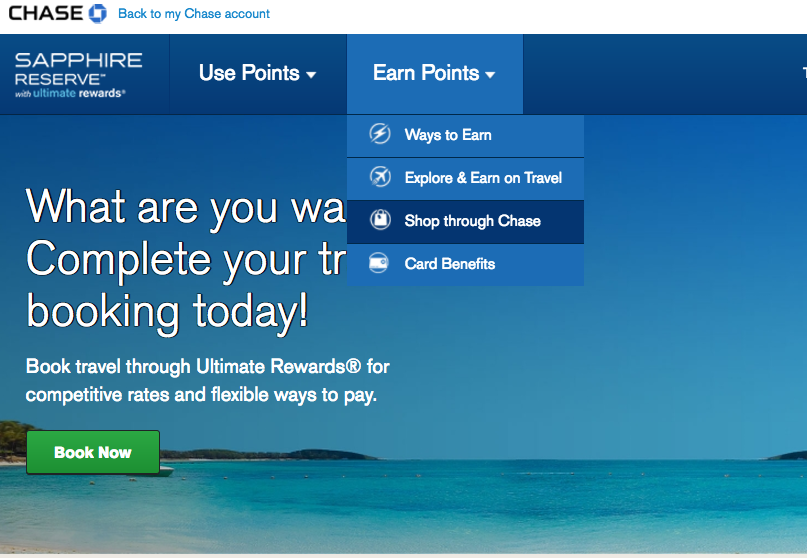 3. Search Restaurant.com for Your Chosen Restaurant
I then selected my city, New York, and searched for the Red Compass Restaurant to pull up its offer of a $10 gift certificate for $4, valid on at least $20, not valid Fridays and Saturdays, and only valid before 5pm. Sure, it's restrictive, but it makes perfect sense that the restaurant is only willing to offer discounted gift certificates for its less busy times. We'll go for a late lunch on a Sunday.
4. Register for Yelp Cash Back
Yelp Cash Back is simple: you signup and link a card (or several cards), and, whenever you use your card at a restaurant that offers cash back (typically 7%, at least at most of the NYC restaurants and cafes that I found that offered it) you'll receive an email confirming the transaction and the amount of cash back earned, unless you've opted out of these notifications when signing up. You're paid once a month, on the 18th of the following month.
Now, similar to the mileage dining programs, most of the best restaurants do not participate, but if you find any restaurants you frequent do participate, it's well worth signing up. To find participating restaurants, you search on Yelp for "cash back" once you've pulled up Yelp for your chosen city.
Recapping the Triple Dip
Earn miles or points when clicking through Ultimate Rewards or your preferred mileage shopping portal to Restaurant.com and purchasing a gift certificate
Save using a Restaurant.com certificate when paying
Earn cash back using Yelp Cash Back
Finally, don't forget to pay the balance of your meal, tax and tip using a credit card that bonuses dining. For me at present that's my AMEX Blue for Business, with 10X for restaurants, otherwise the Chase Sapphire Reserve, which earns 3X.