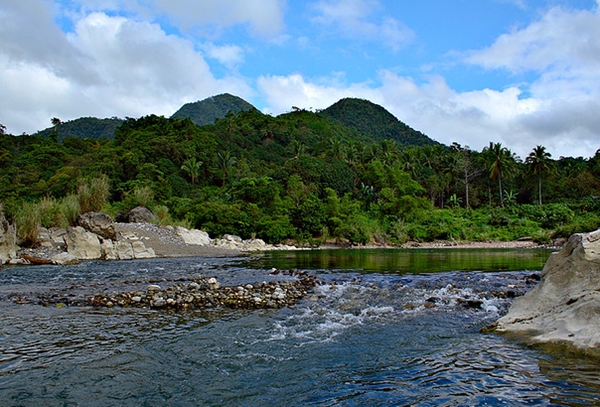 Why go
Never heard of Quezon? If you love hiking, mountain climbing, rafting, surfing, or even simply walking on pristine and uncommercialized beaches, make sure you make your way to the province of Quezon in the Philippines. Two to three hours from the commercial hub of Metro Manila, Quezon offers a 180-degree change, and a welcome breath of fresh air.
Insider Tips
Whether you go by bus or by car, you'll need to take the South Luzon Expressway, (known as the SLEX) and the journey will take about 3 hours. Enter via Calamba, Laguna or Sto.Tomas, Batanggas. Buses cost about $4 and depart from a number of bus terminals all over Metro Manila or from the city's main road, EDSA, where all modes of transportation must pass.
As Quezon province is mountainous, expect it to be much cooler than Metro Manila and other parts of the Philippines; lows can be in the low 60s.
Quezon is nature haven with very little in the way of nightlife or other entertainment. Given this lack of commercial entertainment, most of the people of Quezon province know how to drink. Neighbors and friends bond with each other while drinking the native wine called Lambanog. Most of the locals spend their lazy weekend afternoons at home with friends coming over for a little drinking session.
It goes without saying that to take advantage of all the outdoor activities, pack comfortable clothes and sturdy hiking shoes.
While wandering around, there is no reason to starve as you enjoy your outdoor fun. Pancit habhab is ubiquitous, filling and delicious! A few dollars and you get a handful of noodles stir-fried with shrimp, pork meat and chopped vegetables such as sayote and pechay served in banana leaves. Just be ready to eat it without fork. That's the way, it is eaten here! You do not eat it with your hand, but instead directly from the banana leaf.
Where to Stay
Quezon province is large; the most popular towns to stay in are Lucban for hiking Mt. Banahaw and Pagbilao Grande for its stretch of beaches. After a couple hours of travel from Metro Manila, drop by and consider staying overnight at Villa Escudero, which borders Laguna and Quezon. It's set on hectares and hectares of coconut plantation and offers a convenient base for hiking and outdoor activities the following day.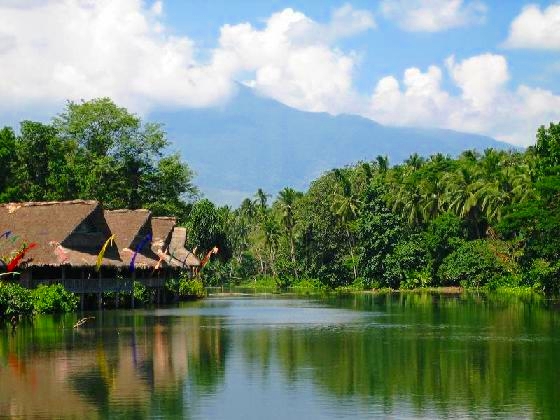 As your exploration of Quezon move inward, you can find a very few small inns until you reach the province's capital Lucena City, give or take 2 hours from Villa Escudero. If you're looking for a comfortable place to stay before or after your beach fun or mountain climbing, the Queen Margarette Hotel is a very nice option. It's close to the biggest shopping mall in the province, so you can stock up on any supplies you need.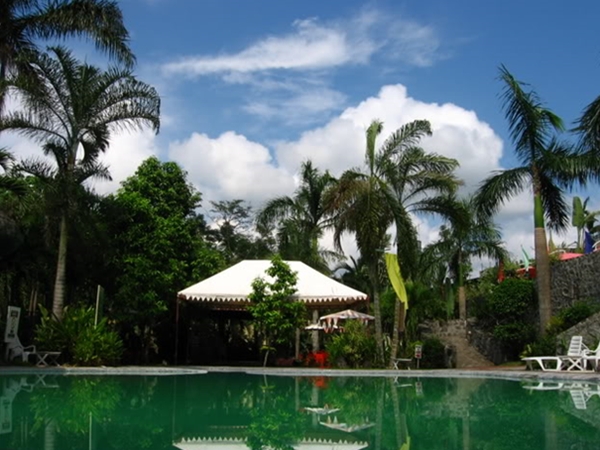 Along the way as you move forward are other accommodations set inside swimming pool-resorts. And in a more remote area of the province which is about 4 to 5- hour travel from Metro Manila are beautiful commercial beach resort accommodations. One of these is the Pueblo Por La Playa along the Pagbilao Grande.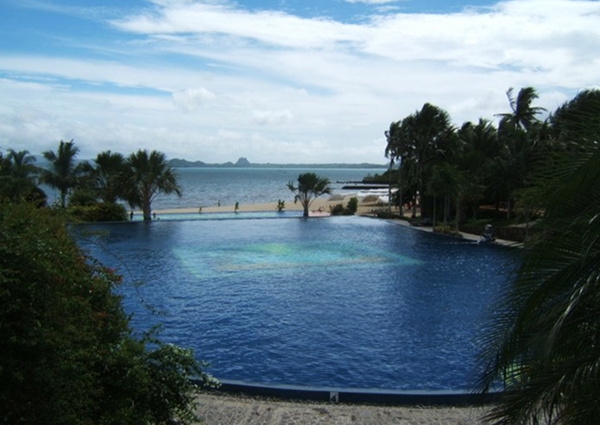 But if you are after completely untouched nature such as exotic beaches such as Pensacola Beach in Cagbalete Island which is only reached via a boat ride, then be prepared to pitch tents and to bring with you supplies and canned goods. The boat ride is from Mauban, which is more than an hour away by bus from Lucena City.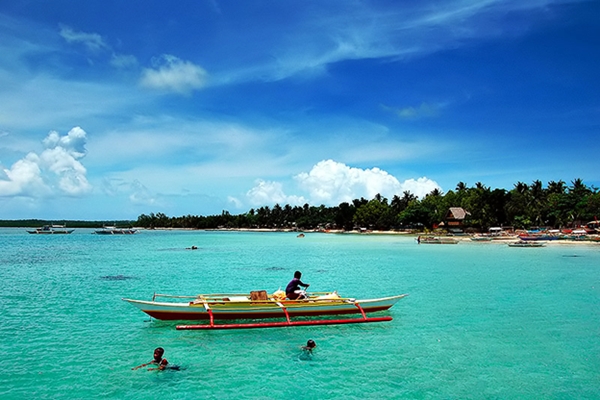 What to eat

Mention Quezon and most Filipinos will start salivating just thinking about two of the destination's famous foods—pancit habhab, longanisang Lucban and cassava cake, which is more popular among residents as buding.
Quezon's native noodles called habhab include sautéed pork and vegetables and make a satisfying lunch or snack.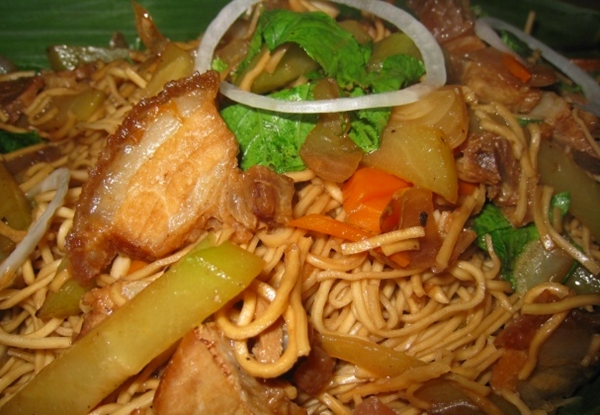 Another Quezon specialty to sample are Longganisang Lucban, tasty pork sausages flavored withgarlic and oregano.Imagine waking up in the morning to the mouth-watering aroma of these fried sausages, served with eggs and fried rice.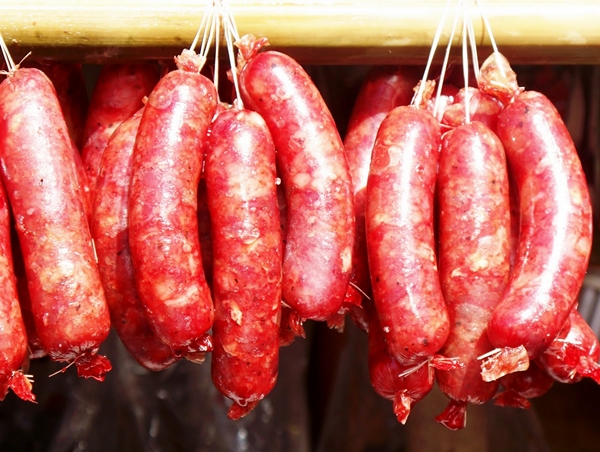 However Quezon is not just sausages and noodles, with the waters around the province, expect food plenty of fresh seafood, too. Visit Kamayan sa Palaisdaan Restaurant to satisfy one's craving for grilled seafoods and soup- based sea food Filipino dishes. The restaurant is set along the roads of Tayabas, Quezon which is about an hour's drive from Lucena city via public transportation. The aroma of your catch being grilled is simply mouth-watering. Don't be shy to do as Filipinos do, eating with your hands at your table in one of the floating cottages set in the pond.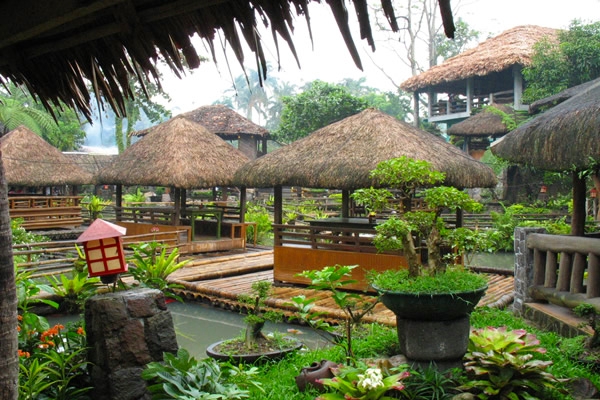 Villa Escudero, mentioned above as a place to stay, also offers a unique dining experience, right in front of waterfalls. Experiencing a waterfall restaurant is surely not one's every day typical activity. Be prepared to get wet in a dining experience where waterfalls serve as the restaurant's wall!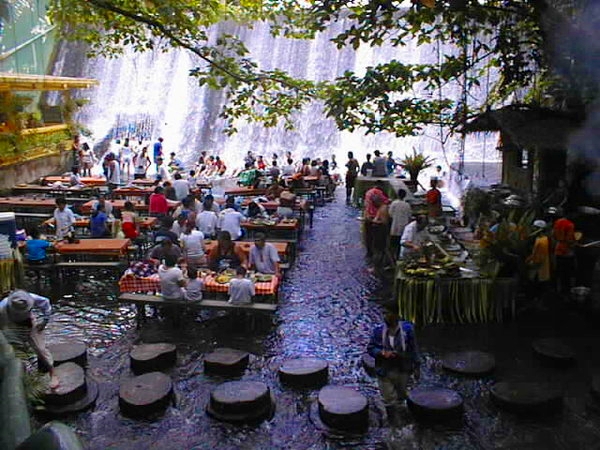 What to Do
You go to Quezon for its amazing nature and all the adventures it provides, from rafting in the river by Villa Escudero to a hike in the mountain ranges of Mt. Banahaw and to a dip to the beautiful and exotic beaches surrounding Quezon, not to mention other more adventurous water sports such as scuba diving, snorkeling and surfing in Pagbilao, surrounded by Tayabas Bay.
Mountaineers' first love is the beauty of Mt. Banahaw. Pilgrims and adventurous alike climb up this mountain range to unravel its mystery, said to be holy. A dip to a choice of hot spring or cold spring breaks the monotony of endless climbing and trekking.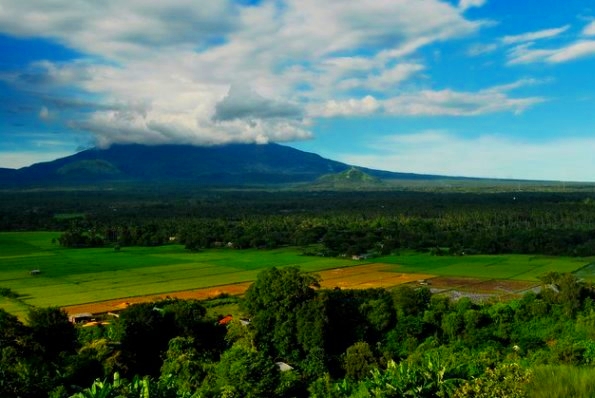 If you're ready to relax in paradise, captivating white sand beaches along Pagbilao Grande await you.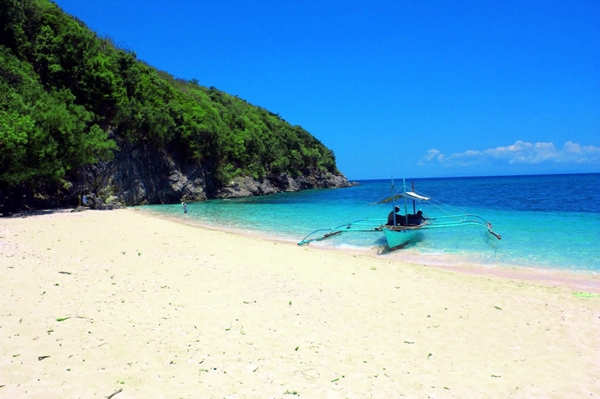 And if you're in Quezon mid-May, don't miss the colorful festival of Pahiyas in Lucban, Quezon. It's the town's annual thanksgiving for a bountiful harvest of rice, vegetables and fruits. It is known as the most festive feast in the Philippines, where houses lining the roads are colorfully designed with the use of crops, fruits, vegetables, and materials common to the province. There is street dancing along with other cultural presentations in addition to the elaborately decorated houses.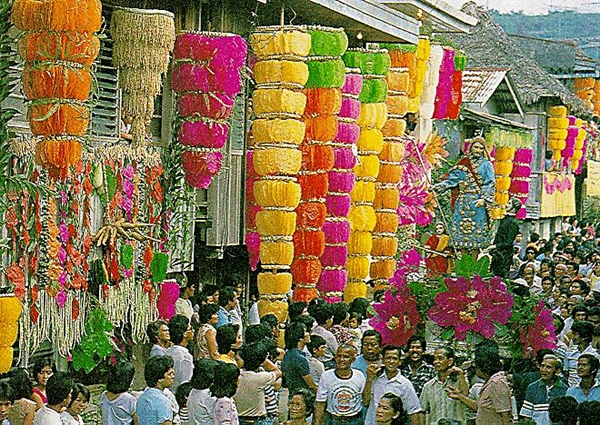 Near to Lucban and just a five- minute drive from Kamayan sa Palaisdaan in Tayabas is a religious park called Kamay ni Hesus, which is a nice lush place to relax and recharge from more active adventures in Quezon. A giant statue of Jesus Christ and many smaller colorful religious statues can be reached through a short trek up, and affords a beautiful view of Quezon.
The last stop for most of the adventurous prior to exit from the province of Quezon going to the Bicol region is the Mountainous Quezon National Park of more than 9,000 hectares. It is but mountain ranges turned to park stretching from towns to towns of the province. It is your one-stop nature trip where you have it all from falls and spring to flora and fauna. Monkeys and birds are everywhere hiding in the thick vegetation of the forest. Accommodation along this area is nothing but camping on tents.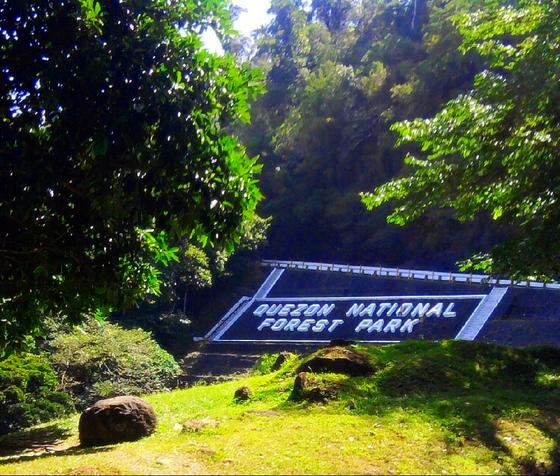 Amid the aging and monstrous trees of the Quezon National Park is a Philippine Flag rested in the grounds of Quezon National Park. It has been there for centuries since the triumphant battle of the residents over Spanish forces that ended colonization.
Need Award Booking Help? Our fee is as low as $75 per ticket if you book your hotel through us.
If you enjoyed this, join 90,000+ readers: please follow TravelSort on Twitter or like us on Facebook to be alerted to new posts.
Become a TravelSort Client and Book Your Hotel with Virtuoso or Four Seasons Preferred VIP Amenities!