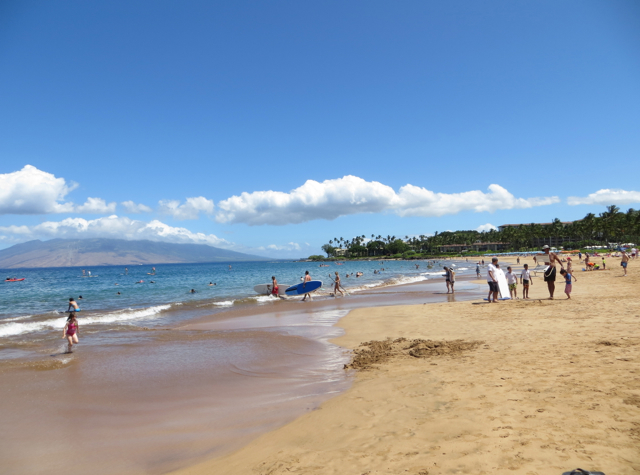 Which travel rewards credit card for family award tickets to Hawaii? TravelSort reader Lisa writes on the Best Travel Rewards Credit Cards page:
"My husband doesn't travel for work, and my family (including myself) of 4 only travel via airplane and have hotel stays, once a year maybe. Therefore, we don't accumulate many travel miles.
However, I'm trying to plan a family vacation to Hawaii next May 2015 for our 10 year anniversary and I want a card that I can get the most amount of miles for to use for my airline tickets ASAP…right now, the direct flights are pricing at $1200 per person (in economy) and with four people, it will be expensive.
We live in Atlanta and so we only fly Delta direct flights anywhere we go. Hence, I need a card that I can use on Delta and it seems that most the cards you mentioned in your top choices don't include redemption on Delta."
Delta SkyMiles Awards to Hawaii Are Expensive vs. Other Frequent Flyer Programs
Lisa and her family understandably want to fly nonstop from Atlanta, which means just one choice: Delta. The problem is that Delta SkyMiles awards to Hawaii are expensive relative to other frequent flyer programs' awards to Hawaii. For example, just looking at economy awards from the continental U.S. to Hawaii:
Delta: 65,000 miles
American: 45,000 miles (or 35,000 miles offpeak)
United: 45,000 miles
Singapore KrisFlyer: 35,000 miles
Earning Delta Miles With Credit Cards = American Express
Lisa isn't fond of AMEX, but unfortunately, in terms of earning Delta miles with credit cards, American Express is really the only game in town. That's because the major frequent flyer programs have each partnered with a major bank/credit card issuer, as follows:
United MileagePlus = Chase
American AAdvantage = Citibank
US Airways Dividend Miles (until the frequent flyer program merges with AAdvantage in Q2 2015) = Barclays
Delta SkyMiles = American Express
So the Delta SkyMiles credit cards are all issued by AMEX, and even the points that can transfer to Delta SkyMiles are American Express cards, namely Membership Rewards linked cards such as the AMEX Premier Rewards Gold card, the AMEX Platinum, and the AMEX EveryDay cards. SPG points also transfer 1:1 to Delta, and, no surprise, it's an AMEX card.
Best American Express Credit Card Bonus Offers Are Targeted
The current public Gold Delta SkyMiles AMEX only has a 35,000 signup bonus. You can try the CardMatch tool to see if you're targeted for any higher bonus, and also watch your snail mail to see if you can get a higher offer that way.
The best American Express signup bonuses are targeted, in general to those who have never had an AMEX card or are lapsed cardholders. For example, see 150K AMEX Business Platinum Bonus Offer (Targeted).
Alternatively, there is a 50K Mercedes-Benz AMEX offer (see Best Travel Credit Cards for current link), albeit with a hefty $475 annual fee. That includes $200 airline incidental credit per calendar year, which can best be used on AA gift cards or via a United gift registry you make to your name. See Maximizing the AMEX Platinum Airline Fee Credit.
How About Buying Delta Miles?
Buying Delta SkyMiles is a terrible deal–they're sold for 3.5 cents each, plus tax. That means that if you were to buy all 65,000 miles for an economy award to Hawaii, you'd be paying over $2300, over $1000 more per ticket than the high prices Lisa is already seeing for revenue tickets.
Alternative: United Economy Award with 1 Stop for 35K KrisFlyer Miles Roundtrip Per Person
As an alternative, I'd recommend looking at United economy awards out of Houston (IAH). Sure, Lisa and her family would have a connection in Houston and the added time that entails, but they could save significantly on the award prices of their tickets by flying United.
That's because, if they can find economy saver award space on United flights, they could book their awards with Singapore KrisFlyer miles, for just 35,000 KrisFlyer miles per person roundtrip, or a total of 140,000 miles for all 4 tickets, vs. 260,000 Delta SkyMiles. How to get Singapore KrisFlyer miles? My recommendation is to earn Chase Ultimate Rewards points with the Sapphire Preferred and Ink Plus cards. Lisa and her husband could each apply for the Sapphire Preferred card, and one of them could also apply for the Ink Plus card. If approved, each of them would earn at least 48,000 points from the Sapphire Preferred (including the points from the $3000 minimum spend) and they would earn at least 55,000 points after meeting $5000 minimum spend for the Ink Plus. that's 151,000 points from 3 cards, and enough for all of them to fly to Hawaii assuming they find saver award space on United.
Cash Back Credit Cards?
Lisa also asks about cash back credit cards. I never recommend the Capital One Venture card, since Capital One pulls from all 3 credit bureaus, needlessly denting your credit score, plus the Venture card isn't as good as the Barclay Arrival Plus card, at least when redeemed for travel, since you get an effective 2.2% cash back from the Arrival Plus when redeeming for travel, thanks to the 10% points rebate.
In general, I see cash back cards as complementary to transferable points credit cards, such as Chase Ultimate Rewards cards and AMEX cards, and airline frequent flyer credit cards. Cash back cards can fill in the gaps, by helping you rebate award ticket taxes, rebate the cost of the odd low cost carrier ticket, or be used when you're not working on minimum spend and have spend that doesn't otherwise earn a category bonus.
Another cash back card I like is the Chase Freedom, even though the Chase Freedom 2014 5X bonus categories were disappointing. Still, it's hard to beat no annual fee, even if you only max out a couple quarters of 5X categories a year. The points can be combined with an Ultimate Rewards card, then transferred to a frequent flyer program such as Singapore KrisFlyer or Korean SkyPass.
Lisa notes that her family typically only travels once a year. That said, she may need 4 award tickets each time, unless airfare is inexpensive, and since neither she nor her husband travel much on paid tickets, I'd recommend that they both put their everyday spend to work for them with travel rewards cards such as the Chase Ultimate Rewards cards, as well as AMEX cards, particularly if either or both of them receive a good targeted offer from AMEX.
Bottom Line
In Lisa's shoes, I would opt to connect in Houston, and earn Chase Ultimate Rewards points to fly United to Hawaii using Singapore KrisFlyer, for 120,000 fewer miles than Delta is charging. I certainly hope Lisa and her family find a way to earn the miles and visit Hawaii, my home state, for their 10th wedding anniversary! The Aloha State is waiting for them.
Related Posts
Best Frequent Flyer Miles for Hawaii Award Tickets
Four Seasons Resort Hualalai Review: Best Luxury Hotel in Hawaii
Cheap Hawaii Interisland Flights: Miles and Points or Paid Ticket?
Four Seasons Resort Maui at Wailea Review
Need Award Booking Help? Our fee is as low as $75 per ticket if you book your hotel or cruise through us.
If you enjoyed this, join 150,000+ readers: please follow TravelSort on Twitter or like us on Facebook to be alerted to new posts.
Become a TravelSort Client and Book 5-Star Hotels with Virtuoso or Four Seasons Preferred Partner Amenities!