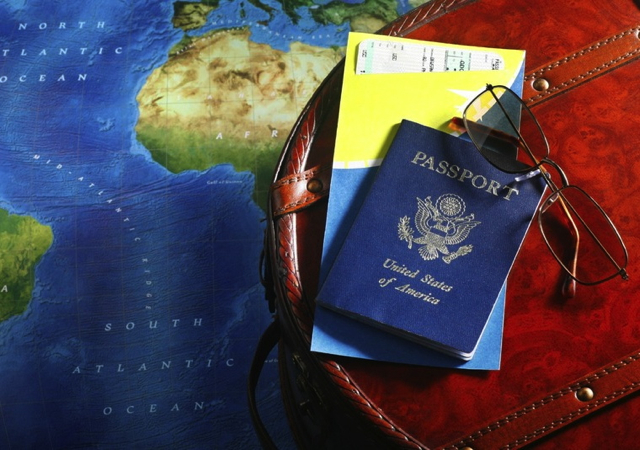 Travel checklists–love them or hate them, they can be handy in terms of checking that you have everything you need before you take your trip or go on vacation. Here's what I recommend for clients, and I'm sure savvy readers will chime in with additional tips.
Before You Depart
1. Passport Valid at Least 6 Months Beyond Your Trip Return Date?
I recommend checking your passport BEFORE you even book your trip, especially if you like making travel plans at the last minute. It can be very expensive and stressful to expedite a passport renewal, so at least check this a few months before you depart, to leave ample time in case you need to renew by mail. Don't forget that while adult U.S. passports are valid 10 years, kids' passports are only valid 5 years.
2. Do You Have the Necessary Visa(s)?
Double check whether any visa is needed for your travel. This includes anywhere you'll need to clear customs and recheck bags, overnighting if you don't have access to an airside transit hotel, or if for some reason you need to transfer from one airport to another in the same city (although I never recommend this–too much of a hassle).
Even if the country you're going to offers Visa on Arrival, check whether there's something you need to take care of beforehand. For example, in Vietnam, you'll need to obtain a "Visa approval letter" before you travel, then present this along with a completed form, photos, and fee at the airport to get your visa on arrival. You cannot get a visa approval letter at the airport.
3. Name on Airline Tickets and Visa(s) Matches Your Passport Exactly?
With most U.S. and major international carriers the first name and last name are all that need to match exactly, but I always recommend booking your ticket using the names exactly as in your passport, just to be on the safe side. You'll also want to ensure that for any visas you get, the name matches your passport exactly. Also see No Middle Name on Airline Ticket, So Not an Exact Match with Passport: Problem?
4. Driving Abroad? Get an International Driving Permit (IDP) if Needed
Countries such as Italy and France require you to have an International Driving Permit (or in the case of France, a notorized translated copy of your license is acceptable, although getting an IDP may be easier). While you're unlikely to be pulled over, assuming you're a safe driver and follow all speed limits and local laws, on the off-chance you are asked to produce your license, you could face a stiff fine if you don't have an IDP as well as your license, in jurisdictions that require it. Better safe than sorry, as they say.
5. Allergies or Special Needs? Be Sure Your Hotels and Travel Providers are Aware
If you or any travel companion has an allergy or other special need that requires accommodation, be sure your hotel and as needed airlines and other travel providers are aware of the issue, and are able to accommodate you.
6. Get Travel Insurance or Be Prepared to Self-Insure
Nearly every week I hear how a trip went awry, and asking what kind of compensation an airline is on the hood for a severely delayed or cancelled flight (or multiple delayed/cancelled flights). Usually these emails involve U.S. airlines flying to Europe, which are NOT eligible for EU compensation since these are U.S. carriers and not EU airlines. It's important to realize that, except for EU 261/2004 compensation (which is still a battle to get airlines to pay, even when owed) airlines are highly unlikely to compensate you anywhere near the amount you think they should, for the inconvenience caused.
That's the reality, so I highly recommend either getting travel insurance (I usually get TravelGuard's Gold plan for TravelSort Clients who want insurance) or be prepared to self-insure: you take the risk of something going wrong, and the fact that you may need to buy a new ticket, pay for an unplanned hotel stay, etc. to salvage your trip. If you get travel insurance, don't forget to bring the documentation with you and to call the company before incurring expenses, otherwise they may not be reimbursed. Also see Trip Delay and Trip Interruption Insurance: Which Credit Cards?, Medical Evacuation Travel Insurance Coverage Tips and Credit Cards with Best Delayed Baggage Insurance
7. Confirm Luggage Limit with Airlines
If you're only flying international business or first class, with no positioning flights or smaller flights, you probably don't have to worry too much about luggage limits. But at least for us, we often end up taking some short low cost carrier flights within the region we're traveling to, so I do have to be mindful of the carry-on luggage limits, particularly as we avoid checking any luggage. If you think you'll have to check baggage with a low cost carrier, it's often cheaper to pay in advance for this, rather than at the airport. Also see How to Avoid Checked Luggage and 6 Reasons to Never Check Baggage
8. Get Any Necessary Vaccines / Booster Shots
This hasn't been an issue for the places we've gone recently, but years ago when I went to Tanzania and Zanzibar, I remember getting a Yellow Fever vaccination, and malaria medication.
9. Assemble Your Trip Itinerary and Confirmations
You may already use an electronic service for this, although personally I prefer old fashioned hard copies of everything, in a trip folder, since it makes it easy to hand over the relevant paper to a front desk agent or immigration control, if needed. As you assemble, double check your dates to ensure everything has been reserved for the correct days and there are no gaps. If you plan to take trains or will need airport transfers, it's good to reserve these in advance during the summer, holidays, and busy travel times.
If you'll be taking taxis in a country where many taxi drivers don't speak English, such as China, be sure to have a copy of your hotel address and all other key addresses you need to get to in the local language.
10. Copy Your Passport and Important Documents and Pack Them Separately from the Originals
It's always good to have a copy of your passport, visa(s), and all your important documents packed separately from the originals, in case of theft. Also keep backup copies of your credit cards and issuer numbers, to make it easy to contact the banks and cancel your cards if your wallet is stolen.
11. Tag Your Bags and Label Key Items with Your Name in Archival Ink
Chances are you have luggage tags for your checked luggage, but don't forget to tag your carry-ons as well, to help avoid any mix-ups. And for hats, clothing or other items that might inadvertently be misplaced, it's helpful to write your name in waterproof archival ink (I like the Pigma Micron 02 pens for this purpose) to make returning these items to you easier.
12. Arrange for Care of Pets, Plants, Mail and Subscriptions
Anyone who has pets or plants will likely remember to make arrangements for them, although I find we often forget to hold our newspaper subscription.
Packing Checklist
1. Take Your No Foreign Transaction Fee Credit Cards and No Fee ATM Cards
When getting ready for an international trip, take out the credit cards that charge foreign transaction fees and replace them with no foreign transaction fee credit cards. You'll also want to ensure that you take ATM cards that refund any ATM fees you incur from foreign ATM terminals–for us, that means our First Republic ATM card, which refunds other banks' ATM fees. See No ATM Fees: Bank Checking Accounts That Refund ATM Fees
2. Pack Your Electronics and All Your Power Cords in Your Carry-On
Ever inadvertently pack a power cord in a checked bag or forgotten it at home or in a hotel? After some near misses of almost forgetting cell phone chargers and actually forgetting my camera battery charger somewhere, power charges are among the first things we pack and check our hotel rooms for.

3. Don't Forget Medicines and Prescriptions
If you take any critical medicine, you know how important it is to pack them in your carry-on. If anyone has a severe allergy in your family, don't forget his/her Epi-pen or other allergy medication. For any prescription medications, you may want to have your doctor's prescription for the medication, should there be any issue as to why you have it.
4. Take Sun-Protective Clothing, Sunglasses, a Hat and Sunscreen
My son is at the age where he protests wearing his sun hat, but we insist, due to skin cancer on my husband's side of the family. Sun damage is cumulative, and children's skin is thinner than adults, making it especially important for kids to have strong sun protection.
5. Take Long Sleeved Shirts and Pants and Insect Repellant for Areas with Mosquitoes or Ticks
When packing for hot climates it can be hard to pack long pants or long sleeved shirts, but these are a good idea if you'll be anywhere where there are mosquitoes and where malaria and/or dengue fever is a risk. Similarly, if you'll be spending time in places such as Martha's Vineyard and many other areas of the East Coast that harbor ticks, reduce your risk of getting Lyme disease by wearing long pants tucked into socks, long sleeved shirts, and either clothing sprayed with Permethrin or other insect repellant.
6. Scuba Dive Cards and Log Books
If you'll be diving, don't forget your dive card and log book.
7. Sleep Mask
Sure, you'll probably get a sleep mask if you're flying first class or business class on a night flight, but you likely also have a favorite sleep mask that fits especially well.
8. Snacks, Tea and Instant Espresso
In our case, we always need to have some kind of shelf stable food on hand because of the hungry 7 year old that accompanies us. But even if you're traveling without munchkins, healthy snacks can be handy for those times when shops are closed or you just don't have time to stop for a meal.
Similarly, sometimes tea and coffee choices in airport lounges and hotels leave something to be desired, so I find bringing a favorite tea or instant espresso along helps get me going in the morning.
9. Binder Clips
Perhaps an odd thing to bring, but they've come in handy when the black out curtains don't close completely, when I need an impromptu clothes pin, or when I need to seal up a bag of cereal or other snack we've opened.
What's on your travel checklist?
Related Posts