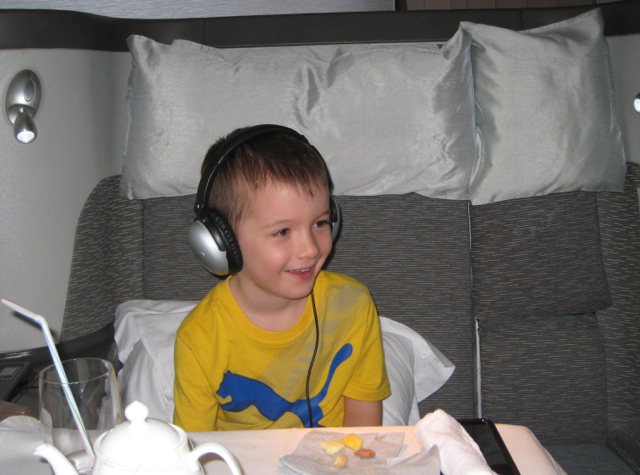 A TravelSort reader writes "How can we transfer frequent flyer miles between people in our family or combine miles so that we have enough to book an award ticket?"
One of the most frustrating things for those who are new to miles and points is the inability to easily combine the miles in one family member's account with the miles in another family member's account to redeem for an award as part of a family vacation, particularly where there are small numbers of miles in kids' frequent flyer accounts.
None of the U.S. based airlines allow this, although several international frequent flyer programs do, which I'll note below. For my family, the approach we take is to focus on transferable miles, and to accrue enough miles or points in a given account to redeem for award travel even without pooling. Here are my tips:
1. Family Account
Several international frequent flyer programs allow you to effectively transfer frequent flyer miles between people, if they are family members, in order to redeem for an award.
British Airways: 12/12/13 Update: British Airways has added the ability for Household Accounts to nominate up to 5 others to redeem awards for, even if they are not Executive Club members and live elsewhere in the world. Previously, a Household Account only allowed up to 7 family members residing at the same address to pool miles to redeem awards. Miles are redeemed proportionally. For example, if a family member holds 60% of the household account's Avios, then a redemption award will draw 60% of the required Avios from that member's account. Also note that a Household Account cannot redeem for awards for persons that are not part of the Household Account; you would need to dissolve the Household Account to do this, and per the terms, a

Household Account may not be dissolved or re-established more than once every six months.
ANA (All Nippon Airways): Family Account Service allows all family members that are ANA Mileage Club members and reside outside of Japan to combine miles in order to book flight awards.
Japan Airlines: JAL Family Club enables a primary member and relatives (spouse, parents, spouse's parents, children and children's spouses) to pool miles to redeem awards. The primary member must be 12 years of age or older and reside in North America, Central or South America. Note that there is a $30 annual fee.
Korean Airlines: Family Plan enables members to pool family members' miles to redeem an award ticket. Up to 5 family members may be part of the Family Plan. Note that Family Plan does not permit SkyTeam awards or upgrades: only Korean AIr awards, upgrades, SkyTeam Round the World awards and other partner airline awards (Alaska Airlines, Emirates, Garuda, Hawaiian Airlines)
Qantas: Family Transfers allow you to transfer a minimum of 5000 points to a maximum of 100,000 points to an eligible family member up to once every 12 months
2. Earn Transferable Points
Transferable points such as Ultimate Rewards Points, Membership Rewards Points or Starwood Preferred Guest points can be transferred to different airline and hotel partners. This has several advantages:
Flexibility: no airline frequent flyer program will allow you to transfer miles to another airline, for obvious reasons
Ability to hedge against devaluation of any given airline or hotel loyalty program
Can top up a given family member's account to redeem for an award
3. Have Each Family Member Earn More Miles and Points
Certainly where you and your spouse are concerned, it's helpful to both be earning transferable points and frequent flyer miles from credit card signups and bonus category spend, even if one or both of you don't fly much. Similarly, if you travel with adult children or your parents, they can and should earn additional miles and points so that it's possible to redeem flight awards from their account.
For kids' frequent flyer accounts, it's harder however. Make sure you don't inadvertently let miles expire from their accounts (see Airline Miles Expiration Policies: Keep Miles from Expiring) since it will likely take longer to build up the miles in their accounts to redeem for an award. Then, when you're close to enough for an award, consider using some of your transferable miles to top up their accounts to redeem for an award.
4. Take Advantage of Transfer Bonuses
While unfortunately less common recently, in the past there have been transfer bonuses from AMEX Membership Rewards points to British Airways and Delta. I'm not holding my breath for a Delta transfer bonus opportunity, but there may be another British Airways transfer bonus later this year–we'll just have to see.
There's also the built in 25% transfer bonus for Starwood Preferred Guest (SPG) points if you transfer in increments of 20,000 points, such that you receive 25,000 miles. See Starwood Preferred Guest Airline Transfer Partners: Turn SPG Points into Miles
5. Leverage Airline Mergers
While this happens rarely, it is an opportunity to combine miles from the two airlines that are merging. This is what happened with Continental Onepass and United MileagePlus miles, and what is about to happen with US Airways Dividend Miles and American AAdvantage Miles now that the American Airlines US Airways Merger has been approved.
What are your favorite ways to transfer frequent flyer miles between family members or otherwise utilize them to book airline award tickets for your family?
Related Posts
How to Maximize Award Travel for Families
How to Transfer Miles and Points Between Frequent Flyer Accounts
Top 10 Best Ways to Use AMEX Membership Rewards Points
Top 10 Frequent Flyer Airline Mile Mistakes and How to Avoid Them
Need Award Booking Help? Our fee is as low as $75 per ticket if you book your hotel through us.
If you enjoyed this, join 90,000+ readers: please follow TravelSort on Twitter or like us on Facebook to be alerted to new posts.
Become a TravelSort Client and Book Your Hotel with Virtuoso or Four Seasons Preferred VIP Amenities!