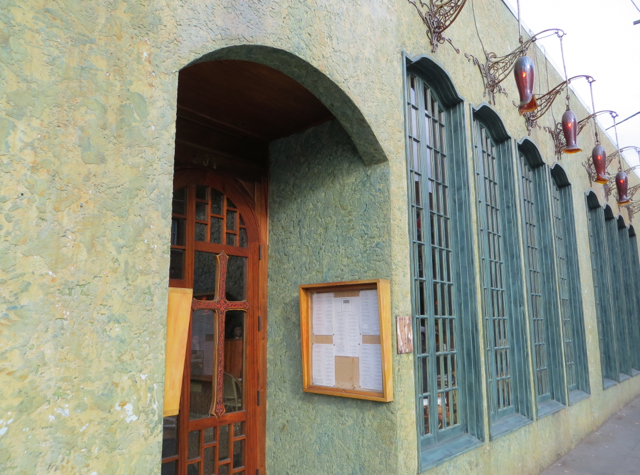 I have a serious case of envy for Seattle residents in the Queen Anne neighborhood right now, because they have Toulouse Petit just steps away. No idea what I'm talking about? Head to 601 Queen Anne Ave North on a weekday, and have a look at the extensive and mouth-watering breakfast menu, especially the Creole dishes: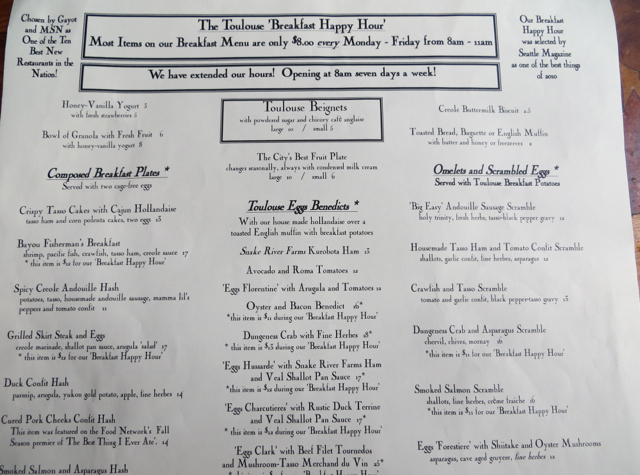 Even better, on weekdays many of these breakfast specialties are just $8, or for the most expensive ones, $5 is deducted from the usual price. And while I was there for the food, check out the cocktails as well–love that tagline: "Daytime Drinking Has Never Been So Fun, Dignified, and Guilt-Free…"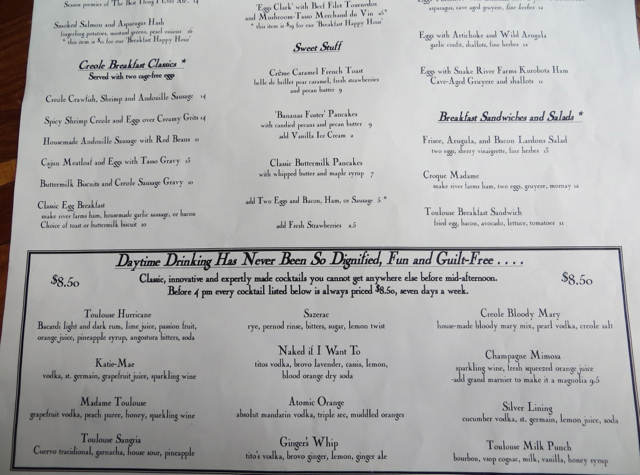 While we were pressed for time and took a $7 taxi ride from the Four Seasons Seattle, Toulouse Petit is an easy walk from the Space Needle and Chihuly Garden and Glass, which you can reach by the Seattle Monorail.
Toulouse Petit doesn't take reservations for breakfast, but the restaurant has plenty of seating and we had no problem walking in at 8:30am. The host seated us at a sunny table by a window, and we enjoyed a look around at the eclectic interior: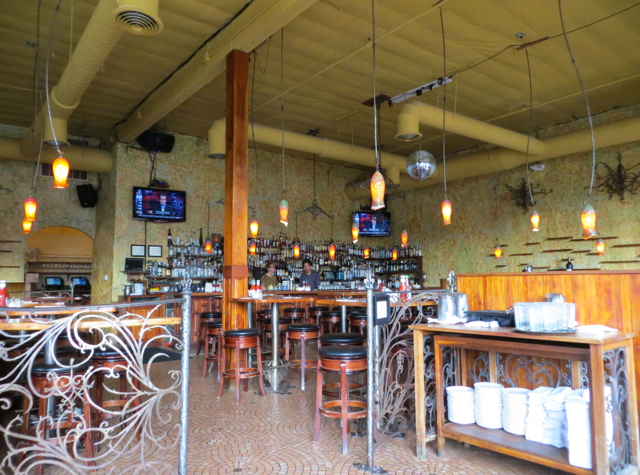 The munchkin of course didn't want Creole or any kind of spicy food, so he chose the Croque Madame breakfast sandwich. It was a very generous portion of grilled ham and cheese sandwich with perfectly poached eggs and smothered with silky Mornay sauce.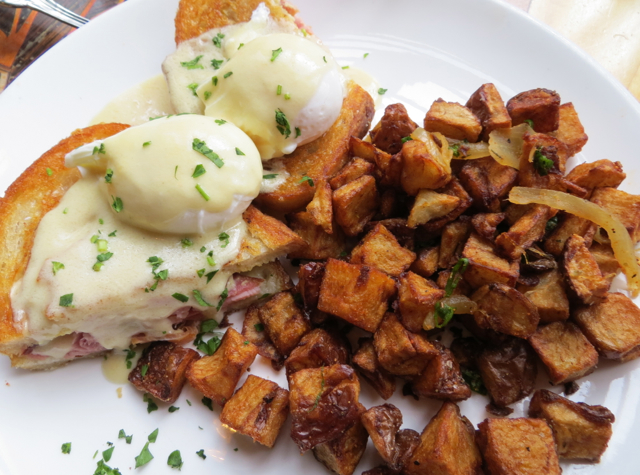 I had trouble deciding among the Duck Confit Hash and various Creole platters, but at our server's suggestion chose the Creole Crawfish, Shrimp and Andouille Sausage Plate, which came with two poached eggs and grits. This is the best savory breakfast I've had in a long time, and had I stayed in Seattle for a few days I would have made a point of coming back and ordering this again, even though I usually try to branch out and try different dishes from the menu.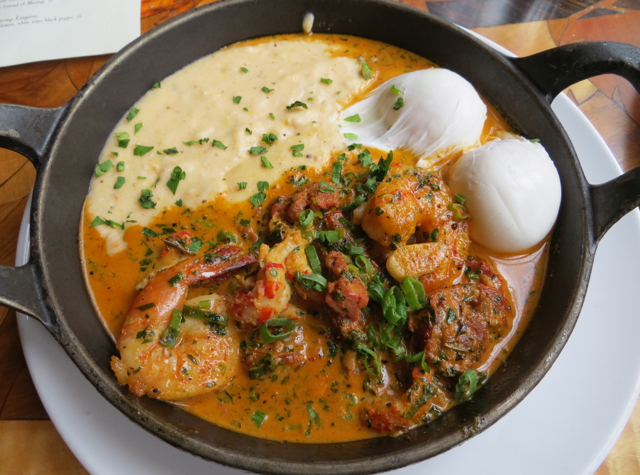 Even though we probably should have stopped there with these two hearty dishes, I couldn't resist ordering a "small" portion of the Toulouse Beignets, which is plenty for two to share. They come piping hot, crisp on the outside and tender on the inside, liberally dusted with powdered sugar (I knocked some of it off) and gilding the lily, some chicory creme anglaise. Absolute perfection with the strong french pressed coffee.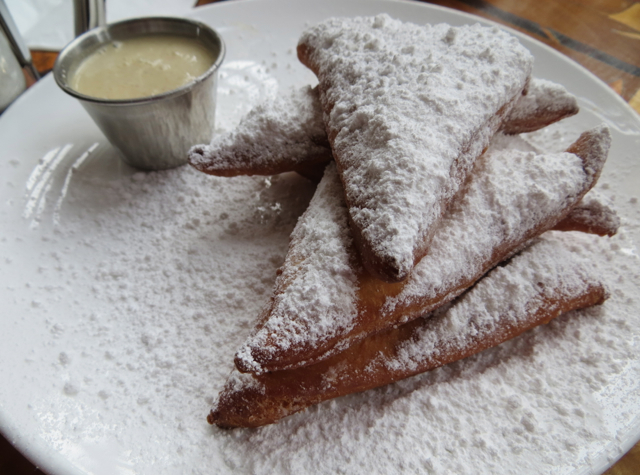 The Verdict: It doesn't surprise me at all that Toulouse Petit has garnered rave reviews and accolades, such as one of the best new restaurants in the U.S. Based on our admittedly limited sampling of its breakfast menu, it fully deserves them. I just wish they'd launch an outpost in NYC.
Have you tried Creole classics at Toulouse Petit in Seattle?
Related Posts