Since my business is luxury travel and hotels, I often get asked by TravelSort clients and readers about the secrets to getting a hotel upgrade, especially at luxury properties that don't have a loyalty program for elites. I've been fortunate enough to be upgraded in a number of luxury properties, such as the Four Seasons and Ritz-Carlton where I'm neither an elite nor a regular guest, as well as the more usual example of Starwood properties where I did have elite status. While dressing nicely at a top property never hurts, it's almost never sufficient by itself to get an upgrade, whatever the mainstream media may write. Here are some of my top tips for securing an upgrade and enhancing your stay with a suite, or at least an upgraded room, with the free ways to score an upgrade listed first:
1. Book with TravelSort, a Preferred Partner 
The Four Seasons offers Four Seasons Preferred Partner benefits. Mandarin Oriental offers Mandarin Oriental FAN Club. Belmond (previously Orient Express) has the Bellini Club. Starwood has Starwood Luxury Privileges. The Peninsula has PenClub. These are preferred partner programs that TravelSort is honored to be part of, each of which offers our clients an upgrade based on availability at check-in, as well as complimentary breakfast and usually a resort credit worth ~$100. You can't book rates that include these complimentary amenities on your own, so it's well worth it to book with TravelSort or a luxury travel advisor that is a preferred partner. Also note that preferred partner upgrades are prioritized ahead of AMEX Fine Hotels and Resorts and Virtuoso–so if you want the best chance of an upgrade, become a TravelSort Client.
Why do hotels have these programs? It's because hotels, similar to travel advisors, are interested in cultivating long-term relationships with guests, not just a one-off stay. Hotels also, of course, want their guests to have a great experience. An excellent travel advisor will help match her or his client to the luxury hotel that will best fit that client's travel style and preferences, helping ensure a happy client and, hopefully, a repeat guest of that hotel or that hotel group.
2. Book with TravelSort, a Virtuoso Luxury Travel Advisor
Virtuoso includes over 1000 luxury and boutique hotels around the world that have met rigorous standards and continue to meet these standards to be included each year. As with preferred partner bookings, complimentary Virtuoso amenities include hotel upgrades:
Upgrade on availability (some hotels even offer a confirmed upgrade at time of booking; see Virtuoso Confirmed Upgrade When Booking: Top 10 Hotels)
Complimentary breakfast (usually a full American breakfast or buffet breakfast; sometimes continental)
Resort credit or amenity worth ~$100
3. American Express Fine Hotels & Resorts
American Express Fine Hotels & Resorts (often abbreviated as AMEX FHR) offers similar amenities to Virtuoso. The main differences are that it includes a 4pm guaranteed late check-out, breakfast is continental, never a full breakfast, and there are no hotels that offer an upgrade confirmed at time of booking. Also note that certain room types are not eligible for an upgrade, and there sometimes are blackout dates for certain properties where no AMEX FHR rates may be booked. That's why it's advisable to book even your AMEX FHR rates with TravelSort or other Virtuoso and Preferred Partner travel advisor, to get the best possible chance of an upgrade, as well as save you time having to figure out whether your rate will be eligible for an upgrade or if booking through Virtuoso or a Preferred Partner is advantageous in terms of amenities.
4. Have Top-Tier Elite Status in Programs Where It Matters
Certainly, having top-tier elite status makes it easier to get an upgrade, especially if it's in a program such as Hyatt or Starwood where suites are part of the benefit and can be arranged in advance: with a Suite Upgrade Certificate in the case of Hyatt, or with one of 10 Suite Night Awards if you qualify for the SPG 50 Nights Benefit as an SPG Platinum. Regular SPG Platinums are also entitled to an upgrade to the best available room at check-in, including Standard Suites. For example, I was automatically upgraded to a Tower Suite at the Westin Moana Surfrider on a couple stays when I was an SPG Platinum: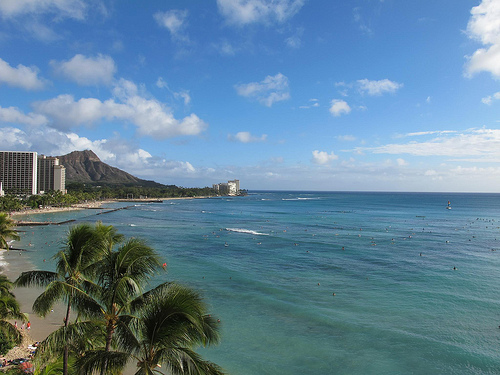 And although I don't have personal experience with the program, InterContinental's Royal Ambassador level is certainly said by elites to be very helpful in getting great suite upgrades. Note, though, that Priority Club does *not* include upgrade benefits on award stays (a property may nevertheless upgrade you on an award, but it's at their discretion and not a loyalty program benefit) which for many (myself included) is a non-starter in terms of a hotel loyalty program.
2. Get Mid-Tier Elite Status Through a Hotel Credit Card
While you can't achieve top-tier hotel status through any credit card I know of, you can get mid-tier status with these cards:
Platinum status with the Hyatt Visa: preferred rooms (better view, corner room), typically within the booked room category. Sometimes you even get lucky: even as Hyatt Platinum members, we were treated to an upgrade to a Park Pool Villa at the Park Hyatt Maldives for most of our 7 day stay!
SPG Gold status with the SPG American Express if you spend $30,000 within a calendar year
Hilton Gold status with the AMEX Hilton HHonors Surpass card (first year; in subsequent years only after spending $20,000 within a calendar year). Added thanks to Mark P.!
Hilton Silver status with the AMEX Hilton HHonors Card (no upgrade benefit) and Gold status (one-category room upgrade, may include upgrade to Executive Club Rooms and Executive Club access) after $20,000 spend within a calendar year
3. Be a Repeat Guest or Bring the Hotel Business Through Event Planning
Naturally, hotels, like any other business, want to reward their most valuable customers. So, even if you're staying at a hotel that doesn't have a loyalty program, such as an Aman or Four Seasons hotel or resort, if you've been a regular at that property several times for the past year, or better yet, for a number of years, you can bet that you'll have a better chance of being upgraded over a first-time guest.
Similarly, if you're an event planner regularly using a given hotel for your events, the hotel should be treating you very well (and if it isn't, consider taking your business elsewhere).
4. Book at a Hotel with Many Suites or Upgrade Possibilities
Some properties are simply better than others in terms of offering an opportunity for an upgrade, because they have more suites to upgrade guests to. You can easily check the hotel Web site to get a sense of the number of suites, and then combine this with point 5 below, a low season stay, to improve your chances.
5. Book a Short Stay
It's a more difficult decision for a hotel to upgrade you if you have a long stay, because of the need to accommodate guests with elite status, regulars, or a last minute suite booking–the hotel doesn't want to forego that revenue, after all. If you have a one night stay and check-in later in the day in a low season period, you'll have a better chance at that upgrade.
6. Stay During Low Season 
It only makes sense: if you're staying during peak season, say Christmas in Hawaii, you may as well book the room you really want because your chances of an upgrade will be close to nil. But if you're checking into a Chicago hotel in late January or February (well, not Valentine's Day) you have a much better chance.
7. Ensure the Hotel Knows About Your Special Occasion
Now, don't just make up an occasion, but if you really are celebrating a 10th year wedding anniversary, let the hotel know well in advance. You may even want to fax something about it, for example if you have a request for flowers for the room, rather than just emailing, to improve your chances of more than just the front desk agent seeing it and hopefully blocking a better room for you. You might also want to call later to politely inquire if your special occasion is noted in your reservation, since all too often you read reviews of a guest being disappointed because they emailed and yet no one mentioned the occasion at check-in and nothing special was done to acknowledge the occasion in terms of an upgraded room, champagne, etc. I am still grateful to the Four Seasons Maui at Wailea for having upgraded us to a lovely Executive Suite with Partial Ocean View for our honeymoon, even though we had booked the lowest room category.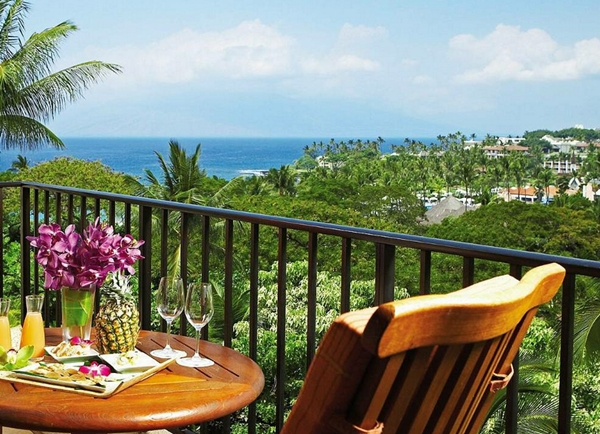 8. Be Polite, Not Entitled
Please don't act entitled to an upgrade, even if you are a top-tier elite, a well-known blogger, etc. Put yourself in the other person's shoes–would you be more likely to want to provide an upgrade and great experience for a guest who is polite and grateful, or for one with a "Do you know who I am?" attitude? Please don't be like the Hyatt Diamond in this YouTube video 🙂
9. Have a Valid Complaint
The above notwithstanding, if you arrive at regular check-in time and your room isn't ready, or you get to the room and it hasn't been thoroughly cleaned, or it isn't the room type you actually booked, then by all means   politely ask for an upgrade or what you think would be fair compensation. Also see How to Complain to Airlines and Hotels and Get Compensated
10. Help the Hotel Correct a Mistake
A more positive version of having a valid complaint is helping the hotel out by correcting a mistake likely to impact other guests. For example, if you notice that the links from the hotel's email or online marketing campaign aren't working, you can bet that most hotels will be appreciative of your pointing this out so that they can fix it and not frustrate other potential guests. Particularly if you point this out before your visit and mention an occasion you're celebrating or that you would be grateful for any potential upgrade, you increase your chances of the hotel saving a nice upgraded room for you.
11. Ask the Front Desk Manager
Especially in the above scenario, if you have a valid complaint, if you aren't getting anywhere with the front desk agent, you may need to ask to speak with the Front Desk Manager. Unfortunately, some hotels don't fully empower their front desk staff to resolve guest problems, so you may need to ask to speak to someone who can. Again, keep your cool and be polite, but firm, especially if it's a serious issue such as the wrong room type, serious or even dangerous room defect, etc.
12. Have Recognizable Influence
Certainly it can help to be a recognized celebrity, member of the media, or even influential blogger with a large Twitter following. I don't count myself in this category, and in any case I prefer to provide honest reviews of the hotels, airlines and restaurants I review. But if you're a celebrity, congrats–you're likely to get better treatment and score an upgrade (on the off-chance you haven't already booked an amazing suite, that is!)
13. Tip (in Vegas)
Las Vegas is its own special market–most of the hotels, even high end ones (with the notable exceptions of the Four Seasons, Mandarin Oriental and Trump) have casinos, so they make the bulk of their money from those, not by actually getting guests to pay for suites. But interestingly, you don't have to be a big gambler to score an upgrade to a suite, or at least very nice Strip View room; you can at least try to tip the front desk agent checking you in, by putting a folded bill between your credit card and driver's license when they request it, and politely asking if they might have an upgrade available. Even better if you can legitimately tie it to a special occasion. In terms of amount, I'd suggest $20-30 per night that you're staying. The worst that can happen is that you'll get a curt "sorry, we're fully committed" either because it's true or because the agent doesn't want to help you, in which case you'll get your tip returned. I personally wouldn't try this at the Four Seasons or Mandarin Oriental, but I have heard of it working sometimes at the Trump, even though it's a non-gaming property. And if you've successfully gotten an upgrade at the Four Seasons or Mandarin through a tip, let us know in the comments.
14. Use Points to Book a Suite
Even if you're not a Hyatt Diamond, you can still stay in a Club Room or a suite, if you have enough points: a Regency or Grand Club Room Award is 27,000 Hyatt points, and a Suite Award is 33,000 Hyatt points. Note that some properties, such as the Park Hyatt Paris Vendome, may not be worth the 33,000 points since there are so many nicer suite categories above the basic suite. That said, if you're coupling it with a truly special occasion, such as an engagement, honeymoon or wedding anniversary and connect with the hotel ahead of time to arrange other aspects of the stay, you may manage to get a complimentary upgrade to a higher suite level, although it's certainly not guaranteed. Also, there are certainly some Hyatt Grand Club lounges that tend to get stellar reviews, such as the Grand Hyatt Hong Kong, so that could easily be worth the 27,000 point redemption.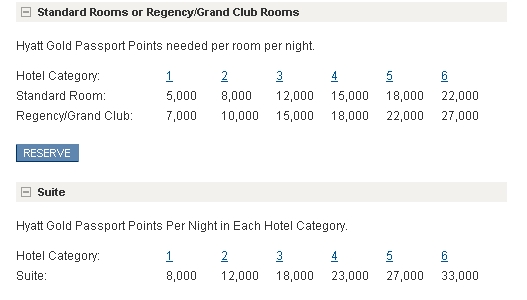 The best way to earn Hyatt points is through the Ultimate Rewards program since points transfer 1:1 to Hyatt virtually instantly, especially if you can earn at the 5x (or more) level using the Ink Bold 5x bonus for office supply stores or the Chase Freedom 5x categories.
15. Use Points to Upgrade a Paid Stay
If you want to make sure you'll be in a nicer room, apart from paying outright for it, you can use points with some hotel loyalty programs. I personally would recommend using points to book a suite, rather than paying and using points to upgrade, since you can't upgrade from a discount rate. For example, for Hyatt, if you're redeeming for a Regency or Grand Club upgrade for non-resort properties you must book "a minimum of the Hyatt Daily Rate deluxe room (such as partial ocean view, ocean view, slope view, etc). At non-resort properties you must pay a minimum of the Hyatt Daily Rate." An Regency or Grand Club Upgrade for up to 4 nights is 3000 points; a Suite Upgrade for up to 4 nights is 6000 points.
SPG upgrades are more complex. Not only is an eligible rate one that is RACK, COR, SET, or BAR; there is a range of Starpoints given for an upgrade, the number of Starpoints required at Category 5-7 hotels can vary depending on travel dates (read: high season upgrades will cost you more points), and "the category of upgrades and Starpoints needed for an upgrade are determined by each hotel and are subject to availability." Suffice to say I've never done an SPG upgrade, and probably never will.
16. Pay the Difference to Upgrade
You may be offered a paid upgrade at check-in, since some hotels view this as an incremental revenue opportunity and are quite stingy with complimentary upgrades. A more interesting scenario is where you have an award stay, which you can't of course upgrade with more points, but which you may be able to upgrade by paying the difference between your award booking room type and the room type you wish to upgrade to. Call the hotel in advance to see if this is an option, and if they would be willing to do this in advance rather than at time of check-in.
Another option, if you care more about Club Lounge access than an upgrade to the room itself, is to pay in advance for this access, at properties where this is an option, such as the Four Seasons Hong Kong.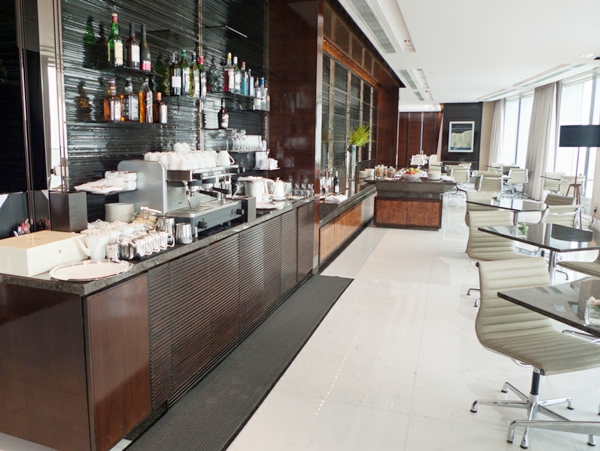 Have some other hotel upgrade tips? Tell us in the comments!
Related posts