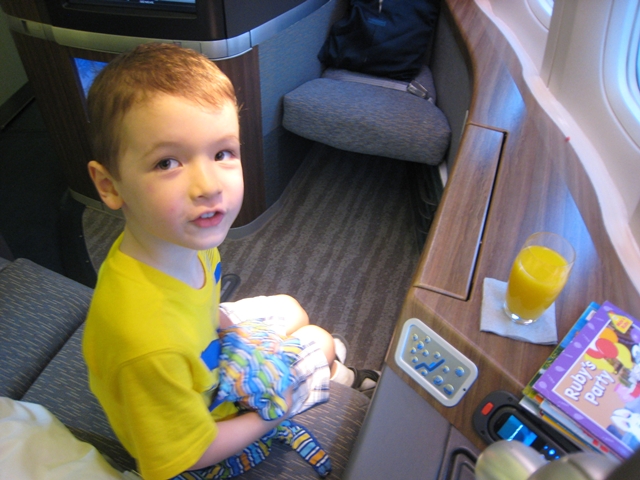 TravelSort reader Alexi writes "Thank you for your excellent blog. I recently became obsessed with frequent flyer miles and points after booking a $7500 round trip to Japan for my family of 5 to visit my in-laws. I would love to hear your take on using points to fund family travel in general. Tips for using AMEX Membership Rewards and Ultimate Rewards points to fund kids' accounts, tricks for booking groups of seats, etc."
I'm betting that Alexi's question is relevant to many of you, or will be relevant to you in the coming years, whether it's booking frequent flyer awards to travel with your own children or traveling with your parents or family members on a special trip. It's definitely harder once you need to earn miles and points and redeem for more than one or two award tickets at a time, but it can be done and hopefully these tips will help.
1. Plan 18 Months or More Out for International Family Travel
This may sound crazy, but when you're focused on booking awards for a family (especially if they're business class and first class awards), you need to make sure you have your miles and points ready at the time the award calendar(s) open (varies by program, but often 331 days/11 months out). So by planning 18 months ahead, you can figure out which miles and points you still need to earn, apply for the best travel credit cards, and meet minimum spend.
This isn't quite such an imperative for domestic or short haul travel, since the alternative of buying revenue tickets is usually less costly than for international long haul flights.
2. Focus on Transferable Points and Frequent Flyer Programs That Allow One Way Awards
Alexi mentions AMEX Membership Rewards points and Chase Ultimate Rewards points for good reason–these are great transferable points options, which have the advantages of 1) Ability to transfer to different airline and hotel partners and 2) Points do not expire unless you close the credit card linked to them.
Another good transferable points currency are Starwood Preferred Guest (SPG) points. These are unfortunately harder to earn (unless you stay at a lot of Starwood hotels) but they do provide 25% bonus miles when you transfer in increments of 20,000 SPG points at a time.
The other miles I recommend earning are United miles and AAdvantage miles: both can be redeemed for one way awards. Given the upcoming US Airways American merger, you can also earn US Airways miles in anticipation of them eventually becoming AAdvantage miles, but we don't know exactly when that will happen, and until they do, they can only be redeemed for roundtrip (or rather, you'll pay the same number of miles for a roundtrip as for a one way award). I also avoid Delta Skymiles, since they can't be redeemed for any first class awards, there's often very limited saver level availability, and they also only offer roundtrip award pricing. It's also handy to have some Avios for short nonstop regional flights, so I'd recommend earning some of those as well.
3. Check if a Frequent Flyer Program Family Account Works for Your Travel Plans
As I mentioned in Transfer Frequent Flyer Miles Between Family Members? there are several programs, such as British Airways, ANA, Asiana, JAL etc. that allow families to pool their miles or points to redeem for award travel. The main one my family and I use is the British Airways Household Account, especially since I've been able to take advantage of prior 50% and 40% AMEX Membership Rewards transfer bonuses to Avios. Currently there's a 35% AMEX transfer bonus.
4. Earn Extra Miles and Points to Provide Redemption Flexibility and Backup Options
While it can be tough just to earn the minimum number of miles and points needed for a family to all travel on award tickets, I'd recommend trying to earn some additional miles and points beyond what you think you'll need in the various transferable point currencies and frequent flyer programs I mentioned above in point 2. This gives you the flexibility with your miles and points to book two of you with a given type of frequent flyer miles.
5. Leverage Family Spend and All Types of Bonuses to Earn Miles and Points Faster
While families have the disadvantage of kids not being able to rack up miles via credit card applications, families do have an advantage when it comes to spend: they usually have a lot more spend to leverage, thanks to higher rent or mortgage, utilities, grocery, dining, home improvement, clothes and other shopping expenses. And having significant actual spend is a good counterbalance to any additional manufactured spend you may do with AMEX Bluebird and gift cards, making it easier to meet minimum spend for credit card bonuses without raising fraud alerts.
Make sure that you're taking advantage of all types of bonuses:
Credit card signup bonuses: the most lucrative; make sure both you and your spouse or partner are applying
Category spend bonuses: Thanks to the Ink Bold or Ink Plus and gift cards and Chase Freedom, you should be able to get 5X points on much of your spend
Retention and incentive bonuses: It pays to figure out if there's a retention bonus for keeping a credit card, and to look at snail mail incentive spend offers you may receive.
Don't forget to always go through the Ultimate Rewards Mall or other online shopping portal for bonus points, rather than buying items in store. If you have a chance to first buy gift cards at an office supply store using your Ink Bold or Ink Plus, you can often double dip. As an example, see Ultimate Rewards Mall April 2013 Deals, many of which are still valid in May.
Here are a few past posts that can help turn that spend into points:
5X Points for All Amazon Spend
Best Credit Cards to Buy Vanilla Reload Cards
AMEX Bluebird: Free Checks and Check Writing
Activate Chase Freedom 5X for Q2 2013: Restaurants, Lowe's, Movie Theaters
6. Be Flexible with Dates and Routing, and Plan Award Travel for Low Season or Shoulder Season
Not surprisingly, it can be especially tough to get award seats, let alone a group of award seats, for the Christmas and New Year's holidays, Thanksgiving, or late summer. Try instead for Spring Break, especially if you're planning a trip to a non-traditional Spring Break destination, early summer, or for early fall if you're willing to let the kids miss a few days of school.
The most important tip: Be Flexible with Your Dates. I can't stress this enough. If you think you'll be able to fly your family of 4 or 5 in business class or first class to Australia from the U.S. on a nonstop flight departing December 20 and returning January 2 with no date flexibility? Not. Going. To. Happen.
On the other hand, if you're willing to fly during an off peak time with date flexibility and route via Asia, it's very doable to secure a mixture of business class and first class for a family award trip to Australia.
7. Be Willing to Split the Group into Different Travel Classes or Even Different Flights
This is my next biggest tip after being flexible with your dates and planning well in advance: be willing to travel in different travel classes on the same flight (e.g. some in first class, some in business class) or on different flights and meet up at the destination. My husband and I do this regularly for our awards–he may fly with our son on the outbound while I take a separate flight, and on the return I'll fly back with our son and he'll be on a separate flight. This is especially true if we're all on first class tickets, since award availability tends to be scarcer than for business class.
8. Track Mileage Expirations and Book Awards From Accounts with Early Expirations
While it's usually not too expensive or difficult to keep airline miles from expiring, you do want to make sure you don't lose track of family members' accounts where miles will soon expire. AwardWallet can help, even though unfortunately the major carriers have prevented real time mileage tracking. Recently I transferred Ultimate Rewards points to my son's United account and booked award travel from it, since he of course doesn't have the United MileagePlus Explorer credit card (which as long as I have it, keep my miles from expiring) and his miles are subject to expiration.
9. Book Awards Right When the Award Calendar Opens
Some folks will tell you that there's no reason to jump on award tickets right when the calendar opens. I disagree–families need all the help they can get in terms of securing multiple award seats, so in my view you reduce your chances of success if you don't try to book award seats when the calendar opens. And yes, that may involve staying up until 1am on the East Coast waiting for award inventory to be loaded 🙂
If you can't get all of the award tickets you need for your family on the same flight and have the extra miles or points to do so, book a backup award on a different flight while continuing to monitor for additional award seats on your preferred flight. Most often these will appear close to the time of departure, so it's important to have backup tickets. It helps to have your backup awards on airlines such as Singapore Airlines or British Airways, which have low cancel/redeposit fees compared to U.S. carriers. Although keep in mind that even with U.S. carriers it's cheaper to cancel and redeposit an award ticket than a paid ticket, now that change fees on paid domestic tickets are $200, and $250 or $300 for international tickets.
10. If It's Not Fun or You Don't Have Time, Use an Award Booking Service
It may or may not be fun for you to strategize on how to earn miles and points and redeem for awards. If it's not, or even if it is but you simply don't have the time, consider using an award booking service, such as our TravelSort Award Booking Service. If you book your hotel with us, it's also the best value major award booking service, at just $75 per family member traveling.
Have some other tips for using frequent flyer miles and points for international family travel?
Related Posts
Transfer Frequent Flyer Miles Between Family Members?
Airline Miles Expiration Policies: Keep Miles from Expiring
My Top Family Vacation Destinations
The Best Airlines for Kids and Families
Credit Cards: Household Income Rule Will Help Stay-at-Home Spouses and Partners
Need Award Booking Help? Our fee is as low as $75 per ticket if you book your hotel through us.
If you enjoyed this, join 90,000+ readers: please follow TravelSort on Twitter or like us on Facebook to be alerted to new posts.
Become a TravelSort Client and Book 5-Star Hotels with Virtuoso or Four Seasons Preferred Partner Amenities!