Some people think luxury hotels are wasted on kids and families, but I strongly disagree. A key part of what made our family travel in Hong Kong and Bali this past summer so memorable were the luxury and boutique hotels we stayed in, with their superb service and perks that resonated with the munchkin as much as with us. And it makes business sense for the hotels as well: after all, many of the young couples that stay with them on business trips or for honeymoons will at some point have children, but just because they start a family doesn't mean they want to downgrade to 3-star "family friendly" hotels–so that means providing kid-friendly hotel amenities that retain these guests. And looking forward, kids not only influence their parents' purchasing decisions, they themselves will grow up to become the next generation of hotel guests, so savvy hotels will start building that relationship and brand affinity as early as possible.
But enough of why it makes business sense for hotels, here's my personal ranking of the top 10 luxury hotel amenities that my kid and family love:
1: Kid-Friendly Staff
A luxury hotel's greatest asset is truly its staff, and associates that genuinely love making your kids happy are priceless. The most kid-friendly staff we found in our Hong Kong and Bali trip were at the Four Seasons Bali at Jimbaran Bay, from the front desk staff who, as soon as my son started fidgeting while we were checking in, asked him if he wanted to help feed the beautiful carp, to the caring Kids Club staff, the fantastic tennis coach, and the Cooking Club staff who made my son feel right at home as we learned to make Indonesian specialties.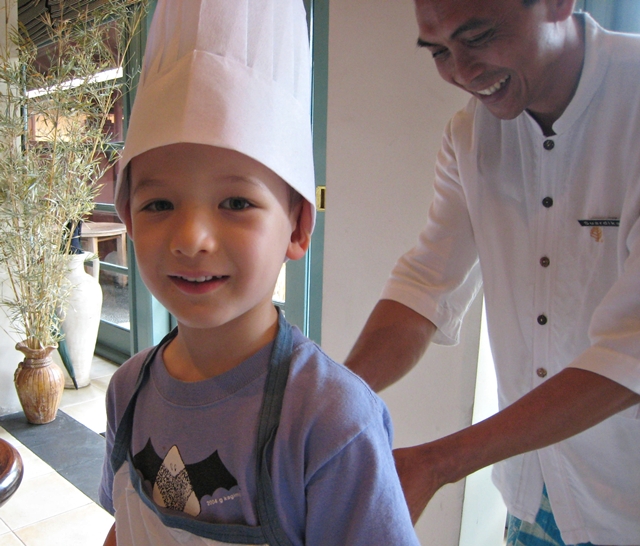 2. Kids' Club
There's a limit to the kids' toys and activities you can bring along if you're still trying to pack somewhat lightly, and most importantly, you (normally) can't bring along your kids' friends on an international vacation. A Kids' Club is fantastic for your kid(s) to be able to play with other kids the same age, and have fun exploring the hotel and local culture with kid-friendly activities.
The Kids for All Seasons program at the Four Seasons Bali offered everything from Balinese kite making to learning to make Balinese sweets. Most activities were entirely complimentary. My son also tried the tennis clinic which is for a fee, and the instructor was fantastic, with a great knack for making it fun for the kids, yet also challenging them to improve their game.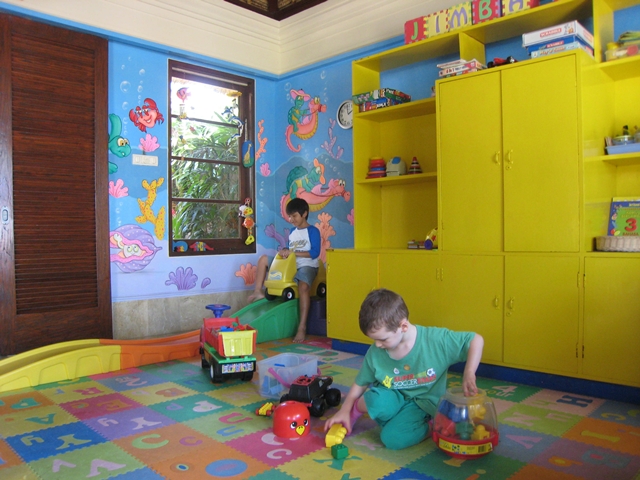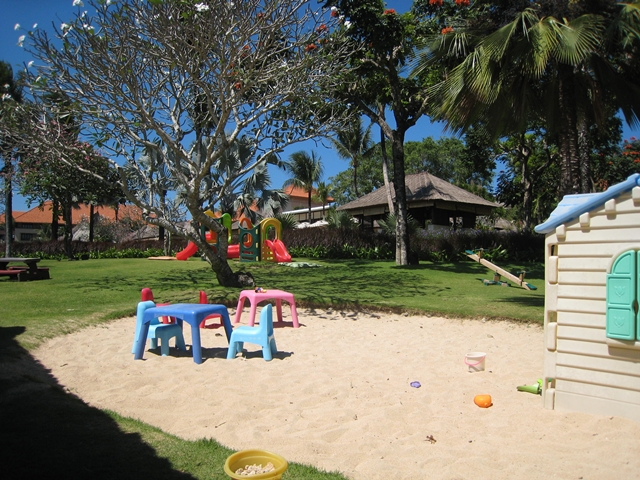 3. Kids' Pool
One thing we're always aware of at luxury resorts is that there are usually many couples on honeymoon or romantic vacations. A kids' pool is a great way to ensure that kids can have fun without disturbing those seeking quiet relaxation. During our trip, only the Ayana had a dedicated kids pool, complete with curvy water slides, which were loads of fun for our son. In some of the other resorts that had multiple pools, such as the Four Seasons and Batu Karang, we simply found a pool with no one around, and that worked as well.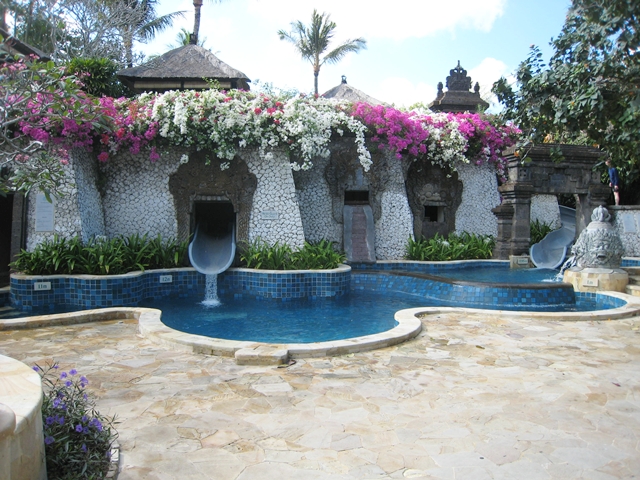 4. Bath Toys, Child Bathrobe, and Bath Fun
Our son loves bathtime, so anything that makes it fun is high on our list. At the Four Seasons Hong Kong, they provided 2 cute rubber ducks and a plush child sized bathrobe and slippers, which he adored. In fact, he enjoyed them in every other bath he took on the trip, and still uses them in his bath at home: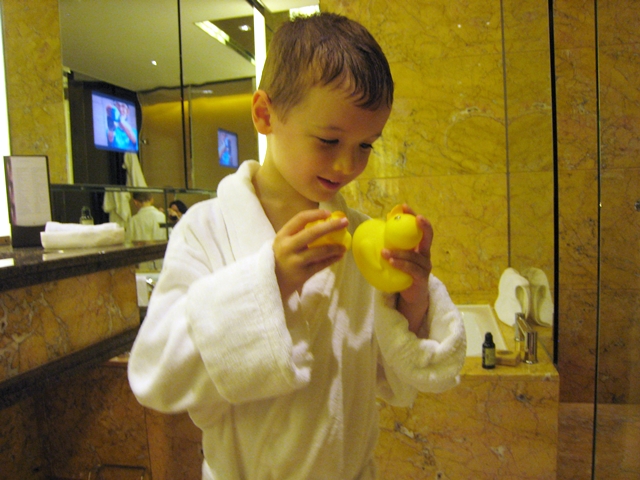 At Amankila, the bubble bath is as much for adults as for kids, but the munchkin had a blast with all the foam:
5. Kids Eat Free
Again, this is high on our list because the munchkin, living up to his nickname, eats A LOT–as in, sometimes as much as my 6'5 husband. Not joking. So even if only breakfast is free for kids, that's a huge plus. In fact, Amankila didn't restrict what we could order for breakfast, so we all ordered an entree, plus a smoothie, yogurt, and some doughnuts–and ate them all.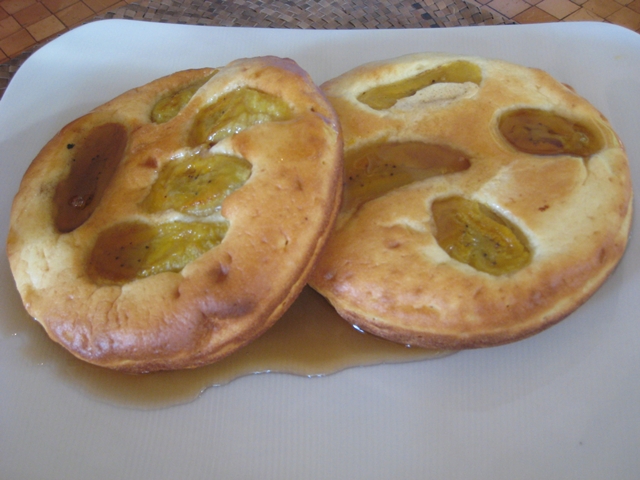 If you pay for a Club Room or Club Access, kids are usually complimentary up to a certain age–check the specific hotel policies. This is already great value for us, and we really enjoyed the magnificent spreads at the Four Seasons Hong Kong Executive Lounge. Here are just a few of the desserts: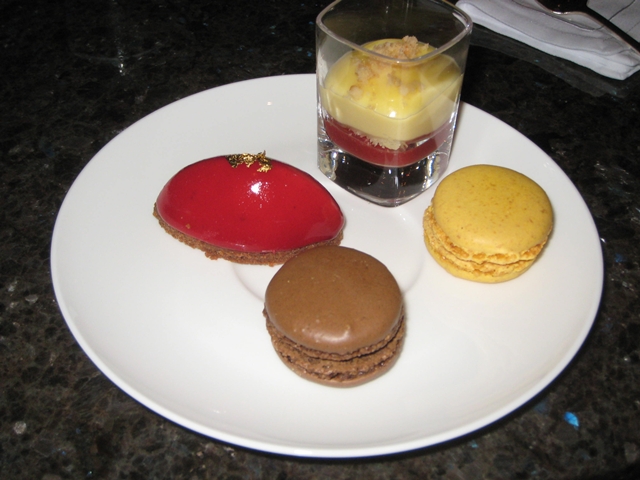 6. Coloring Books and Art Supplies
What kid doesn't enjoy coloring and drawing? One of the first things the munchkin did when we arrived at a new hotel, if the hotel offered a coloring book and crayons, was to sit down at the desk and start coloring. There were nice ones provided at the Four Seasons Bali and Amankila: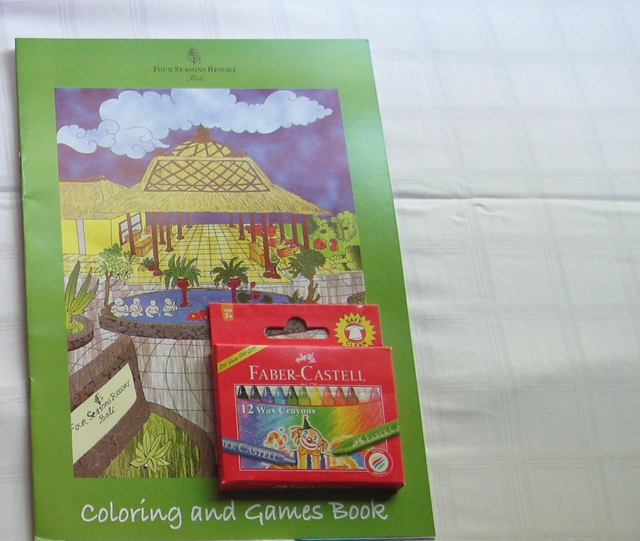 And the Langham Place Mongkok even offered a little bag with hat, postcard, and an activity book with puzzles, mazes, pictures to color, and recipes from the hotel: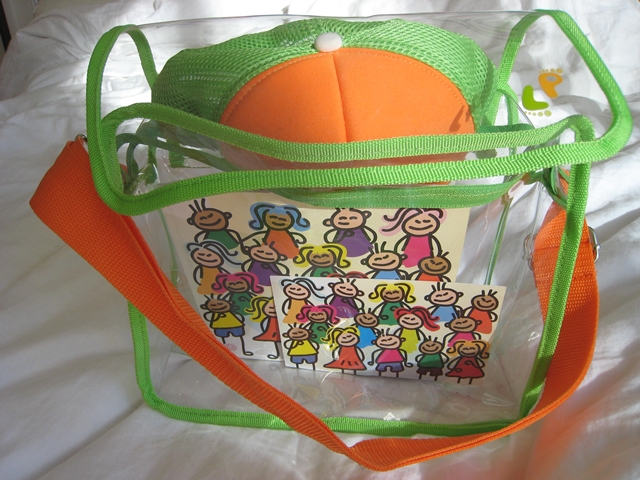 7. Stuffed Animals
We've a small menagerie of stuffed animals that the munchkin has received as welcome gifts from hotels we've stayed in. He received the cute panda on the left as a welcome gift at the Four Seasons Hong Kong, and the teddy bear from Le Burgundy in Paris.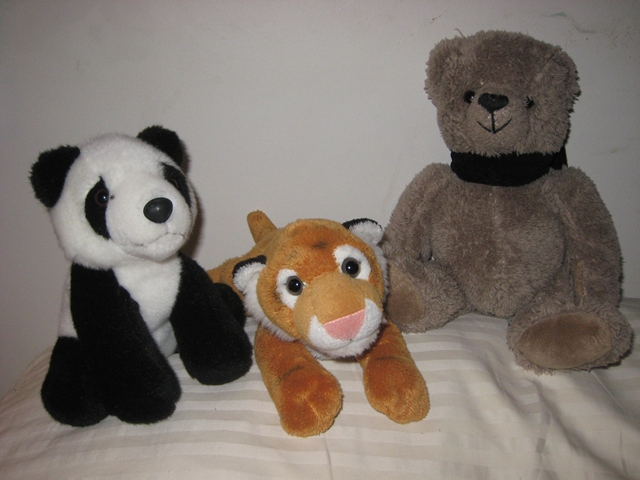 8. Turndown Treats or Welcome Cookie
As much as I adore chocolates for turndown, this giant cookie welcome treat from the Four Seasons Bali was an even bigger hit with you know who: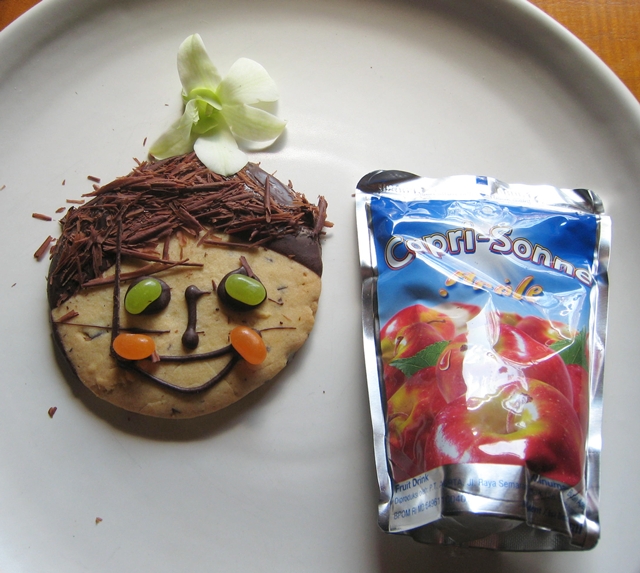 9. Kids' Menu
While our son isn't overly picky, he doesn't yet like spicy food, which is why a kids' menu came in very handy at Warung Mie at the Four Seasons Bali, where we enjoyed spicy traditional dishes while he munched a simple chicken vegetable stir fry with rice. Naturally if your child has a limited food repetoire, kids' menus at all the resort restaurants will be even higher on your list.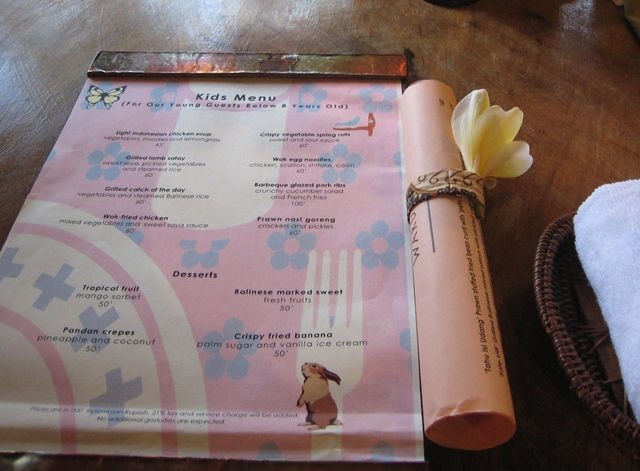 10. Complimentary Babysitting
While we didn't have occasion to use it, I noticed that the Four Seasons Bali offered complimentary babysitting, so that parents could enjoy a date night. What a wonderful perk! I realize some parents won't be comfortable leaving their child with anyone but their normal babysitter, but as I mentioned above, you'd be hard pressed to find a more child-friendly and caring staff than at the Four Seasons Bali, so we most likely would have taken advantage of this once on a longer stay.
Which hotel amenities for kids are your favorites? If you'd like recommendations or help booking a great kid-friendly luxury hotel, drop us a line at concierge [at] travelsort.com, we're happy to help!
Related Posts
Top 10 Reasons to Fly First Class with Kids
Insiders Guide to Kid Friendly Travel in Bali
Flying with Kids: Tips for Taking Toddlers on Long Plane Flights
Best Airlines for Kids and Families
What's the Best Portable Travel Bed for Kids and Toddlers?
10 Tips for Fine Dining with Toddlers
Need Award Booking Help? Our fee is as low as $75 per ticket if you book your hotel through us.
If you enjoyed this, join 150,000+ readers: please follow TravelSort on Twitter or like us on Facebook to be alerted to new posts.
Become a TravelSort Client and Book 5-Star Hotels with Virtuoso or Four Seasons Preferred Partner Amenities!