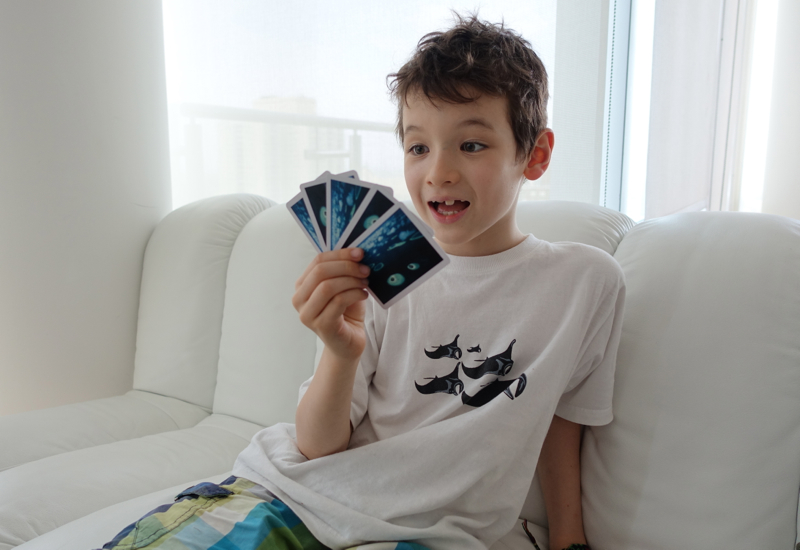 What are the top toys and games to entertain kids on long plane flights? If you don't have kids, you may be griping that you wish the parents of the unruly kids seated next to you would consider this question while packing. Well, the beauty of some of these low tech toys is that several are cheap and light, so you could bring a couple of them with you prophylactically, to try to stave off annoying kid syndrome even if the parents are oblivious.
While it seems that everyone and their dog travels with and is glued to an iPad these days, we personally favor minimal screen time at home, which is pretty easy to enforce since we have no TV and no iPads.
When flying on long 12-16 hour flights such as Etihad First Class to Abu Dhabi or in JAL's Business Class Sky Suite from Tokyo to NYC, however, we do allow our 7 year old to watch kids' movies on the IFE. That said, we've found that low tech toys are a lot less ADD-inducing and some are great for helping our whole family pass the time while waiting to board, waiting for the plane to take off, or on shorter regional flights without in-flight entertainment.
Here are my favorite low-tech travel toys and games to date, with age recommendations:
1. Deck of Cards (from age 4)
I'm not sure why we didn't start playing card games earlier, because my son loves them. After getting a lovely pack of playing cards as part of the kids' welcome amenities at the Four Seasons Maldives at Landaa Giraavaru, we've taught him several card games:
Oh Darn It! (also called Oh Hell!)
Crazy Eights
Go Fish
War
Now he says he wants to learn bridge, but we'll see–there are plenty of other card games we can still try.
2. Books (all ages)
For us, this is not screen time because we're old school–no Kindles, just regular paperback books that we bring with us. While our son now reads simple chapter books to himself, we still make time to read to him as a family activity before bedtime, for enjoyment and to expand his vocabulary beyond Star Wars, which he's obsessed with. A few recommendations for kids of different ages:
Tuesday, illustrated by David Wiesner (ages 2-4)
Curious George books (ages 2-5)
Berenstain Bears books (ages 2-5)
Where's Waldo (age 3 and up)
Roald Dahl books such as Matilda, Fantastic Mr Fox, Danny the Champion of the World, Charlie and the Chocolate Factory (ages 6-8)
The Chronicles of Narnia (from age 7)
D'Aulaires' Book of Greek Myths (from age 7)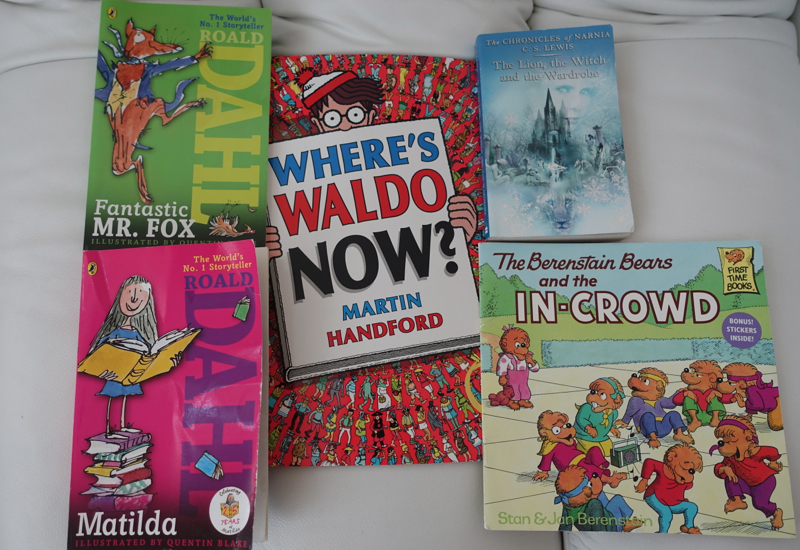 3. Newspaper (from age 7)
This may seem an oddball choice, and by no means am I suggesting giving any of the political or tragic stories to your youngster, but for any math-minded kids the charts and graphs in the business and even life/style sections can be interesting to talk about and decode. Sometimes my son is even inspired to make his own graph based on one he sees in the paper.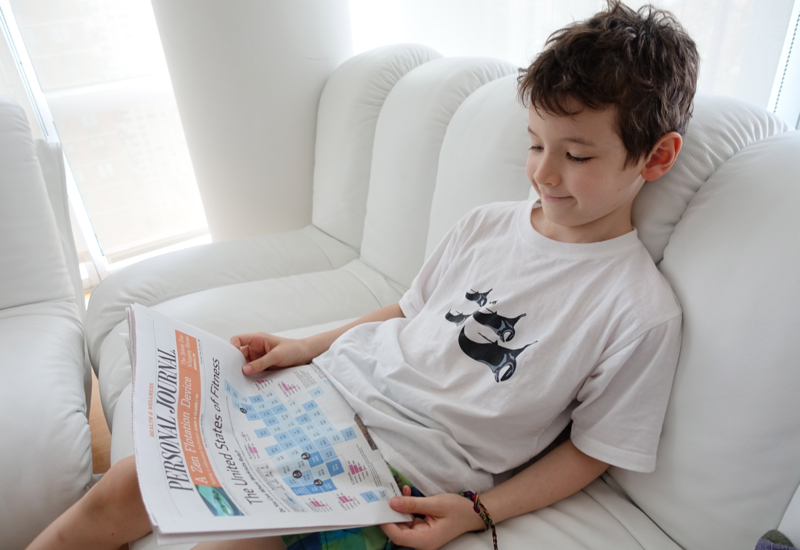 4. Lego Set (from age 4)
Legos seem to be one of the most enduring toys, given that both my husband and I played with them when we were young, and our son loves them if anything more than we did. While I'm not quite as keen on the highly specialized themed sets that are sold now, which seem to lend themselves to a build-once-display-on-a-shelf mode, they're deeply engrossing for little hands.
Just be aware your nails may get a work out prying apart tiny Lego pieces that were incorrectly stuck together. You may also want to set up some "barriers" on the tray table to try to prevent the tiny pieces from sliding off.
5. Magna Tiles (ages 2-5)
Talk about another enduring toy. This wasn't around when I was a kid, but I wish it was–my son has played with it since he was 2, and still builds with it, integrating it with other building materials and his legos. The only downside is that bringing a bunch of these can get pretty heavy.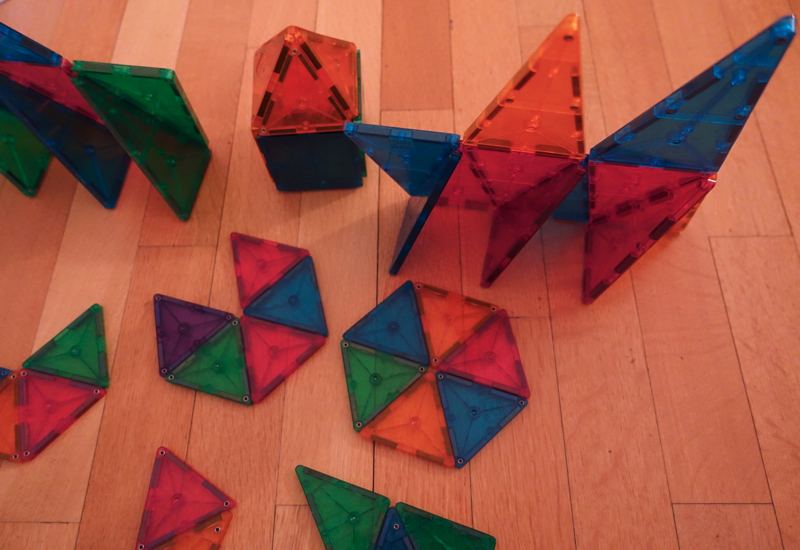 6. Snakes & Ladders (from age 4)
One of my better travel toy investments was an inexpensive magnetic Snakes & Ladders game. It's a tiny board, so it takes up next to no space and weight.
7. Clean Rubber Bands (from age 6)
Isn't it strange how some of the most ordinary household things can fascinate kids for extended periods? Both my son and a classmate were fascinated by rubber band tricks that my husband showed them, and were busy for at least 10 minutes practicing them on their fingers. My son has also used a durable rubberband to power a propeller (although of course I don't suggest this on an airplane). Just make sure you don't have any real mischief makers whom you can't trust to behave responsibly, as you obviously don't want your kids shooting rubber bands at anyone.
8. Temporary Tattoos (from age 4)
Temporary tattoos always seem to be a big hit with kids at birthday parties and fun fairs, to the point where my son has resisted having a bath or shower that might affect his latest tattoo. They can make a good "reward" if, say, you've asked your child to read or otherwise quietly amuse himself/herself for a certain time period on the flight.
9. Postcards
If you're on an extended trip and have bought postcards but not had a chance to mail them, why not write some of them on the flight? This usually works best if you take out 1-2 postcards for each of you, and you both write them.
10. Singapore Math Workbooks 1A-1B (ages 4-6)
Ok, so this is firmly along the lines of an educational activity rather than a game, but if your kid is interested in math and not being challenged enough in his/her Pre-K program or Kindergarten, these workbooks can come in handy and can be ordered via Amazon.
What are your favorite low tech toys to entertain kids on long airplane flights?
Related Posts
Flying with Kids: Tips for Taking Toddlers on Long Plane Flights
What's the Best Portable Travel Bed for Kids and Toddlers?
The Best Airlines for Kids and Families
Top 10 Reasons to Fly First Class with Kids
Need Award Booking Help? Our fee is as low as $75 per ticket if you book your hotel through us.
If you enjoyed this, join 200,000+ readers: please follow TravelSort on Twitter or like us on Facebook to be alerted to new posts.
Become a TravelSort Client and Book Your Hotel with Virtuoso or Four Seasons Preferred VIP Amenities!