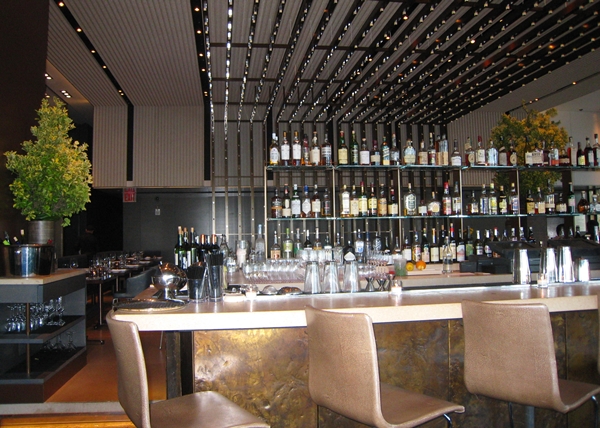 Update: Our new 2013 Riverpark Restaurant Week Review
Riverpark is the second of several reviews of restaurants that we recommended booking in our NYC Restaurant Week Summer 2011: Where to Go post. Previously we reviewed Quality Meats, in Midtown West.
It may well take you some time to find Riverpark on the East River at 28th Street, as it's tucked away in the Alexandria Center office complex, home to Pfizer, among other companies. Once you do arrive, you'll notice the sign "Riverpark" has "A Tom Colicchio Restaurant" underneath.
While it makes perfect sense to draw on Colicchio's celebrity status, in point of fact Colicchio is to Riverpark what Spielberg is to most of the movies he is an executive producer for–a savvy business partner, but not the Director, or in this case, the chef. That role belongs to Sisha Ortuzar, who is a great chef in his own right and worked with Colicchio at Gramercy Tavern, Craft, and most recently 'wichcraft. He's brought with him Chef de Cuisine Bryan Hunt and cooks from the late Italian gem Insieme, which accounts for the excellent pastas on the menu.
With that, let's move on to our Restaurant Week review of Riverpark. After walking around the block, we finally found the Alexandria Center's entrance, on 1st Avenue and 28th Street. We knew we were in the right place when we saw the sign, but it was still a little strange to be entering what was clearly a starkly modern office building, with a lone security guard, who pleasantly waved us through the security turnstiles. Once we got to the restaurant door, however, we received a warm welcome and were invited to choose between being seated outdoors or indoors. As it was quite warm and muggy, we opted for indoors, but near the floor to ceiling windows with their view of the East River. We didn't regret our decision, as in addition to the welcome air conditioning, the furnishings and decor inside are decidedly more stylish than the outdoor patio and picnic tables, which are also subject to some highway noise.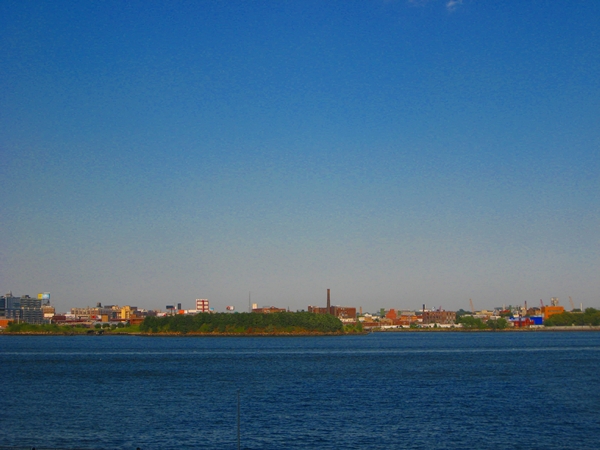 Our server promptly brought over menus, and I noticed that only the Restaurant Week menu was available, which was fine with us, but anyone who wanted to order from the regular menu would have been out of luck. I was happy to see that the Restaurant Week menu drew from their regular menu. Some of the more upscale restaurants that participate in Restaurant Week have "special" menus that draw on cheaper ingredients and don't actually include any of the dishes they are known for; fortunately and wisely Riverpark drew on its specialties for the Restaurant Week menu. Appetizer choices included Oysters, Salmon Tartare, Cavatelli, and Mascarpone Ravioli, of which we opted for the latter two. We also ordered two half-glasses of wine, a 2009 Chateau Claud la Chapelle (Merlot blend) from Bordeaux (which the server had suggested when I asked for a robust, fruit-driven wine) and a 2008 Penalolen (Cabernet Sauvignon) from Chile. I much preferred the Cab, finding it far rounder and more fruit driven than the Merlot; naturally everyone tastes wine a bit differently, but I must say I was surprised that the server recommended the Bordeaux given the preferences I stated.
Bread rolls and butter were brought, while we were waiting for our appetizers. I would have preferred for them to be warm, but our 3-year old happily devoured most of them.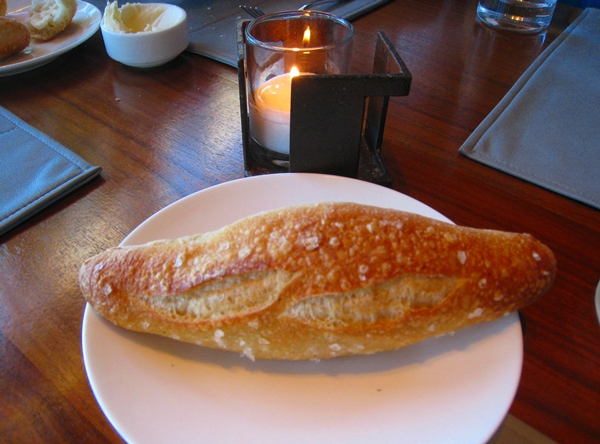 When our appetizers arrived, I was surprised at how good my husband's Mascarpone Ravioli with Golden Tomatoes was. The golden tomatoes were so sweet that at first I mistook them for butternut squash.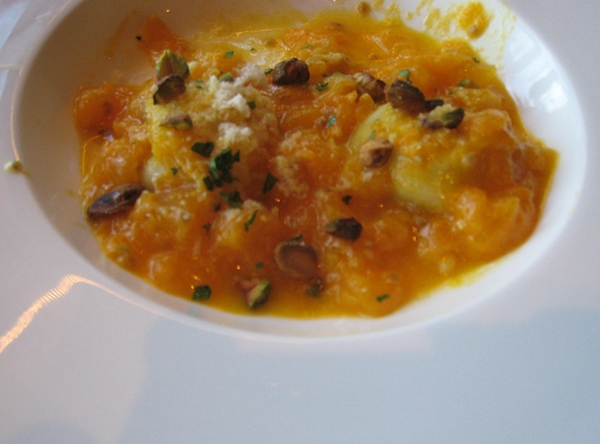 Having read so many glowing reviews of the Cavatelli with braised lamb, I had high expectations which were somewhat disappointed. It was a good, solid dish, but it could have used more lamb and a bit more flavor. I could barely detect the fresh mint, although I could see it in the dish.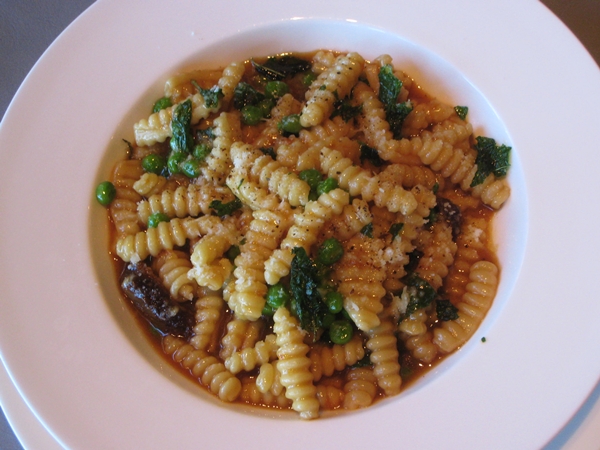 While I thought the food thus far was good, I wasn't blown away. Nonetheless, we were certainly enjoying the river views and the ambience. There was surprisingly lively music playing, which was perfect for keeping our 3-year old entertained. Nor were we the only parents with a kid–at an adjacent table was a couple with a little boy, probably just 1-year old or so, and the restaurant even had a highchair for him. I wouldn't try bringing a kid to the formal dining room of Gramercy Tavern, but Riverpark is more casual, the equivalent to the Tavern part of Gramercy Tavern, so assuming you do have a well-behaved child and take him for a walk outside when s/he gets antsy, Riverpark is a pretty kid-friendly space, especially if you go for an early seating as we did.
Our mains took awhile to arrive, but more than made up for the wait. While I'd originally planned to order the pork chop, on the server's recommendation for the Arctic Char I opted for that. My husband, who might normally have ordered the pork or the lamb, was getting over a cold and felt like the Spiced Grilled Chicken with kale, pecans and buttermilk dressing, so he ordered that. I didn't have any expectations for the chicken, but it was perfectly executed, moist with a crisp skin, and beautifully plated.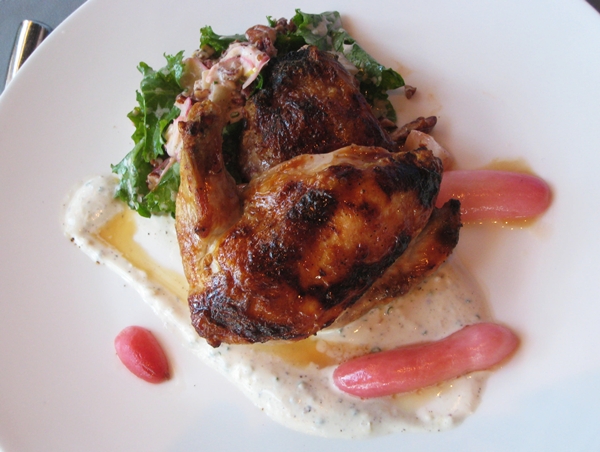 As good as the chicken was, the Arctic Char was the star of the evening. I can honestly say it is the best fish dish I have had in a restaurant all this year, possibly for the past two years. It was perfectly cooked, moist and sweet flesh with crisp skin that had clearly been separately cooked from the fish then reassembled. The carmelized onion puree was something I would happily have slathered on bread, and it was a lovely complement to the fish. Beans, even haricots verts, are not my favorite, but they worked well as a crunchy contrast, and the hen of the woods mushrooms added a nice savory dimension. I would come back for this dish alone.
The dessert menu choices included Chocolate Pot de Creme, Beignets, Creme Fraiche Panna Cotta, Lemon Steamed Pudding and Black Forest Sundae. I chose the Lemon Steamed Pudding with Blueberries and Lemon Verbena Ice Cream. I liked it, but it was quite similar to the lemon pudding cake I make myself, so it wasn't that special, and was also quite a small portion (although to be fair, it seemed especially small since I was forced to share it with a dessert-loving 3-year old).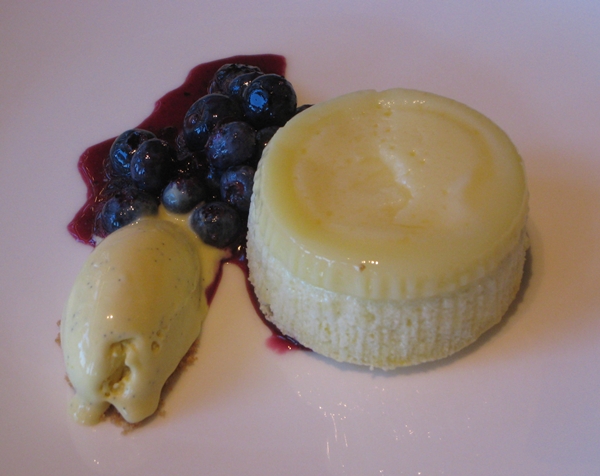 My husband opted for the Black Forest Sundae, and finished it, but said afterwards that it was nothing special, and that my desserts are much better.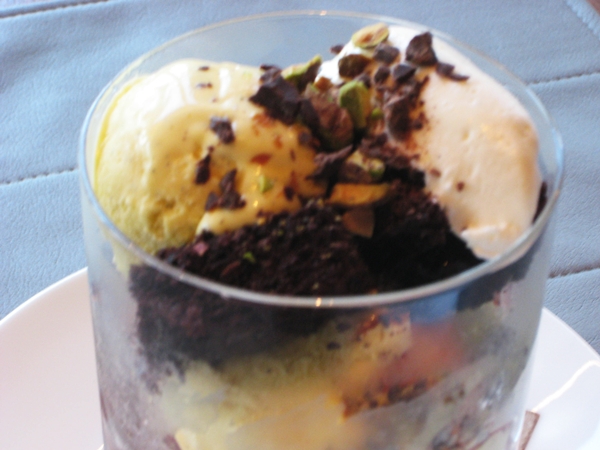 From the desserts, I would venture that either Riverpark does not have a dedicated pastry chef, or if it does, they should get a new one. It's not that they were awful, but they could be gotten almost anywhere. If you're not going for Restaurant Week, where they come as part of the menu, I suggest filling up on the excellent mains and not bothering with dessert.
Total damage? As with all Restaurant Week lunch menus, it was $35/person for the 3 courses, plus the two half glasses of wine, for a total of $106 including tax and tip. Excellent mains and ravioli, mediocre desserts, very good service, apart from the poor wine recommendation and delay for mains, and wonderful view and ambience. The location is bound to be the Achille's heel of this restaurant, given its far eastside location in an office park, but as we live on the East side that wasn't an issue. We'll almost definitely go back within the next 6 months and try some other dishes, in addition to that perfect Arctic Char.
Food: 4/5
Service: 4/5
Ambience: 5/5
Related Posts
Riverpark Restaurant Week Review
NYC Restaurant Week Summer 2012: Where to Go
Tom Colicchio's Riverpark NYC Restaurant Review
British Airways Offers $100 Off 2 NYC Michelin Restaurants…Again!
Park Avenue Summer: NYC Restaurant Week Review
Chase Freedom Rewards: Activate 3rd Quarter 5X Bonus and Where to Dine in NYC
Need Award Booking Help? Our fee is as low as $75 per ticket if you book your hotel through us.
If you enjoyed this, join 90,000+ readers: please follow TravelSort on Twitter or like us on Facebook to be alerted to new posts.
Become a TravelSort Client and Book Your Hotel with Virtuoso or Four Seasons Preferred VIP Amenities!